Did you recently move to Zone 3 from one of those "anything-can-grow-here" zones and have no idea what you can grow in a cold climate and short growing season? Or maybe you've lived in Zone 3 your whole life, but you just took an interest in gardening and have no idea where to start?
If you're frustrated after browsing Pinterest and social media thinking what can I even grow here? Nothing? I get it. I've been there, too. But you'll be pleasantly surprised to know that you're wrong. Zone 3 gardening can be just as fulfilling as gardening in those "easier" growing zones!
I know what you're thinking. Well, Kristen, what can I grow in Zone 3?
Anything! Or, at least, almost anything. Start by reading this blog post, and I guarantee that gardening frustration will turn into gardening excitement in no time. Without further ado, here's my complete guide to growing in Zone 3!
This post contains affiliate links, which means if you purchase anything, I earn a bit of extra coffee money at no cost to you. You can learn more about this in my privacy policy. Thanks for supporting Shifting Roots!
THINGS TO KNOW WHEN GROWING IN ZONE 3 IF YOU'RE COMING FROM A WARMER CLIMATE
1. THERE IS LIFE IN ZONE 3
Let me repeat that: there is life in Zone 3. You do have choices. You can grow far more than you think, so try not to be discouraged!
And contrary to what you've heard, you don't have to plant everything on the May long weekend or later. Yes, it's wise to do so, but as you get more confident in your gardening and learn more about cold-tolerant plants, you can start to push the season.
SIDE NOTE: Be prepared to lose at least some plants, just in case there is a surprise -30 in the middle of spring.
2. BE FLEXIBLE, BE ADAPTABLE
Learn to get comfortable with seed starting or just be willing to purchase those plants that need it from the greenhouse. And no, there are no direct sown tomatoes. The short growing season is a learning curve, but you'll get used to it.
Check the weather twice a day (maybe more). It changes fast. It changes often. And frost can come when you least expect it (even in the middle of May).
P.S. Make sure you always have some frost cover on hand. It will make your gardening life so much less stressful. And while you're at it, check out my gardening essentials list for a comprehensive breakdown of what every Zone 3 gardener needs for growing success!
3. CREATE COMMUNITY
Try not to follow too many gardeners from warmer zones on social media. You're just going to feel super jealous and super frustrated. Follow gardeners with similar struggles and successes to your own who garden in similar climates and growing seasons. Once you create a community on social media and in life, gardening becomes a lot more joyful and a lot less stressful!
Want to know a secret? I've heard from gardeners in Zone 9 who can garden year-round that it is actually exhausting, and they're jealous of those of us in colder climates because we actually get a proper break. Plus, we can grow peonies!
PLANTS THAT ARE DIFFICULT TO GROW IN ZONE 3
Let's get the disappointment out of the way first. Here are the plants I find most difficult to grow in Zone 3!
1. CRUCIFEROUS VEGETABLES
This is mostly because of bug pressure. I find that cruciferous vegetables can go outdoors 2-4 weeks before you would typically put them out and they will do better. However, if you're super new to gardening I don't recommend starting with them or trying to push the season with this technique.
Much to the dismay of literally everyone, bell peppers just seem to be difficult to grow here. I have done it, but I'm most successful in seasons when I can put those peppers in their own microclimate: either the hottest sections of my yard or the high tunnel. If you're very keen on growing bell peppers, I recommend the Carmen varieties and Hungarian Hot Wax. I have had consistent success with these.
I have yet to grow a decent melon. Whether it's honeydew, watermelon, or cantaloupe. I cannot seem to grow them. They need a lot of heat and a lot of water. And ideally, you need to wait until evening temperatures are around 20°C/75°F or higher. This means you usually have to wait until later July, which makes for a difficult, very short growing season. I know it can be done, but I haven't got there yet.
I've successfully grown luffa sponges indoors of all places. Since I've moved and don't have that ideal growing location anymore, I have not been able to get decent luffa sponges. They are difficult to grow because they have a maturity window of approximately 200 days. And they're very sensitive to cold. So, again, not impossible but really frustrating.
If you want to know more about how to successfully grow luffa sponges in Zone 3, check out this blog post: How to Grow Luffa Sponges in Cold Climates.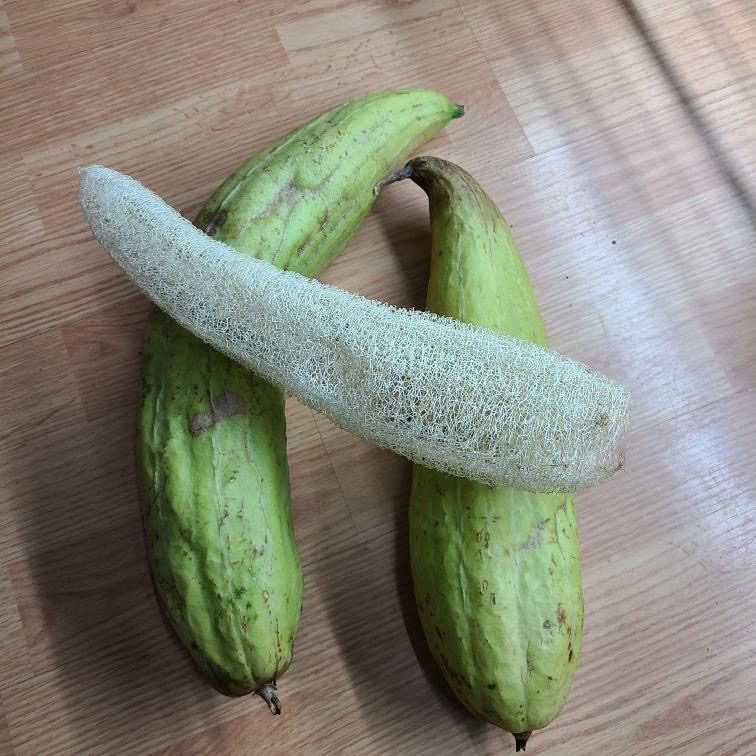 5. SWEET POTATOES
There is only one variety of sweet potatoes that will work well in Zone 3 and you must get it from Alberta Sweet Potatoes. As far as I have tried, every other commercially available sweet potato variety that is sold in Canada does not do well here unless you can make super hot conditions and consistently baby and water your plants. Even then, you will get really small potatoes. So, get them from this company and you won't be disappointed! I am growing these for the first time in 2022 and will report back on how it does
These cut flowers are not impossible to grow, but they are difficult because you must start the seeds around Christmas. Plus, they are very slow growing, and it's just a lot of commitment. I've grown both successfully, but for a new grower who's not committed to that long of a seed-starting process, Eucalyptus and Lisianthus are not a great choice.
I'm specifically talking about cut flower varieties here. I have tried to grow Celosia for years, and it is almost never hot enough for long enough. The stem length always tends to be short and the size and shape seem to be very inconsistent. So again, not impossible, but I'm starting to think it's not worth the space in the garden.
8. ARTICHOKES
It has taken me 4-5 years to grow a decent artichoke and the only reason I was able to do it was because last year (2021) was so excessively hot. Far hotter than we ever get in Saskatchewan. Which are the conditions artichokes need. And I had three beautiful edible artichokes, probably never to be repeated again. They also have a long date to maturity, which makes it extra difficult.
BEST PLACES TO GET SEEDS FOR ZONE 3 GROWERS
It's nice to support whatever seed companies are most local to your geographical location, so check out my post on 35+ Canadian seed companies to help you get started! Sometimes I can't get what I need from Canadian companies, so I do order from the U.S. occasionally, but I try to keep it to a minimum.
Here are some of my all-time favourite online seed shops:
WHAT GROWS IN ZONE 3
Now that we've got the challenges out of the way, there is a surprising amount of stuff you can grow in Zone 3. I'll divide this into categories so it's easier for you to find. Here are my favourite perennials, annuals, cut flowers, fruits, vegetables, and herbs to grow in Zone 3, plus photos and links to more detailed lists and tips from the blog!
ZONE 3 PERENNIALS
When I was a teenager I liked to read my parents' gardening magazines which often had flower garden plans in them. I would sit there and dream about how pretty my perennial garden would look. I asked my parents if we could please buy these perennials and please plant this garden, and my dad said with trepidation in his voice,
"Let me see that magazine. What zone are those flowers in…"
He looked at the catalogue, sighed, and said, "Kristen, you can't grow any of those flowers."
I was crushed.
I felt like perennial life begins at Zone 5. Heck, I would have even taken Zone 4. It just seemed like there were so many more options in other zones! But over the years as I've built up my own perennial garden and researched for this blog, I realized there are plenty of options beyond the basic Bleeding Hearts, Hostas, and Daisies.
In this list of posts, I've compiled a lot of my favourite perennials plus perennials for different situations such as shade, intense heat, and, for you beginners out there, what you can grow that you practically can't kill:
If you're more of a visual learner, check out my YouTube channel where I post regular content about flower and vegetable gardening. Here are a couple of my videos about Zone 3 perennials:
And, lastly, here are five perennials I couldn't garden without:
1. PEONIES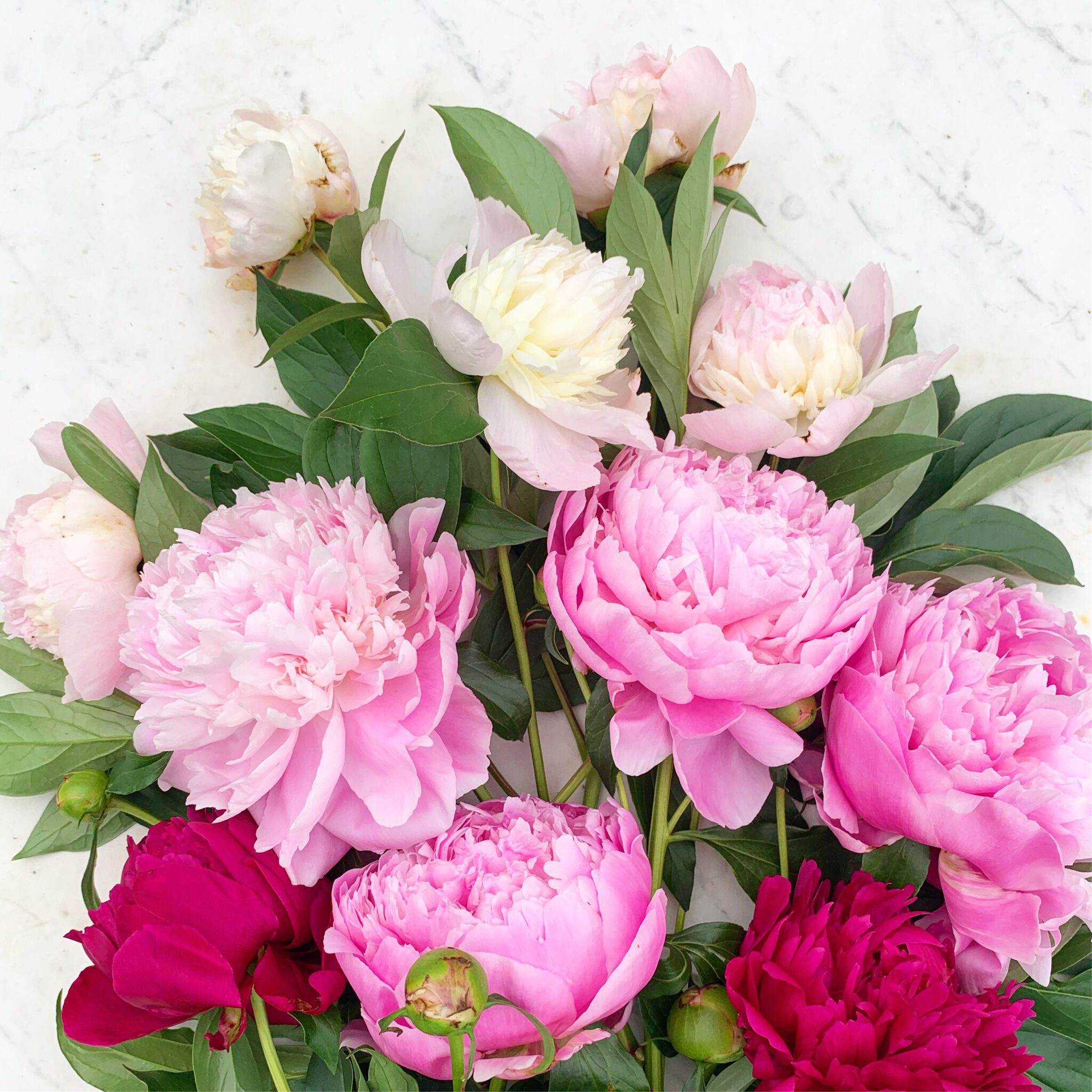 2. DELPHINIUMS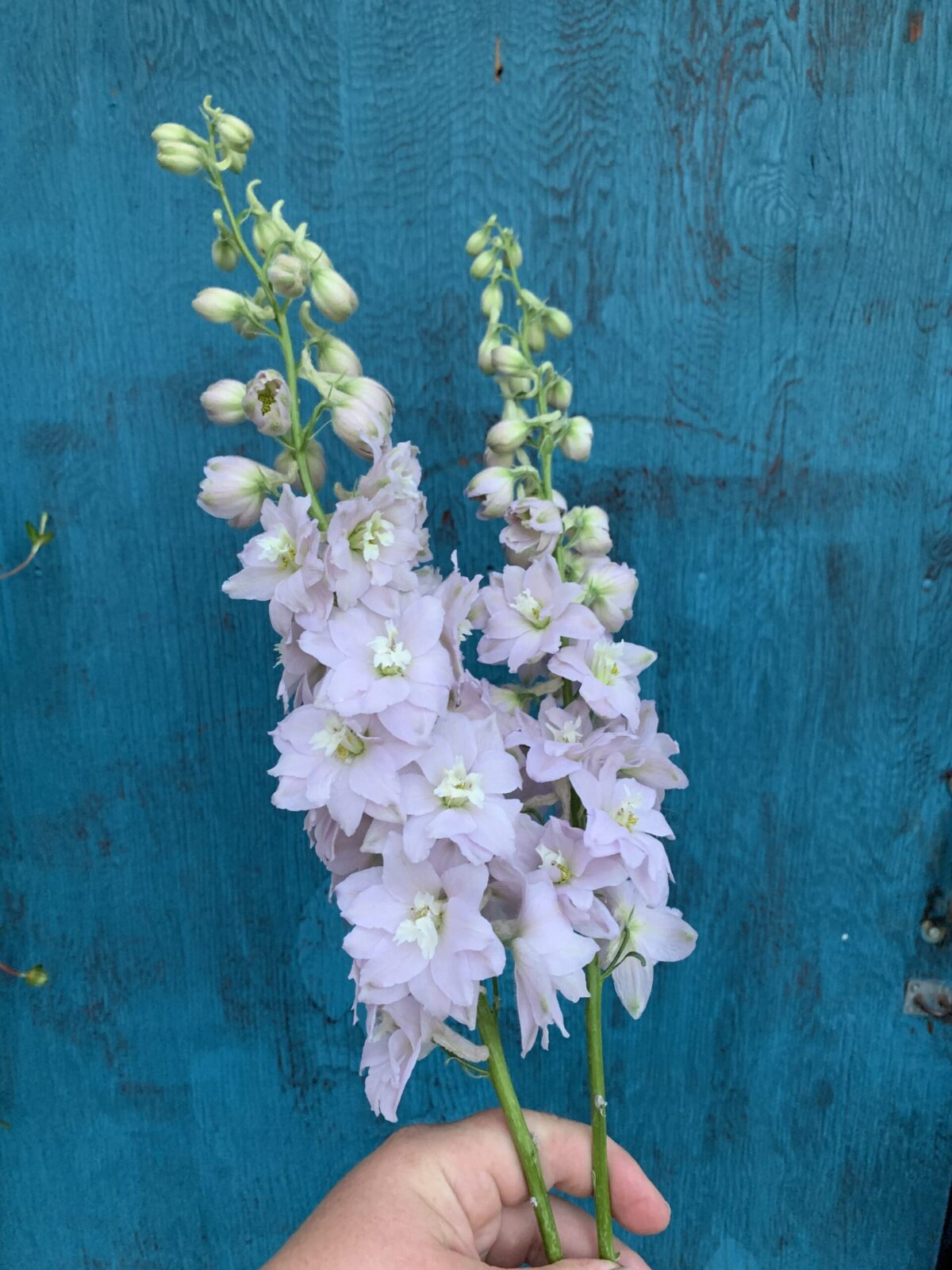 3. ASIATIC LILIES
4. COLUMBINE
5. LADY'S MANTLE
Check out the freebie below for a list of 100 Zone 3 perennials!
ZONE 3 ANNUALS
If you want to make your patio or deck look really beautiful, annuals are a perfect choice. You have far more choices than the basic Petunias, with flowers and greens in different colours, shapes, and sizes for any space! I've written a lot about annuals on the blog and, in this list of posts, I've compiled a lot of my favourite annuals for cut flowers, seed saving, and container gardening:
Want the perfect container every time? Check out the short video below:
Here are five of my favourite annuals:
1. Double Impatiens
2. LANTANA
3. Snapdragons
There are certain varieties for containers and other varieties for cut flowers, so make sure you get the right one!
4. Lobelia
5. Nasturtiums
CUT FLOWERS FOR ZONE 3 GARDENERS
Every backyard needs a small cut flower garden. There is no greater feeling in the summer than walking around your little paradise with your cup of coffee and snipping a few blooms to go on your table. The nice thing about growing cut flowers is that we can grow pretty much anything in Zone 3. There are only a few modifications that we have to make for the more difficult flowers. For example, Eucalyptus and Lisianthus have to be started a little earlier than usual. It is also a wise idea to start Glads and Dahlias early (you can direct sow them but I really recommend starting them early).
Don't be scared of cool flowers in Zone 3, either. While our process looks a bit different from the process in Lisa Mason Ziegler's book Cool Flowers: How to Grow and Enjoy Long-Blooming Hardy Annual Flowers Using Cool Weather Techniques, you can still sow flowers after the snow melts. Plus, you can even start to kick those cool flowers out a little earlier than you'd imagine!
For more about growing cool flowers in Zone 3, check out this post about Poppies. And for even more cool flowers, grab a copy of my e-book Frost Proof Flower Garden.
Here are five of my favourite cut flowers:
1. Dahlias
2. Ranunculus
3. Feverfew
4. Statice
5. Cosmos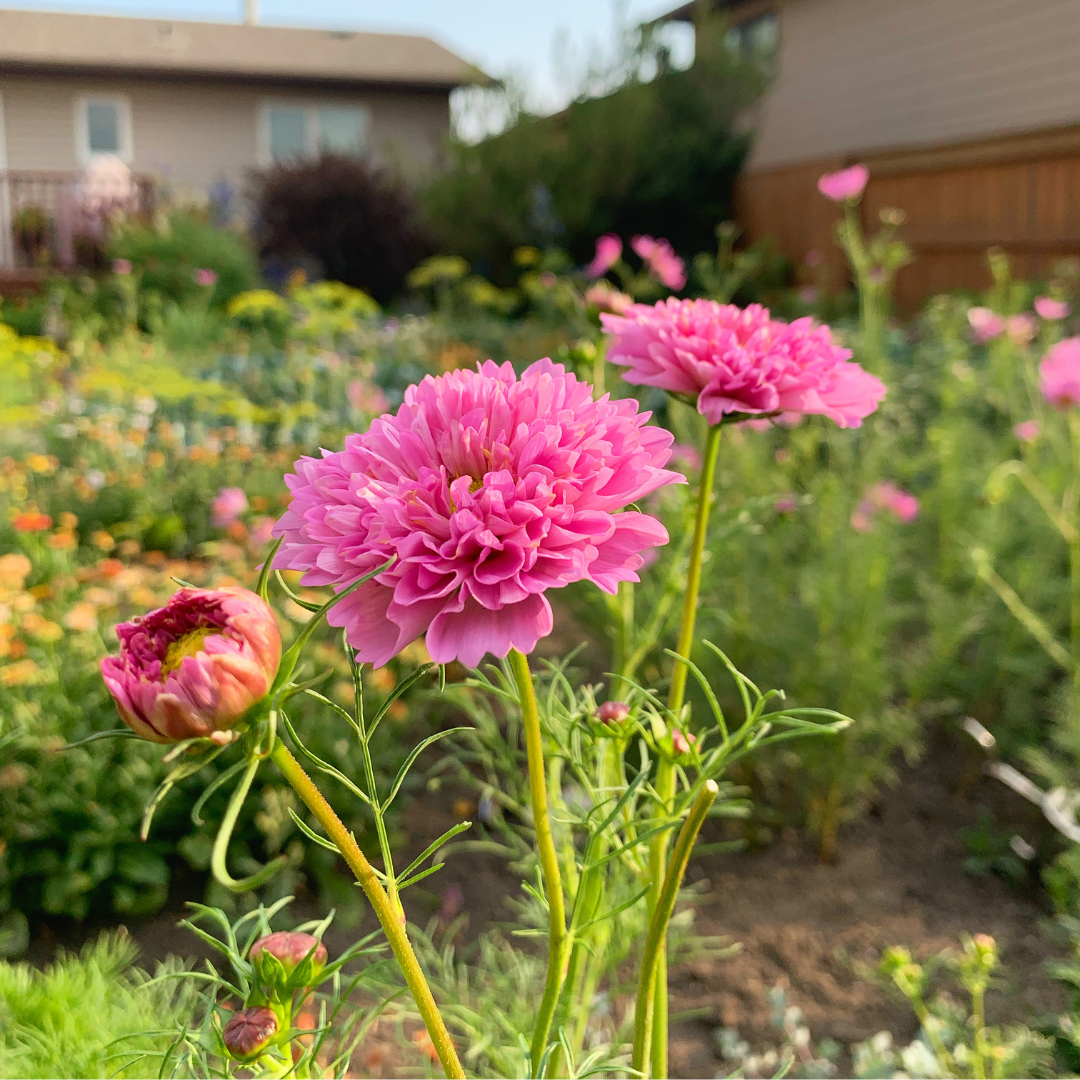 If you want some help with your cut flower garden, check out my e-book Cut Flowers Made Simple. It's the perfect way for beginner and intermediate gardeners to start their own cut flower garden with or without seed starting.
If you're feeling frustrated, if you're worried about spending too much money and not making your money back, or if you just want to learn more about profitable small-scale flower farming, you can enroll in Backyard Business, my program for flower farmers.
Here are some recent videos from the second season of my Backyard Business series on YouTube to give you a taste of what you can start doing with the tools from my course:
Lastly, here are some posts to help get you started with Zone 3 cut flowers:
HARDY FRUITS IN ZONE 3
Even though you can't grow peaches and bananas in Zone 3, you can grow lemons, limes, and oranges indoors. We have some special fruits that you can only grow up to approximately Zone 5, as well, like haskaps, Saskatoon berries, and sour cherries.
While these hardy fruit trees are fairly easy to grow, strawberries can be a bit of a challenge here. It's not the growing itself, it's the overwintering part. So, check out this blog post for my best tips on how to overwinter your strawberries.
Here's a list of my blog posts about growing, harvesting, and preserving hardy fruits, as well as links to some delicious recipes for pies, jams, jellies, and more to make with your harvests!
Here are five of my favourite prairie fruits:
1. Sour cherries
2. Saskatoon berries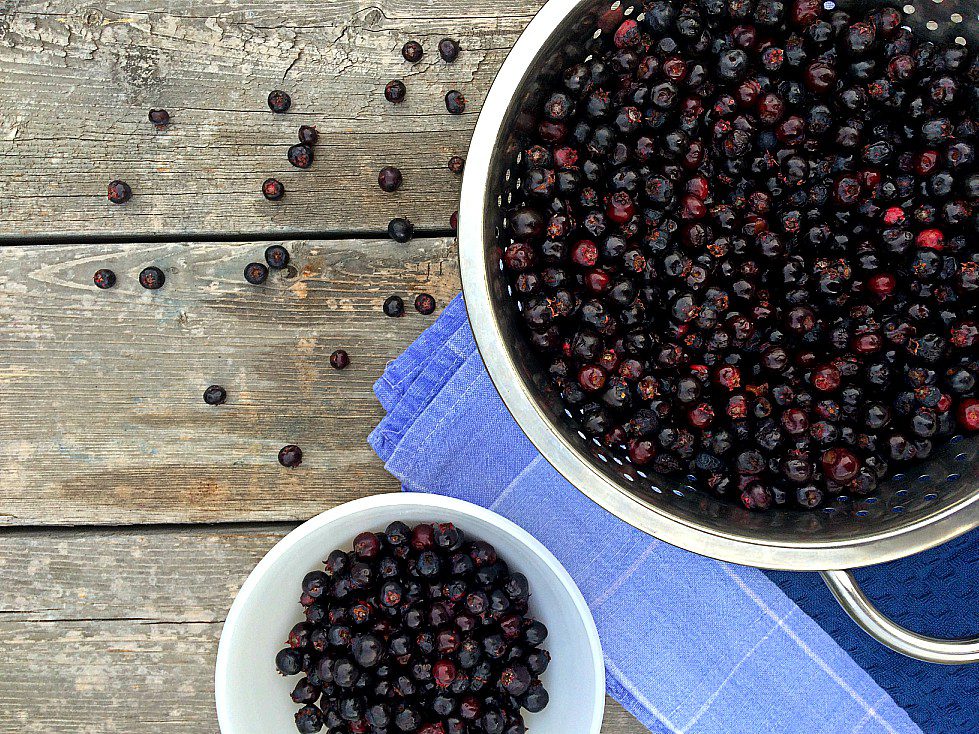 3. Strawberries
4. Crab apples
5. Raspberries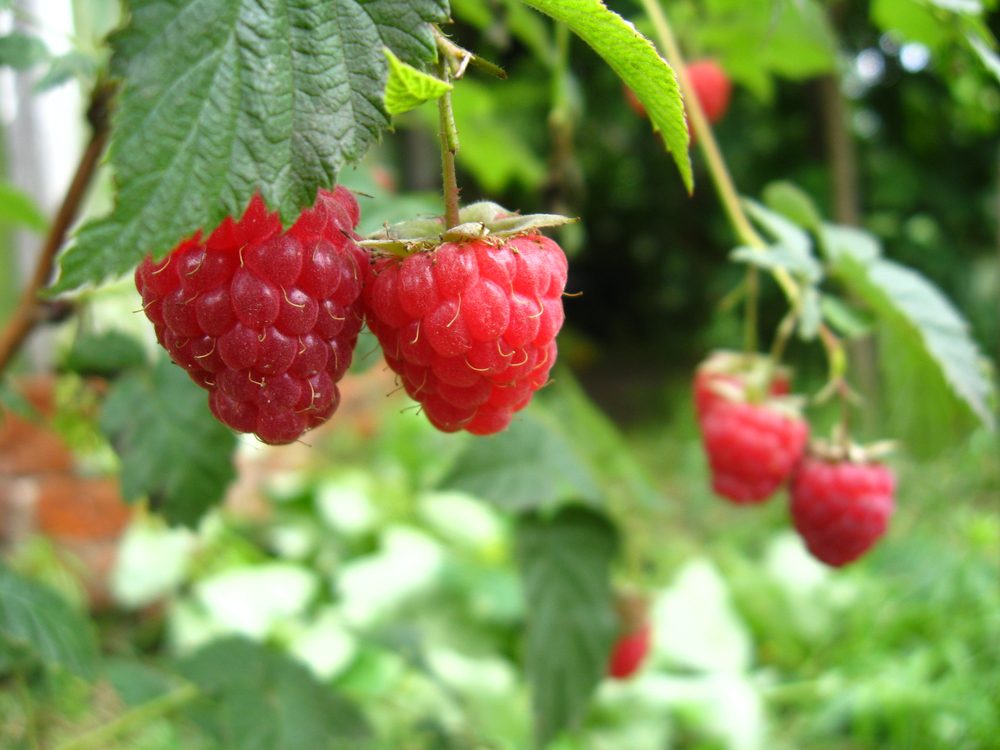 As you can see, I have tons of recipes for hardy fruits on my blog! You can also get them all in one place in my super affordable ebook Hardy Fruits Cookbook to make cooking these delicious desserts, jams, and more easy and accessible!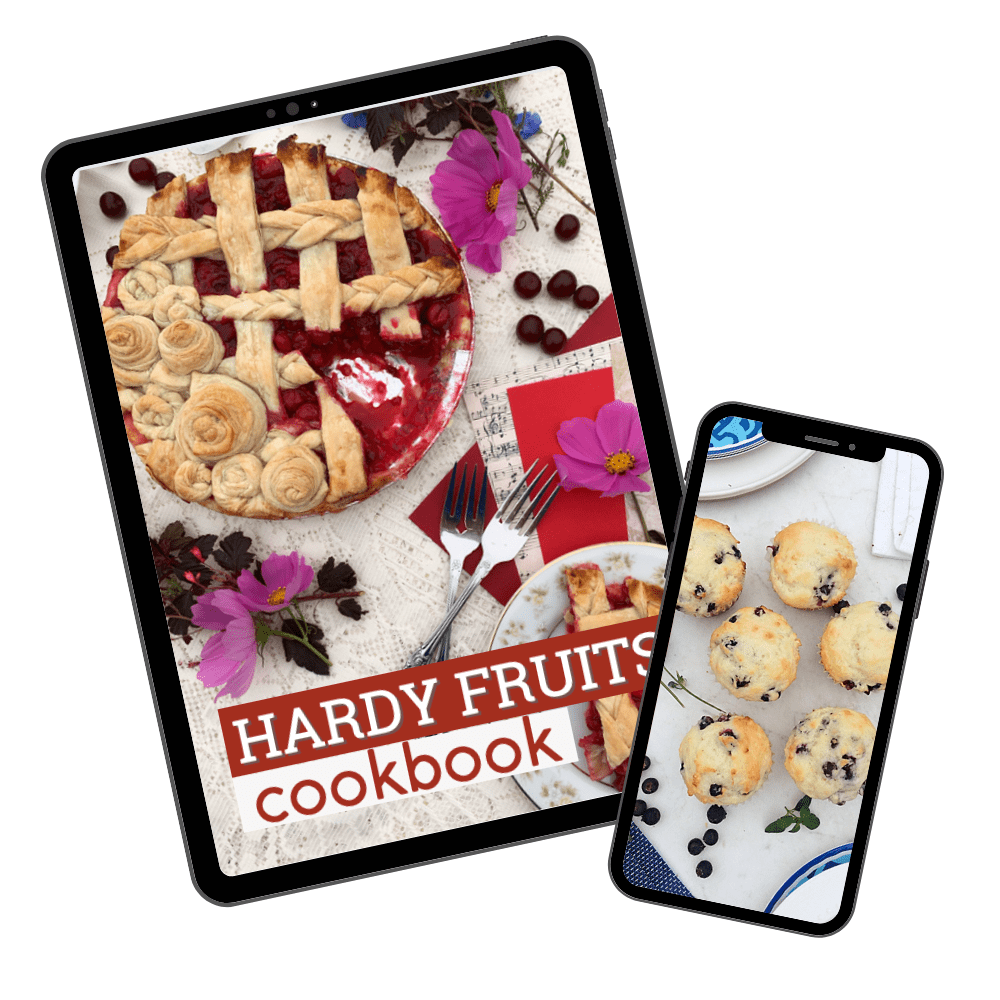 COLD-CLIMATE VEGETABLES
You can grow almost every vegetable you can imagine in Zone 3. However, some are a little more challenging than others. The largest challenges lie in vegetables that really love the heat, especially if we don't have a hot summer. And in those that have long days to maturity.
The problem with most of the long-days-to-maturity vegetables can be solved with seed starting. But even then there are a few that are tricky to grow, which I talked more about in the "impossible-to-grow" section above. If you live in an area where canola is heavily farmed you may also really struggle with coniferous vegetables. This is because flea beetles that love canola also love kale, cauliflower, broccoli and the like.
New gardeners in Zone 3 have seen tremendous success with the Growing Roots Gardening Guide. This ebook is perfect to help beginner gardeners build confidence in the garden! It includes information about seed starting, planting, growing, and harvesting and is the best first step on your way to a thriving, Zone 3 vegetable garden.
If you're new to growing, here are five vegetables that I find really easy to grow in Zone 3:
1. Bush beans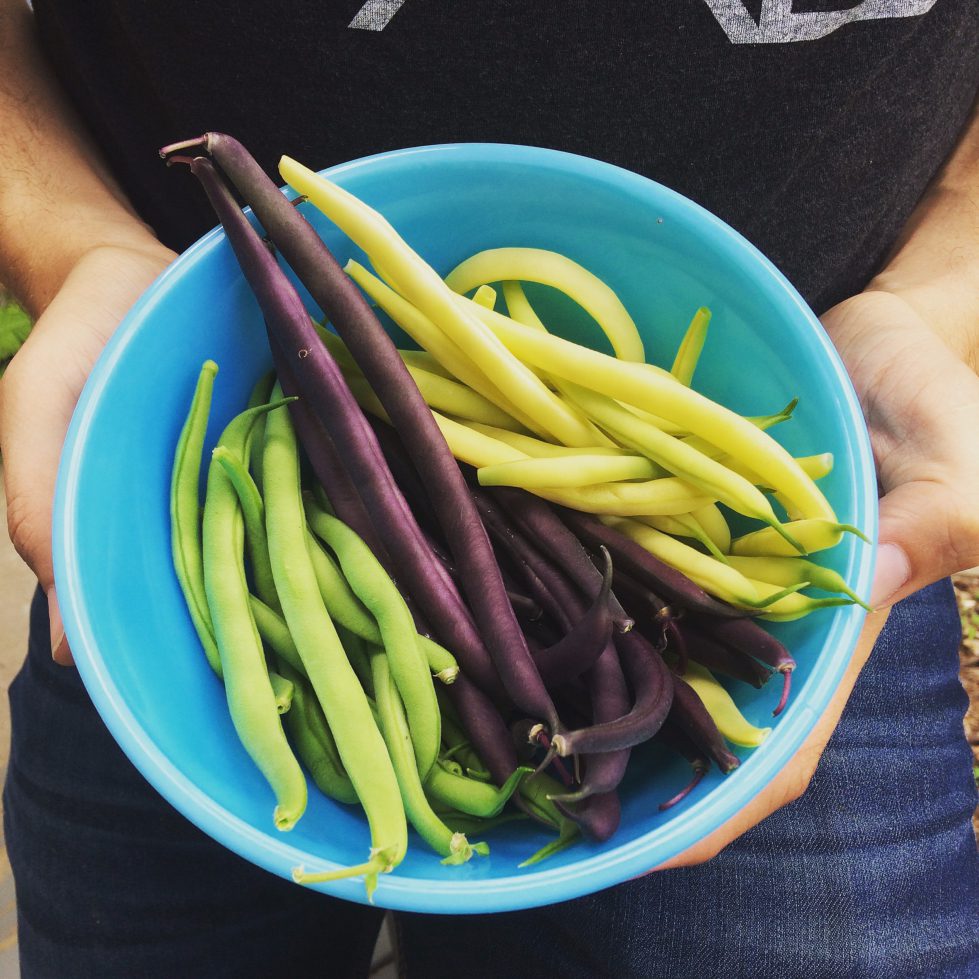 2. Garlic
3. Tomatoes
4. Potatoes
5. Lettuce
If you have the space and financial resources, a high tunnel or greenhouse can be a game changer, especially for those heat-loving fruits and vegetables like tomatoes, cucumbers, peppers, and melons.
In fact, since we've started growing those heat-loving veggies in our high tunnels we've had the most successful harvests ever. I'm still amazed when I look at the difference between the tomatoes in the high tunnel and the tomatoes I am growing in the regular garden. There is no comparison.
Want to check out my vegetable garden? Check out my early July garden tour below:
Want to learn more about growing vegetables in Zone 3? Check out these blog posts:
GROWING HERBS IN ZONE 3
Most herbs can be grown in Zone 3 except they will, unfortunately, be annuals. Some exceptions are Russian tarragon, mint, and chives. Sadly, lavender is extremely difficult to grow here, and many people are very disappointed to find this out.
Regardless, here are five of my favourite, easy-to-grow Zone 3 herbs:
1. Basil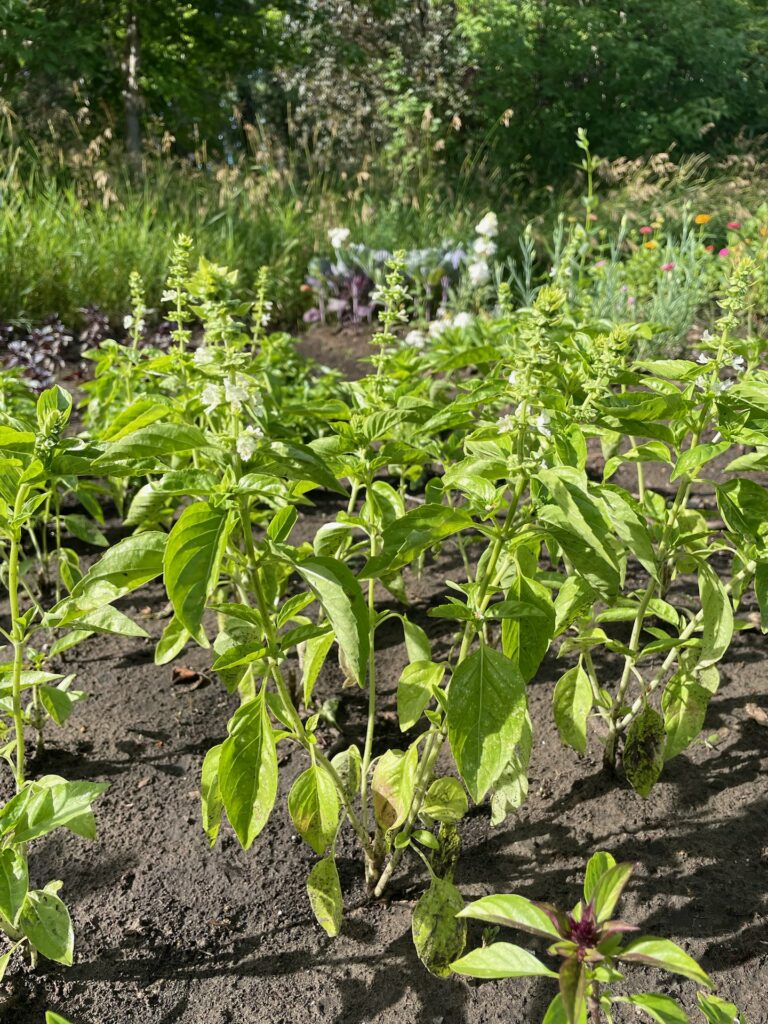 3. Sage
2. Chocolate mint
4. Chives
5. Russian Tarragon
Check out these container recipes for homegrown herbs here:
Check out my blog posts featuring Zone 3 herbs here:
If you made it to the end of this post, congratulations! You might feel overwhelmed, but I hope you're pleasantly surprised by how many things you can actually grow in Zone 3. And just because we have to endure -30 winters, doesn't mean we can't have beautiful gardens in the summers!
Follow me on Facebook, TikTok, and Instagram for more cold-climate vegetable gardening tips, delicious recipes, and cut flower goodness! I also make weekly videos over on my YouTube channel. I hope to see you there!
P.S. If you love the content I create for Shifting Roots, consider joining our community on Patreon. Your support means the world to me and I am grateful for each and every one of you!
---
NEED MORE HELP IN THE GARDEN?
Green thumbs aren't just given out at birth. They're a combination of learning about gardening and trial and error. If you wish you knew more about gardening and had more confidence in your abilities, you need the Growing Roots Beginner Gardening Guide.
It's an e-book plus 6 bonuses. Everything you need to go from complete garden newb to confident gardener in one growing season. Get all the details of what's inside here.
Happy gardening!
---
NEED HELP ORGANIZING THE BIG DREAMS YOU HAVE FOR YOUR GARDEN?
As the name suggests, the Pretty & Practical Garden Planner is a planner that's both beautiful and practical. Stay organized in the garden with lots of spots for planning out the garden, keeping lists, tracking your budget, and more!
---
---