There's nothing like the taste of homemade crab apple juice, and you can't buy it in stores. If you love crab apple juice, the only way to get it is to make it yourself. And while it's a lot of work to pick the apples, make the juice, and can it, it is definitely worth it.
Over the years, I've made and canned a lot of crab apple juice using different methods. Each method has its pros and cons, and I have my favourites depending on what my goals are. Yes, you can have goals when it comes to canning and preserving, as silly as that may seem.
In this post, I'll go over the three different methods I've used to make crab apple juice, what you need to make them, and the pros and cons of each of them. So get your crab apples ready and let's make some juice!
This post contains affiliate links, meaning that if you purchase something, I earn a small commission at no extra cost to you. You can read more about this in my privacy policy. Thanks for supporting Shifting Roots!
The Low-Tech Way: Making Crab Apple Juice Without a Juicer
Making crab apple juice without a juicer is the most labour-intensive of the three juice-making methods, but it's also the cheapest and best use of the whole apple.
In short, you cut the crab apples, removing the stems, cores, and blossom ends. You then put these apples in water along with some lemon juice, and either leave them overnight in the fridge or cook them for 15 minutes and mash them.
After either of these processes, you strain out the crab apple bits and either can or freeze the remaining juice. An extra-large bowl and a sharp knife are all you really need.
Because you've already cleaned the crab apples and there are no inedible bits, you can then make apple sauce with the leftover crab apple parts.
I like making juice this way when I don't have one huge stretch of time to make everything. I can cut apples in the evening, leave them in the water overnight, and then deal with everything else the next morning.
Pros: No expensive equipment required. Work can be spaced out.
Cons: Lots of cutting. The juice can get darker and not as clear.
The Fast Way: Using an Electric Juicer
When we were given an electric juicer to try out one harvest, I wasn't sure if I was a fan. On one hand, it was very fast to put the apples through the juicer. There was no cutting and slicing–we just pressed the crab apples into the juicer and that was it.
On the other hand, I didn't like the "juice" I ended up with. There was a large amount of pulp left behind and it was so slow trying to remove the juice from the very fine pulp. In the end, I decided that it wasn't worth trying to separate the two and just made all of it into a smooth apple sauce.
I realize that I might not have used the best electric juicer on the market. However, I don't juice vegetables or fruits on a regular basis, so it wouldn't be worth it to me to invest in a high-quality juicer. If you juice more regularly, then this might be the method for you.
Use this method if you have a lot of apples to process and very little time to do so.
Pros: Fast to process the juice
Cons: Juice is more like sauce if you use a low-quality juicer
The HIGHEST Quality Way: Using a Steamer Juicer
I'll be the first to admit that using a steamer juicer to make apple juice is a finicky affair. You must watch the water levels in the bottom of the juicer. The whole contraption is heavy. And finally, you have to watch your clamp and be sure the hose is perfectly secured. I have had the pleasure of having chokecherry juice spilled all over my wooden floors because I didn't secure the clamp properly and didn't lift the hose up. *whomp whomp*
But, if you want to make the prettiest and nicest textured juice, you'll invest in the steamer juicer and do it anyway. Of the three methods, the steamer juicer makes the nicest juice, and the juice comes out hot enough to can it immediately.
Steamer juicers are not cheap. But in my opinion, they are worth the investment because of the quality of the juice. You should also never have to replace it, except for the hose and clamp every 5 years or so.
Pros: Beautiful, clear juice. Able to can juice immediately.
Cons: Expensive equipment. Learning curve to use the equipment without making mistakes.
Which crab apple juice-making method will you choose?
If you enjoyed this blog post, find me on Facebook, TikTok, and Instagram for delicious recipes, small space gardening and flower farming tips, and more! I also make weekly videos over on my YouTube channel where I share lots of tips and tricks for cold-climate gardeners. I hope to see you there!
P.S. If you love the content I create for Shifting Roots, consider joining our community on Patreon. Your support means the world to me and I am grateful for each and every one of you!
---
WANT SOME MORE SIMPLE HARDY FRUIT RECIPES?
If you're looking to make delicious recipes with your homegrown prairie fruits, look no further. Check out my e-book Hardy Fruits Cookbook, for over 25 mouth-watering dishes!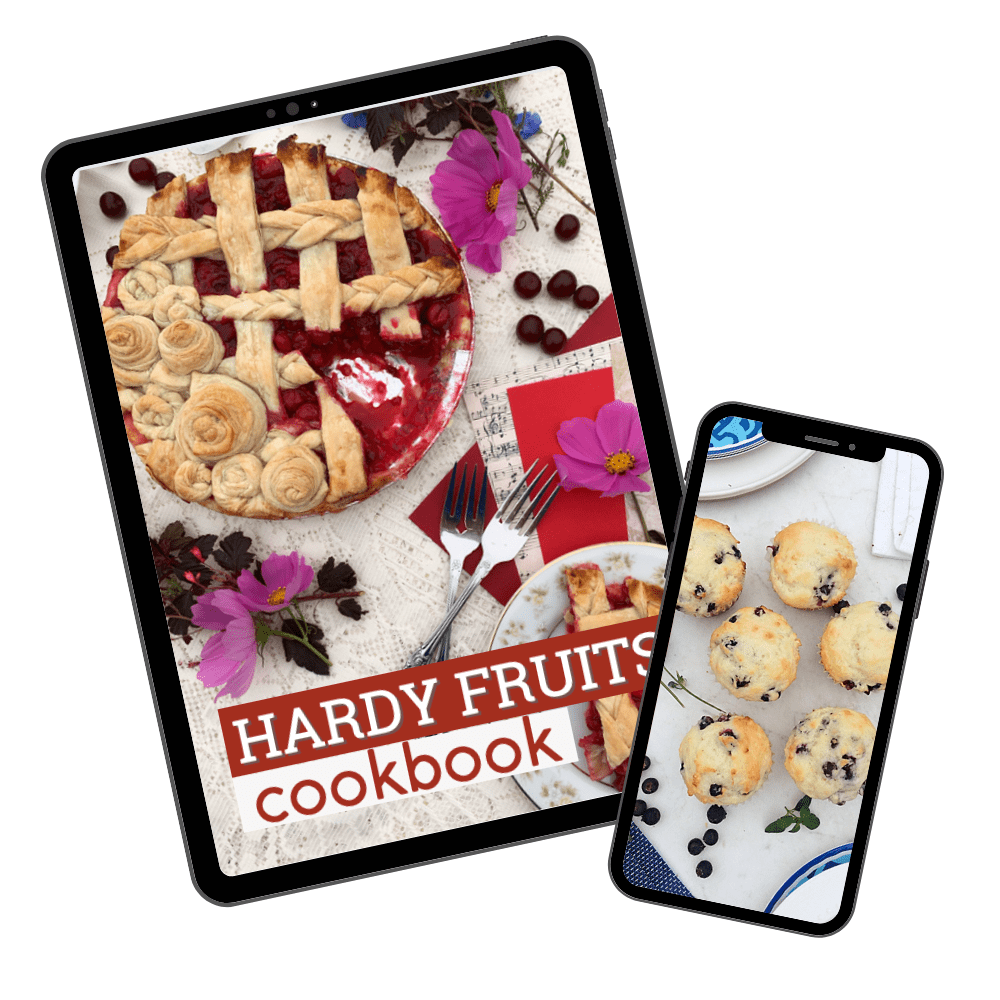 ---
---