Meet Kristen
---
Founder and CEO, Shifting Roots
Hi, I'm Kristen!
I'm a former farm kid who became a singer, scrapped it all, and came back to her roots helping new gardeners cut through the confusion of growing cut flowers, perennials and vegetables–all from a zone 3 perspective. I'm obsessed with growing the prettiest flowers, pushing the limits of what can be grown in my cold climate, and collecting eggs from my chickens every morning.
After many years of growing small space urban gardens, I recently moved to an acreage just outside of Saskatoon, SK Canada, where I have enough space for a flower farm and to live out my gardening dreams. There's never a dull moment here as my husband and I garden with our kids ages 10, 3, 2, and newborn, along with a collection of cats and chickens.
In the News
There are no perfect gardeners.
---
I garden in Saskatchewan, which is zone 3b, if you're tired of all the gardening advice out there applying to zones 5 and up, you're in the right place!
My Story
Ever since I could talk, I've wanted to be a singer. I got up the courage to act on my dream, and 2 degrees and a 12 year voice teaching career later, here I am.
Being a working musician/singer is definitely not what I thought it would be. While I love it and will always have music in my life, the lifestyle is hard on my family and I'm ready to go in a new direction.
So where to look? Back to my roots.
Passions usually present themselves as a theme that has run through your life from the very beginning. So music. . . right? Well yes, and no.
All the while there were other passions that I've largely ignored while I've been pursuing singing and a teaching studio. I love to make things beautiful. I'm a Martha Stewart at heart. And I LOVE all things magazines, was a huge yearbook geek, and made a family newspaper with my cousins when I was child.
So this blog all about shifting my roots from music to blogging, and living a simpler life after my constantly shifting one. (12 moves in 15 years, anyone?) Growing some roots… shall we say?
I hope you'll join me on this journey. Life doesn't always happen the way we plan, but often it leads us to something better than we ever imagined.
I wrote the previous blurb in 2016 when I started this blog and I never could have imagined what the "better than imagined" would turn into. I debated totally rewriting this page, but decided to keep what I originally wrote so that if you are struggling in your career and looking for a change, you'll have the courage to start taking your own steps towards a future you couldn't have previously imagined.
Now, let me tell you the second half of this story, the one that is related to what Shifting Roots has turned into.
I grew up on a century old family farm and was involved in gardening as soon as I could walk. My family believed in hard work and that kids were never too young to pitch in. Unfortunately (fortunately?) for me, I am an only child, which meant that I was the go-to kid for all the work that needed to be done.
I didn't like having to help so much more than all of my friends and I often resented it. Little did I realize that along the way I was learning a lot of skills that my peers had no clue about–how to tell a weed from a vegetable, which flowers liked sun, and which flowers like shade, what order to plant your vegetables in and how and why to rotate your crops, when vegetables are ripe, how to process peas, corn, berries, and so much more.
Once I grew up and had my own home, suddenly all those tasks I resented became important life skills that I now needed and wanted to do. I also quickly realized that most of my friends wanted to start their own gardens, but didn't have any clue how to go about it. They either lived in cites and didn't grow up with a garden, or their parents never made them help with it.
Suddenly I became the go-to girl amongst all my friends who were buying their own houses and wanted to get started with their own gardens or landscaping.
And that is where this blog comes in. I hope that if you are new to gardening, you'll find a wealth of information to help you get started. Gardening doesn't have to be this elusive all-or-nothing thing. Start with the resources you have, and expand your garden a little each year as your skills and confidence grow.
Even though I've been gardening all my life, I still make mistakes along the way– and I'm not shy about talking about them!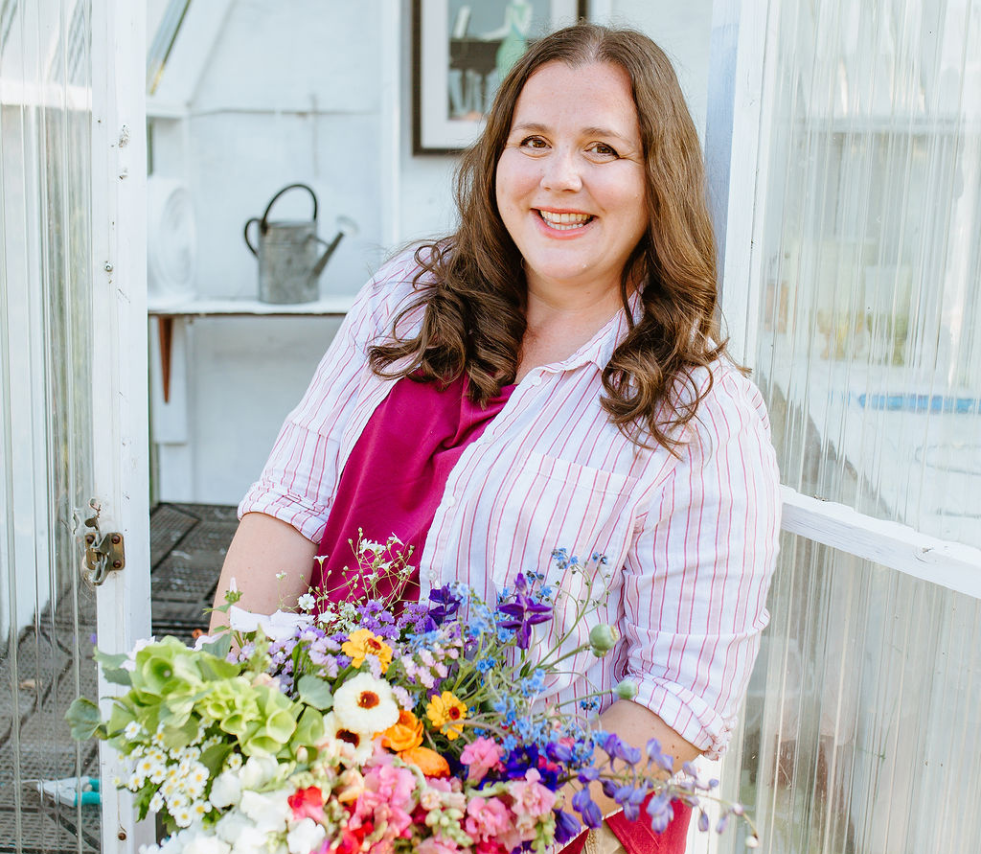 Interested in collaborating?
Email me! I'd love to build an online community of like-minded people.
Want some help with your own gardening? Check out my Beginner Gardening Course.
Where I am Today…
It's been almost 7 years since I first hit publish on this blog and SO MUCH has changed. When I started, I struggled to get more than 500 views a month and wondered if I would ever make enough to match my music teaching income. Now, Shifting Roots reaches over a million people every year through the blog, has thriving social media channels, and a devoted YouTube following.
I also swallowed my fear and started my own flower farming business, Shifting Blooms, and have been living my secret dream of creating wedding flowers for brides. Seeing the smiles on your faces as I hand you your bouquets has been one of the most rewarding things of this gardening business.
Our family has also expanded in ways I never thought possible. After conceiving our son very easily, we were surprised when our attempts at having other children did not work out. So after a few years we decided that we were going to be happy with the family we had, bought a two bedroom house, and live out our happily ever after. We then proceeded to have three girls within just shy of 4 years. (Needless to say we moved out of that house!)
Life is chaotic and beautiful and I wouldn't have it any other way. Thank you for joining me and supporting me on this journey of gardening and flower farming with a bunch of littles in tow.