Lisianthus has a reputation for being a hard-to-grow, badass-b@#$% (excuse my French). And you know what? This flower lives up to its reputation.

However, it's not as impossible to grow lisianthus as some people might have you believe.

The key thing is timing.
If you live in Zone 3 and you've read other advice about when to plant Lisianthus, throw it out the window. Because it doesn't apply here. The most common growing information will tell you that you must start your lisianthus 12-16 weeks before the last frost date. That puts Zone 3 gardeners at the beginning of February or March, which is not nearly enough time to have plants that actually grow. Especially if your germination is poor, you will have no flowers.

You'll be totally hooped.

Growing lisianthus is like growing a baby. It takes about the same amount of time.

In this blog post, I will tell you the best way to grow lisianthus, especially if you live in a cold climate like me and have a short growing season. If you live in Zone 7 and higher, you can probably get by with the traditional advice and have no problems. However, those of us in Zone 3 should follow this advice instead.
PURCHASING LISIANTHUS SEEDS
Picking the right time to purchase your lisianthus seeds is crucial because the plant date to start them is so early. With the current world situation, if you order at the same time as everything else for your garden, you will not have any lisianthus blooms. Therefore, you should be on the lookout for seeds sometime in late summer or early fall.

Most garden seed companies don't carry lisianthus. There are only a few that do. I buy mine from William Dam and Stems Flower Farm in Canada. You could also try Johnny's Seeds if you're in the United States.
LISIANTHUS VARIETIES
When you're purchasing lisianthus seeds, look for ones that are coated. It will be much easier to plant. The frilly, double varieties are much prettier than the single ones and are more popular with customers. The Arena series is my personal favourite.
GROWING FROM SEED VS BUYING PLUGS FROM A WHOLESALER
Most established flower farmers decide at some point that the amount of time it takes to grow lisianthus from seed isn't worth it. They will then buy plugs from a wholesaler.

This is a wise decision.

However, if you are new to flower farming and are just beginning your journey, I would plant lisianthus from seed. If you aren't working with an established customer base, the time it takes to grow the flowers isn't a problem.

Plus, seeds are the cheaper option.
Unfortunately, most, if not all, local sellers do not carry lisianthus seed starters in small amounts. So, it's either start from seed or buy plugs. There is no in-between with this one.
WHEN SHOULD I START MY LISIANTHUS SEEDS?
As mentioned above, starting Lisianthus in February is already too late in a short growing season. You can start them at the beginning of January, but the ideal time is a little before Christmas.

Starting them in December gives you some wiggle room. If you have a package with slow germination, you have built-in enough buffer to get flowers still.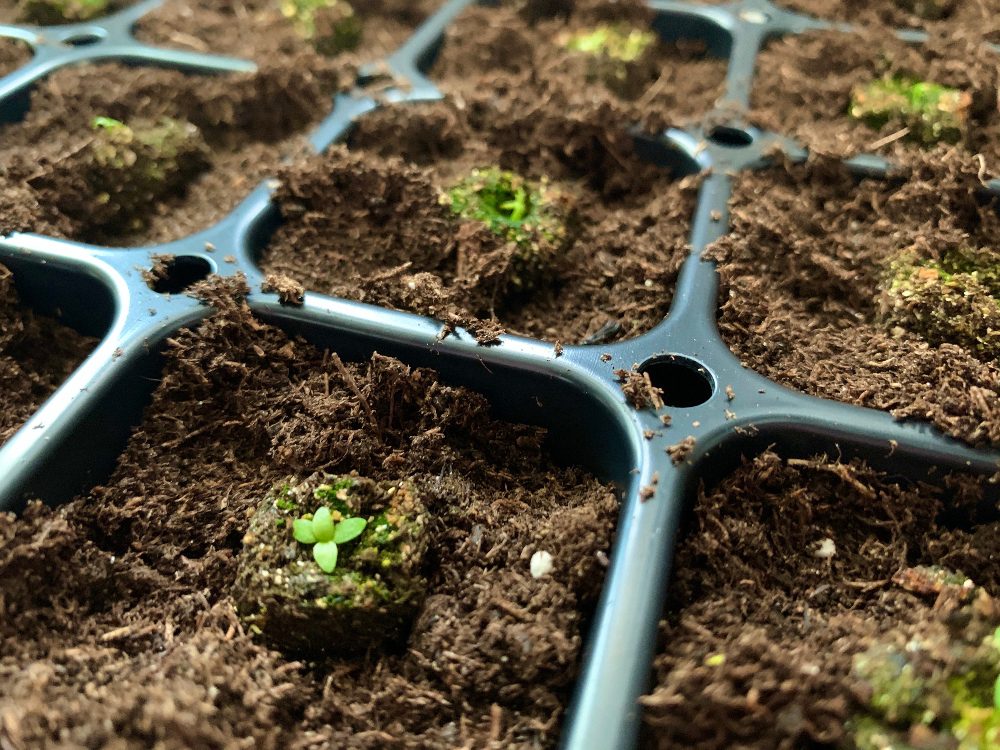 TIPS FOR KEEPING YOUR LISIANTHUS SEEDLINGS ALIVE
One of the most important things to consider to keep your lisianthus seedlings alive is to make sure your seedlings get at least 12 hours of grow light time a day. This may sound like a lot of time to some, but trust me on this one.
Keeping your seedlings at the perfect level of moisture is also extremely important. Watch that you don't let them dry out or let them get too soggy. We're looking for the Goldilocks ratio here.

Don't freak out if you start seeing a little mould on your seedlings. It's normal. You can add cinnamon to stop it from spreading.
Once the roots start coming out of the bottom of the seedling tray, it's time to bump up the plants to a larger container, especially if you've planted them in a smaller cell. Since lisianthus take such a long time to reach maturity, and because they will be in their cells for a long time, make sure you use a seed-starting fertilizer at least once every two weeks.
Lastly, lisianthus love water. I noticed this year that since my soil tends to go hydrophobic, the lisianthus suffered anytime I wasn't consistent with watering, and the stem length wasn't as good. One time I accidentally drowned my pots of lisianthus when my hose broke loose, and I wasn't aware of how much water was going into the pots until it was too late. I was terrified they would all get root rot and die. Fortunately, this was not the case. They were actually the best lisianthus I grew that season! They were the best because they got watered.
SIDE NOTE: Yes, you can grow Lisianthus in pots!
CAN LISIANTHUS SURVIVE THE COLD?
The short answer is yes. And more than you think.
In the past, I did some tests with my lisianthus plants and found that they could survive temperatures up to -5 °C (23 °F). I also had them covered in frost cloth under hoops. I noticed that if the plant wasn't at least at the four-leaf stage and looking sizably big, it could not handle the -5 °C temperatures. If the lisianthus had a stem, however, it could withstand those colder temperatures.
Essentially, I'm suggesting only sending your biggest, baddest, hardiest plants out into the cold. And don't forget to harden them off first.
In the fall, you don't need to rush to cover your lisianthus if there are freezing temps. But, of course, cover them in frost cloth if there is going to be a hard frost. Lisianthus is a reasonably cold-hardy plant.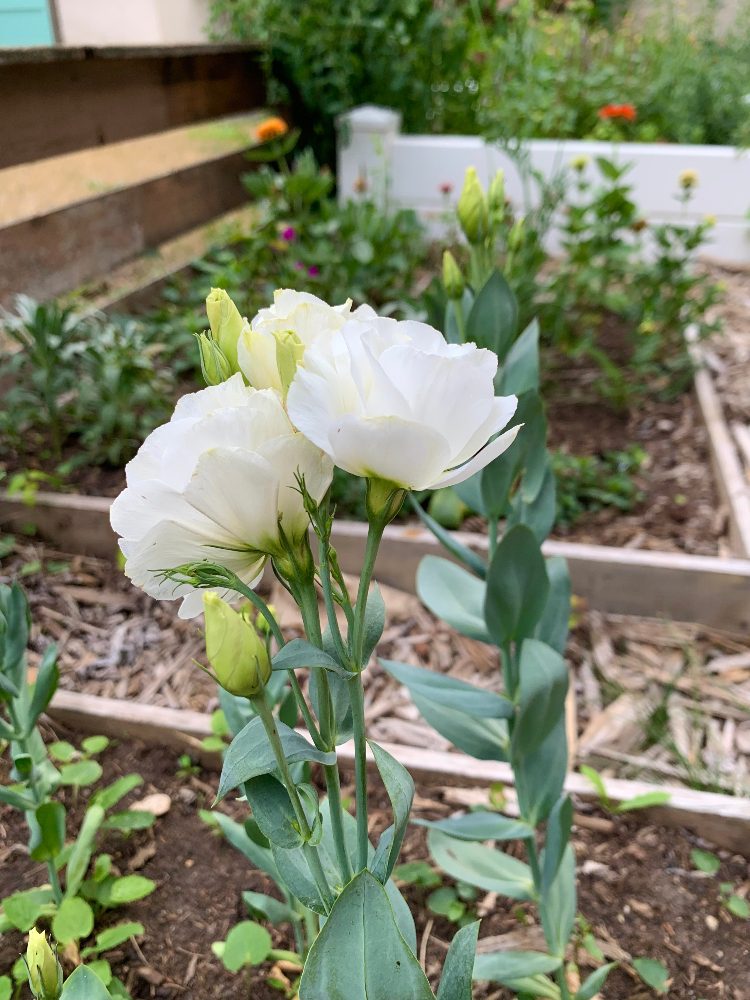 If you liked this blog post, find me on Facebook, TikTok, and Instagram to follow more of my farmer florist journey and join in the cut flower conversation! I also make weekly videos on my YouTube channel. You can also sign up for bouquet-making events and buy my flowers at my sister site Shifting Blooms. I hope to see you there!
P.S. If you love the content I create for Shifting Roots, consider joining our community on Patreon. Your support means the world to me, and I am grateful for each and every one of you!
---
READY TO GROW YOUR OWN BEAUTIFUL CUT FLOWER GARDEN WITHOUT THE HASSLE?
I've taken all the guesswork out of creating a cut flower garden with my e-book, Cut Flowers Made Simple. It's the perfect way for beginner and intermediate gardeners to start their own cut flower garden with or without seed starting.
Finally, you can create a stunning cut flower garden with everything you need to make beautiful bouquets all summer long.
Click on the picture to find out more, or get your copy.
---
LOOKING TO START A CUT FLOWER BUSINESS?
Have you been researching all over the internet and in free Facebook groups about starting a cut flower business and are feeling more confused than ever? Don't believe you can make a profit from a cut flower garden on modest terms? Check out this video for how I went from a wannabe flower farmer to a resilient backyard business owner!
And, if you're still feeling frustrated, worried about spending too much money and not making your money back, or want to learn more about profitable small-scale flower farming, you can enroll in Backyard Business, my program for aspiring flower farmers. Some of my students were already making money (enough to pay the cost of the course!!) in the middle of winter by getting creative and trying new things. I hope to see you there!
---
---