Admit it. You've caught the Dahlia growing bug. You've seen all those gorgeous flower farming accounts on IG and you're officially in love. You know you want to grow Dahlias for cut flowers, but there are so. many. varieties. How do you know which Dahlias make the best cut flowers? Which varieties are the prettiest and work the best in your flower arrangements?
In this post, I'll break down what to look for in a Dahlia variety (and if it's even intended for cutting!) and share some of my favourites that look good in both your garden as well as the vase. Then, when you've made your list of must-haves, head over to these posts to learn even more about dahlias.
This post contains affiliate links, which means that I make a small commission if you purchase anything, at no extra cost to you. You can read more about it in my Privacy Policy. Thank you for supporting Shifting Roots!
How to tell if a Dahlia variety would make a good cut flower
As I mentioned above, there are TONS of Dahlia varieties available. The amount is staggering, and it's sometimes difficult to know if you're getting a good one. They're also pretty expensive! A cheap Dahlia tuber goes for around $6-$7 a piece, and more expensive ones can go for upwards of $15-$20. They're also labour intensive, as they need to be dug out in the fall, stored over the winter, started early, and then planted. Talk about a lot of money and work for a flower! All this to say, you don't want to mess it up.
"FUN" FACT: We updated this post in March 2022 and prices were $4 for a cheap tuber and $10 for an expensive tuber. Now, in September 2022, the prices are almost double!
The best way to tell if a Dahlia would be good for cutting is to check the height of the plant. Anything that will grow to around 3 feet or more is a sure bet. The shorter varieties are either meant for containers or to be planted in landscapes. While you can use these flowers in arrangements, the stems will likely not be as long as you'd like them.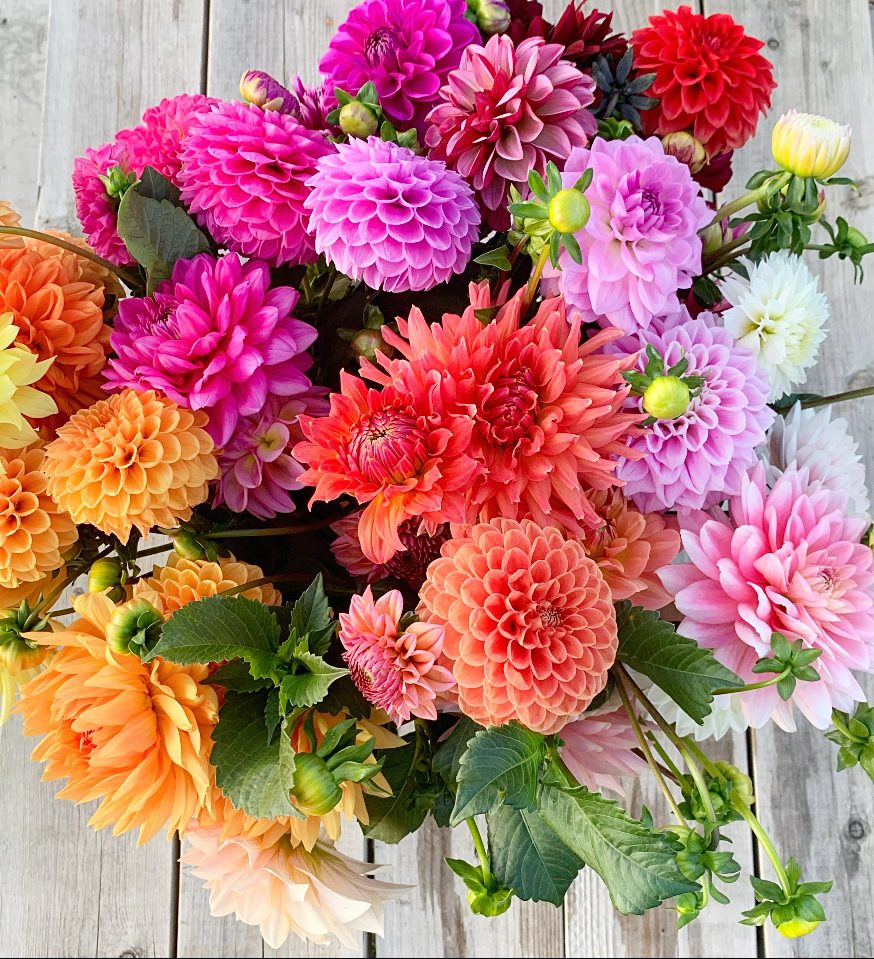 Every Shape and Size
Dahlias generally come in 4 different sizes: small (sometimes called pom-sized), medium, large, and dinner plate. I personally am not a fan of the super large dinner plate varieties for cutting, only because the flowers are too big for most arrangements. However, the offshoot flowers tend to be smaller and a more reasonable size.
Dahlias can come in a wide range of colours and combinations–red, orange, yellow, coral, pink, purple, white and very deep shades of red and purple. They also have different textures. Some, like Cafe au Lait have looser textured petals, and others, like Jowie Winnie, are tighter. There are also cactus varieties, that have thin spiky petals.
Every flower farmer will have their preferences, but these are some of my favourite varieties. They're the ones that make your brides happy and your IG account swoon-worthy.
Looking for some easy-to-grow cut flowers? You'll love these 10 picks:
Tips for Purchasing Dahlias
So it's your first time growing Dahlias, and you're not sure how much or what to invest in. Here's what you need to know, and some of my thoughts now that I've grown Dahlias a couple of years and invested in both cheap and expensive tubers.
If you are growing Dahlias purely for your own enjoyment, start by buying the cheap ones at a big box store. They're much cheaper, and if you lose a tuber or two it's not such a big deal because they're not nearly as expensive. However, you will likely not find the really coveted varieties that I've listed here. That's okay. Digging up and storing dahlia tubers over the winter is a bit tricky, so it's better to lose cheap tubers than expensive ones.
If you are a flower farmer or you want to start a side hustle selling bouquets from your backyard, then it's better to buy from a reputable grower or another flower farmer so you actually get the varieties that customers want. It's a sizeable investment, but once you have the tubers, you can cut and divide them every year and expand your collection.
P.S. If you're thinking about starting a cut flower farming business, you'll want to get on the list for my Backyard Business course, so you can stop dreaming and start making money!
The Best Dahlia Varieties for Flower Farmers
While every flower farmer will eventually figure out their favourites and what sells well with their customers, these are some of the prettiest varieties that you will often see in wedding bouquets and IG pictures.
A quick disclaimer–I've made every effort to get the right Dahlia pictured, but I didn't label each one when I took my pictures! I've taken my best-educated guess, but there may be the odd dahlia that is not correct. If I'm unsure, I've made notes about other varieties I think it could be. Thanks for understanding!
Sweet Nathalie
Gorgeous in wedding work, and paired with other dusty pinks, lavender, or burgundy.
A smaller Dahlia variety with pink and white petals and a yellow centre. They look beautiful in wedding bouquets.
Arabian Night is one of the first Dahlias to bloom in the summer. I also found it to be more resistant to thrips than my other varieties.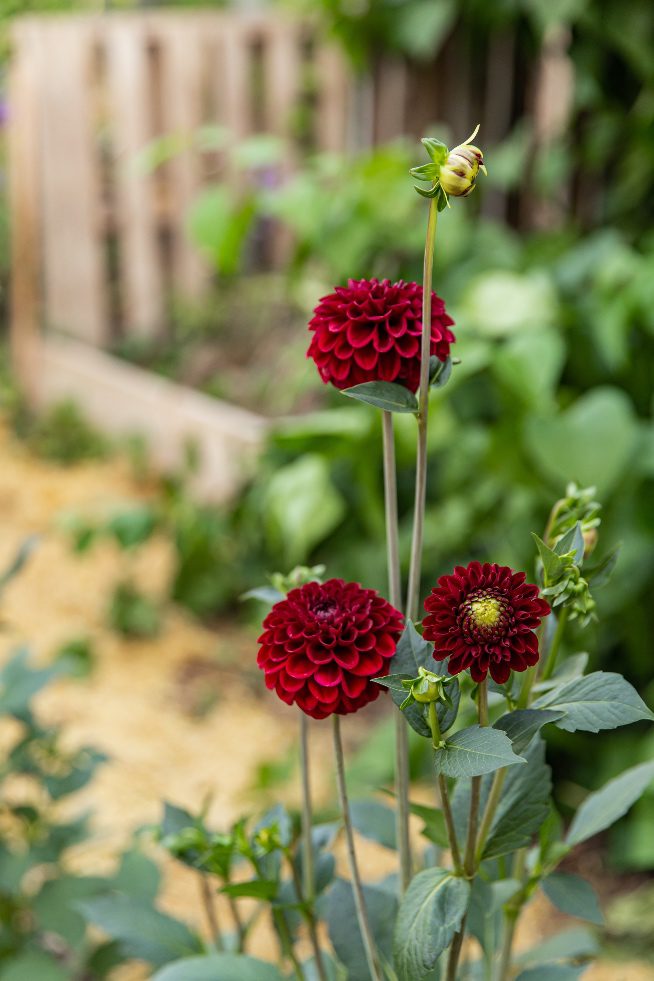 Peaches and Cream
This variety is so gorgeous, but probably one of the most expensive dahlia tubers you can grow, ranging from $15-$20 a tuber. That's the price for one tuber not a clump of tubers! I personally have decided not to invest in them and find other blush alternatives to use in my arrangements.
The original must-have Dahlia for flower growers. Cafe au Lait also comes in other variations, such as Rose and Royal–which are equally as beautiful!
CASTLE DRIVE
Castle Drive will always and forevermore have a place in my garden. It's a good producer for me and this year when I tried to do cuttings it was one of the first varieties to wake up. I was able to get a successful cutting form it, even though not all varieties were so favourable.
Jowie Winnie
Jowie Winnie is one of those beautiful, muted, complex colours. Is it purple? Pink? Hints of coral? Whatever it is, it's beautiful and blends seamlessly with other colours in the arrangement.
AMERICAN DAWN
I fell in love with this dahlia variety this year (in 2022). And even more so after I set it out on my porch and saw it last for ten days with zero extra love and attention. No replacing the water. No anything. It just survived on its own!
Sylvia
A small yellowy/peach variety that looks elegant in fall arrangements.
Linda's Baby
I would argue that Linda's Baby is almost as standard amongst Dahlia growers as Cafe Au Lait. A must-have in your garden!
If you liked this blog post, follow me on Facebook, TikTok, and Instagram for more cold-climate gardening tips, delicious recipes, and cut flower goodness! I also make weekly videos over on my YouTube channel. I hope to see you there!
P.S. If you love the content I create for Shifting Roots, consider joining our community on Patreon. Your support means the world to me and I am grateful for each and every one of you!
---
Interested in arranging your homegrown cut flowers or maybe even starting a backyard business? Check out the newest video in my Backyard Business series on YouTube:
---
READY TO GROW YOUR OWN BEAUTIFUL CUT FLOWER GARDEN, WITHOUT THE HASSEL?
I've taken all the guesswork out of creating a cut flower garden with my e-book, Cut Flowers Made Simple. It's the perfect way for beginner and intermediate gardeners to start their own cut flower garden with or without seed starting.
Click on the picture to find out more or get your copy.
---