With so many different gardening supplies out there, how do you know which one to choose? I've tried a LOT of products in the garden, and over the years I've narrowed it down to what works best for me. As you're going through this list of must-have gardening items, consider them a starting point for developing your own gardening essentials list.
So without further ado, here are my must-have gardening tools, seed starting equipment, and more. These are all things that I personally use and love, are similar to something I own that has been discontinued, or things that have been on my wishlist forever!
This post contains affiliate links, which means that if you purchase something, I earn a small commission at no extra cost to you. You can read more about it in my privacy policy. Thanks for supporting Shifting Roots!
SEED STARTING Equipment
Grow Bags – I tested these and left them outside on my south-facing porch over winter and they looked just as good as the day I bought them. They are tough and they can handle the cold! Great for small-space gardeners!
Grow Lights – I've recently tried out the Barinna Grow Light Kit, and even though there are some drawbacks to it, it is the easiest way to get started seed starting without a complicated setup. I wish there was an easier way to get the lights close to your plants, but you can always prop your trays on boxes if need be. However, for the price, ability to change up your set-up, and ease of setting it up, I highly recommend them. Want to know more? Check out my grow light post and sow how many varieties there are to choose from!
Jiffy Windowsill Greenhouse – Great for beginner gardeners!
Newspaper Pots – This is a super easy DIY project. One of my favourite ways to seed start!
Seedling Heat Mat – Though I don't personally love these or use one, many of my readers like to. This is what I'd recommend if you're going to give this a try!
Seed Starting Shelf – I love this chrome shelf, especially for an efficient grow light setup! Another great option is this DIY seed starting shelf for small-space gardeners with south-facing windows.
Seed Starting Trays – I like to use the 50-cell trays and the 72-cell trays the most. I don't love the smaller ones. I would recommend this micro soil blocker over the small trays.
Soil Blocker – Check out my video on YouTube for the best soil block recipe to use with your soil blocker!
gardening Apparel
A floppy hat is a must for gardening in the sun, and these days, there are so many cute wide-brimmed hats on the market! Fashionable sun protection… what more does a gardener need?
I get so many comments from readers about how much white I wear in my photos. While I do like to dress up for a good photoshoot and not all of the photos I post are truly candid, I admittedly love a good white shirt or dress in a light, airy linen or cotton blend.
There's nothing like a crisp white shirt against a colourful, cut flower garden to brighten my day! Light fabrics keep you protected from the sun and help you stay cool! Who cares about a bit of dirt? A wrap-around linen apron has also been on my wishlist for quite some time.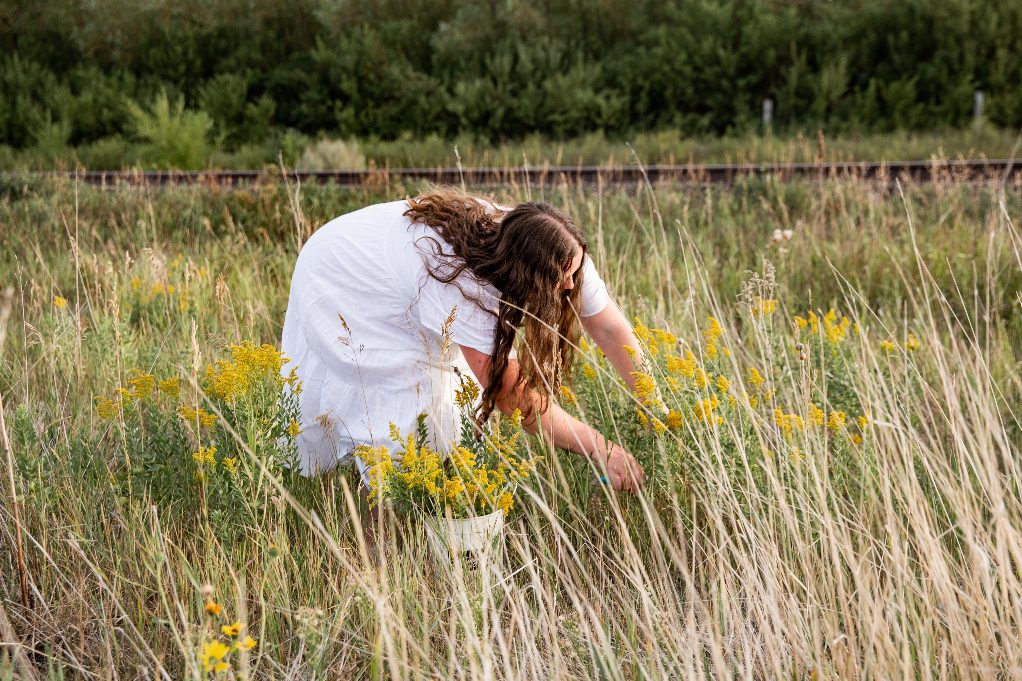 Lastly, t-shirts! As much as I like dressing up, a classic t-shirt with jeans is a staple gardening outfit. Shifting Roots t-shirts are available at my online shop!
Here's a sneak peek at some of the designs:
FLORAL ARRANGING
Flower Wrap – I usually cut mine 18×18. Smaller flower farmers can always use a roll-up sheet from the Dollar Store if they want to save money or don't need as much paper. Sometimes I even use scraps of wrapping paper to make birthday bouquets feel extra special.
P.S. These are not proper flower snips in the picture, but I've linked the ones I usually use above!
This ribbon comes in plenty of shades, so you can find just the right one.
Metal Buckets – These are good to use while you're picking flowers and to put finished bouquets in when you're all done with your arrangements!
I bought these buckets plain and had someone local make me a branded sticker for them. Also, you might have to caulk the bottoms of your buckets, as sometimes they tend to leak. I have had good luck with the ones at the Dollar Store. They're usually between $3.50 and $4.00 and only 1 out of every 6 tend to leak.
Check out my bouquet subscriptions over at Shifting Blooms to order beautiful bouquets arranged by yours truly for June, July, August, and September!
SEED COMPANIES
West Coast Seeds – This is one of my favourite Canadian companies for both cut flower seeds and heirloom vegetables. They have quick shipping, and I've had very good germination rates on almost everything I've bought from them.
William Dam Seeds – A great seed company that has a wide selection of flowers and vegetables that can be hard to find elsewhere.
Johnny's Selected Seeds – This American company ships to Canada and has an extensive selection of on-trend cut flower seeds and vegetable varieties. Worth the exchange rate and extra shipping to get exactly what you need.
The Incredible Seed Company – They have one of the best selections of tomato seeds and stock many on-trend cut flowers seeds, as well. All of their seeds are heirlooms, so you know you can seed save! I've also had really good germination from all their seeds.
Stems Flower Farm – This Canadian company has a wide range of on-trend cut flower seeds, including an impressive selection of Dahlia tubers! They had some issues with availability in 2022, which I hope get resolved for next year.
And if you want to join me in growing a $100 cut flower garden, check out the shopping list below and the blog post here.
SOIL, FERTILIZERS, AND MORE
Coconut Coir – I prefer the large blocks of coconut coir, but for beginner gardeners, the coir pellets are an easy alternative.
Fertilizer – My two favourites are the All-Purpose Blend 4-4-4 and the Power Bloom 2-8-4, specifically formulated for cut flower gardening.
Fish Fertilizer – There are many benefits to using fish fertilizers, but beware! Use this in the garden, but don't use it indoors because it smells.
Kind Bees' Bee Starter Kit – For more about using bees in your garden, check out these 5 Easy Ways to Increase Pollination in Your Vegetable Garden and 44 Pollinator-Friendly Flowers and Herbs to Help Save the Bees.
Seed Starting Mix – If you have a local place that sells its own brand of seed starting mix, it is probably fine to use. I haven't found a lot of difference in success between brands.
Vermiculite – This is what I like to put on top of seedlings, so I don't get algae and mould as easily.
WEED & PEST CONTROL
Diatomaceous Earth – A must-have for flea beetles and many other garden pests.
Garden Claw – This is my favourite tool for weeding in early spring. It's a multi-use gardening tool that I couldn't live without!
Gardening Gloves – It might seem obvious, but a good pair of gardening gloves go a long way. These are my favourite style because they are tough, long-lasting, and an easy fit for all hands. I've linked to these ones on Amazon, but if you see the similar ones at Costco, they're a better deal and the ones I usually buy.
Mesh Party Bags – It seems silly, but these are the best line of defence for keeping pests off your precious dahlias. Even if the odd thrip manages to get in, it's far less, and it also protects from grasshoppers!
Nematodes – Good for fungus gnats, thrips, and more!
Sticky Aphid and Whitefly Traps – For keeping aphids and whiteflies away from your plants!
Sticky Thrip Leafminer Trap – The best way I've found to keep thrips away from your plants!
Square Foot Gardening
The Seeding Square – This is my favourite way to plant in my raised beds. I even use it in-ground too and it's so convenient. If you're the kind of person who doesn't like to bring a ruler to the garden, you'll definitely want a seeding square!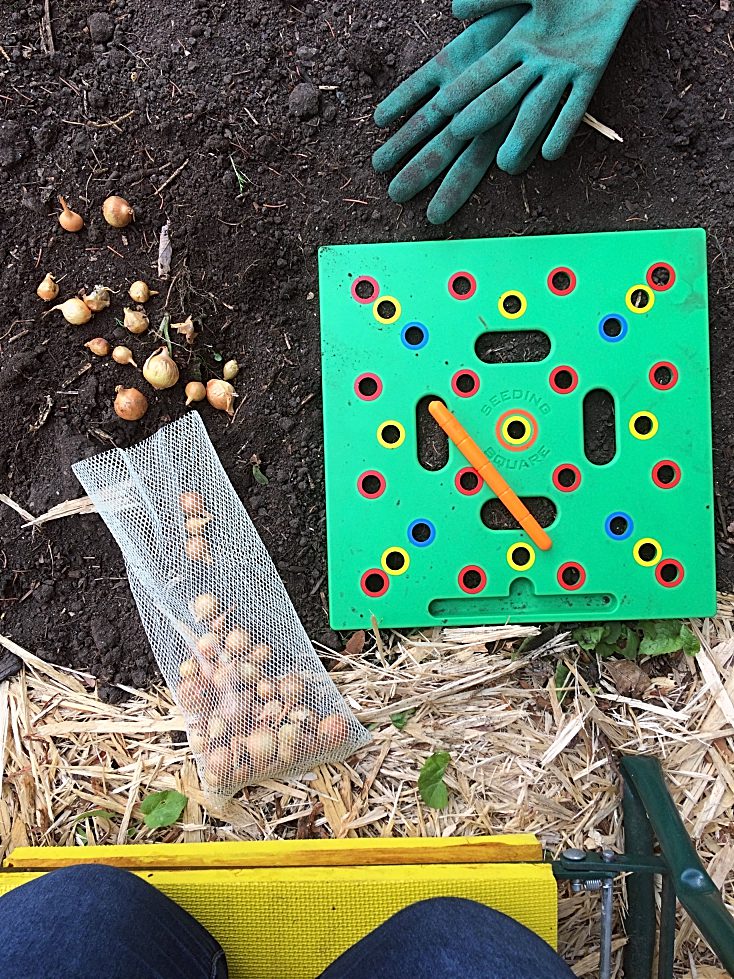 Square Foot Gardening by Mel Bartholomew
This book is practically the bible for square foot gardening. A must-read!
Get 4 Free Square Foot Gardening Templates
Start your square foot garden the easy way!
You'll get 4 4x4 plans for
Salad Garden
Beginner's Garden
Salsa Garden
Kid's Garden
Plus a mini email course that gives you short, actionable tips for keeping your garden alive.
Frost Protection
Frost Fabric – If you live in a northern climate, you NEED frost fabric. I attach mine to plastic piping from my local hardware store and fasten it with binder clips.
Binder Clips – They're not fancy, but the large size is the strongest thing to keep your fabric attached to the hoops.
Kozy Coats – Every tomato I grow that doesn't make it into the prime real estate of the high tunnel, gets the royal treatment with a Kozy Coat. They work really well for peppers, pumpkins, or any plant that really likes the heat.
GARDENING Books
I could go on and on about all the gardening books out there on the market. While there are a lot of gardening books I've enjoyed, these are three of my favourites that I come back to again and again.
Floret Farm's Cut Flower Garden: Grow, Harvest, and Arrange Stunning Seasonal Blooms by Erin Benzakein with Julie Chai
Growing Fruit in Northern Gardens by Sara Williams & Dr. Bob Bors
The Short Season Yard by Lyndon Penner
MY EBOOKS & GARDEN PLANNERS
Over the years, I've written a lot of ebooks to help you on your gardening journey. My ebooks are perfect for visual learners. There are plenty of beautiful pictures, and I've tried to make them quick reads that will get you the information you need fast–so that you can get out into the garden as fast as possible and apply what you've learned.
Learn to make beautiful bouquets that look good every time with flowers from your backyard.
If you've ever looked out into your yard and lamented that it's too green, or that all your perennials bloom at the same time and you're left with a boring yard the rest of the summer, this ebook is for you! Learn how to create a perennial garden that always has something blooming all season long–no matter where you live. 5 done for you plans and 5 templates make it super easy to implement what you've learned.
Cut through the confusion of growing cut flowers and create your own backyard cut flower garden. Imagine picking your own bouquets right from your backyard and having fresh flowers always on your table.
Flower farmers, rejoice! This planner is especially for you, so you can keep all your seed starting, sales, and projects in one place.
Here's what to plant so that you have flowers to enjoy in your garden long after the first frost.
Growing Roots Beginner Gardening Guide
Brand new to gardening? This ebook will give you the "lay of the land" so that you're able to tackle any simple new gardening project in your backyard with confidence.
Delicious recipes using strawberries, raspberries, Saskatoon berries, sour cherries and more!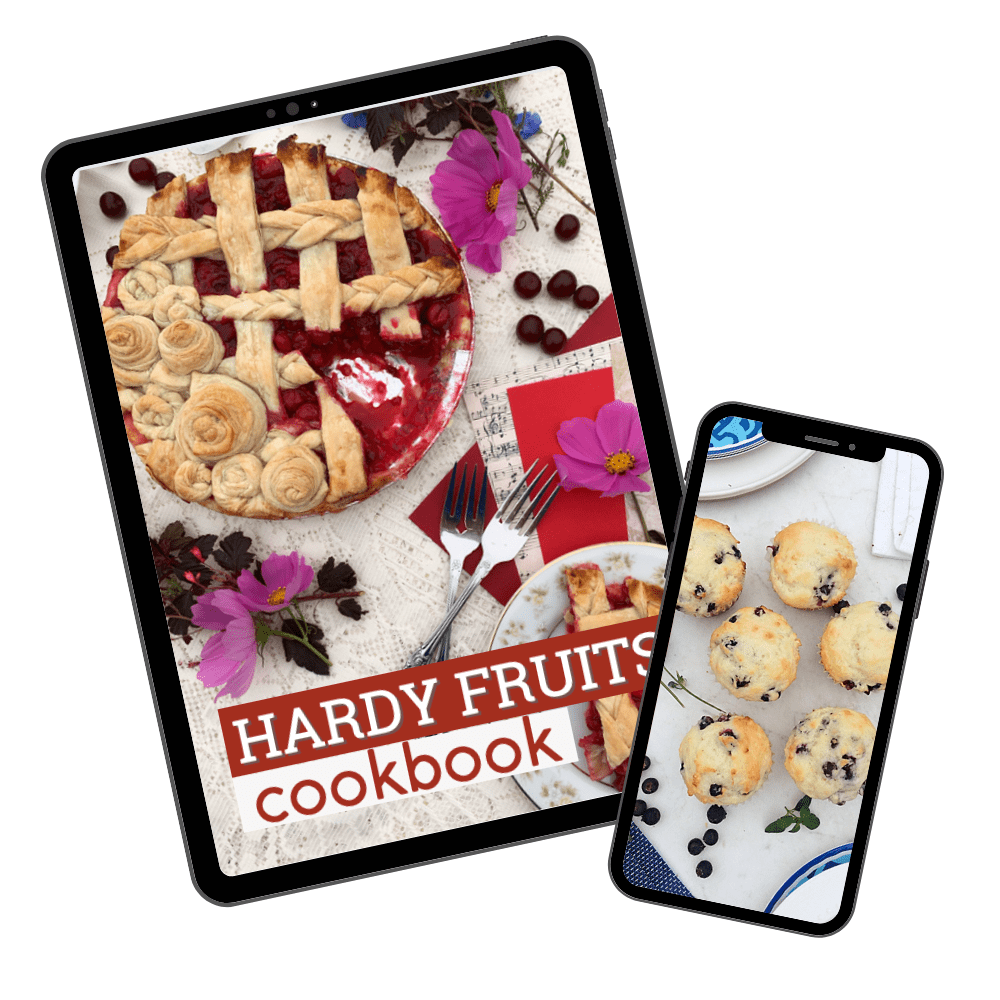 Pretty & Practical Garden Planner
A planner that's both beautiful and practical. Stay organized in the garden with lots of spots for planning out the garden, keeping lists, tracking your budget, and more!
Save money this year and learn to save your own annual flower seeds!
New to seed starting? This ebook breaks down everything you need to know! Includes helpful videos.
Learn to grow up, not out, and make the most of your raised beds and containers. Perfect for the gardener who's looking to scale back, or just getting started and wants to keep their garden small and manageable.
A visual guide for identifying common vegetable and flower seedlings, so you can easily know which plants to let grow and which weeds to pick.
Check out the Ultimate Cut Flower Bundle to get four of my most popular ebooks and a printable garden planner for a fraction of the price!
There you have it! My long list of gardening essentials. Is there anything you'd like to see added to this list? Let me know in the comments! If you liked this blog post, find me on Facebook, TikTok, and Instagram for more cold-climate gardening tips! I also make weekly videos on my YouTube channel. I hope to see you there!
P.S. If you love the content I create for Shifting Roots, consider joining our community on Patreon. Your support means the world to me, and I am grateful for each and every one of you!
---
---