Pinching flowers and vegetables for better growth is one of those gardening tasks that seems really complicated, but is actually quite easy as long as you know a few rules:
1. Only pinch plants that can be rooted from cuttings or are cut and come again.
2. Leave at least 4 leaves behind.
3. You don't have to pinch if you don't want to.
Every time I talk about pinching peppers people ask if they should pinch tomatoes for bushier growth. The short answer? No! There are many ways to promote tomato growth, but pinching is not one of them.
However, you're not entirely wrong in thinking that you have to cut something away to promote better growth in your tomatoes. Instead of pinching, you'll be pruning and topping later in the summer.
In this blog post, I'll take you through the difference between determinate and indeterminate tomatoes, how to prune your tomatoes, and some other tips and tricks to help you grow bountiful tomato plants this gardening season!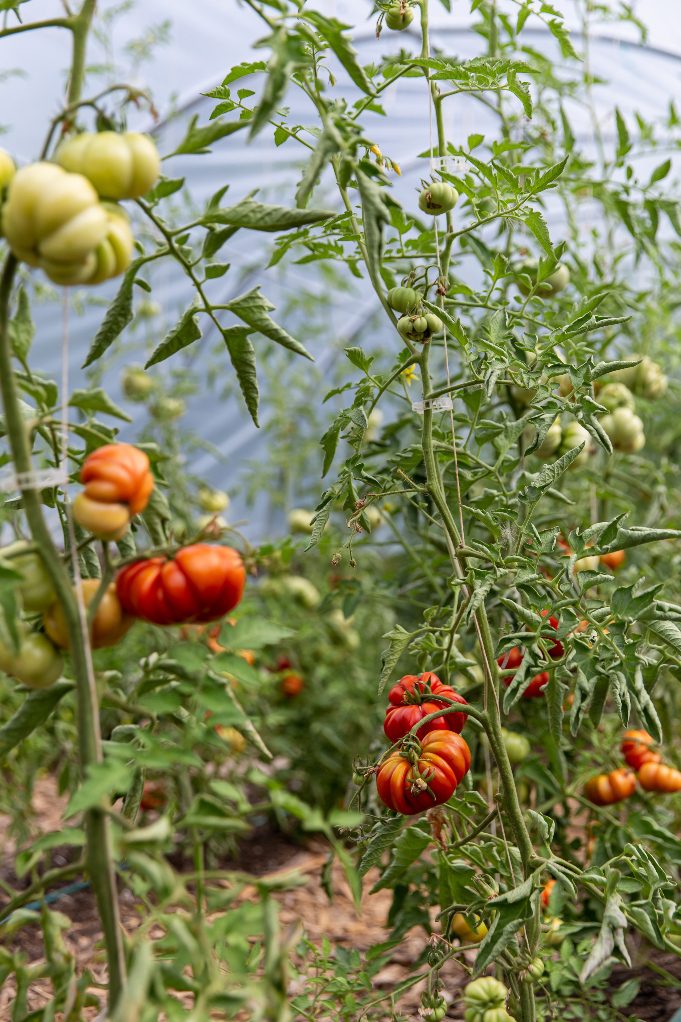 This post contains affiliate links, which means I earn a small commission if you purchase something, at no extra cost to you. You can read more about it in my privacy policy. Thanks for supporting Shifting Roots!
PRUNING TOMATOES
The first time you prune your tomatoes, you may feel nervous and like you're a plant murderer. Once you've pruned 2 or 3 times, you might find the process quite enjoyable. It's one of my favourite tasks in the garden, and I'll often use the suckers that have gotten away in flower arrangements that day.
Be careful, as pruning your tomatoes does cause stress to the plant. It is better to prune less off the plant more often than to prune a lot off all at once. Prune a few branches off each tomato plant every 2-3 weeks to keep plants healthy, allow better airflow, protect them from disease, and encourage fruit production. 
If you choose not to prune, your tomato plant will most likely still produce well, though you might end up with a larger number of smaller tomatoes. Be extra careful to make sure your tomato plants are properly spaced and in a location with good ventilation if you choose not to prune them.
Ready to try pruning? Here are the step-by-step instructions.
DETERMINATE VS INDETERMINATE TOMATOES
Determinate tomatoes, or "bush" tomatoes, produce most of their fruit near the top of the plant. Determinate tomatoes should not be topped (pruned off the top) until all fruit is set for the year. If they are topped too early, tomato production can be drastically reduced.
Just as the name implies, the height of indeterminate tomatoes, or "vine" tomatoes, is not predetermined. They continue to grow in height throughout their life and can grow to be quite tall! Indeterminate tomatoes can be topped at any point in their growth without harming the plant. This keeps them a manageable size and protects them from breakage.
In my Zone 3 garden, I tend to top my tomatoes around August 15th. Even though it's the height of summer and it feels as if the warm days will never end, you might have your first frost only 2 short weeks later.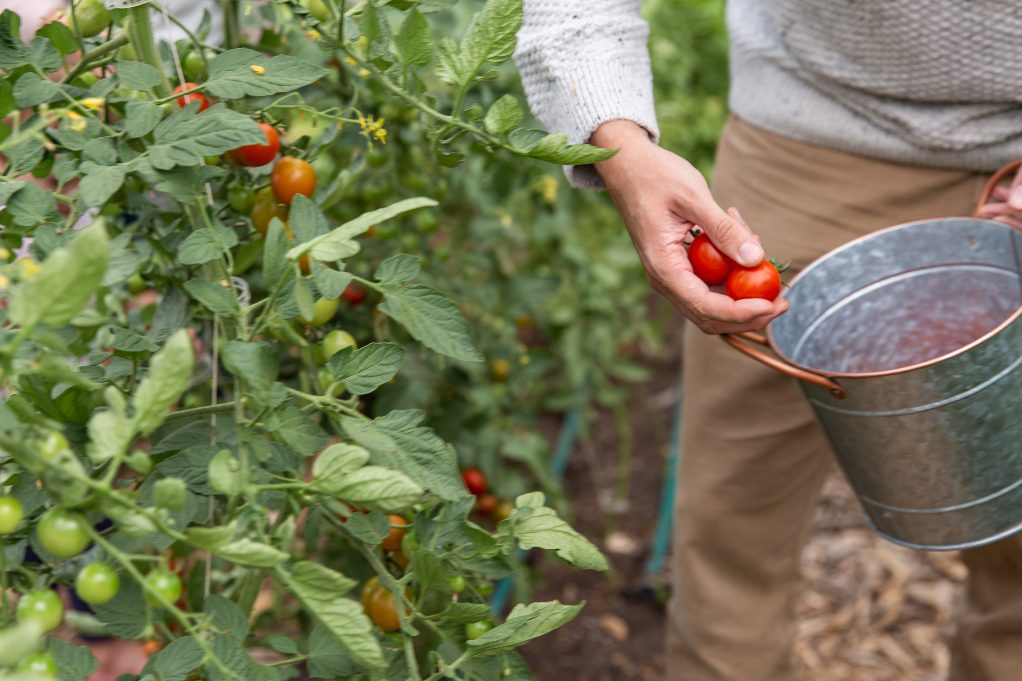 TIPS & TRICKS FOR BETTER TOMATO GROWTH
1. Using Kozy coats
Kozy Coats are perfect frost protection for early growing seasons. Since starting to use them a few years ago, I've noticed a huge difference in my tomato plants. My tomato plants grow quickly, with strong, healthy stalks and an impressive amount of leaves.
If you want to see how much of a difference Kozy Coats can make, check out the video below:
2. the seedling trick to save leggy tomatoes
If you feel your tomato seedlings (or plants) are becoming leggy and too tall to manage, you can lay the roots on their side before planting (or transplanting) to reduce tomato height. This technique can be done with all tomato varieties at any point of plant maturity.
Check out the video below to see how I do this with my tomato seedlings, and to see how you can easily help your leggy tomatoes with a pair of scissors and a cup of water:
3. TOPPING TOMATOES LATE IN THE SEASON
Determinate and indeterminate tomato varieties can be topped in mid to late summer to encourage the plants to put their energy into ripening set fruit. This discourages the plants from putting energy into new growth and blossom production when the blossoms will not have time to bear fruit. As previously mentioned, in a short-season garden, the best time to top your tomatoes is around August 15th.
I hope these tips for pruning and topping tomatoes help you in your vegetable garden this year! For more cold-climate, short-season gardening tips you can find me daily on Instagram and Facebook!
---
NEED MORE HELP IN THE GARDEN?
Green thumbs aren't just given out at birth. They're a combination of learning about gardening and trial and error. If you wish you knew more about gardening and had more confidence in your abilities, you need the Growing Roots Gardening Guide.
It's an e-book plus 6 bonuses. Everything you need to go from complete garden newb to confident gardener in one growing season. Get all the details of what's inside here.
Happy gardening!
---
---