Peppers are fun to start from seed and are a welcome distraction to the bitter February cold. But pepper seedlings can be tricky to grow well. You might frequently find yourself asking, "why are my peppers not growing?" and be tempted to throw the whole tray into the compost.
I've been growing peppers indoors for quite a few years, and have finally figured out the best ways to avoid the biggest pepper growing problem and get the results everyone wants–good side growth and strong, thick stalks.
Grab your jiffy pots and seed starting equipment and let's get you growing your best peppers yet!
This was the first pepper from seed that I grew really well. It took me years to get it right, so yes, I am insanely proud of it.
This post contains affiliate links, which means that if you purchase something, I earn a small commission at no extra cost to you. You can read more about it here in my privacy policy. Thanks for supporting Shifting Roots!
THE BASICS OF STARTING PEPPERS FROM SEED
Before we get into the secrets to growing strong pepper plants from seed, let's just make sure you've got your seed starting basics covered. All the tricks in the world won't help you if you don't have these things in order.
You'll need:
Finally, peppers can take a long time to germinate. Don't expect to see any green until around 2 weeks after you've sown the seeds.
With that out of the way, on to my 5 pepper growing tips!
1. PLANT TWO PEPPER SEEDLINGS PER CONTAINER
Peppers will grow well just by themselves, but they're more productive if you plant two of them together. I started these peppers separately in jiffy pots, then grouped them together when it was time to move them to bigger pots.
As you can see, the stem growth isn't affected and they are looking very healthy.
2. START PEPPERS FROM SEED INDOORS 8-10 WEEKS BEFORE THE LAST FROST DATE
What is the best time to plant peppers? Ideally, you'll start the seeds indoors 8-10 weeks before your last frost date, harden them off to survive the outdoors the week after the frost date, then plant them in the ground the week after that.
Peppers have a longer growing season, so if you're gardening in Zone 3 like I am, or some other cold climate, you must start them in that time frame. For me, that means I'll start them mid to late February, harden them off mid-May, then set them into the garden in late May or even early June.
Sure, they'll get quite large and you'll have to top them off (more about that later), but you'll be able to harvest peppers all season long, as opposed to one pepper at the end of the summer.
I don't know if you can notice, but these plants are so big that my 7-year-old is curled up behind them, hiding:
3. KEEP THE GROW LIGHT CLOSE (OR USE A SOUTH-FACING WINDOW)
Nobody likes leggy seedlings! (Leggy seedlings are when your plants are stretched out because they're trying to reach the light source). You can avoid this fate for your plants by keeping the grow light only 1 or 2 inches away.
If you're growing your peppers in a south-facing window, you won't have to move the light, but you will have to move the plant. Turn your peppers around every few days so they don't lean to one side. You'll likely turn them every day after they first germinate, then every few days once they've established a bit more.
Learn the Basics of Gardening in Just a Few Minutes
Gardening doesn't have to be complicated. Learn the basics in minutes, get started with your first garden in a day or less, and start your lifetime gardening adventure.
Enter your name and email address to download the Quick Start Garden Guide. You'll also get a mini-email course and weekly gardening tips and advice.
4. PINCH PEPPER PLANTS AT THE 8-10 LEAF STAGE
Want strong stems and lots of side growth? Then you need to prune your pepper plants! When the plant reaches the 8 or 10 leaf stage, pinch off the last 2-4 leaves on the top of the plant.
Yes, you will likely feel like a plant murderer for topping off your plants. But–I promise you that you will be rewarded with thick stalks, a bushy pepper plant, and lots of peppers!
Here's a video showing exactly how easy it is to top off your peppers:
5. PLANT IN THE RIGHT LOCATION
Once you grow that perfect pepper from the seed, your job isn't done! Peppers do not grow very tall and like as much sun and heat as possible. Plant them in a container, or in a spot in the garden that gets 6 or more hours of sun a day, in the hottest spot possible. (If you live somewhere very warm, you might want to ignore the hottest-spot-possible advice. Where I garden in Zone 3, this is very good advice.)
If you have access to a greenhouse or high tunnel, giving your peppers some of this precious real estate will help you have much better peppers. The peppers benefit from the extra heat and have a much better chance of growing larger.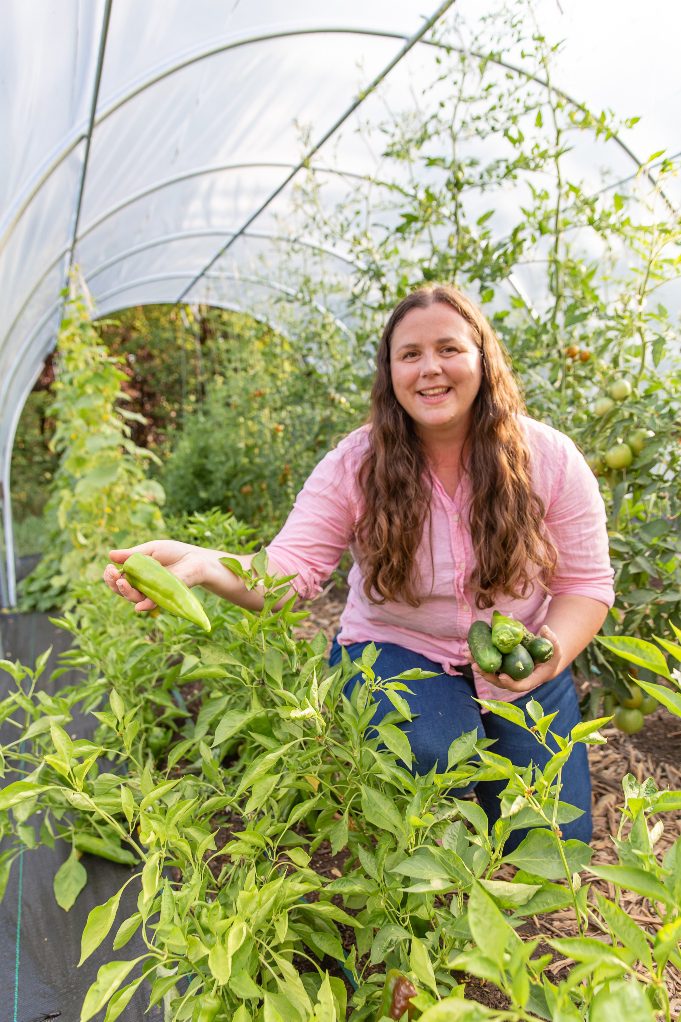 Finally, don't plop the pepper plant right next to a vegetable that will be tall. My peppers have suffered next to tomatoes or zucchini because both plants have grown larger than anticipated and shaded my poor peppers out.
I have much better luck planting my peppers beside shorter crops like bush beans, lettuces, and root vegetables.
There you have it–my best tips and tricks to growing beautiful peppers! With the right light, water, and a little know-how, you can grow your own peppers like these.
---
NEED MORE HELP IN THE GARDEN?
Green thumbs aren't just given out at birth. They're a combination of learning about gardening and trial and error. If you wish you knew more about gardening and had more confidence in your abilities, you need the Growing Roots Gardening Guide.
It's an e-book plus 6 bonuses. Everything you need to go from complete garden newb to confident gardener in one growing season. Get all the details of what's inside here.
Happy gardening!