So you're starting a bunch of plants from seed this year, and you need to invest in a grow light setup. Before you sell your firstborn to pay for the whole thing, here's what I've found to be some of the best grow lights for seedlings, depending on your budget and the kind of space you have.
First, you might have some questions: Is LED better than fluorescent? Do you really need the pink-coloured grow lights? Can you get away with basic shop lights and a used shelf?
I'll break it down for you in this post and give you my recommendations.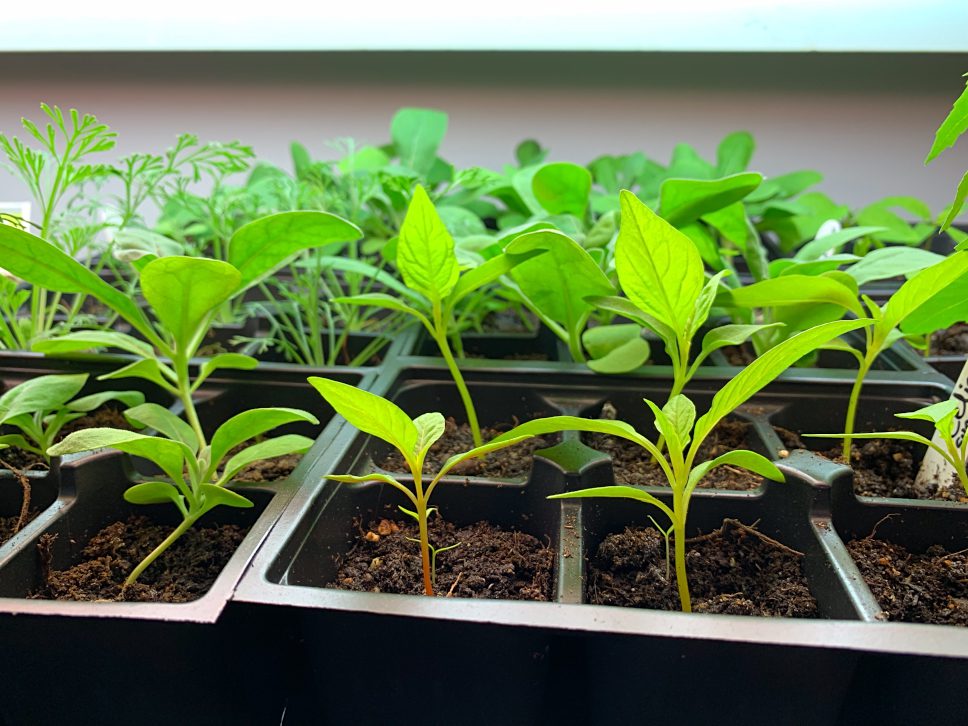 This post contains affiliate links, which means that if you purchase something, I earn a small commission at no extra cost to you. You can read more about it in my privacy policy. Thanks for supporting Shifting Roots!
Best for Small Spaces
If you're just starting growing vegetables from seed, this little grow light is the perfect way to try it out without spending much money. Mine cost around $50 and came with a bulb. When ordering small grow lights like this one, make sure that you confirm whether or not the bulb is included.
While I have a large setup, I like this small grow light because it's good for January and February when I only have a few flowers started and don't want to bring out my whole huge setup. The only thing I don't like about it is that it is not adjustable.
I raise my tray to get closer to the light or raise the light onto the boxes if I need more room. It's not perfect, but it does the job without taking up much space.
This small grow light is a better option than the one below because you can adjust the height. While I love my cheap and cheerful setup, spending the extra $25 would have been worth it.
DIY grow light set-up Options
You don't have to invest in big-and-brand-new everything. If you are handy, you can make your own shelves, fit them to the type of seed starting trays you use, and buy a grow light kit to make stringing together your lights as easy as possible.
If you don't want to make your own shelves, I personally like wire shelves like these ones. They look good and make hooking the lights on as easy as possible.
When you're looking for a DIY grow light kit, avoid strips like these ones that have a stick-on adhesive. While they're very convenient, you'll have no flexibility with raising and lowering and might end up with leggy seedlings. This kit adjusts with zip ties, but I would also buy hooks and chains for more reusable height adjustment.
my favourite cheap and easy-to-use grow light
Initially, I was a skeptic. I kept seeing these grow lights on Amazon, and they seemed too good to be true, considering the price. Then I had a gift card and needed more lights, so I tried them. While they are not the highest quality, they are super easy to put together. I made the height adjustable by wrapping wire from the dollar store around them and securing it to the wire shelf.
I needed three rows of lights for each shelf, but I could afford it at the price point. Get the Barrina Grow lights here!
Get Close-To-Professional Results
We've all seen the new style of pink/purple LED grow lights that look like they belong on a spaceship instead of in a grow light setup. I admit I was pretty skeptical about these lights, but they do the job and are the lights that will give you the most professional results. If you're interested in having a grow tent year-round filled with vegetables, these are the lights you should invest in for the best results.
Maybe it's weird, but I find these lights aggressive. So until I'm at the point where I can have that indoor grow room year-round, I prefer the fluorescent version of this to the LED one. (But it's just personal preference! If you want to go LED, this is truly your best option.)
The Best Fluorescent Bulbs To Use
My favourite bulbs to use are the fluorescent ones that are made especially for seed starting. The price really varies. I've paid $25 a bulb in-store but found these ones for much cheaper on Amazon. I like the way that my seeds grow with them. I feel that it's easier to get seedlings that aren't leggy.
I haven't jumped on the LED train because I find them hard on my eyes. I don't think one is better than the other; it just comes down to personal preference and how much money you're willing and able to spend.
Can You Just Use Regular Lights?
Yes… and no. Sigh, don't you hate when bloggers do that? Part of our setup is strung together with regular LED shop lights, and it works fine. However, you still need to ensure that your plants are all close enough so they don't get leggy.
I also find that the seedlings grow slower, especially compared to the pink fluorescent bulbs with which I've been replacing my used set-up. If all you can afford is a warm fluorescent bulb and a cool fluorescent bulb, you can still grow nice vegetables and flowers from seed.
The One Thing That Matters More Than the Grow Light You Use
I feel the need to add that, in the end, you can have the most expensive grow light setup in the world, but it doesn't matter if you don't know how to take care of your seedlings. Keeping your seedlings the correct distance away from the light, not overwatering, and not underwatering is way more critical than buying the best quality grow light.
If you need help with getting the basics of seed starting down, I cover everything in my Beginner Gardening Ebook.
Buying Used
The setup I've been using for years is a hand-me-down from my dad and father-in-law. Unbeknownst to each other, they purchased the same brand of grow lights with trays in the '90s, and they've worked very well for me.
Bulb technology has improved since then, so I've been swapping out the lights with full-spectrum growing bulbs whenever one of the ones that came with it runs out.
These are the bulbs that I'm slowly replacing the old ones with.
Finding a used grow light setup can be tricky, especially when there's so much more interest in gardening than there used to be. However, buying used is the easiest and most cost-effective option if you don't want to DIY your own.
The Grow Light Setup of my Dreams
While I like my grow light setup, if I could wave a magic wand and have any set-up and budget wasn't an issue, this is what I would buy myself. I love the sturdy black shelves and would ensure they come with my favourite pink fluorescent lightbulbs.
I Can't Afford a grow light. Are There Other Options?
If starting seedlings with a grow light isn't financially feasible this year, you can also try seed starting from your windowsill or winter sowing.
You can start some seedlings on your windowsill if you have a south-facing window. You can even create this shelf to maximize the number of seedlings you can start. However, it's not a good idea to start anything before February 15th (at least where I live, in Saskatoon, SK) as there aren't enough hours of light in the day to support the new plants.
If you don't have a south-facing window, you can take some of your seed starting outdoors instead. While winter sowing is not a replacement for a grow light, it can let you start a few hardy flowers and vegetables and get them going earlier than your direct sown ones. Please don't try and start heat-loving vegetables like tomatoes and peppers. It will not work.
You can read more about how to get started with winter sowing here.
If you liked this blog post, find me on Facebook, TikTok, and Instagram for more cold-climate vegetable gardening tips, delicious recipes, and cut flower goodness! I also make weekly videos over on my YouTube channel. I hope to see you there!
P.S. If you love the content I create for Shifting Roots, consider joining our community on Patreon. Your support means the world to me and I am grateful for each and every one of you!
---
NEED HELP IN THE GARDEN?
Green thumbs aren't just given out at birth. They're a combination of learning about gardening and trial and error. If you wish you knew more about gardening and had more confidence in your abilities, you need the Growing Roots Gardening Guide. It's an e-book plus 6 bonuses–everything you need to go from complete garden newb to confident in one growing season. Get all the details of what's inside here.
---
---