Everyone wants to grow the best-tasting tomatoes or the largest tomato varieties. Tomatoes are the glory plant of the gardening world. But open any seed catalogue, and you'll quickly be overwhelmed. Finding the best homegrown tomato varieties can feel daunting, especially for beginner gardeners. I'm here to assure you that finding those best types of tomatoes is not as overwhelming as it might seem.
I've rounded up the best tomatoes to grow in your garden, for your situation. From cherry tomatoes to the best container varieties to the best for sauces. There's something here to suit whatever you're looking for.
P.S. I've even rounded up the best varieties for those of us who don't like raw tomatoes!
P.P.S No, we're not crazy, there's just something about the high acidity that weird raw-tomato-hating people like me don't like.
Like videos better? Here are some of my favourite tomato varieties, plus a fun taste test:
This post contains affiliate links, which means that if you purchase something, I earn a small commission at no extra cost to you. You can read more about it in my privacy policy. Thanks for supporting Shifting Roots!
BEST CHERRY TOMATOES
Cherry tomatoes are wonderful for eating by the handful on a hot Summer's day. Though they're best used fresh, I've been known to throw a few in with my sauces for a little hit of sweet. You'll love the Super Sweet 100, Sungold, Sweet Million, Amethyst Cream, and Sunsugar varieties.
In 2019, I planted the heirloom Yellow Pear. They look exactly like their name suggests and are very easy to seed start. They're my pick for those of us who like both cherry tomatoes and low acid tomatoes.
If you have a greenhouse or high tunnel available to grow in, we really enjoyed Sakura. The seeds were very expensive, but worth it for seeing those long chains of perfect tomatoes.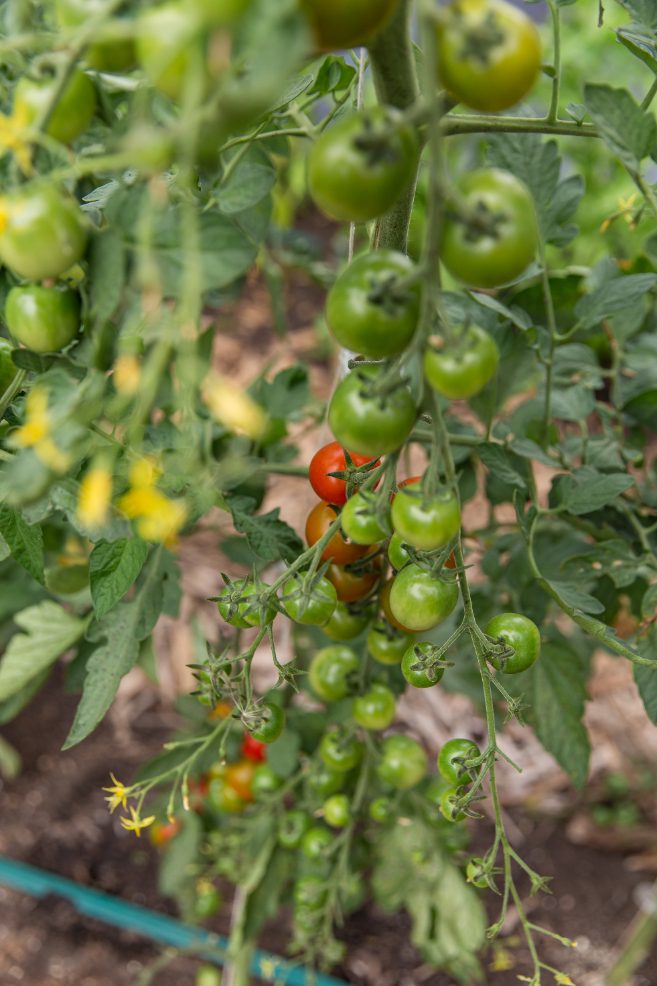 THE BEST TASTING, SWEETEST TOMATOES
When it comes to taste, Brandywine, Mortgage Lifter, Ferris Wheel, and Sicilian Saucer are some of the best varieties around. They're also all very large varieties that look impressive. Because let's face it, who doesn't want to grow as big of a tomato as possible?
We also fell in love with a new variety this past summer: Costoluto Fiorentino. They produced amazingly in our high tunnel and my husband says that they taste fantastic. Bonus: with their ribbing, they are such a beautiful heirloom tomato.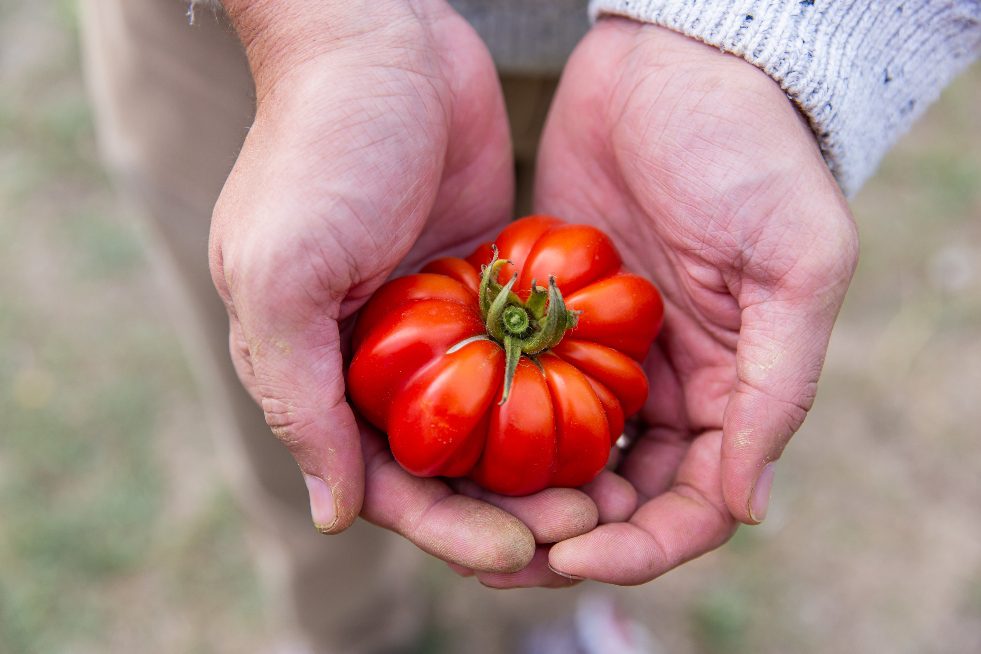 LOW ACID OR YELLOW TOMATOES
If you're a person who doesn't like raw tomatoes, you might like (or at least tolerate) yellow tomatoes. Try Lemon Boy, Oxheart Yellow, Amana Orange or Yellow Pear.
I have had great success growing Lemon Boy tomatoes. They always grow quite large, are one of the earliest to ripen, and taste delicious in my tomato sauce.
In 2019, Amana Orange replaced Lemon Boy as my new favourite. They grow even larger and are an heirloom variety–meaning I can save the seeds and plant some for free next spring.
BLACK (PURPLE) TOMATO VARIETIES
The black (or purple) varieties of tomatoes are more complex tasting and are often compared to fine wine. I personally like them for their looks and how they make the colour of my tomato sauce a little more vibrant. Try the Black Zebra, Black Krim, Black Russian, or Purple Cherokee varieties.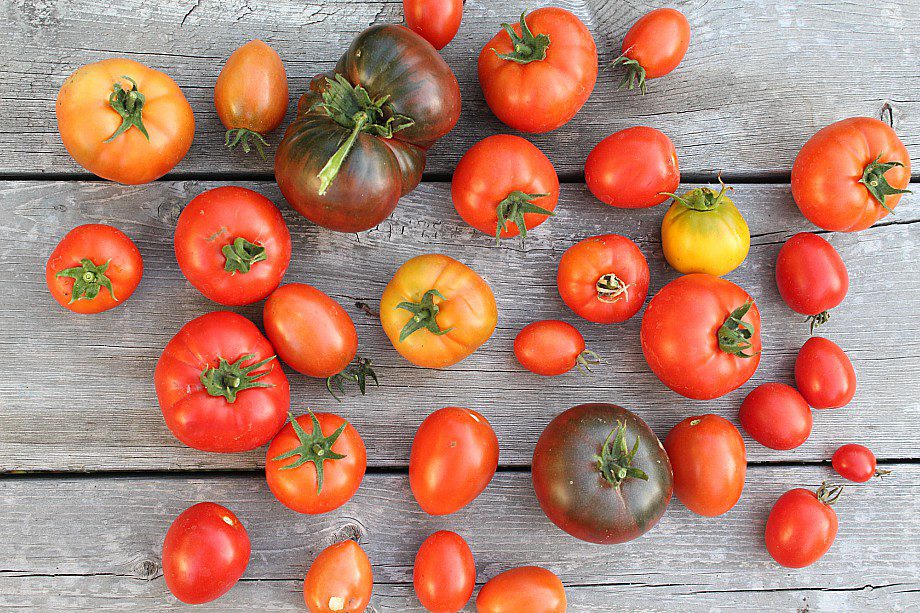 EASY TO GROW FOR BEGINNERS
While you can grow any tomato as a beginner, it's nice to grow a variety that's large, great-tasting and produces a large harvest. Beefsteak, Italian Heirloom, Celebrity, and Primo Red all make the cut. In 2020, a very challenging growing year, I had great success with Ukrainian Purple and Striped Roman too.
Grow the Best Tomatoes
Subscribe and get your free 10 page guide to Tomatoes. I'll show you how to start them from seed, the best care practices, and how to harvest them. Plus, you'll get 4 tomato recipes delivered straight to your inbox.
THE BEST TOMATOES TO GROW FOR SAUCE
Pasta lovers in your family? Save yourself a bit of money and make your own pasta sauce this year. Roma, Amish Paste, San Marzano, and Supremo are all good varieties for sauce.
Sunrise Sauce is an orange, low acid paste tomato, that is very productive and lasts a long time. We've had some sit on our counter from September to November without going bad.
Oxheart tomatoes are my new favourite because they're so big! They barely have any seeds and are so satisfying to grow, plus they make an excellent sauce. If you find small paste tomatoes annoying, you'll want to grow an Oxheart next year. Check out this reel with a Hungarian Heart from my very own garden if you don't believe me!
TOMATOES FOR A SHORT GROWING SEASON
The Canadian Prairies are blessed with a short growing season, so we need varieties that have a shorter maturity window. Thankfully, there are lots of quick-growing tomato varieties to choose from. Try Sub Arctic Max, Prairie Pride, Centennial Rocket, Bison, Russian Saskatchewan, Early Girl, or Manitoba. 4th of July also lives up to its name–your first ripe-on-the-vine-tomato should appear around that date.
ARE FRESH TOMATOES IN WINTER POSSIBLE?
Think fresh tomatoes from your garden are an impossible dream? Grow Longkeeper tomatoes this year and you could be eating fresh tomatoes in February or even March. Harvest them when they are pink or green, store them in a cool, dry, place, and eat them as they ripen.
The only downside is that they're not a very flavourful tomato, but they are more flavorful than grocery store tomatoes in the dead of winter.
BEST IN CONTAINERS
Growing a patio garden this year? You'll want to choose bush (determinate) varieties such as Roma, Bush 506, 4th of July, Brandywine, Juliet, or any variety that has dwarf, mini, or tiny in its name. Any variety of cherry tomatoes will also do very well. Grow your tomato plant in as large of a container as possible, for the best production.
For more tips on container gardening, check out this post about my backyard container garden.
BEST PLACES TO BUY TOMATO SEEDS
Some of my favourite places to buy tomato seeds include T and T Seeds, Westcoast Seeds, Veseys, William Dam Seeds, The Incredible Seed Company, and, if you're local to Saskatoon or area, Early's Farm and Garden Centre.
Any varieties you think belong on this list? Let me know in the comments!
If you liked this blog post, find me on Facebook, TikTok, and Instagram for more cold-climate vegetable gardening tips, delicious recipes, and cut flower goodness! I also make weekly videos over on my YouTube channel. I hope to see you there!
P.S. If you love the content I create for Shifting Roots, consider joining our community on Patreon. Your support means the world to me and I am grateful for each and every one of you!
---
NEED MORE HELP IN THE GARDEN?
Green thumbs aren't just given out at birth. They're a combination of learning about gardening and trial and error. If you wish you knew more about gardening and had more confidence in your abilities, you need the Growing Roots Gardening Guide.
It's an e-book plus 6 bonuses–everything you need to go from complete garden newb to confident gardener in one growing season. Get all the details of what's inside here. Happy gardening!
SaveSave
SaveSave
SaveSave
SaveSave