I love picking sour cherries, but pitting them afterwards is a terrible chore! There are so many solutions that promise to be really quick, but do they actually work? And does a traditional cherry pitter actually work on smaller sour cherries?
I've taken out all the guesswork for you and tested six different methods of pitting cherries, and am sharing the pros and cons of each so you can get pitting those pails of cherries faster.
How do you Pit Cherries?
If you're brand new to the world of harvesting and preserving fruit, pitting cherries means removing the seed (or pit) from the cherry. Unfortunately, the pits of cherries are too hard to eat, so you have to pit each and every one.
In 2019, I tested 6 different methods of pitting:
knife
chopstick
metal straw
single cherry pitter
multiple cherry pitter
crank cherry pitter
While all of them work, I definitely found my favourites! Also, if you want to purchase one of the actual cherry pitters, it's best to think ahead and purchase a couple of weeks before it's cherry season. I found last year that if you wait until the season is here, everything is sold out.
Let's start with the first three. . .
Knives are great because you probably have lots of them and they're cheap. The process with a knife is messy but fast enough.
I was excited to try the chopsticks but found them cumbersome to use. I think the idea is to push the seed out with the end of the chopstick, but it didn't work very efficiently for me. I quickly went back to using the knife.
The steel straw was really easy to use, and you could quickly pit many cherries. The pit just falls out and the cherry stays on the straw, so it's really efficient.
Do Regular Cherry Pitters Actually Work with Sour Cherries?
I was hesitant to use a regular cherry pitter on sour cherries, because of the sour cherries' smaller size. To my knowledge, cherry pitters are designed for regular-sized sweet cherries. Here's what happened…
The six-cherries-at-at-time cherry pitter is very efficient to use. You get great results nearly every time and it gets the job done quickly. The single cherry pitter was really annoying to use. It's slow going, and the one I bought wasn't made very well, so the mechanism kept getting stuck.
I was most nervous about using the machine with the crank, but it was surprisingly efficient. Just watch the cherries, as it will occasionally skip a cherry and you'll end up with a seed (and an intact sour cherry) still in your bowl of cherries.
While these machines are fast, the only downside is the cost and trickiness of finding them in an actual store and not online. If you wait until you need them to purchase, they're either sold out in person or take too long to ship.
My Favourite Cherry Pitting Hack–No Fancy Equipment Required!
After trying all six methods, my favourite, and the one I recommend to others, is the stainless steel straw. It's quick, efficient, low-cost, and widely available. Plus, those stainless steel straws have another use, so you're not just buying something that you'll only use once a year.
How do you Freeze Sour Pitted Cherries?
Once you're done cleaning the cherries, it's time to cook and freeze them. I have two different methods of freezing depending on what I intend to use my sour cherries for.
If you want to use the cherries a little at a time for things like yogurt and oatmeal, freeze them on a cookie sheet in a single layer. Make sure you put down a silicone sheet, parchment paper, or plastic wrap first. If you don't, the cherries might be difficult to remove.
For use in baking and pies, I'll mix them with a little sugar–just a few heaping tablespoons per 4-litre bucket of berries. Enough sugar to preserve the colour, but not enough to obliterate the sour taste. Then I'll package them in 2-cup and 6-cup amounts in freezer bags.
What's your favourite way to pit sour cherries?
Find me on Facebook, TikTok, and Instagram for more cold-climate gardening tips, delicious recipes, and cut flower goodness! I also make weekly videos over on my YouTube channel. I hope to see you there!
P.S. If you love the content I create for Shifting Roots, consider joining our community on Patreon. Your support means the world to me and I am grateful for each and every one of you!
---
DO YOU JUST WANT THE RECIPE WITHOUT HAVING TO SCROLL TO THE BOTTOM?
If you're looking to make delicious recipes with your homegrown hardy fruits, look no further. Check out my e-book Hardy Fruits Cookbook for over 25 mouth-watering dishes using Saskatoon berries, sour cherries, raspberries, rhubarb and more!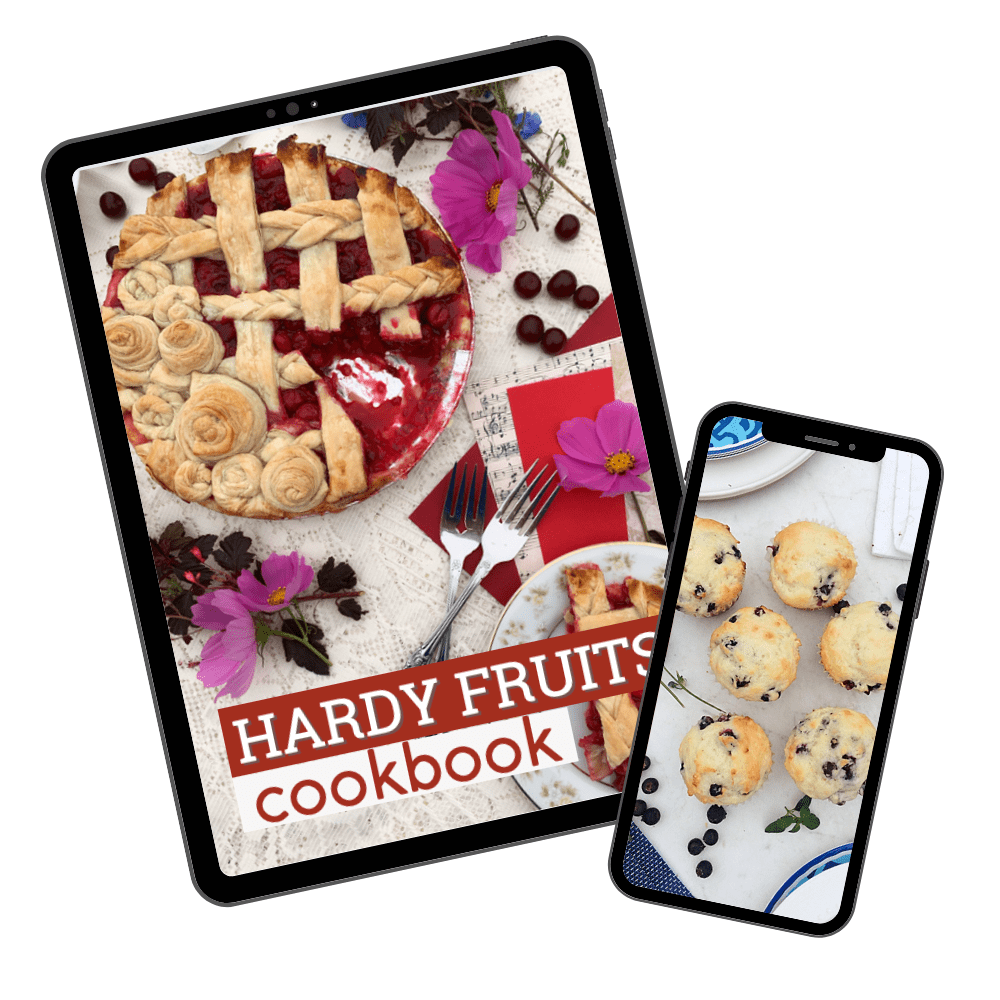 ---
---