Have you downsized recently and are looking to start your small space gardening journey for the first time? Or have you been container gardening for years and are sick of planting the same old vegetables, herbs, and flowers that you plant every year? If you're looking to upgrade your container gardening experience, you've come to the right place!
I've compiled a list of my favourite plants for pots and containers that I've had success with in my cold-climate, short-season garden in Zone 3, Saskatchewan! Want to know the best container plants to plant this year? Keep reading!
This post contains affiliate links, which means that I earn a small commission if you purchase something at no extra cost to you. You can read more about it in my privacy policy. Thanks for supporting Shifting Roots!
BEST VEGETABLES FOR CONTAINER GARDENING
I have the worst luck with direct sowing in pots, so I always buy starts. Just because this seems to work better for me, though, doesn't mean it will be the best option for everyone! Every gardener's experience with growing vegetables in pots will differ slightly, so feel free to direct seed if that's what works best for you.
Helpful Hint: If you want to make your time gardening tomatoes, squash, and peppers a little easier, try a Kozy Coat. I started using these a couple of years ago and haven't looked back. Check out the video below to see how much of a difference these can make!
For whatever reason, I've always had a difficult time growing full-sized tomatoes in pots. Because of this, I look for varieties described as patio, small, baby, grape, or anything that implies the tomatoes will be on the smaller side. Yellow Pear, Sungold, and Sweet Million are varieties I've had lots of success with!
All lettuces work great in containers! Some of my favourite varieties include Buttercrunch, Red Sails, Drunken Woman, Deer Tongue, and Freckles.
Our family loves Swiss Chard because it's one of the few greens that can stand the heat of summer. I love the Bright Lights variety, but Fordhook Giant seems to grow more reliably for me.
Make sure you only plant one kale plant per container if you want really big leaves of kale. My favourite varieties for container gardening are Rainbow Lacinato, Winterbor, and Vates Blue Curled Scotch.
If you decide to grow pumpkins in pots, make sure they are a mini variety like Baby Boo or Jack Be Little!
Make sure you plant the Small Wonder Spaghetti Squash for container gardening, otherwise, you'll need a stupidly large container and the most fertilizer ever!
Cucumbers work well in pots, and I've even had success direct sowing them! One word of caution: you really have to stay on top of the watering! Varieties I've enjoyed include Marketmore, Straight Eight, and National Pickling.
My favourite varieties are Carmen, Escamillo, Hungarian Hot Wax and Purple Beauty, but really all pepper varieties are good for pots! This year, I am trying a new variety of bell pepper called Fat and Sassy, which I hope produces better than California Wonder.
BEST HERBS FOR CONTAINER GARDENING
All herbs are good for pots. Grab a larger pot, plant 5-6 of your favourite herbs inside, and place it on a balcony, front porch, or kitchen window for a convenient herb garden for cooking. I've included some of my favourite herbs for this below, but have fun with it! Even though it didn't make the list, if you're looking for a substitute for cilantro (if you have the soap gene or you just don't love it), Italian parsley is a good alternative in many recipes.
Any variety of sage will do, but I love anything with multiple colours, so I usually purchase the Tricolour Variety.
There are so many varieties of basil it's hard to pick just one! I always grow one basic sweet basil, but I also enjoy Thai Basil (it smells like liquorice!), Emerald Tower, and Red Rubin.
Rosemary is so slow-growing that it's best to take this one indoors over the winter if possible.
I usually get classic thyme, but if you enjoy lemon flavours, golden thyme is extremely pretty.
We enjoy the basic Greek Oregano, with its lovely little flowers in white or pink.
Another fun thing to do with herbs is to plant a bunch of different tea-friendly herbs in a pot, like mint, lavender, lemon balm, and chamomile. Just watch if you buy lavender that you make sure it's an edible variety. As for mint, many people have a lot of success with growing it in pots, but for whatever reason, Shifting Roots does not!
Check out the freebie below for more details and specific container gardening plans:
BEST FLOWERS FOR CONTAINER GARDENING
Obviously, all of the annual flowers that are in the local garden centres are meant for containers and they are likely good choices. You can find some of my favourite annuals in these lists: 26 Annuals that Grow in the Shade and 27 Annuals and Perennials That Survive & Thrive in Intense Heat.
Though you can plant perennials with success in pots for summer, in Zone 3, perennial flowers generally do not work in containers over winter. It is possible they could work in a heated garage, but winters are too cold and they still tend to kill perennials in that situation.
Lastly, cut flowers work surprisingly well in containers. They will often grow to full stem length or pretty close. So, experiment and see if your favourite cut flower will grow well! Just don't expect a ton of production from these cut flowers.
Snapdragons meant for cut flowers will grow just as well in a container as those varieties meant for containers. I usually have no problem finding the Madame Butterfly and Rocket varieties at the garden centres.
Eucalyptus grows really well in containers–sometimes better than in the ground! My favourite varieties are Baby Blue and Silver Drop.
3. Ammi
Ammi is a lovely white cut-and-come-again flower, and it looks great in a variety of arrangements.
Celosia can be hard to grow on the prairies–we usually don't have the amount of heat it likes! However, it's so pretty, comes in many stunning colours, and looks beautiful in arrangements.
If you're growing a Cosmo in a container and want stem length, only plant one per container. If you plant three, like you normally would for container gardening, the plants will be much shorter.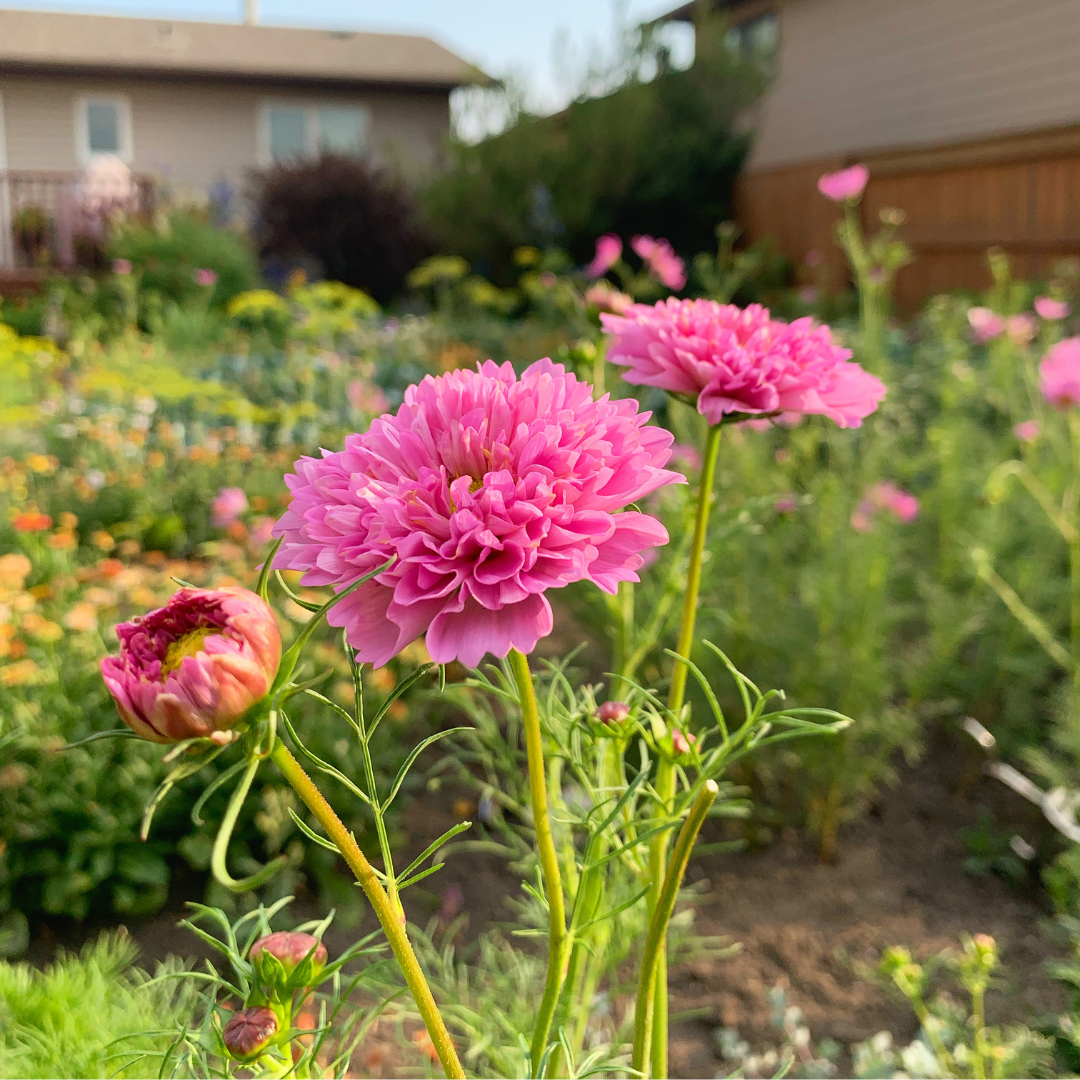 Asters are one of my favourite flowers–long-lasting, cut and come again, and come in a variety of gorgeous colours. Try the Tower Chamois series.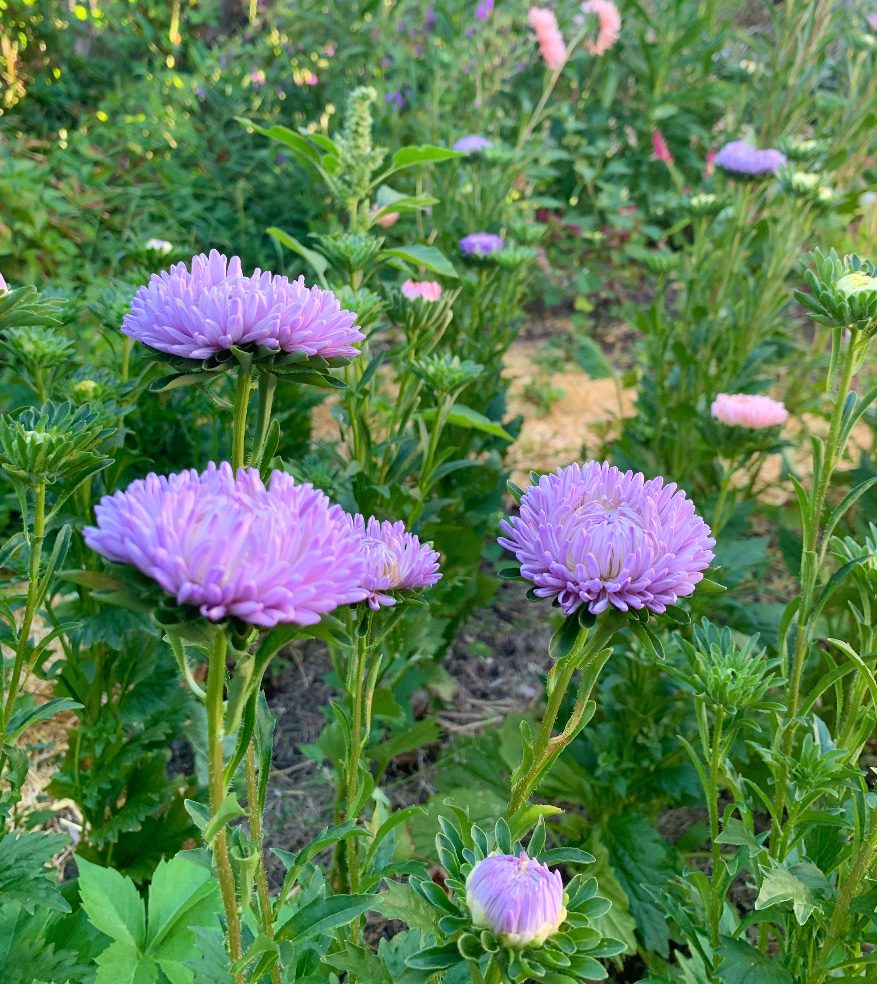 7. lisianthus
I find that Lisianthus actually do better in containers for me than they do in the ground. Lisianthus takes nine months to come to maturity, but the rose-like flowers are so worth it.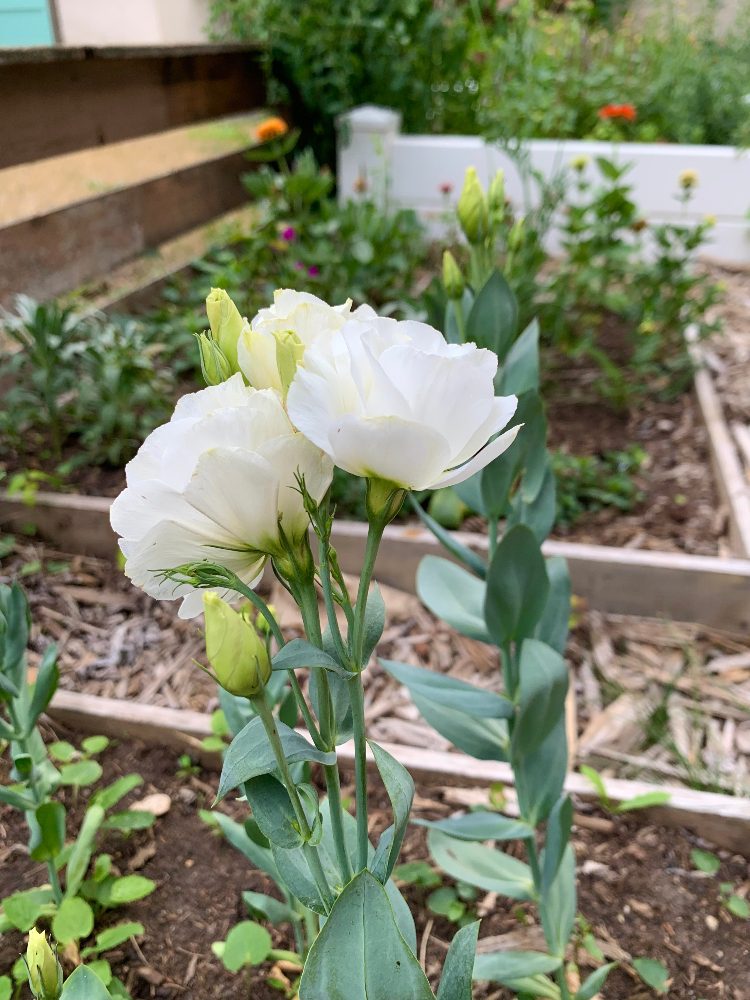 8. feverfew
Feverfew looks like little daisies, and I love them as filler in an arrangement. I especially love the Tetra White and Magic Lime varieties.
There you have it! My favourite vegetables, herbs, and flowers for container gardening. Is there anything you love to grow in pots that didn't make the list?
If you liked this blog post, follow me on Facebook, TikTok, and Instagram for more cold-climate gardening tips, delicious recipes, and cut flower goodness! I also make weekly videos over on my YouTube channel. I hope to see you there!
P.S. If you love the content I create for Shifting Roots, consider joining our community on Patreon. Your support means the world to me and I am grateful for each and every one of you!
---
Wish you could grow fresh vegetables in a small space?
Now you can, with Small Garden, Big Harvest. It's the fastest way to learn all the intensive gardening techniques that can help you maximize every inch of your available gardening space. With lots of easy-to-do, real-life examples, and 2 done-for-you plans, you'll be able to start vegetable gardening, even if all you have is an apartment balcony.
---
---