When you're short on space, square foot gardening is the answer! I started planting my garden using the square foot gardening method instead of traditional rows in 2019, and I couldn't be happier with the results!
But how do you start a square foot garden? And is it complicated?
In this post, I'll go over everything you need to know and what I do to make plant spacing for a square foot garden practically fool-proof.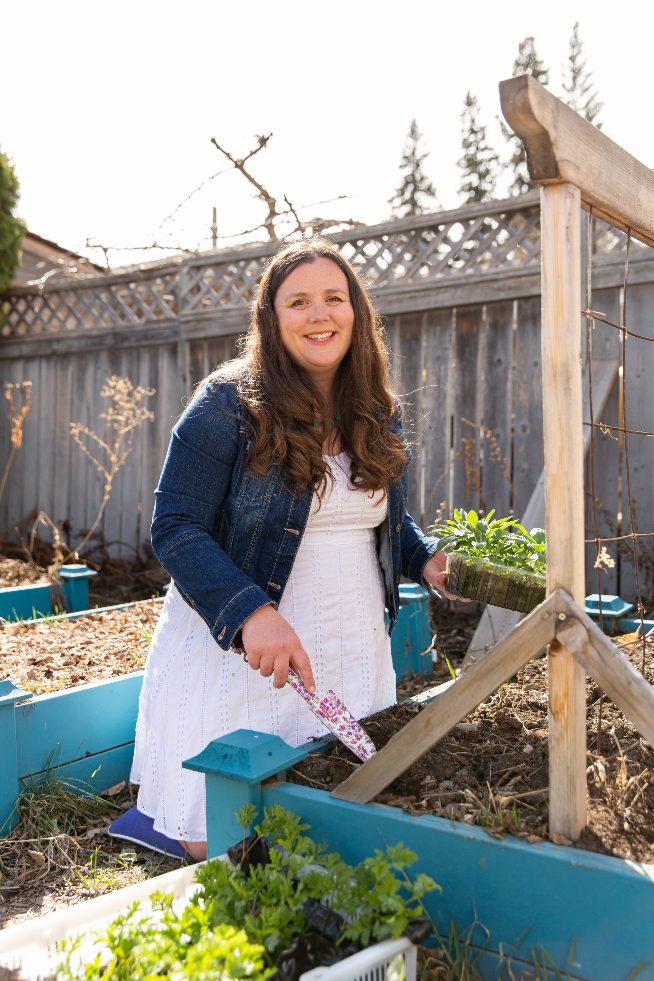 This post contains affiliate links, which means that I earn a small commission if you purchase something at no extra cost to you. You can read more about it in my privacy policy. Thanks for supporting Shifting Roots!
5 steps to starting a square foot garden
1. Read Mel Bartholomew's Square Foot Gardening
Sure, you can try to piece it together on the internet, but it's just better to learn about the method straight from the man who invented it. The book is an easy read, and you'll be done it in no time. Get your copy here.
2. Build Your Raised Bed and Add Soil
Square foot gardening is traditionally done in raised beds with a light soil mix. I've square foot gardened in both a raised bed and straight in my traditional garden space and the results are almost the same. There are just a few more weeds to manage with in-ground square gardening!
For soil, I actually don't use Mel's mix. I just use regular potting soil mixed with compost and manure, and find that it works just as well. However, I garden in Zone 3 in Saskatchewan, so I'm very far removed from the weather conditions that Mel experienced when he created the method.
The nice thing about starting a raised bed from scratch is that you don't have to till the ground underneath. Just place your bed on the soil, cover the ground with cardboard to kill the weeds and grass, and add your soil on top. So much less work!!
3. Decide what to Plant
Here's where things get both fun and interesting. It's very easy to obsess over what you can and can't plant in a square foot garden, but the simple answer is this: plant whatever you want to eat!
Vining plants such as peas, tomatoes, and cucumbers are grown on trellises at the back of the grid. Larger vegetables like squash and pumpkins are grown at the corners so they can trail out over the edges.
Any vegetable can be planted in a square foot garden grid, you just have to follow the correct spacing. To make things a little easier, I've come up with four done-for-you plans to plant in your square foot garden. You can download them here.
Get 4 Free Square Foot Gardening Templates
Start your square foot garden the easy way!
You'll get 4 4x4 plans for
Salad Garden
Beginner's Garden
Salsa Garden
Kid's Garden
Plus a mini email course that gives you short, actionable tips for keeping your garden alive.
4. Space Vegetables Out Correctly
All vegetables are planted in spacings of 1, 4, 9, or 16, with some vegetables taking up 4 large squares. You can make the little borders with wood, or tie string to map out your perfect squares. However, I like to use the Seeding Square.
The Seeding Square is a plastic guide that's exactly one-foot square and has all the different spacings, plus a handy chart showing which vegetables should be spaced at what distance.
It really takes the guesswork out of planting my garden, and I don't have to drag the book outdoors with me or try to remember if bush beans are spaced in 4s or 9s.
Plus, my kid who has no interest in gardening actually wants to help me with planting! That's a huge win in my books.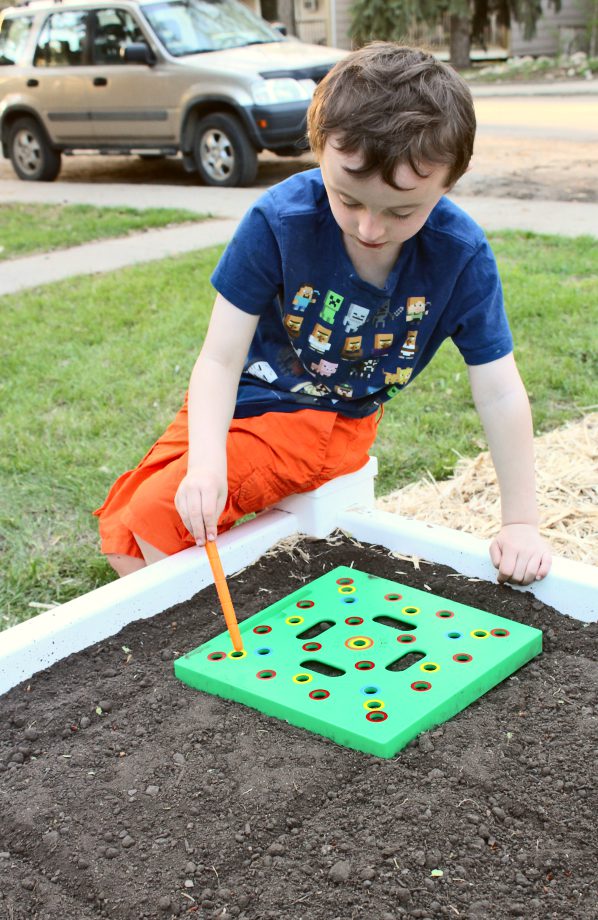 5. Water and Weed
The beauty of square foot gardening is that you won't have to water and weed as often as you do with traditional methods. Sure, you'll still have the one bigger weeding session 3 to 4 weeks after you plant your garden. But after that, the weeds are minimal.
The closer spacing of the plants means that weeds are shaded out and more moisture is retained. Win-win!
Everything You Need to Build a Square Foot Garden
Once again, here's a handy list of all the things I use to square foot garden, and some nice options for raised bed kits:
Will you give square foot gardening a try? Let me know in the comments! And if you need extra help, check out my other blog posts on the topic:
---
Wish you could grow fresh vegetables in a small space?
Now you can, with Small Garden, Big Harvest. It's the fastest way to learn all the intensive gardening techniques that can help you maximize every inch of your available gardening space. With lots of easy-to-do, real-life examples, and 2 done-for-you plans, you'll be able to start vegetable gardening, even if all you have is an apartment balcony.
---