Have you been scrolling on Pinterest lately, oo-ing and ah-ing over all those beautiful raised beds you see with perfectly spaced plants?  It's called square foot gardening and it's the perfect solution for those of us with a small space to garden in, or anyone who wants to have a more low-maintenance garden.
This post contains affiliate links, which means that I make a small commission at no extra cost to you if you purchase an item from any one of these links.  You can read more about it in my disclosure policy.  Thanks for supporting Shifting Roots!
The square foot gardening method was created by an engineer, Mel Bartholomew in the 1980's.  You can learn more about it in this video, or purchase his book, All New Square Foot Gardening, Third Edition: The Revolutionary Way to Grow More In Less Space.  I've personally read and love it, and it's what has convinced me that this is the best way to grow my vegetable garden.
Curious?  I'll give you 8 good reasons why you should try it this gardening season.
The basic gist of square foot gardening is that you make a raised bed, fill it with a combination of black earth, compost, vermiculite (or coconut coir), and/or perlite to create a nutrient-rich and basically weed free soil.  You can use Mel's Mix that he outlines in the book, or use one of your own preference.
You then divide the bed into 1 foot squares, and plant your plants closer together than traditional row gardens do.
P.S.-My favourite way to plant my square foot garden is with the Seeding Square.  It makes the whole process super easy and fast.
Here's why I love the square foot gardening method:
1. Grow More Food in Less Space
Planting vegetables closer together and in squares instead of rows means you can fit way more vegetables in the same amount of space than in your typical row garden.  Once you start square foot gardening, you'll often find that you have squares "left over" in your garden plan that you have to fill with extra vegetables.
In areas where the growing season is longer, you can plant another vegetable crop in the square you just harvested, giving you a more continuous harvest.
[clickToTweet tweet="Grow more food in less space–8 reasons why you should try square foot gardening this year." quote="Grow more food in less space–8 reasons why you should try square foot gardening this year."]
2. Perfect for Gardening in Small Spaces
Gardening in small spaces can be frustrating and challenging.  With the square foot method, you can make the most of the space you actually have.
3. Less Time Spent Weeding
Since the plants are closer together and the soil is weed-free, any weeds that do crop up are very easy to deal with.  Make your weeds even more manageable by putting a layer of mulch around your vegetables once they have grown a bit more.
4. Less Time Spent Watering
Mel's Mix holds water, so that means that you can water a bit less.  Because everything is so close together, it's easier to water just the plants, and not waste water on garden paths.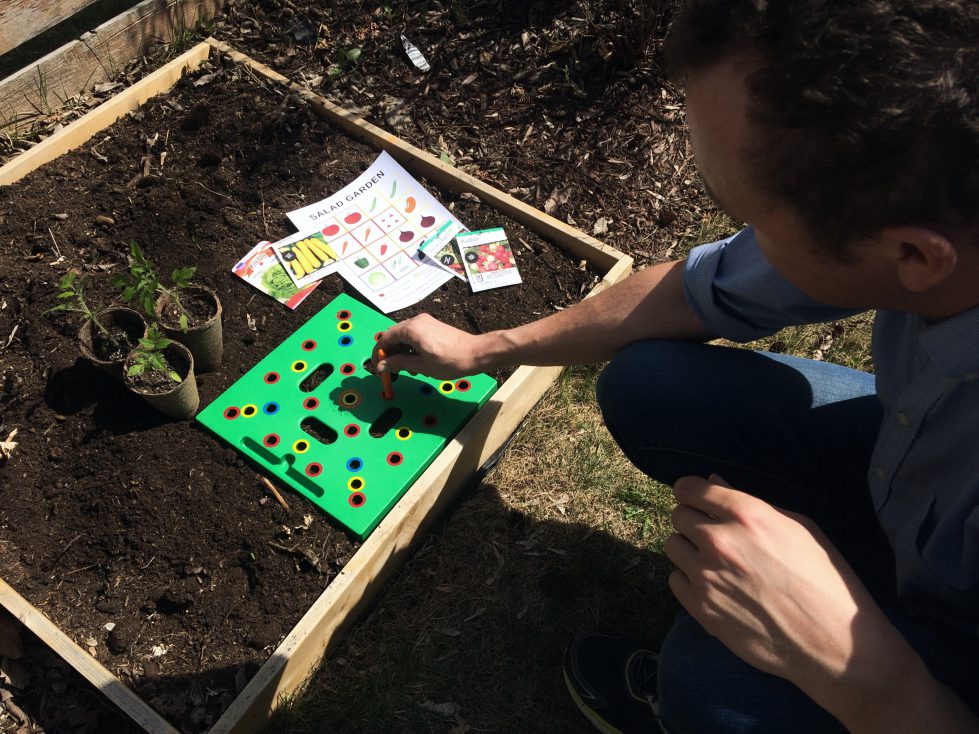 5. It's the Best Way to Garden if You're Short on Money and Time
I get it.  You want to garden but you're super busy and you don't want to spend hours on your garden.  With the square foot gardening method, it's easy to maintain your raised bed in just 5 minutes a day.
6. Healthier Plants and Less Disease
Since your plants aren't competing for nutrients with the weeds, they will be healthier and less susceptible to disease and bugs.  You're also more likely to weed and water a garden that doesn't take so much of your time, so your plants are less likely to die from neglect.
7. It's Easy and Manageable to do with Young Children
See all the reasons above.  Plus, since the garden is raised, your children are less likely to roll around in it or trample your vegetables.  Anybody? Or was that just my toddler?
8. Raised Beds Are Easier for Seniors to Manage
Build a higher raised bed and you have a garden that requires way less bending for seniors, or anyone with back issues.
Convinced?  I've come up with 4 garden templates to get you started
Salad Garden
Best for Beginners
Salsa Garden
Kids Garden
Better yet, they're all colour co-ordinated with the Seeding Square, so all the hard work is done for you.
Enter your email address and subscribe to get your four free templates.  I'll send you the templates and you'll also get a short email course on how to get started square foot gardening.
Get 4 Free Square Foot Gardening Templates
Start your square foot garden the easy way!
You'll get 4 4x4 plans for
Salad Garden
Beginner's Garden
Salsa Garden
Kid's Garden
Plus a mini email course that gives you short, actionable tips for keeping your garden alive.
SaveSave
SaveSave