Raspberry season is the best. There's nothing like picking fresh raspberries from your backyard patch and making them into delicious jams and jellies.
Last month, I enjoyed making (and eating!) no-churn ice cream so much that I wanted to make a flavour for each month. So in honour of warm July days spent picking raspberries in the hot sun, I've come up with this delicious no-churn raspberry chocolate ice cream.
The first step is to make your chocolate chunks. Yes, you could just use chocolate chips, but the texture is so much better if you do it this way. Combine 1/2 cup chocolate chips with one teaspoon of coconut oil and microwave for 30 seconds. Stir to finish melting the chocolate chips, do not put it back in the microwave.
Spread the mixture over a lined cookie sheet. Freeze for 15-30 minutes.
Once your chocolate is frozen, take it out of the freezer and break it up into little chunks. Set aside a few to make the top of your ice cream look pretty.
Whip your whipping cream and assemble the rest of the ingredients. Don't forget to melt your butter. Otherwise, your ice cream will end up with weird buttery chunks… unless you like that sort of thing.
I used only 1 cup of raspberries in this recipe, but I think you could use up to 2 cups. This recipe is not overly sweet. I think part of the appeal of raspberries is their sourness.
Now for the fun part… eat and enjoy! Whether you like your ice cream in a bowl or piled up high in a waffle cone, you will surely enjoy no-churn raspberry chocolate ice cream.
Once your ice cream is mixed and your chocolate chunks are added, fill your container of choice with the ice cream mixture. Depending on your container and freezer, your no-churn ice cream could be ready in as little as 6 hours. Overnight is safest.
Looking for more raspberry recipes? Try:
No-Churn Raspberry Chocolate Ice Cream
Ingredients
1/2 cup chocolate chips
1 tsp coconut oil
2 cups whipping cream
1-2 cups fresh raspberries
1 cup white sugar
1 cup melted salted butter
1 tsp vanilla
1 cup skim powdered milk
Instructions
1. Melt chocolate and coconut oil in the microwave for 30 seconds. Stir and spread out on a piece of parchment paper or silicon mat. Freeze for 15 to 30 minutes and break into chunks

2. Whip whipping cream for approximately 2 minutes or until soft peaks form. Add sugar, melted butter, skim milk powder, and vanilla. Whip for 1 more minute. Add raspberries and chocolate and stir until combined.

3. Put mixture into a freezable container and freeze for at least six hours, preferably overnight. Serve and enjoy!
If you liked this blog post, find me on Facebook, TikTok, and Instagram for more cold-climate vegetable gardening tips, delicious recipes, and cut flower goodness! I also make weekly videos over on my YouTube channel. I hope to see you there!
P.S. If you love the content I create for Shifting Roots, consider joining our community on Patreon. Your support means the world to me and I am grateful for each and every one of you!
---
DO YOU JUST WANT THE RECIPE WITHOUT HAVING TO SCROLL TO THE BOTTOM?
Get over 25 recipes–using Saskatoon berries, sour cherries, raspberries, rhubarb and more–in my digital Hardy Fruits Cookbook!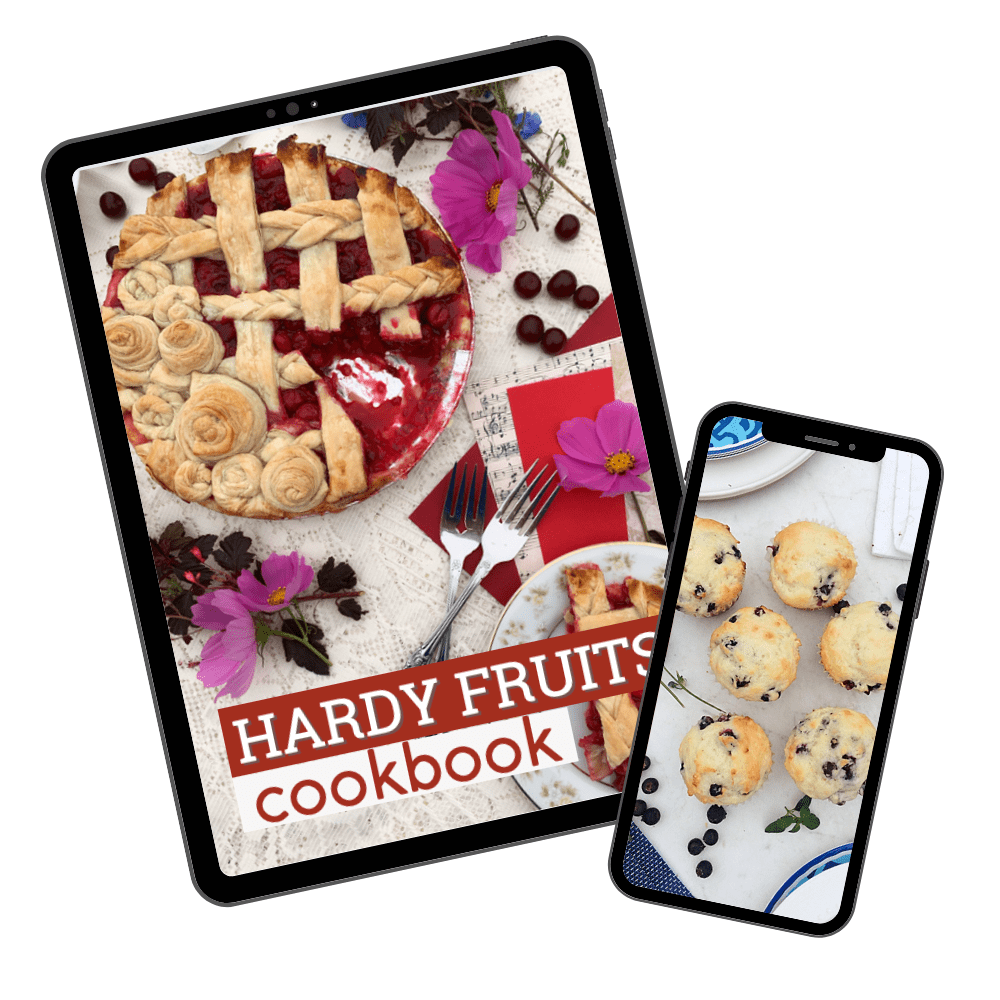 ---
---