Do you have tons of raspberries from your canes and no idea how to use them all? If you're bored with jam and looking for something delicious, you need these white chocolate raspberry scones in your life!
I always used to joke that the reason God made me a choral conductor (specifically show choir) in non-blogging life was not so that I could make the best use of my musical talents, dance skills, and ability to build community. Oh no. It was simply so I'd have a place to offload all of the baking recipes from my blog!
If being gobbled up in minutes by a 40-person choir is any indication, this recipe is a clear winner.
So serve them at your next coffee break, for a slightly indulgent breakfast, or to a starving university-aged choir of your own. And if you do? I'd love it if you took a picture of your results and shared it with me on Facebook or tagged me on Instagram.
Looking for more raspberry recipes? Try:
White Chocolate Raspberry Scone
Ingredients
4 cups flour
1/2 cup sugar
2 tbsp baking powder
3/4 cup salted butter
2 eggs, beaten
1 cup light cream (6%) or milk
1 cup fresh raspberries
1 cup white chocolate chips
Topping
1/2 cup white chocolate chips
small drizzle of oil
1/4 cup powdered sugar for garnish (optional)
Instructions
1. Mix flour, sugar, and baking powder. Cut in butter until it is in small "pebbles." Add eggs and cream and mix until almost combined. Carefully stir in raspberries and white chocolate, taking care not to mix the raspberries too much. (Unless you want your scones to be purple.)

2. Lightly flour a flat surface, and arrange dough into two circles, approximately 8-9inches in diameter. Cut each circle into 8 wedges. Bake at 400 degrees F for 15 minutes.

3. When cooled, microwave the 1/2 cup of white chocolate with a drizzle of oil for 30-60 seconds. Drizzle melted chocolate over the scones and top with icing sugar if desired.
If you liked this blog post, find me on Facebook, TikTok, and Instagram for more cold-climate vegetable gardening tips, delicious recipes, and cut flower goodness! I also make weekly videos over on my YouTube channel. I hope to see you there!
P.S. If you love the content I create for Shifting Roots, consider joining our community on Patreon. Your support means the world to me and I am grateful for each and every one of you!
---
DO YOU JUST WANT THE RECIPE WITHOUT HAVING TO SCROLL TO THE BOTTOM?
Get over 25 recipes–using Saskatoon berries, sour cherries, raspberries, rhubarb and more–in my digital Hardy Fruits Cookbook!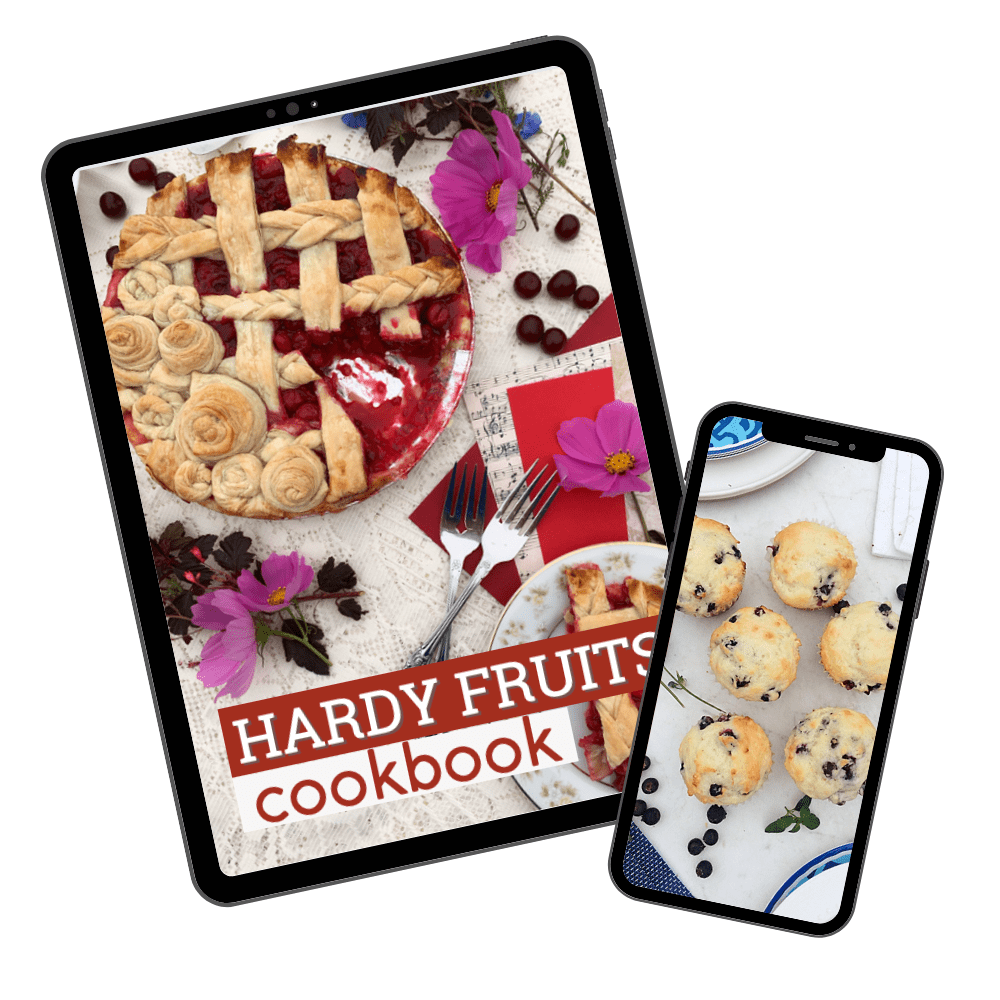 ---
---