You've started your seedlings for the first time and everything is going great. But wait! What's this? You have some random little flies circling your seedlings. How did they get here? It's the dead of winter. There shouldn't be bugs yet!
What you likely have is fungus gnats or white flies.
These annoying flies come into your house through the soil. Especially if you're using soil that was stored outdoors before you brought it in for seed-starting, fungus gnats can appear. They can also come in through completely sealed soil, though, so there's really no way to avoid it.
In this post, we won't be worrying about sterilizing the soil or anything crazy like that. It happened. They're here. So, now we're going to deal with it.
This post contains affiliate links, which means that if you purchase something, I earn a small commission at no extra cost to you. You can read more about it in my privacy policy. Thanks for supporting Shifting Roots!
WILL FUNGUS GNATS GO AWAY ON THEIR OWN?
Unfortunately, no. These little flies love to circle your plants, cause a ruckus, and stay awhile. Follow my helpful tips below for some home remedies to get rid of those pesty in house fungus gnats!
Will fungus gnats go away instantly?
Also no. You have to give your flies time to die. They won't all immediately flock to the sticky paper (more on this later), but after a week you should notice a substantial amount have been dealt with, especially if you've had a serious problem.
In my experience, I haven't noticed that these flies particularly damage my seedlings, but I've heard that they can. It is best to just get rid of them. And, thankfully, the solution is extremely easy!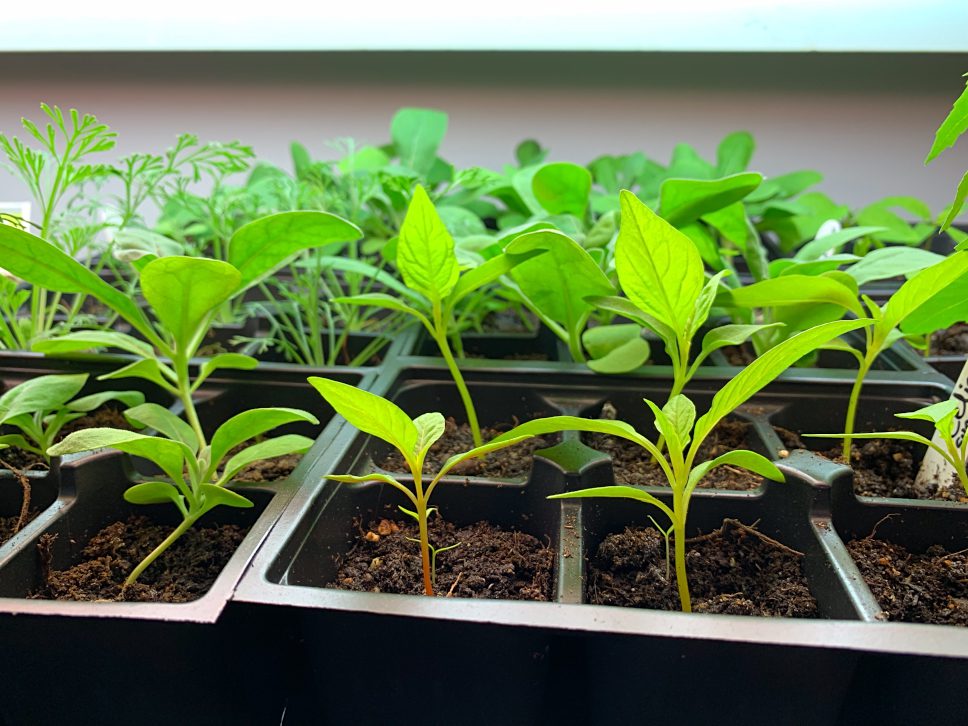 THE FOOLPROOF SOLUTION FOR GETTING RID OF FUNGUS GNATS
All you need to do is buy yellow sticky paper.
This can be found at Westcoast Seeds, Amazon, or your local gardening center. For most varieties of yellow sticky paper, the sticky parts come stuck together. All you have to do is split them apart, tie together with the provided twist tie, and then attach the paper whereever you want. They often come with little stakes to put them on, as well, which I usually use outside. For indoors, I tie them on my seed starting shelf and the little flies slowly find their way to the paper.
Check out this YouTube short for a quick how-to. And, if you like simple gardening tips like this, follow me on Instagram, YouTube, and Facebook for more!
ARE THERE OTHER WAYS TO GET RID OF FUNGUS GNATS?
Yes. In my experience, using the yellow sticky paper has always worked, but when I talked about this on my YouTube channel and social media, many people said that the yellow sticky paper was not enough for them.
These are some helpful suggestions from readers:
Watering soil with water that has a mosquito dunk (or mosquito bits) permeating in it
Using an old-school bug zapper
BTI (Bacillus thuringiensis israelensis)
Beneficial nematodes
A FEW NOTES ABOUT THESE ALTERNATIVE METHODS FOR GETTING RID OF FUNGUS GNATS
Mosquito bits and dunks are not available in Canada, but a lot of my followers in the U.S. have suggested them. If you're going to use BTI or the mosquito dunks, you have to repeat the process every three weeks.
Beneficial nematodes can usually be purchased online. They can sometimes be difficult to find, though your garden centre will probably have them! Just remember to ask a person working there to grab them from the back, as they're often not out on the shelves. I used nematodes for the first time last year. They come in a box and look like little tea bags. All you do is layer them on top of your soil, water to release them, and voila!
Plan the Perfect Garden
Get your free Garden Planner and worksheets and start creating the garden of your dreams.
what's the most natural method to get rid of fungus gnats?
Your best options are the yellow sticky paper or the beneficial nematodes.
WHAT ABOUT FUNGUS GNAT LARVAE?
Yellow sticky paper and bug zappers are not going to get rid of fungus gnats at the larvae stage. These are meant for killing adult fungus gnats.
To get rid of fungus gnats at the larvae stage, you can sprinkle some diatomaceous earth on top of your soil to kill the larvae. This won't hurt your seedlings or your soil, but it will help you kill the larvae before they transform into little flies that fly around your plants.
If you already have the little flies, though, follow my advice above!
That's it! Do you have any other tips and tricks to get rid of fungus gnats? I'd love to hear from you in the comments below!
---
Have you tried seed starting, only to be left with stretched-out seedlings and dead plants?
You're not a bad gardener–you just need a little know-how. For the price of a few seed packets, you can stop wasting time and money, and start growing seedlings that actually live and you get to harvest. Don't miss out on another growing season. Get your copy of Seed Starting Success now!
---