We've all been there. After trying time and time again to reign in the chaos that is your collection of seeds, you've resigned yourself to the mess. There are seed packets in your greenhouse, in a pile by the door, with the seed starts, or dumped in a box somewhere. You've tried a couple of seed storage ideas, but nothing sticks and your empty seed storage containers sit there mocking you.
No more.
From one chronically messy and unorganized gardener to another, you're going to love this seed storage system and actually want to keep your seeds organized.
This post contains affiliate links, which means that if you purchase something, I earn a small commission at no extra cost to you. You can read more about it in my privacy policy. Thanks for supporting Shifting Roots!
How Do You Organize Seeds to Start?
Before you start looking at storage containers, you need to assess what you've got and put them into logical categories. While every gardener will eventually develop their own system that works for them, here's what I've landed on that works for me.
I like to organize my seeds both by type of seed and by the week that I'm going to seed start them. As a flower farmer, I seed start a TON of seedlings, and it's really easy to miss the window for starting a flower if I don't have everything organized. By grouping my seeds by both type and week, it's easy to look through my seed collection, pick the containers that say the correct week of seed starting I'm in, and pull out just the boxes I need.
This way I also avoid wasting a bunch of time and handling my seeds repeatedly.
How do you organize seed categories? To start making your seed starting categories, you'll need a calendar, a garden planner, and a chart with the different weeks you'll need to start your various seeds.
If you don't have a seed starting guide, you can download my free one here:
creating a Seed Starting Calendar
The steps to creating a seed starting calendar are simple. First, you need to find your last frost date. In Canada, you can find your last frost date here. If you're in the U.S., find your last frost date here. Count backwards week by week (I like my planting weeks to have a Friday start, but you can pick any day of the week.) I count up to what I call week 12. For example, if your last frost date is May 21st, that would place your week 12 somewhere around February 12th. Consult your seed starting schedule and mark the seeds in their respective weeks on your calendar.
Next, make sure you group all seeds by type (e.g. strawflowers, broccoli/cauliflower, lettuces, snapdragons, etc.). You can also make categories for special projects like winter sowing or separate out the seeds you want to plant in different successions or those you want to direct sow, etc. It's entirely up to you!
Then consult the week-by-week seed starting guide and arrange your seed packets by week as well as type.
Check out how I organize my seed starting organization in the video below:
the Best Seed Storage Container to keep everything organized
The secret to keeping everything organized is this photo storage container. While it's meant for photos, it's also the perfect size for storing seed packets. I've customized my seed organizer box with my business name on the front, and with labels inside so that it's incredibly easy to grab the seeds I need and stay organized.
Get printable seed organizer labels that are already in the perfect size in both .pdf and .svg forms here.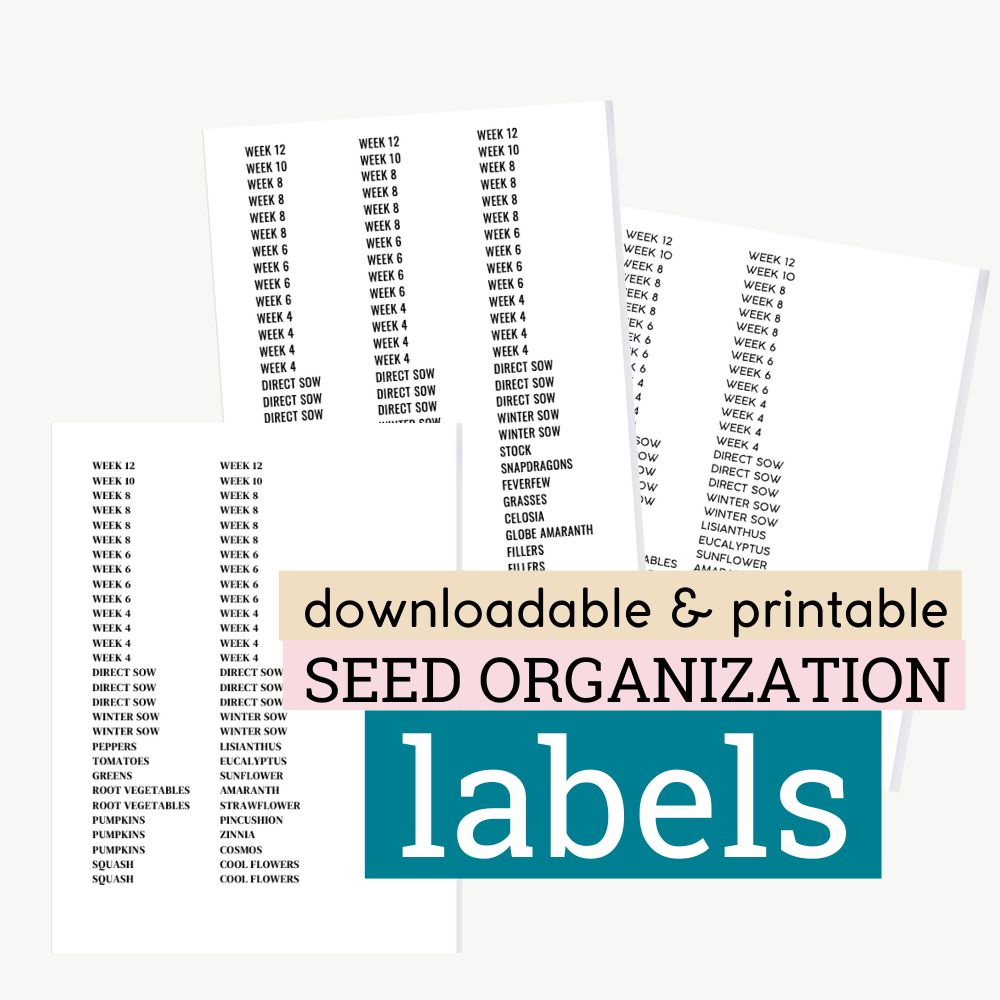 How long will seeds keep in this storage container?
Each year you keep the seeds, the rate of germination will decrease. You can help slow this decline by storing the whole container in the fridge. I realize that that is probably not practical for most people. If you're unable to store seeds in a fridge, just make sure they are in a cool (if possible) but most importantly dry location.
I find that without refrigeration, my seeds are generally good for 2-3 years, although some varieties can last much longer.
If I'm planting old seeds, I'll often plant more than I need to try and counteract any possible bad germination. You can also do a germination test with a wet paper towel and a clear plastic bag to see what your germination rate is.
Steps for Testing Germination Rate:
Insert a wet paper towel into a plastic bag along with a minimum of 10 seeds (make sure to count them)
Store the bag at room temperature until the seeds germinate
Count how many seeds germinate
Divide the number of germinated seeds by the total number of seeds. Multiply by 100 to get your germination rate (e.g. 6 germinated seeds / 10 total seeds x 100 = 60%)
If you liked this blog post, find me on Facebook, TikTok, and Instagram for more cold-climate vegetable gardening tips, delicious recipes, and cut flower goodness! I also make weekly videos over on my YouTube channel. I hope to see you there!
P.S. If you love the content I create for Shifting Roots, consider joining our community on Patreon. Your support means the world to me and I am grateful for each and every one of you!
---
HAVE YOU TRIED SEED STARTING, ONLY TO BE LEFT WITH STRETCHED-OUT SEEDLINGS AND DEAD PLANTS?
You're not a bad gardener–you just need a little know-how. For the price of a few seed packets, you can stop wasting time and money, and start growing seedlings that actually live and you get to harvest. Don't miss out on another growing season. Get your copy of Seed Starting Success now!
---