You've grown the garden, harvested the vegetables, and are dreaming of canning all that lovely produce to last over the winter. Or maybe you've bought some peaches from the fruit truck, or collected raspberries from your local fruit farm.
Whatever your canning dreams are made of, canning for the first time can seem really overwhelming if you've never done it before. In this post, I'm breaking down the basics of canning, the equipment you need, and what kinds of recipes are the easiest to get started with.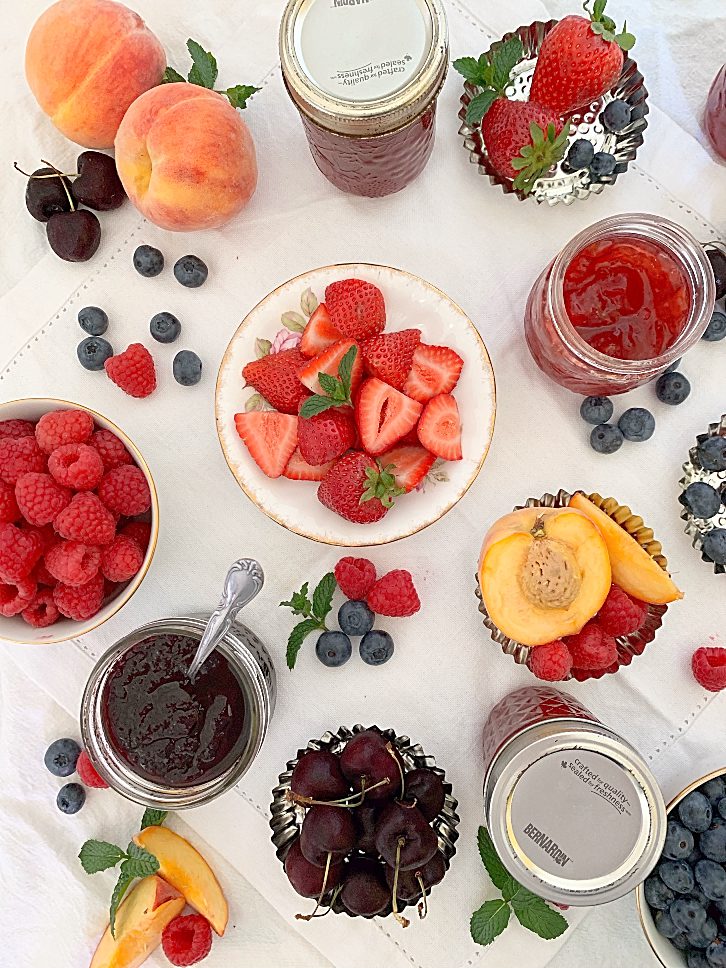 This post contains affiliate links, which means that if you purchase something, I earn a small commission at no extra cost to you. You can learn more in my Privacy Policy. Thanks for supporting Shifting Roots!
What Do I Need To Start Canning?
In short, you need jars, lids, a funnel, a large canning pot, a basket, oven mitts, and a tool to grab hot jars. You can buy all of these items (except the jars and lids) as a kit.
Look for a pot that is tall if you plan to can larger jars. You'll need something that is tall enough for water to go at least one inch over the tallest jar you plan to use.
Is Home Canning Safe?
In short, the safest way to can fruits and vegetables is to use sterilized jars and lids and can your produce in a water bath for 10-15 minutes. (Don't worry, I'll explain in a little more detail, but I need to get some disclaimers out of the way first!)
You've probably heard of people who seal their jars in the oven, with wax, or by turning the jars upside down. I urge you not to use these methods. I'm sure that whoever used them has avoided food poisoning for years, but do you really want to mess with botulism? And don't think that "you'll know" if your canning is tainted with it. You can't "taste" botulism.
Please follow your country's guidelines for safe canning. Here are the guidelines for Canada, USA, and Australia.
What Foods Are Best for Canning?
Certain vegetables, like beans, are only safe if canned with a pressure cooker. If you are a beginner canner, it is best to stick to jams, fruit, tomatoes and tomato products, and vegetables that are going to be pickled. Here is a list of all the vegetables that are not safe to can in a water bath.
With all that out of the way, here's the basic method for water bath canning. If what I say differs from your country's requirements listed above, please follow those guidelines and not mine.
P.S. If you'd rather watch the process than read about it, I show you how to make peach jam in this video:
How to Make Jam, Pickles, Tomato Sauce, and More with the Water Bath Canning Method
Pick out a recipe and pick or purchase all the ingredients you'll need.
Sterilize your jars and lids. To sterilize the jars, either run them through your dishwasher and time it so that they are done and steaming by the time you need to use them, cook the empty jars in the oven for 10 minutes at 235F, or fully submerse them in boiling water for 10-15 minutes.
Boil the lids and rims in a pot of water and set aside. Make sure all your lids are free of scratches or defects.
Pour your boiling hot recipe in the jars, leaving the required headspace. Headspace is just a fancy word for the distance between the rim of the jar and the liquid in your recipe.
Clean up any spills on the rim with a clean cloth.
Place the lid on top and lightly screw the lid closed.
Put the jar in boiling water for 10-15 minutes. Make sure that the jar has at least one inch of water covering it.
After 10-15 minutes, remove the jar, taking care not to tip it and keep it in an upright position. After a few minutes, or sometimes immediately, the jar lid should make a popping sound, meaning that it has sealed.
Leave the jars in the same location for a full 24 hours.
Gently press on the lids. If the lids do not move, the jar has sealed. If you have a jar that has not sealed, put it in the fridge and eat those contents first.
Congratulations, you've just successfully canned!
Canning Tips for Beginners
If you're brand new to canning, start with a small batch of jam. No need to get fancy, just use the recipe that comes with the pectin you purchase.
Word to the wise: don't try to make jam without pectin the first time. It is entirely possible, but you won't know how long to boil the fruit, and you will probably end up with jam that is either too runny or too thick.
Once you've mastered jam, you can move on to pie fillings, apple butter & sauces, and juices with a juicer. Finally, try your hand at tomato sauce, salsa, and pickles.
You can always make fridge pickles to start with if your heart is set on pickles–no canning required!
I can almost hear someone disagreeing with my list of items to can that are easier than others. This list is just my opinion. If you want to start with something that I think is harder, feel free! In the end, you should make what you love and are going to eat.
If you're starting from scratch and need to buy all your jars, try and purchase jars that all use the exact same lids, like in this jar kit. Then you won't have to be scrambling to find lids of the right size for the right jar, because all your jars use the same lid.
My Favourite Canning Recipes
I love canning and have developed a few favourite recipes over the years. Here are the ones on my site that I personally make and love.
If you'd rather buy a whole recipe book on canning, here are a couple of options I like:
You can't go wrong with the gold standard of canning recipes.
I like small-batch recipes, as I garden in the city and often don't have enough produce for canning on a large scale.
This canning guide is an older version, but I love anything that Better Homes and Gardens puts out. They always cover the basics in an easy-to-follow, step-by-step manner.
Will you give canning a try? What will you can?
If you enjoyed this blog post, find me on Facebook, TikTok, and Instagram for delicious recipes, small space gardening and flower farming tips, and more! I also make weekly videos over on my YouTube channel where I share lots of tips and tricks for cold-climate gardeners. I hope to see you there!
P.S. If you love the content I create for Shifting Roots, consider joining our community on Patreon. Your support means the world to me and I am grateful for each and every one of you!
---
WANT SOME SIMPLE HARDY FRUIT RECIPES?
If you're looking to make delicious recipes with your homegrown hardy fruits, look no further. Check out my e-book Hardy Fruits Cookbook for over 25 mouth-watering dishes!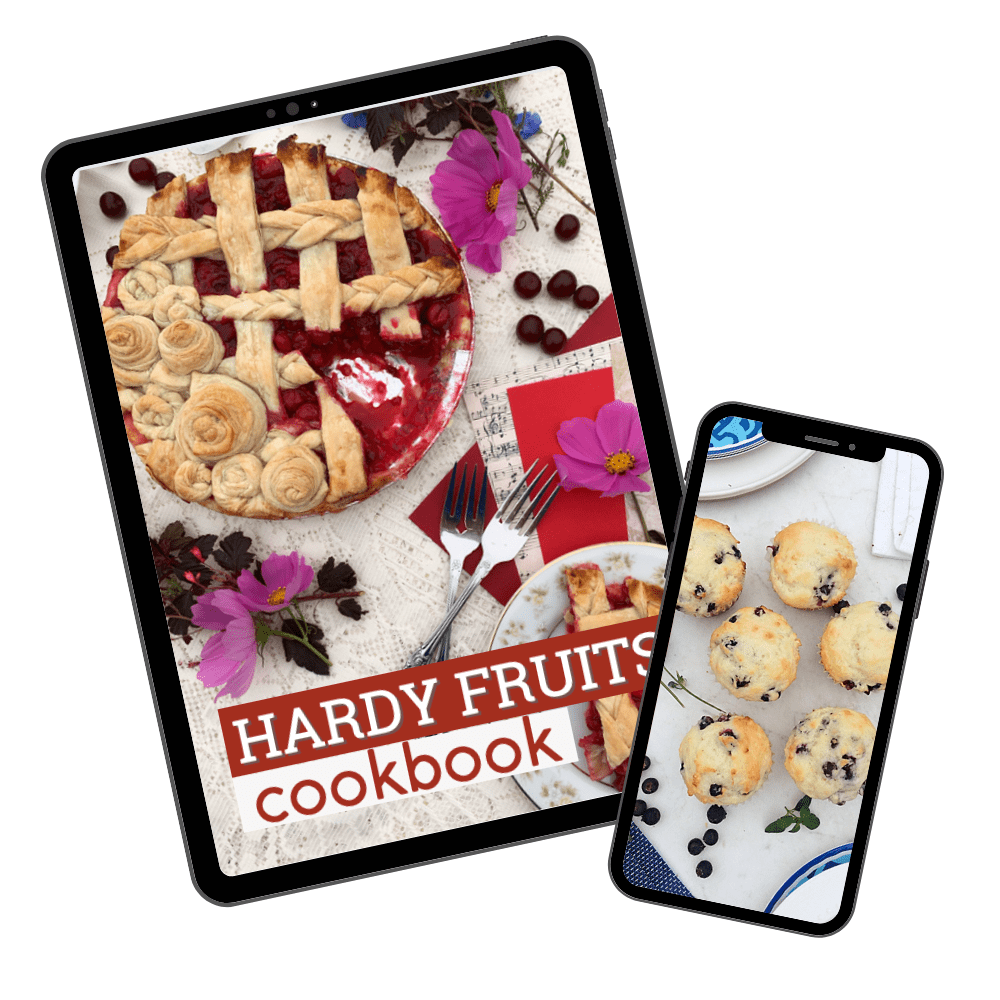 ---
---