I have a confession to make: I'm terrible at bringing food people like for potluck. I don't know what it is, but more often than not my food ends up languishing on the table, wishing somehow it could be the cool kid at the party.
Then one day my food got popular. Strawberry Feta Salad is the kind of salad that has people coming back for more and begging to be the person who gets to finish the last little bit. You might even–gasp!!–get asked for the recipe.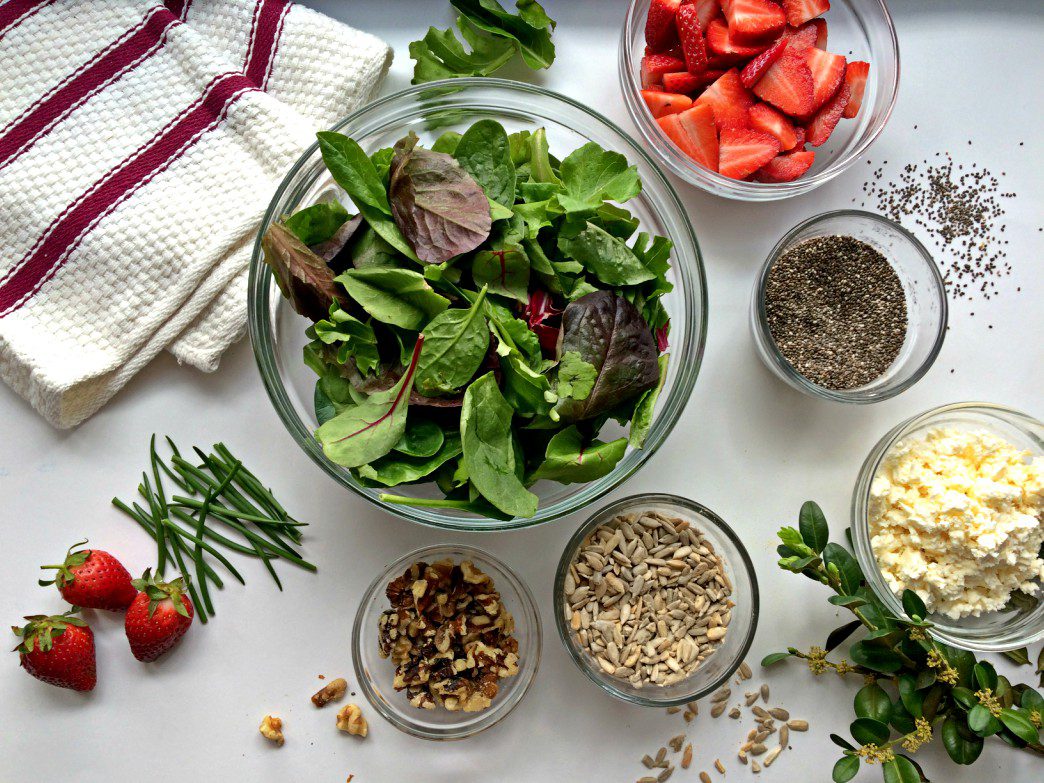 You can use whatever greens you like as the salad base. I prefer mixed spring baby greens for this one. Strawberries add sweetness, feta adds some zing, and walnuts & sunflower seeds add some crunch. I was pretty excited that my chives were ready to use in the garden, but you can use green onions if you prefer.
The dressing is a simple mix of vinegar, lime juice, oil, and brown sugar, with salt and pepper to taste. I like it pretty sugary, but feel free to adjust your ratios of vinegar and sugar to suit your tastebuds.
Want to eat this as a meal? Just add a chicken breast and you're good to go! I also like it with some avocado for creaminess and healthy fats. Chicken and avocado seem to be my go-to additions when I want a heartier salad. Salmon would be equally delicious and in season.
Pin me for later!
DO YOU JUST WANT THE RECIPE WITHOUT HAVING TO SCROLL TO THE BOTTOM?
Get over 25 of them– using Saskatoon berries, sour cherries, raspberries, rhubarb and more. For a limited time its only $7–60% off the regular price!
Strawberry Feta Salad
A light, fresh spring salad perfect for potlucks.
Ingredients
1 large bowl, approximately 8 cups spring greens,
2 cups sliced strawberries,
1/2 cup crumbled feta,
1/3 cup walnut pieces
1 tablespoon chia seeds
2 tablespoons sunflower seeds
1/4 cup chopped green onions or chives
Dressing:
3 tbsp olive oil
Juice of 1 lime
1 tbsp white vinegar
3 tbsp brown sugar
salt and pepper to taste.
Instructions
1. Combine all salad ingredients in a large bowl. Whisk dressing together in a separate bowl and add just before serving.
SaveSave