If you've ever had the privilege to live on a corner lot, you know the struggle.  What do you do with that small piece of land that's facing the street but isn't your backyard?
You could fence it in, but no one will ever play there and no one wants to be relegated to the dark corner of the yard to "relax."
You could just leave it be, but all of that grass seems like a waste of real estate.  It's also a waste of your time to mow, especially if you have an electric lawn mower!!
My friends Graham and Sarah have come up with a fantastic solution: grow a raised bed vegetable garden.
Today we're going on a tour of their yard and talking about the project, the best parts, and what they wish they'd done differently.
Urban Gardening = Great Solution for Busy Families
Graham and Sarah live on a large corner lot with no trees, although the neighbours have some that cast shade.  While they definitely have the space for a traditional garden, they also have two full-time careers and two small children under the age of 4.
They built a set of three raised beds in their backyard when they first moved into their house 4 years ago.  These beds are still holding up well, although they may need some extra screws for re-inforcement in the next year or two.
Graham wishes he could have made his boxes from cedar, but in Saskatchewan the price is cost-prohibitive.
Last year they started planting squash in the south facing flower bed of their house.  The squash grew well, but the vine went everywhere and made cutting the grass difficult.
This year over the course of 3 weekends, Graham built the newest addition to their urban garden.  He also rigged up an irrigation system for easier watering.
Plan the Perfect Garden
Get your free Garden Planner and worksheets and start creating the garden of your dreams.
This year they've planted squash, zucchini, cucumbers, peas, tomatoes, potatoes, beans, peppers, carrots, and various greens.  The boys love to visit the garden every day to see how the plants are doing.
Raised Bed Gardening Regrets
While Graham and Sarah are very happy with their urban garden, there are a few things they wish they could have done differently.  "Now that we've finished the side yard with rubber barriers and stones, I wish we would have spent more money and finished the boxes in our backyard the same way." lamented Graham.
The wood chips and landscaping fabric were an economical solution, but weeds did creep through eventually.  They've found that the wood chips need adding to every 3 years or so.
It would also be nice to use cedar, but the cost is three times the price of other wood and it only lasts twice as long.  (Please know that the cost of cedar will vary wildly depending on the area in which you live.)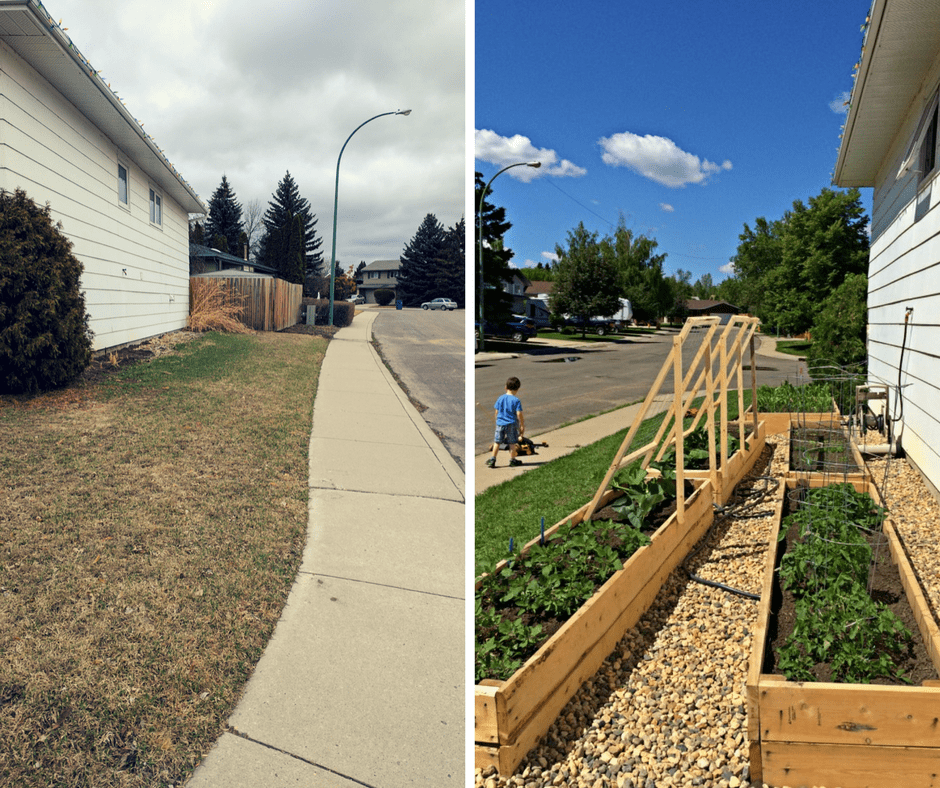 Raised beds are awesome in a side yard if. . .
You never use your side yard and are bothered by wasted space.
You like to garden, but don't want to spend all your summer weeding.
You don't have a lot of space, but still want to garden
You think your neighbours will keep their hands to themselves come harvest time. . . or you don't mind if your produce gets swiped by passerby.
You are short on time, but still want to garden a little bit.
They get a minimum of 6 hours of full sun a day.
Your neighbourhood bylaws allow gardens anywhere other than your backyard.  Be sure to check the rules, especially if you live in a newer suburb!!
Plan the Perfect Garden
Get your free Garden Planner and worksheets and start creating the garden of your dreams.
Pin me for later!
Do you have raised beds?  I'd love to hear any tips and tricks you've learned along the way.  What do you do with your side yard?
SaveSave