Starting a flower farm from scratch, especially when there are so many other flower farmers within a 30km radius of where I live, has been daunting. Even though I've been arranging flowers for years, gardening forever, and feel confident in my approach to marketing, it doesn't mean that I'm not constantly filled with my own doubts and wondering if I'm "doing it right."
In this blog post, I give you a behind-the-scenes look into my journey as a flower farmer–the ups and downs, the mistakes and successes–with the hope that I can help some of you with your own beginner cut flower businesses!
BACKYARD BUSINESS: THE BEGINNING
I never intended to be a farmer florist.
In 2019, I saw a hole in the market and wrote an ebook all about how to grow your own personal cut flower garden in your backyard. The book was a hit and many of my readers grew successful cut flower gardens. However, one of the people who bought the book turned what they learned into a business and successfully sold bouquets from her garden every week.
I was happy for her, but it totally irked me. I had been wanting to sell my own flowers for years and never did because I thought there was too much competition and I was too scared!
Well no more!
If she could build a business off of my book, certainly I, the person who had written the book, could do it too!
Prefer video content over reading a blog post? Check out the video below for my full recap of how I over-doubled my income as a flower farmer:
MY FIRST YEAR AS A FLOWER FARMER
I entered my first year of intentional flower farming in a terrible drought. The garden I wrote the book with and the garden I started my business with were two separate beasts. Instead of 3-10 bouquets a week, I was LUCKY if I could scrape together 3–even in the middle of August, the prime time for flowers.
I also had a terrible mess of colours. There were some weeks when I would pick my pail of flowers, take one look at it, and want to walk away. There was no clear bouquet in there, and it was a struggle to make the colours work.
Thankfully the colours I wanted bloomed approximately at the right times for the weddings I booked, but I rarely had enough of anything. I was lucky most of my orders were small and there were other flower farmers I could purchase from, or I never would have had a business that year!
Despite all the challenges, my first year of flower farming was quite successful. I ended up selling $6,000 worth of flowers and making a $3,000 profit. Yes, that's a high amount of input, but it's not crazy when you think of the number of extra flowers I had to buy for events, and things like seeds, corms, buckets, snips, tables, etc.
MY SECOND YEAR AS A FLOWER FARMER
In my second year, we ended up moving to a new property, so I now had an acreage size garden to work with. However, the soil had been neglected, and even though I could garden there for a few years, I knew I still had a ways to go before the soil health was restored. Despite that struggle, I was thankful to have a much larger space and to be gardening in only one location. (I had three gardens my first year to try and grow enough flowers–only one of which was at my actual house!)
Shortly after all the plants were in the ground, I found out I was pregnant with our fourth child. While I was thrilled, I was also really tired (hello first trimester!) and had to allow myself more time than usual to fill my orders. Add in toddler interruptions and chickens constantly eating the flowers out of my buckets, and it made for some chaotic days!
I know lots of people would have thrown in the towel at this point, and waited until "things were better" to start up again. While I did scale some things back and not push forward as hard on others, quitting was not an option. I'd been waiting for too many years to build out this dream, and there was no way I was going to let my brides and CSA members down!
In order to grow, I leaned into my strengths and got help for my weaknesses.
LEANING INTO MY STRENGTHS AS A FARMER FLORIST
In my course, Backyard Business, I talk about how all of us have a specific reason that people will come from us and buy from us–and it might not always be what you think. One of my strengths as a flower farmer is that I have a very unique style of arranging. It's definitely not for everyone, but if you love it, there are not a lot of people who do it exactly the same way.
So I didn't worry about selling to other florists or rounding out my off-season income with bulb sales or seedling sales. Instead, I leaned into booking more weddings, selling more CSA memberships, and going all in on my pumpkin centrepiece sale.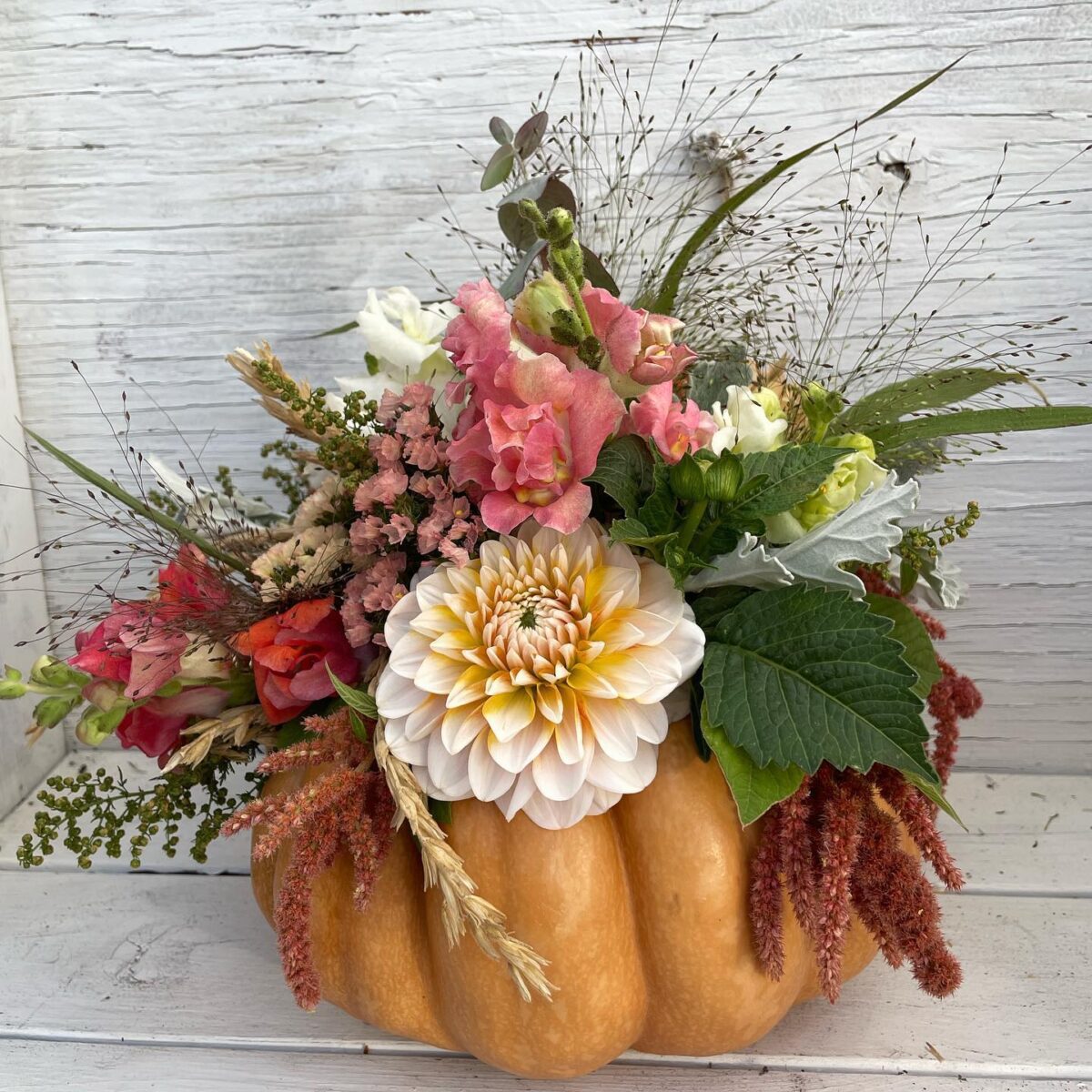 It was the right decision.
I gained 18 CSA members, booked over twice the amount of weddings than I had the year before, and was still able to fit in custom bouquets for people. I did a few markets, collaborations, and giveaways to increase my audience, and the word of mouth was finally starting to work in my favour.
Unfortunately, I still didn't have enough flowers and needed to use every stem I had coming to me. But thankfully, I was able to purchase from two other growers and fill in the gaps.
Despite that setback, I was able to gross close to $15,000 at the time of writing this–over double my gross last year. I haven't sat down to figure out my net yet, but I feel reasonably confident in saying it's likely around $8,000-$10,000. While I still needed to purchase seeds, tubers, and other growers' flowers, I didn't have nearly as many expenses for things like buckets, hoses, tables, and clippers.
The good news is, it's not just me who is making money and improving their flower farmer business. Many of my first round of Backyard Business students are seeing success too!
But don't just take my word for it:
If you liked this blog post, find me on Facebook, TikTok, and Instagram to follow more of my farmer florist journey and join the cut flower conversation! I also make weekly videos over on my YouTube channel. You can also sign up for bouquet-making events and buy my arrangements at my sister-site Shifting Blooms. I hope to see you there!
P.S. If you love the content I create for Shifting Roots, consider joining our community on Patreon. Your support means the world to me and I am grateful for each and every one of you!
---
MORE OF A VISUAL LEARNER?
Check out Season 2 of my YouTube Series, Backyard Business, below, where I take you through the good, the bad, and the ugly of my second year of flower farming!
---
LOOKING TO START YOUR OWN CUT FLOWER BUSINESS?
Have you been researching all over the internet and in free Facebook groups about starting a cut flower business and are feeling more confused than ever? Don't believe you can make a profit from a cut flower garden on modest terms? Check out this video for how I went from a wannabe flower farmer to a resilient backyard business owner!
And, if you're still feeling frustrated, if you're worried about spending too much money and not making your money back, or if you just want to learn more about profitable small-scale flower farming, you can enroll in Backyard Business, my program for aspiring flower farmers. Some of my students were already making money (enough to pay the cost of the course!!) in the middle of winter by getting creative and trying new things. I hope to see you there!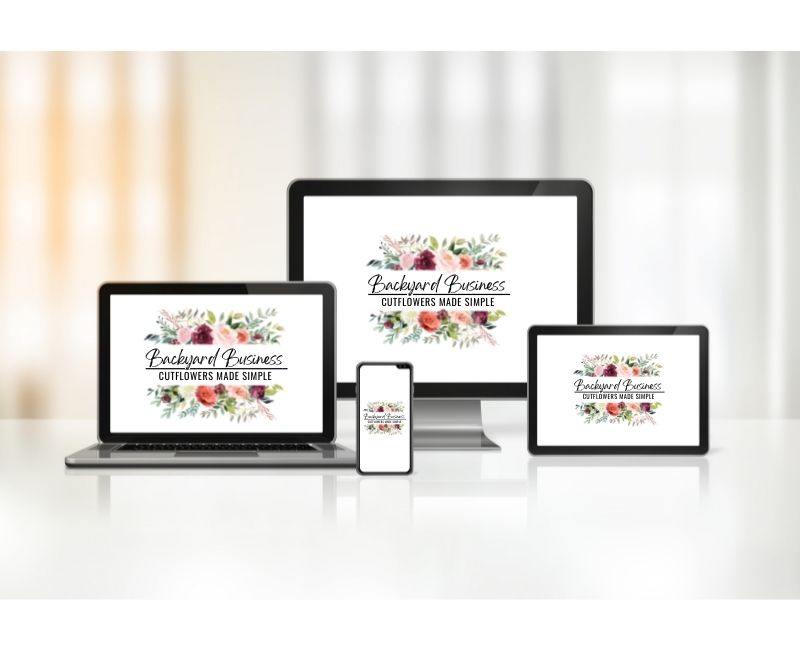 ---
---