Nothing says summer like a classic Saskatoon berry pie. You can have your blueberries, but I'll take slightly tart Saskatoon berries instead any day of the week. This Saskatoon berry recipe is just like the one Grandma used to make and can be made with either fresh or frozen berries.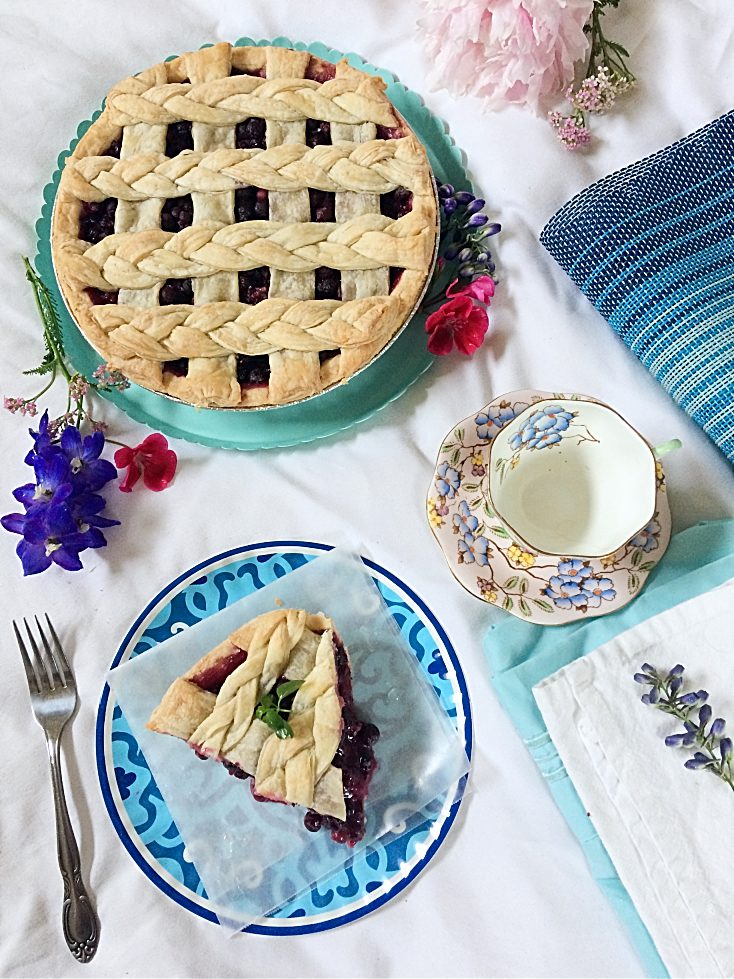 BEFORE YOU MAKE YOUR PIE
Any Saskatoon berry recipe starts with a trip to the berry patch, sometime between the second and fourth week of July, depending on how warm or cold summer has been.
Saskatoon berries are next to impossible to find at supermarkets, and can only be obtained in the wild, at u-pick farms, and at farmer's markets. If you have the time, I highly recommend picking at least one of your own pails. It will take an hour, but I swear the berries just taste better somehow.
Watch this video for some quick Saskatoon berry picking tips!
Once you get home, it's time to clean the berries. If you pick clean as you pick them, cleaning Saskatoon berries goes quickly. Here's how I do it!
Finally, it's time to make delicious pies, cakes, muffins, and other desserts! Saskatoon berries freeze well and are delicious in pancakes, with oatmeal, or in your yogurt.
Planning on making lots of pies to freeze for later? One ice cream pail of berries with make three small 8-inch pies or two large deep dish pies.
If you love Saskatoon berries as much as I do, you'll want to bookmark my other Saskatoon berry recipes, as well!
Disclaimer: When I'm photographing pies, I do not make homemade crust. I've found that it's too difficult to braid or make lattices with it, so I use store-bought butter pastry instead. If I'm making the pie for my friends and family and don't need to get fancy, this is the recipe I use.
With all that out of the way, on to the recipe!
Saskatoon Berry Pie
Cook Time:
1 hour
15 minutes
Total Time:
2 hours
15 minutes
Classic Saskatoon berry pie just like Grandma used to make.
Ingredients
Filling:
10 cups Saskatoon Berries
1 2/3 cup sugar
1/2 cup all purpose flour
2 tbsp lemon juice
Crust:
4 1/2 cups flour
1 1/2 tsp salt
1 1/3 cup shortening
8 to 10 tbsp cold water
Instructions
Clean Saskatoon berries and mix in sugar, flour, and lemon juice.

Crust: Mix flour and salt in a large bowl. Cut in shortening with a pastry blender, or your hands. When the mixture looks like a bunch of little pebbles, add cold water until combined. Let dough rest in the fridge for 10-30 minutes and roll out.

Cover the pie plate with dough and trim the edges that go over the pie plate with a knife.

Fill with 3-5 cups of Saskatoon Berries, depending how full you like your pie and how large of a pie plate you are using.

Cover the pie with another circle of dough, and poke holes all over the crust with a fork or knife. If you want to make a lattice crust as pictured, here's how. If you like the braided look, cut out twelve long strips of pie dough, and make four braids before following the instructions to make a lattice.

At this point, you can freeze the pie if desired.

If you are baking the pie immediately, brush on a bit of milk with a pastry brush (or your fingers) and sprinkle with a pinch or two of white sugar. This will help your crust get a nice brown to it.

Bake at 350 degrees for 60-75 minutes. The pie is done when The fruit is bubbling through and the crust is golden brown.
Did you end up with a bit of extra pie filling? Don't throw it away! Make these super easy hand pies instead!
If you enjoyed this recipe, find me on Facebook, TikTok, and Instagram for more delicious recipes, small space gardening and flower farming tips, and more! I also make weekly videos over on my YouTube channel where I share lots of tips and tricks for cold-climate gardeners. I hope to see you there!
P.S. If you love the content I create for Shifting Roots, consider joining our community on Patreon. Your support means the world to me and I am grateful for each and every one of you!
---
WANT SOME MORE SIMPLE HARDY FRUIT RECIPES?
If you're looking to make delicious recipes with your homegrown hardy fruits, look no further. Check out my e-book Prairie Fruits Cookbook for over 25 mouth-watering dishes!
---
---
SaveSaveSaveSave