I love the taste of Saskatoon berries and this jam recipe keeps the deliciousness going all summer long. American friends, you might also know these berries as serviceberries or juneberries. Whatever you call them, this jam is delicious and easy to make!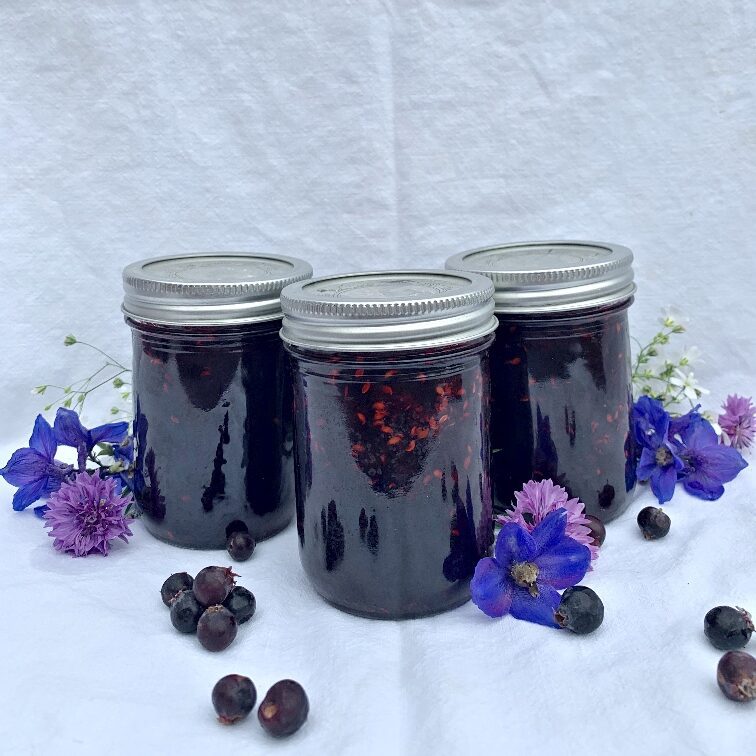 BEFORE YOU MAKE YOUR FIRST JAR OF JAM
If you're new to making jam, you can watch how I make peach jam below! The recipe is obviously different, but the whole canning process is the same. Just ignore the frizzy hair, messy kitchen, crying baby, and silly seven-year-old. Or don't, and let them encourage you that you've totally got this, even if you're a beginner.
And if you find this video helpful, you'll want to bookmark the posts below for everything you need to know about canning, including what you'll need to get started, links to some of my favourite recipes, and my tips and tricks for easy at-home canning every time:
One thing that might be a little different about this recipe than others you might find, is that I like to chop up the Saskatoons beforehand, instead of mashing them with a potato masher while they're cooking. I just don't like eating a full berry on my toast. I prefer the texture that comes from blending them up a bit beforehand better. With that said, I hope you enjoy this simple Saskatoon berry jam recipe!
Saskatoon Berry Jam
A basic Saskatoon Berry Jam recipe that your family will love.
Ingredients
5 cups Saskatoon berries
1 medium apple
5 cups white sugar
1 tbsp lemon juice
1 package pectin
Instructions
Sterilize jars you'll be using for canning be either boiling for 10 minutes, running through a bottle sterilizer, or cooking in the oven for 10 minutes at 275 degrees Fahrenheit. Boil the lids and rings in water for 10 minutes.
Pulse clean Saskatoon berries and cored apple in a blender for a minute.
Pour mixture into a tall pot, and add sugar and lemon juice.
Cook on medium high heat, stirring frequently. Add the pectin when the mixture boils.
The pectin package says to boil for one minute, but I frequently find that my jam never sets with that short of a boil. I suggest boiling for 3-5 minutes.
Turn off heat and pour jam into sterilized jars, leaving 1/4 inch headspace..
Clean off any spillage on the rims with a clean cloth.
Put on lids and secure with rims. Boil in water for 10 minutes. The water must be at least 1 inch over the top of the jars.
Remove after 10 minutes and set jars on a clean towel. Do not tilt the jar as you remove it, as that could compromise the seal. Do not move jars for 24 hours.
If you have any jars that don't seal, or a jar with too much headspace, put it in the fridge and use that one first.
Notes
If you live at a higher altitude, you may need to boil your jars, lids, rims, and jam for more than 10 minutes to sterilize them. Please see this guide for proper altitude adjustments.
If you love Saskatoon berries as much as I do, you'll want to bookmark my other Saskatoon berry recipes, as well!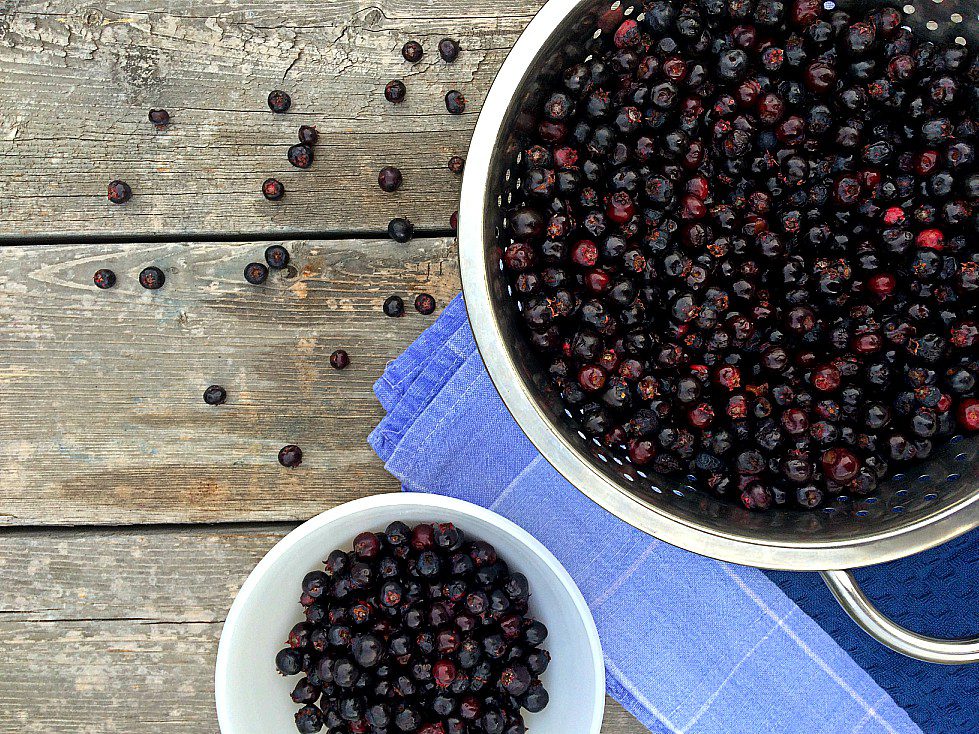 Find me on Facebook, TikTok, and Instagram for more delicious recipes, small space gardening and flower farming tips, and more! I also make weekly videos over on my YouTube channel. I hope to see you there!
P.S. If you love the content I create for Shifting Roots, consider joining our community on Patreon. Your support means the world to me and I am grateful for each and every one of you!
---
WANT SOME MORE SIMPLE HARDY FRUIT RECIPES?
If you're looking to make delicious recipes with your homegrown hardy fruits, look no further. Check out my e-book Prairie Fruits Cookbook for over 25 mouth-watering dishes!
---
---