Not everyone is blessed with a large acreage to plant out the garden of their dreams. It's easy to feel defeated when all you have to work with is a small patio or an urban backyard.
Don't be discouraged. I've compiled some ideas to get you thinking outside the box (or garden plot) and working with the space you do have. Bonus–most of these ideas can be implemented easily if you're on a budget.
This post contains affiliate links, which means if you purchase something from one of my links I make a small commission at no extra cost to you. You can read more about it in my Privacy Policy. Thanks for supporting Shifting Roots!
Embrace Container Gardening
No land space? Your small apartment balcony or backyard patio can be the perfect place for a container garden. Buy the biggest containers you can afford (not these ones pictured–unless you're committed to frequent watering).
Don't limit yourself to flowers! Vegetables and herbs make lovely container plants. I like planting a combination of all three and enjoying them on my backyard deck. Having flowers among your vegetables also helps control unwanted bugs that destroy your vegetables.
Container gardening does have it's ins and outs, so check out this post on the 8 mistakes I made container gardening last year.
P.S. Like these blue pots? Here's how I turned tired looking plastic pots into something fresh and new for my patio container garden. It's way easier than it looks.
If you think you might be moving during the summer, I highly recommend fabric grow bags with handles. The fabric folds up small at the end of the season, and they're easy to move if needed.
These potato grow bags are also super convenient if you want to grow more potatoes in less space–without hoeing or hilling multiple times during the season.
Raised Bed Gardening
You don't have to dig up the earth to start a garden–especially in a city. it's so much easier to put down some cardboard or landscape fabric, set up a raised bed, and add soil. Voila–a new garden space in an afternoon or weekend.
Raised beds aren't just for the backyard either! I have this one right in my front yard and I love it. It's a nice conversation starter with my neighbours and I've had many people stop their walk past my house and ask me about my garden.
I also love this idea I saw on one of my walks around the city. This raised bed is in the alley in a small space by a driveway. Why not turn your wasted space into a spot to grow food?
Get Creative With the Garden Space You Already Have
There's no law that says you must plant in rows with enough space to walk in between each row. I love visiting the two community gardens near my home, because I always get new ideas for how I can maximize my space.
In this photo, the gardener left the bare minimum of space between plants with almost no room for walking. But really, is getting in-between the rows easily a priority when you don't have a lot of space to work with?
Last spring I decided to plant my entire garden using the square foot gardening method. Instead of planting in rows, I used the Seeding Square and planted in a grid of 4×8 or 4×12 beds with pathways in-between.
I absolutely loved it and had excellent results. In fact, I had so much space that I had to go to a greenhouse and get more plants because I didn't know what to do with the empty space left over.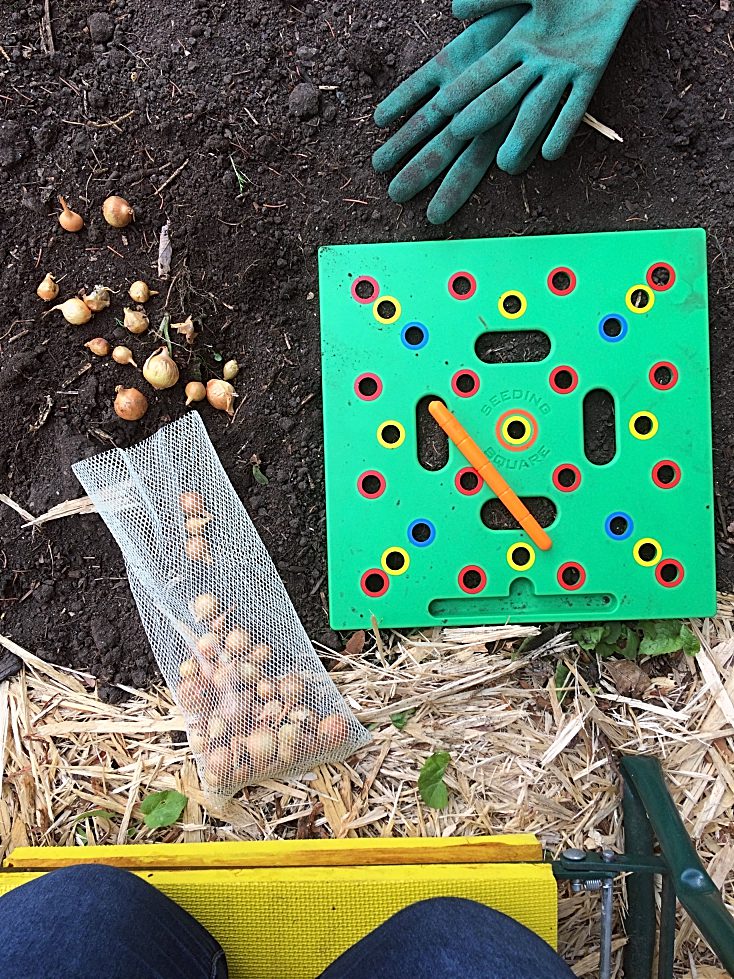 Even better? My son who has zero interest in gardening asked to help. He loves playing with the Seeding Square, and I'll take any chance I can get to encourage his love of gardening.
Here's what my garden looked like month-by-month. It turned into quite the jungle, but I was really happy with how much food I was able to produce.
Go Vertical with Trellises and Pallets
Plants like beans, peas, cucumbers, squash, melons, and smaller pumpkins don't need to take up precious space! It's easy to build or purchase a trellis and save yourself some precious gardening real-estate.
These are the cucumbers I planted last summer. They did really well and were so much easier to pick. I also maximized my planting space by growing a crop of spinach underneath the trellis. lettuce or radishes would also do well.
If you're not handy, here's where you can get something similar on Amazon.
Vining beans are excellent to grow in teepees and make a fun playhouse for the kids. As you can see from the photo below, all you really need are some sticks of approximately the same size and some twine.
Pallets also make great vertical grow boxes, especially for herbs, flowers, and lettuces. This is one is from one of my readers, Katelyn. I love her easy method of creating a bottom in each of the spaces. She staples landscape fabric inside!! So easy, and no power tools required. (Also, I'm seriously crushing on the beautiful teal blue she painted the pallet.)
If all Else Fails, Take Your Gardening To the Streets
Okay, I realize this solution won't work for everyone, but if you live by one of these boulevards and your city allows it, take your garden to the streets!
The simple raised bed (above) and the tire (below) are two simple and cost-effective solutions to get more gardening space.
List of Resources for Small Space Gardening
Not everyone has access to the materials for making their own raised beds, trellises, or other gardening solutions. Here are a few of my favourite products when you're short on space. Many of them are great (under $30) if you're on a budget.
There are tons of options for raised bed garden kits out there. Here's a couple to consider depending on your needs and budget.
Do you have any clever solutions for gardening in a small space? I'd love to hear about it in the comments!