It's the most wonderful time of the year. . . berry picking season!!  Saskatoon berries, sour cherries, strawberries, and raspberries are all in season these next few weeks.  Before you grab your straw hat and pail (or walk down to the fruit truck, we won't judge) here's some little tips and tricks to make the whole process smoother.
This post contains affiliate links.  If you purchase anything, I earn a small commission at no extra charge to you.  Thanks for your support!
Berry Harvesting Essentials
Berry picking is not a time to be glamourous.  If you've been reading this blog for a while, you'll notice that I'm usually dressed nicely in my berry picking pictures.  This is purely for the camera.  I assure you I don't go berry picking like that in real life.
[clickToTweet tweet="Berry picking is not a time to be glamourous." quote="Berry picking is not a time to be glamourous."]
You'll want to wear a wide brimmed hat, loose long-sleeved shirt, and long pants if you're going to be picking in the wild.  The most hard-core berry pickers (I can't believe I just strung those words together) tie an ice cream bucket around their waist to free up both hands.
You'll also want to bring a larger pail with a lid to store the berries.  The lid is key, as I have been known to cry over spilled  berries.  This way, when your pail gets too heavy, you can dump the berries into the pail with a lid.
[clickToTweet tweet="Spilled berries are worth crying over." quote="Spilled berries are worth crying over."]
Finally, you'll need sunscreen, mosquito spray, and a huge container of water.  Berry picking can take way longer than you think and it's tempting to go for "just a few more."  My husband has to practically drag me away sometimes.
How to Pick Fresh Berries
Picking berries isn't very complicated.  You'll want to avoid picking leaves, twigs, or any berry that doesn't look ripe.
How do you know?
Generally, if it doesn't pull off with a gentle tug, it's not ripe.
Try to "pick clean" (avoiding the things above) so that you don't have to spend hours cleaning your berries later.  Here's a little video I made showing you my process.
This video was originally posted on the Shifting Roots Facebook Page.  Join us there to see more like it every week.
How to Keep Saskatoon Berries, Raspberries, Sour Cherries, and Strawberries Fresh for Longer
Timing is of the essence.  Berries will quickly go bad if they aren't dealt with soon after you pick them.  If you're short on time, you can pop them into one of Tupperware's Fridge Smart containers–a total lifesaver for me!  However, you really should process them as soon as possible.
[clickToTweet tweet="Don't let your berries go bad. Learn how to pick and process them now." quote="Don't let your berries go bad. Learn how to pick and process them now."]
To keep berries lasting longer for fresh eating, wash them like the video below:
Preparing your berries for canning, freezing, or for making jams and other preserves?  Here's how to clean them so they'll be ready to preserve.
Saskatoon Berries & Blueberries
Dump a few of the berries out on a cookie sheet and roll them around to catch any that have been eaten by birds.  Pick out any small stems or unripe berries.  Dump the clean berries into a colander and rinse with water.  That's it.  Store them in freezer bags or make them into beautiful jams, pies, and more!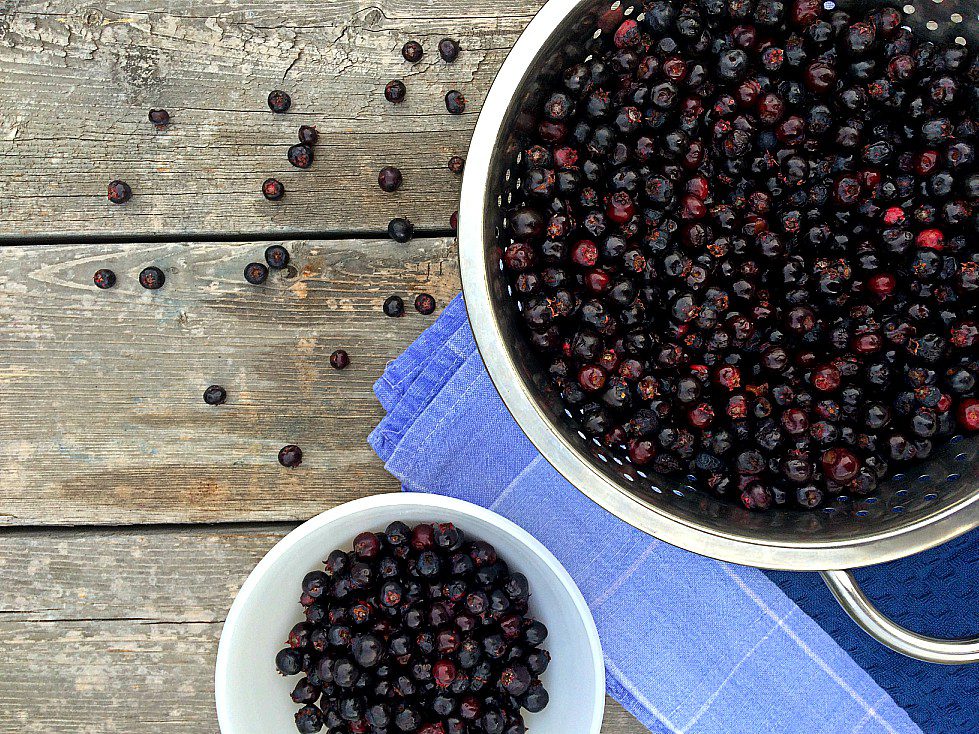 Raspberries
Raspberries are the least forgiving of the berries.  They will mould within the day if you're not careful.  Gently pick out any unripe or overripe raspberries and rinse with water.  Stir with a small amount of sugar and freeze.
Strawberries
Strawberries, however, are the easiest.  Cut all the green tops off of your strawberries.  Slice them (or not), wash, and freeze.  Done!
Sour Cherries
Sour cherries take more time because you have to pit them first.  Since you're touching every single cherry, there's no need to go through and look for bird-eaten and unripe ones first.  You can pit your cherries with a knife, or use a cherry pitter.
Once the cherries are clean, mix with a small amount of sugar to help keep their colour, then freeze.
Picking and cleaning berries takes time, but is so worth the effort.  They're wonderful to have in pancakes, jam, and desserts all year long.
What will you be making with your berries?  Any tips and tricks to share?
Pin me for later!
SaveSave