It had been a successful year of raising chickens. Scratch that. It had actually been a terrible year because we were so unprepared for predators that we only had three chickens going into the winter. Thankfully, an insulated shed was already on the property, and that would be the chickens' home for the winter months. I had read some blog posts and watched some YouTube videos about caring for chickens over the winter, and I was led to believe this would not be pleasant.
The reality of overwintering chickens was slightly different than I expected. I personally enjoyed going out to see my girls every single morning and sometimes a second time in the afternoon. Keeping chickens over the winter doesn't have to be terrible, but there are some things I wish I had known before I started, a few things I did right, and some changes I'll be making this winter. If you're getting ready to care for your own chickens over winter, keep reading to learn more!
DISCLAIMER: Keeping chickens in Canada in the winter can be a challenge. I live just outside of Saskatoon, Saskatchewan, so the advice I'm about to give for overwintering chickens is most applicable to those raising chickens in Saskatchewan. It would also be applicable in Alberta, Manitoba, Quebec, Ontario, and the northern United States.
Our Winter chicken coop setup
Our coop is approximately 16 ft by 12 ft. It's fully insulated and has a little door on the side where the chickens can get out. Our first winter, we did not have a proper run for them to go outdoors, but this year, we do, which has significantly improved their health. We use the deep litter method which means I will clean out the chicken coop sometime in October and then I will put down a thick layer of either wood chips or straw or a mixture of both and instead of regularly cleaning out the coop, I will continue adding straw or wood chips until the melt sometime in March.
Our coop also has ventilation, and two screened windows that open up if we need further ventilation. We also have perches and nesting boxes for the chickens, but our chickens hate their nesting boxes and, much to my chagrin, choose to lay their eggs in the corners of the shed instead.
Some mistakes I made when I first winterized my chickens
I did not realize the first winter I had chickens that they needed both some grit and some sort of dust bath for optimal health. Because of this, by February my chickens were having quite runny poops and one of the chickens got some mites. I was able to remedy this with diatomaceous earth because the problem wasn't too bad, but sometimes mites can be so difficult that you need to get Ivermectin for mites instead. If you do decide to treat a mite infestation with diatomaceous earth, use it very sparingly, as it can get into the air and wreck the lungs of both you and your chickens.
This year, I'm going to rectify this. Of course, the chickens will have access to the run, and we will cover it with greenhouse fabric so the snow stays out, the wind is mitigated, and the temperature will also be slightly warmer. I also plan to have a tub filled with potting soil and some wood ashes so that they can have another place to have a dust bath when it's too cold to go out onto the run.
Another problem I encountered was that we actually didn't have enough chickens for the space of our coop. Because of this, our chickens lost a bit of their comb, and one chicken lost parts of its toes. I felt really really terrible. So this year we're going into winter having 16 chickens (the correct number of chickens for our space). The fewer chickens you have, the colder your chickens will be. Chickens help keep each other warm with their body heat; however, too many chickens equals chicken fights and other unhappiness! A good rule of thumb to remember is that each chicken requires about four square feet of space.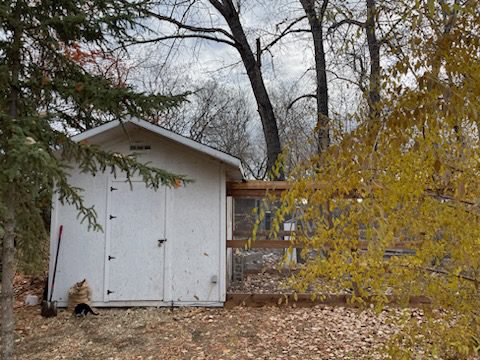 things i did right when overwintering my chickens
Over the winter, I noticed my chicken's eggshells getting thinner and the yolks getting whiter. To counteract this, I fed them some scrambled eggs for more protein and eggshells from when the eggs were not as thin (we save up eggshells for this reason). I've purchased oyster shells in a 25 lb bag this year, and they work great. The chickens just sit and peck at them if they are low on calcium. They also really enjoy getting scraps from the kitchen, dried mealworms, and when I grow sprouts specifically for them.
NOTE: It's normal for chickens not to lay as much in winter. This is mostly because there is less light. When it's -25°C and lower, they also tend to skip those days.
Frequently asked questions About overwintering chickens
Can you eat frozen chicken eggs?
It's an unfortunate part of raising chickens in the winter that you might not always get to the coop fast enough before the eggs have frozen. If the eggs are frozen, but the shell has not cracked, you can put them in the fridge, leave them there, and let them thaw. They will be perfectly fine in your breakfast dishes or wherever you use them. If the shell has cracked, I would say it's sketchy to eat them. In that case, I let them thaw out on the counter, and then I cook those eggs, scramble them, and give them back to my chickens.
NOTE: Some people choose to bake with cracked eggs, but I do not. I'd rather be safe than sorry because bacteria could contaminate those eggs.
What temperature is too cold for chickens?
I found that my chickens did not want to go outside once it was colder than -10°C, and they did not enjoy going outside when snow was on the ground. By -15°C or so, the chickens will probably not go in the run if it is uncovered. I will tell you what they end up doing this winter in the covered run!
How do you keep chickens warm in winter without electricity? Can chickens survive winter without heat?
We choose to run a heat lamp for our chickens from about -10°C and colder. This also gives them some extra light so they do lay a bit more frequently because of the extra hours of "daylight." If you have enough chickens in your coop, you could probably not run the heat lamp except on the coldest days. I do know of chicken owners who don't have insulated sheds and don't do heat lamps and their chickens survive the winter, but they definitely deep litter and have enough chickens in their shed for proper thermal mass.
How do you ensure your chickens have enough to drink in the winter?
At the beginning of winter, I tend just to bring water to their waterer every morning, and for the most part, it doesn't freeze or only freezes a little bit. As we get deeper into the winter, this becomes more problematic with the water freezing within a few minutes. Some people will use watering systems with heaters in them that you can get in places like Peavy Mart or any sort of hardware or farm animal store. Instead of this, I actually feed my chickens snow. All you do is take a tub, fill it with fresh snow, and the chicks will just eat the snow directly out of the tub.
What should I cover my chicken coop with in the winter?
We cover ours with greenhouse plastic; however, you might want to cover the run with a tarp or eventually invest in making a proper roof for the run. If you cover it with greenhouse fabric or a tarp, you'll need to remove the snow from time to time.
How do you insulate a chicken coop?
You can insulate chicken coops the same way you'd insulate a house!
If you liked this blog post, follow me on Facebook, TikTok, and Instagram for more cold-climate gardening tips, delicious recipes, and cut flower goodness! I also make weekly videos over on my YouTube channel. I hope to see you there!
P.S. If you love the content I create for Shifting Roots, consider joining our community on Patreon. Your support means the world to me and I am grateful for each and every one of you!
---
ARE YOU A HOMESTEADER WHO WANTS TO GROW WHAT YOU EAT?
Green thumbs aren't just given out at birth. They're a combination of learning about gardening and trial and error. If you wish you knew more about gardening and had more confidence in your abilities, you need the Growing Roots Gardening Guide.
It's an e-book plus six bonuses. Everything you need to go from complete garden newb to confident gardener in one growing season. Get all the details of what's inside here.
Happy gardening!
---
---