Harvesting and preserving onions is one of the easier late-summer-early-fall gardening chores that you will do. If done right, you'll have onions well into March. In this short blog post, I'll take you through the steps for harvesting and preserving onions and answer some commonly asked questions!
When are onions ready to harvest?
Onions are ready to harvest when the green parts have fallen over and are starting to turn brown. If the green parts haven't fallen over by early to mid-August, help Mother Nature out and step on them. You can keep them in the ground up until the first frost.
HOW TO HARVEST & STORE ONIONS
1. Remove from the garden and set out to dry
Seriously, it's as simple as it sounds. You only need to let them dry for an hour, but longer is fine. Move them indoors if it looks like rain.
2. Remove dirt and loose onion skins
Again, just as easy as it sounds. Wear gloves to keep your hands cleaner. Do not get too crazy with your cleaning. You want most of the skin on!
3. Tie the onions and hang to dry
My family always hung the onions outdoors in a sheltered area safe from rain for at least a week. I always joked that they must be afraid of vampires (yes, I know it's garlic… I was just trying to be funny!). Transfer them indoors after the week is up or before freezing temperatures.
Sometimes it's easier to just watch someone do it. My mom shows us how to harvest onions in this short video:
What if my onions are starting to rot?
Fear not! Cut off the bad part, slice or dice the rest in a food processor, and freeze them. Frozen onions are nice to use for soups over the winter.
Quick Tips and Tricks
Save yourself some stress and cut your twine ahead of time so it's easier to tie your onions
Use surgical gloves, like my mom does in the video, to keep your hands clean
This process works for garlic too!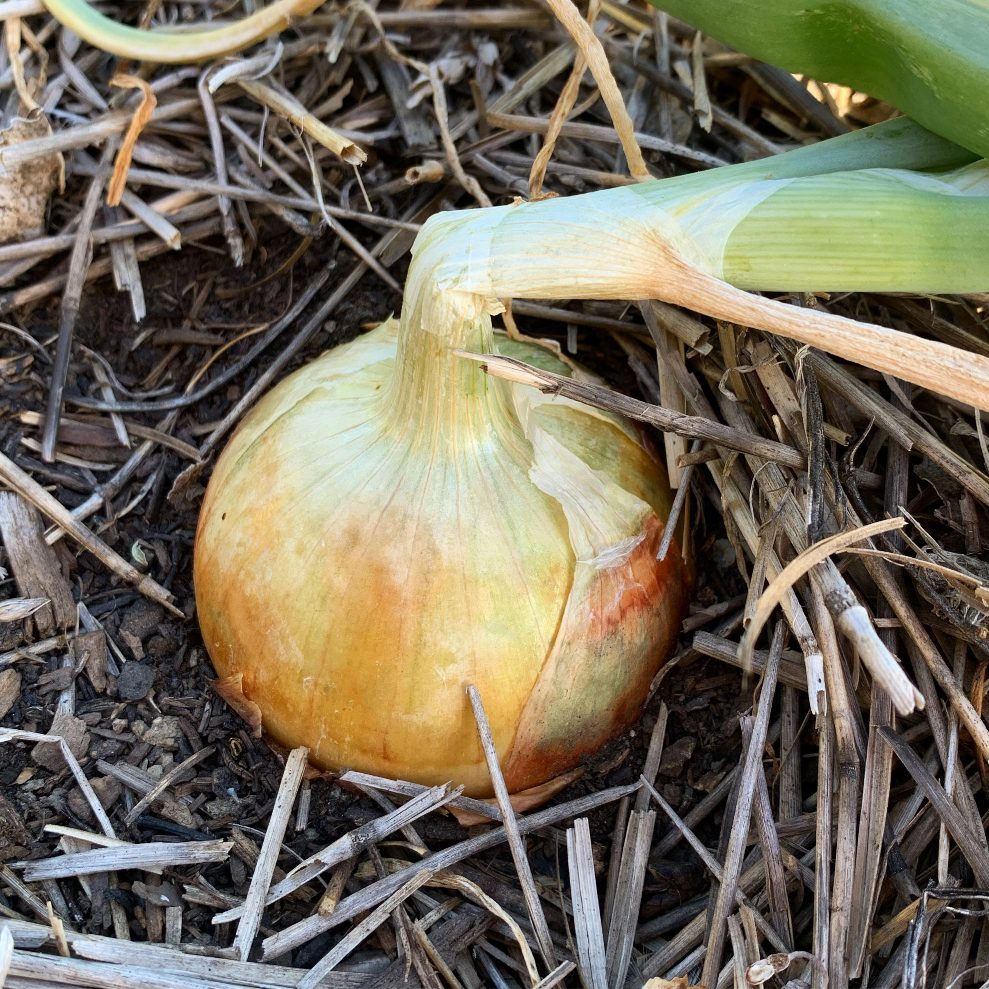 That's it! I'd love to hear about your onion harvest or any questions you have!
If you liked this blog post, follow me on Facebook, TikTok, and Instagram for more cold-climate gardening tips, delicious recipes, and cut flower goodness! I also make weekly videos over on my YouTube channel. I hope to see you there!
P.S. If you love the content I create for Shifting Roots, consider joining our community on Patreon. Your support means the world to me and I am grateful for each and every one of you!
---
NEED MORE HELP IN THE GARDEN?
Green thumbs aren't just given out at birth. They're a combination of learning about gardening and trial and error. If you wish you knew more about gardening and had more confidence in your abilities, you need the Growing Roots Gardening Guide. It's an e-book plus six bonuses–everything you need to go from complete garden newb to confident in one growing season.
---
---