Are you planning to start a vegetable garden but you've been asking yourself…
How do I space my garden so it doesn't get too crowded?
Then this is the blog post for you! Here, I answer some common questions about spacing plants in a vegetable garden and provide vegetable spacing guides for both traditional row gardens and square foot gardens for easy planting.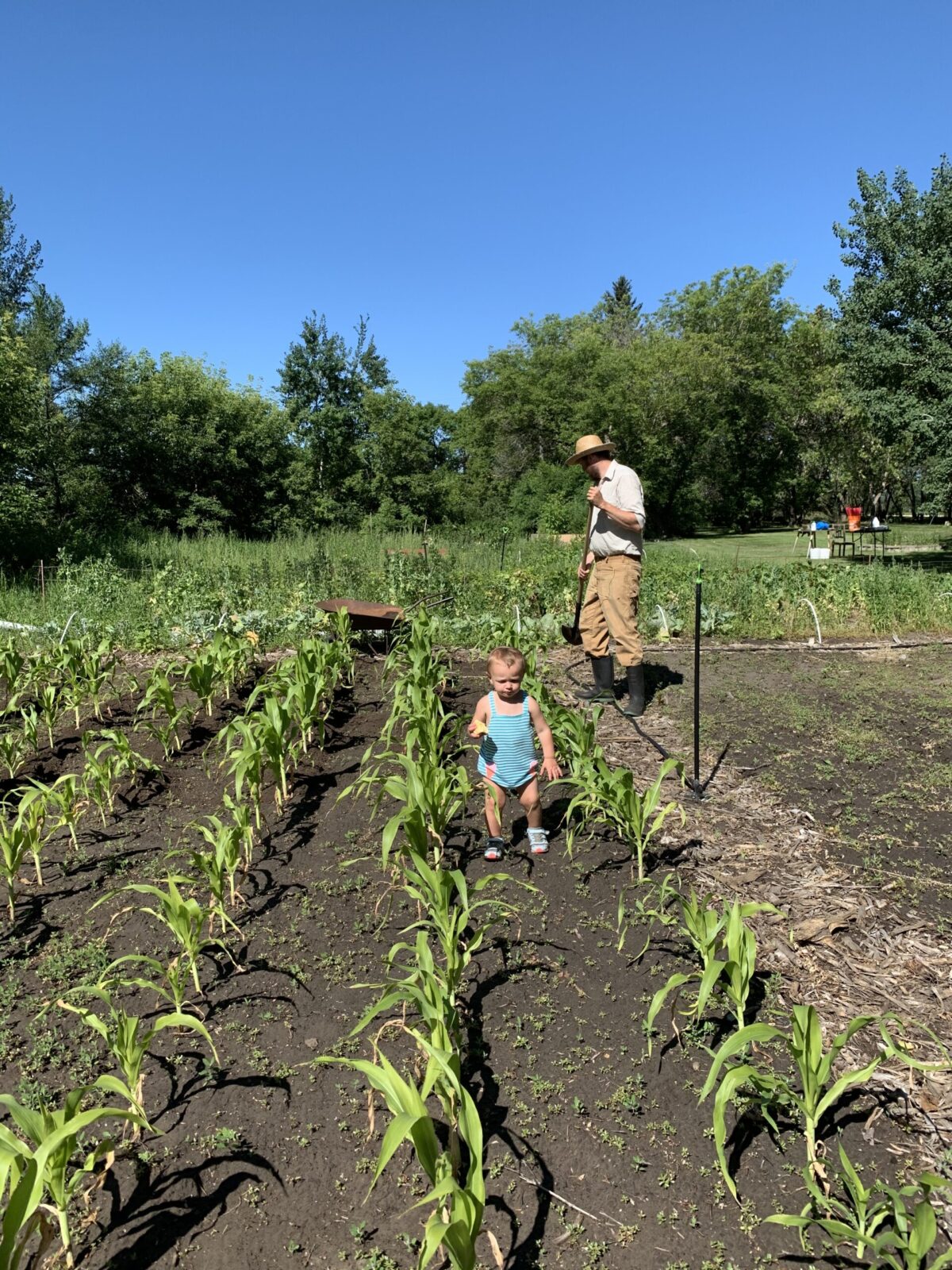 And, if you want some tips and tricks for starting your seeds, check out the video below. Whether you're planning a traditional row garden or a square foot garden, you can have success in your vegetable garden this year:
This post contains affiliate links, which means that if you purchase anything, I earn a small commission at no extra cost to you. You can read more about it in my privacy policy.
How do you space rows in a garden?
In a traditional row garden, most people just choose a row size and stick with it. It might be based on the size of a wheelbarrow, the size of your feet, or how much space you need when you crouch down.
Traditional market garden spacing is 30 inches for produce and 18 inches for walkways. But I've also known people to make their walkways only 12 inches or make their rows 4 ft. apart to fit in a tractor of some sort. Some people space rows based on the size of their rototiller.
The minimum space you should leave between rows would be 12 inches, but it really depends on what your crop is. There is no hard and fast rule. It will come down to trial and error, so make a decision based on your situation and go with it.
Why is the spacing on your seed packet different from the spacing for square foot gardening?
The spacing on the seed packet assumes that you're planting a traditional row garden and have plenty of space. This is the optimal spacing for getting the best harvest. However, what you gain in extra harvest, you lose in having more space for weeds to grow.
The square foot gardening method is a spacing that minimally sacrifices production for improved weed control. Since the plants are planted closer together, they will eventually shade out the weeds. The method also assumes that you don't have a lot of space and are planting in raised beds, although you don't have to. The square foot gardening method works well for in-ground gardening as well.
HOW TO choose BETWEEN traditional row garden spacing & square foot garden spacing
Ultimately, it comes down to the space you have available and your personal preference.
If you have a larger space and plan on using machinery to till weeds between the rows, a traditional row garden probably makes sense. You might also have always grown a garden in rows or tried square foot gardening and don't really like it. And that's fine too!
Finally, for growing things like pumpkins and corn on a larger scale, row gardening just makes more sense.
If you are gardening in a small urban backyard or a community garden, square foot gardening spacing makes more sense. You're able to grow more flowers and vegetables in less space, and once the initial weeding is done, it can become low maintenance.
The square foot gardening method might also be a good option for those looking to scale back on gardening. You can still enjoy having a vegetable garden, but the smaller space means it's less work and easier to manage.
Get 4 Free Square Foot Gardening Templates
Start your square foot garden the easy way!
You'll get 4 4x4 plans for
Salad Garden
Beginner's Garden
Salsa Garden
Kid's Garden
Plus a mini email course that gives you short, actionable tips for keeping your garden alive.
How far apart should plants be in the garden?
1. Traditional Row Garden spacing
Always make sure to check your seed packets for specific instructions relevant to the variety of vegetables you're planting. Here is a general guide (in inches) for spacing seeds in a traditional row garden to get you started!
2. SQUARE FOOT GARDEN spacing
If you're new to square foot gardening, before you learn to space a square foot garden, check out these posts to introduce yourself to the lingo and gain a better understanding of the square foot gardening method:
This square foot garden spacing chart follows Mel Bartholomew's square foot gardening method, wherein most vegetables are planted with 1, 4, 9, or 16 seeds or plants per square foot.
I hope this short explanation of seed spacing for vegetable gardens helps you on your own gardening journey. If you want more cold-climate, short-season gardening tips, you can find me on Facebook and Instagram every day!
---
If you really want to up your small space gardening game, you'll want to grab a copy of Small Garden, Big Harvest. It's everything you need to maximize every inch of growing space you have available, grow enough produce to have something fresh from the garden every week, and feel more at peace knowing you're contributing to your food security in some small way.
---
---