Hearing about the possibility of a coming recession makes me anxious. Will there be a recession in 2019? Or in 2020? And if it does come, how long will the recession last? And what does the possible recession have to do with gardening?
The last recession hit just as I was earning my Masters degree and re-entering the job market. When I went to University jobs were plentiful. When I left University, they had mostly dried up. Living through a recession wasn't fun, but I obviously survived and lived to tell the tale.
While most articles that show up on search results for preparing for the upcoming recession focus on keeping your job, paying down debt, and saving now–all good things and solid strategies–I think people need something even more practical. Because sometimes there is no money to save and your expenses are cut back as much as you can feasibly go. What else can you do?
The answer? Take up gardening
This post contains affiliate links, which means if you purchase anything, I earn a small commission at no extra cost to you. You can read more about it in my Privacy Policy. Thanks for supporting Shifting Roots!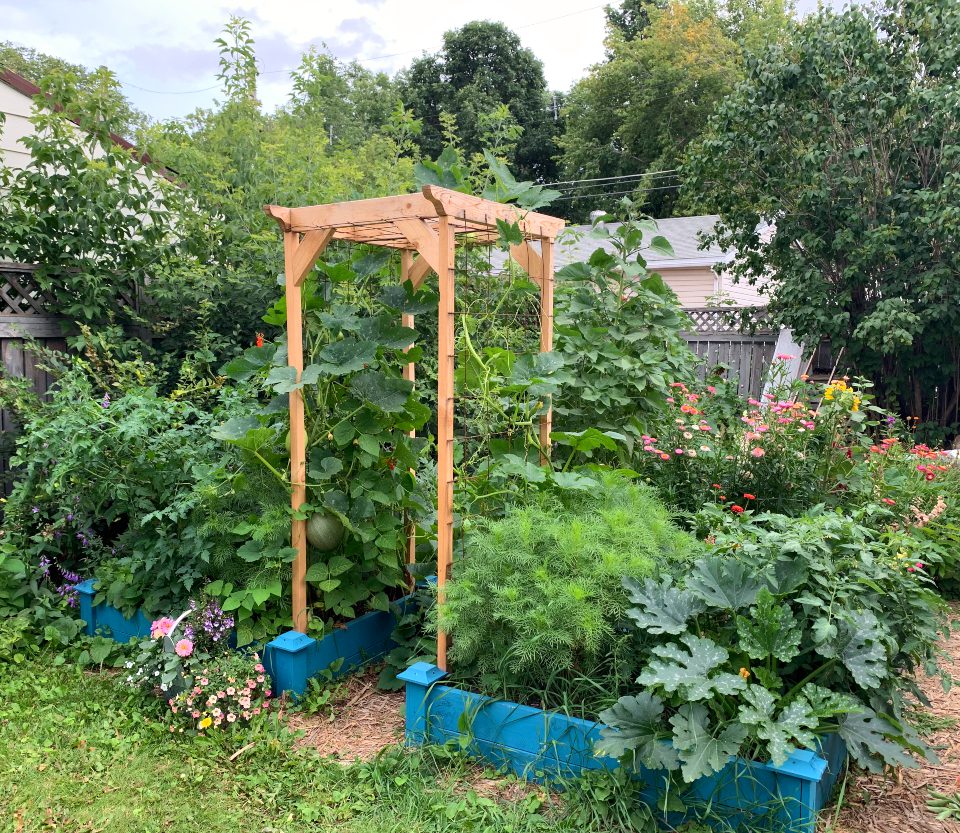 Ever heard of a Victory Garden?
The idea of gardening to save money isn't new. In the Great Depression of the 1930's and the Great Recession of 2009, growing a Recession Garden was one way to put money back in your pocket. The idea also showed up in the 1940's as a Victory Garden–a way to save money and help the war effort. So whether you call it Recession Gardening, Victory Gardening, or just plain gardening, it's a good idea.
While I'm not suggesting that gardening alone is going to solve your recession problems, it was one of the ways that past generations were able to be frugal and cut their expenses. We don't know when the coming recession with hit, how bad it will be, or if we'll still have our jobs at the end of it.
That's why I think one of the smartest things you can do is to learn to garden now, so you will be good at it when the recession hits, and have a strategy in place for slashing your food bill that doesn't involve extreme couponing. (I wish I could extreme coupon, but I live in Canada and we just don't get the same deals and coupons in our grocery stores.)
Learn to Garden Now, So You Can Be Recession Ready
If you're going to use gardening as a strategy to thrive in a recession, you can't be killing plants–it will waste all your money and defeat the purpose of gardening to save money on your grocery bill. That's why you need to start learning now so you can grow food when it counts.
The easiest way to start is to grow the 3-6 vegetables you use the most to the point where you don't need to buy them. Sure, you can grow a garden with a little bit of everything. But if you don't have a lot of space to work with–like many urbanites, you need to make whatever space you do have work for you.
Easy to Grow Vegetables to Save Money
It's important to pick vegetables you (or your family) actually eat and use on a regular basis. You need to save every penny possible and don't want to be wasting your money on vegetables that you had to throw in the compost bin.
You can also base your choices on what's easiest to grow. I've made a list of the 10 easiest vegetables to grow for beginners, head on over there if you don't know where to start. These choices reflect my zone 3 garden in Saskatoon, Saskatchewan, Canada, but they will be relevant to most other locations.
I personally would start with tomatoes, potatoes, lettuce (or a more freezable green like kale or Swiss chard), onions and carrots. All these vegetables are relatively easy to grow, and frequently show up as ingredients in North-American cooking. Plus, the root vegetables don't require as much care if you think you might forget to water on a regular basis.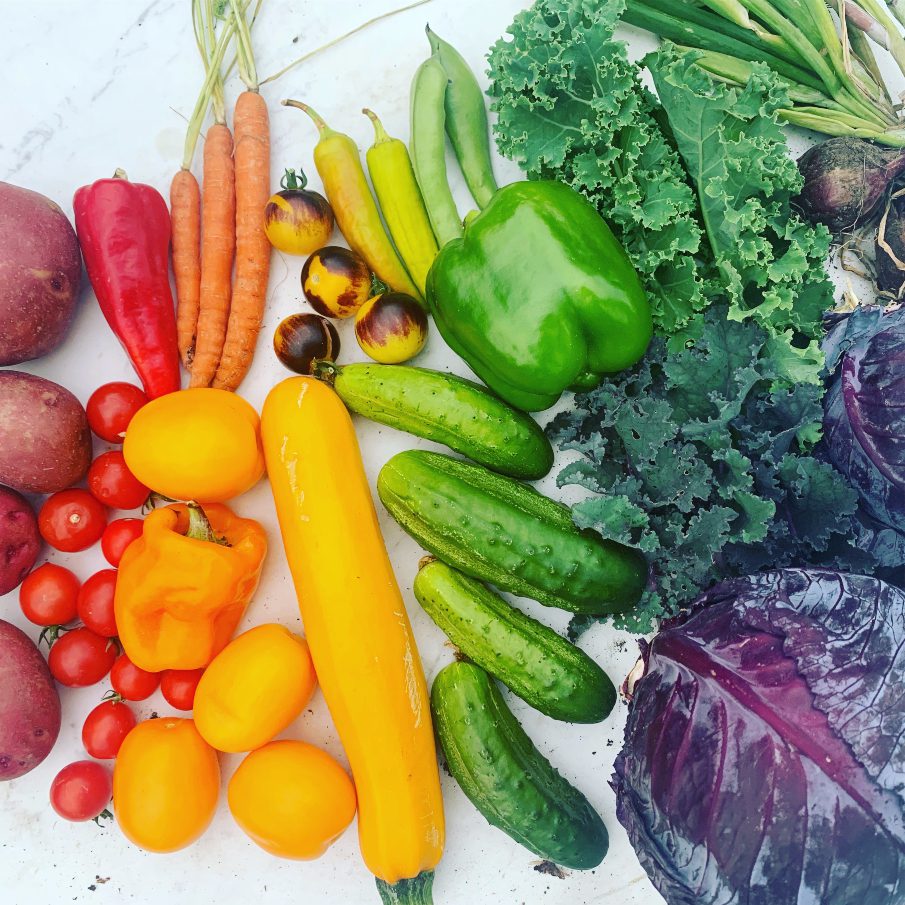 How Much Money Can Growing a Vegetable Garden Save?
While I can't possibly know every family's food budget and available space to grow vegetables, I can give you some idea of what you can save if you grow certain vegetables to an amount that you rarely have to buy them.
Tomatoes: If you buy and use two jars of pasta sauce a week at approximately $2 a jar, you'll save $208 a year. In fresh tomato season, you could save an extra $20 or more a month in fresh tomatoes.
Lettuce & salad greens: if you spend $5 on packaged lettuce every week, you would save $260 a year.
Have enough space to grow pumpkins? Make your own pumpkin puree and save $48 if you use an average of 1 can a month.
I often mix cut up spinach or other greens in my eggs for a lot of my breakfasts. If I replace that $5 bag of fresh spinach each week with my own frozen greens, I can save an additional $260 a year
Does your family use a lot of potatoes? Replace your monthly bag of potatoes that costs you approximately $10 a bag, and save $120
Replace your $6-a-week bag of baby carrots with cut up carrots of your own (carrots can store for up to a year), and save $312.
These don't sound like a lot individually, but when you add them all up, is it worth it to you to save $1228 a year?
I'll admit the math isn't perfect. If you don't collect rainwater, there would be a small cost for water. You'll need to deduct the cost of your seeds. In better years, I'd say to factor in the cost of your time spent weeding and watering, but in a recession I'm assuming that you have time and being as frugal as possible is your ultimate goal. If you have no garden space whatsoever, you might need to initially invest in soil or containers. (More ways around this later) But saving $1228 a year, plus eating healthier food, providing stress relief, and giving your family an activity to enjoy that doesn't involve going out and spending money you don't have is worth something too.
If you have more space available to you, you could save even more by replacing more of your vegetables and some of your herbs.
How Do I Know How Much to Plant?
It can be difficult to know exactly how much to plant per person to cover your vegetable needs for a year. However, in her book Home Grown Pantry, Barbara Plesant gives a formula for knowing. She admits that no formula is fool-proof, but it's a good place to start.
The book is worth the cost, as it goes through everything a beginner needs to know about preserving vegetables–whether you want to can, freeze, or dehydrate.
Related:
Ultimately, there will be some trial and error. If you have the space, err on the side of too much. It's easier to sell extra produce or give it to friends than to miss out on money you could have been saving.
What if I Have Limited Space to Garden?
Not everyone reading this is going to have an acreage, or a backyard to devote to gardening. Here's a couple of options if you don't have much space:
Become self-sufficient in fresh herbs & sprouted greens
If all you have is a window in your apartment, you can grow the 3 herbs you use most on your windowsill. If you bought those same 3 herbs fresh from the grocery store or farmer's market for $3 a bag each once a month, you would save yourself $108 a year. Save even more money if you dry whatever you don't use when you have a surplus.
Sprouted greens are a delicious alternative to lettuce in your sandwich. Growing your own in a jar is an easy way to cut down on your lettuce costs. This book explains more about the sprouting process, and this sprouting kit is inexpensive and allows you to grow multiple varieties of sprouts at the same time.
Learn the Basics of Gardening in Just a Few Minutes
Gardening doesn't have to be complicated. Learn the basics in minutes, get started with your first garden in a day or less, and start your lifetime gardening adventure.
Enter your name and email address to download the Quick Start Garden Guide. You'll also get a mini-email course and weekly gardening tips and advice.
Get a Plot in a Community Garden
It's amazing how much produce you can grow in a community garden. Depending on how much space you have, see if you can be self-sufficient in a vegetable that doesn't take up a lot of space–like carrots, and grow a little bit of everything else you like. Some community gardens have rules about what you can and can't grow, so make sure you follow them so you don't get booted out.
Grow as Much Food as You Can in Containers
If you rent or have an apartment balcony to work with, you can start your very own container garden. Use the biggest possible containers that fit in your space so your vegetables have the best chance of flourishing.
Click here to avoid these 8 mistakes in container gardening
If you're reading this and the recession hasn't hit yet and you have some extra money, investing in a Vegepod is an almost-fail-proof way to get started gardening. It's self watering, prevents bugs, and makes gardening as easy as it can possibly get.
Consider a Front Yard Garden
Sometimes the best light you receive is in your front yard, and not your backyard. Not all suburbs and municipalities allow it, so check your area's bylaws. However, you can double your potential growing space by converting some (or all) of your front lawn. Here's my front yard garden and some tips for keeping the neighbours happy.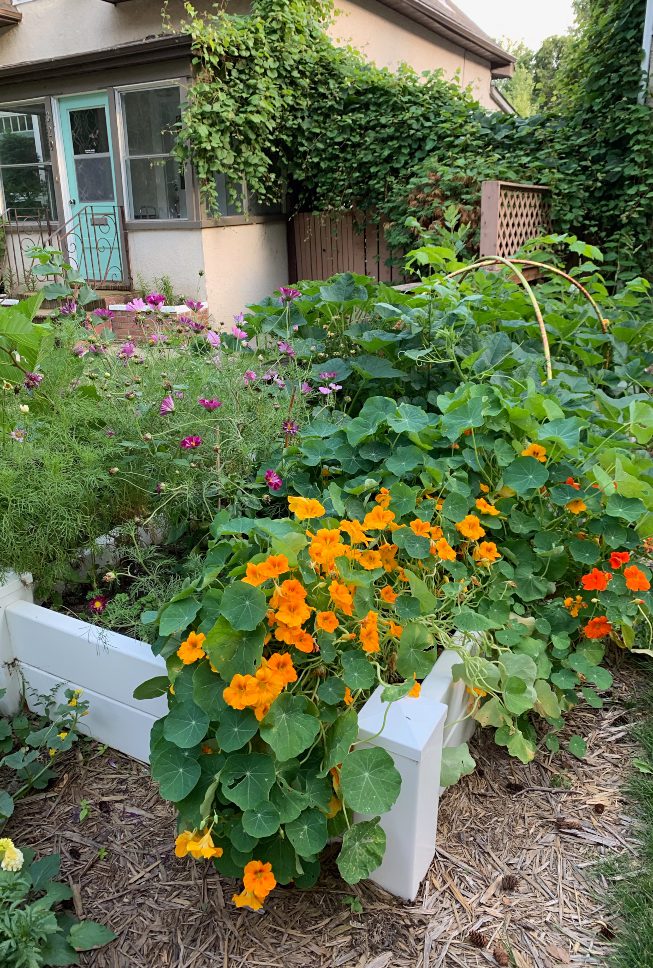 Grow More Vegetables in Less Space with Square Foot Gardening
Gardening in rows is a luxury for people with space. With square foot gardening, you can fit the same amount of vegetables you would plant in rows, in a quarter of the space. The definitive book is Square Space Gardening by Mel Bartholomew–a must read. It will change the way you garden.
I've recently switched over to the method and use it exclusively in my urban garden. Here's 8 reasons to make the switch, and how you can get started square foot gardening in your yard.
P.S. These raised beds are one of the best deals out there if you're looking to purchase raised beds.
I'm Convinced. How Can I Save Money on Gardening Supplies?
Gardening can be as cheap or as expensive as you want it to be. The only thing you can not compromise on is your soil. Ideally, you would have some existing soil to work with. But whether you do or you don't, you still have to add compost (at the very least) to it every year.
One of the easiest ways to save money in the garden is to grow heirloom seeds. Heirloom seeds can be saved from year to year and will grow to be the same as the parent plant. There's nothing wrong with hybrid seeds–you just can't save them from year to year because your saved seeds will not end up like the plant you saved it from.
Not sure where to purchase seeds? Here's a list of my favourite seed companies, organized by your planting goals.
If you're lucky enough to live in a warmer climate, you can invest (or get for free if you know someone) in perennial vegetables. Where I live in zone 3, there are not a lot of perennial vegetables that will survive the harsh winters. However, we do have a surprising amount of hardy fruits that we can grow, as well as perennial chives and onions.
Learn the Basics of Gardening in Just a Few Minutes
Gardening doesn't have to be complicated. Learn the basics in minutes, get started with your first garden in a day or less, and start your lifetime gardening adventure.
Enter your name and email address to download the Quick Start Garden Guide. You'll also get a mini-email course and weekly gardening tips and advice.
You can avoid buying expensive seed starting equipment by using the winter sowing method of seed starting. Not all plants are suitable for it, but it is a surprisingly great way of starting the more cold-tolerant vegetables. There's lots of common household items you can re-purpose for seed starting, and you can even make your own compostable pots with newspaper.
As your gardening skills grow, start more and more of your own seeds. Here's how you can seed start with just a south-facing window. Grow lights are amazing, but you can get great results with just a window. In fact, I started these peppers in this post exclusively from a window.
P.S. I also have this cheap-to-make seed starting shelf that helps you take advantage of a good growing window.
Honestly, I could go on and on about ways to make gardening cheaper and more frugal. I hope you'll check out some of those posts above that I linked to, plus I have a list of Fall gardening chores that save you money in the Spring.
Gardening: An Easy Way to Reduce Recession Anxiety
Recession anxiety is real. Just writing this post and thinking about having to weather yet another recession, when it feels like we barely recovered from the last one, freaks me out. If you haven't already guessed from my story at the start of the post, I'm an older Millennial and the Atlantic article that says this upcoming recession will destroy Millennials doesn't give me much comfort.
Preparing for a coming recession isn't fun. Nobody wants to tighten their belts and give up the few small luxuries they have–avocado toast, anyone? But the nice thing about gardening at any scale, is that the act of gardening reduces anxiety.
There have been times when my anxiety gets the best of me, and going to my backyard oasis and puttering around in the dirt is one of the fastest ways to get that anxiety to calm down. (Please don't think that I think all anxiety can be cured by gardening. Modern medicine is a gift, and therapy and medication should be used when it's needed.) If your anxiety is at a level where things like sleep, decent food, and exercise can keep it at bay, you'll want to add gardening to your list.
The Gardening Strategy for Living in a Recession
There's not much we can do to prevent a recession. However, we can prepare for it, and with a few simple gardening strategies, we can make a dent in our food bills.
If you're a beginner gardener, please don't try to do everything all at once! The worst thing you can do is to plant everything without a lot of knowledge, have everything die on you, and get discouraged because you wasted a bunch of money.
Want to learn how to garden to survive the recession? Here's what you can do. . .
Follow me on Facebook and Instagram. I share easy ways to help you grow vegetables and flowers with ease and abundance, that ultimately save you money.
Download my Quickstart Gardening Guide–a free guide to help you get started gardening and avoid the biggest mistakes new gardeners make.
Join the Growing Roots Gardening Community. In this free Facebook group, you can get your specific gardening questions answered from our members locations all over North America and beyond.
Will you give gardening a try? Any money saving gardening tips you want to share with my readers?