Are you dreaming of a backyard orchard or food forest but think you're restricted to crab apples because you're in Zone 2 or Zone 3? Absolutely not! You can grow 28 hardy perennial fruits perfect for a cold climate and short growing season. I've done my best to suggest some better varieties when possible.
After reading about perennial fruits, you can also grow these 6 annual fruits from seed for even more fruit production.
This post contains affiliate links, which means that if you purchase something, I earn a small commission at no extra cost to you. You can read more about it in my privacy policy. Thanks for supporting Shifting Roots!
HARDY FRUIT GROWING TIPS
Growing hardy fruits doesn't come without its challenges. If you're serious about starting a hardy fruit orchard on your property, you'll want to get a copy of Growing Fruit in Northern Gardens. I own this book and turn to it again and again to make sure I'm setting up my fruit to be as successful as possible.
Until you can grab a copy of this book, here are a few tips to prevent you from making beginner mistakes:
Most fruit trees require at least two of the same trees to pollinate and bear fruit. If you live in an urban centre and your neighbour has an apple tree, that could count as your second apple tree as long as it blooms around the same time.
If the tag says self-pollinating, you can just buy one.
Most fruit trees, except the Nanking cherry, require full sun. Full sun means at least 6 (but preferably more) hours of direct sunlight daily.
Baby your fruit tree for the first few years after planting. Fertilize and water thoroughly. Your tree should come with care instructions. If not, find me on Facebook or Instagram and ask me there!
Finally, don't expect to get fruit the first year. Depending on the size of the tree you bought, you might be waiting 3-6 years for your first harvest.
Disclaimer: The varieties pictured may not be the varieties mentioned. I used my own photos where possible but also had to rely a lot on stock photography for this post. I tried to pick pictures that looked most like the varieties mentioned.
28 Hardy Fruits TO Grow in Zone 2 & 3
1. APPLES
Yes, you can grow apples the size of the ones in the grocery store on the prairies. Honeycrisp is excellent for storage, Norkent and Odessey are good for fresh eating, and Serious is especially good for baking. Prairie Magic and Goodland are better varieties for those short on space.
Sweet Sixteen has the most interesting taste of spice, vanilla, cherry, and apple. The Wold River variety was prized for pie-making. Legend has it you could make one pie with one apple.
Want something easy? The 922-End Apple and September Ruby trees are hardy to Zone 1.
Or try the Treasure Red Columnar apple. But be warned–if you buy online, do not expect it to come in tree form. It will arrive as a stick in a box, and you might feel silly for paying $50 for a stick.
I promise the stick will grow into a lovely tree. However, even after eight years, I have never eaten an apple from my Treasure Red Tree. Unfortunately, we sold our house, so I will likely never eat an apple from my tree unless I knock on the door each year and beg the new residents to let me know if it ever bears fruit.
Even though it is frustrating, it is normal for an apple tree to take 8-10 years to produce fruit if you get it as a young sapling AKA a stick. Our former neighbours have an apple tree in their backyard, so having another apple tree shouldn't be an issue.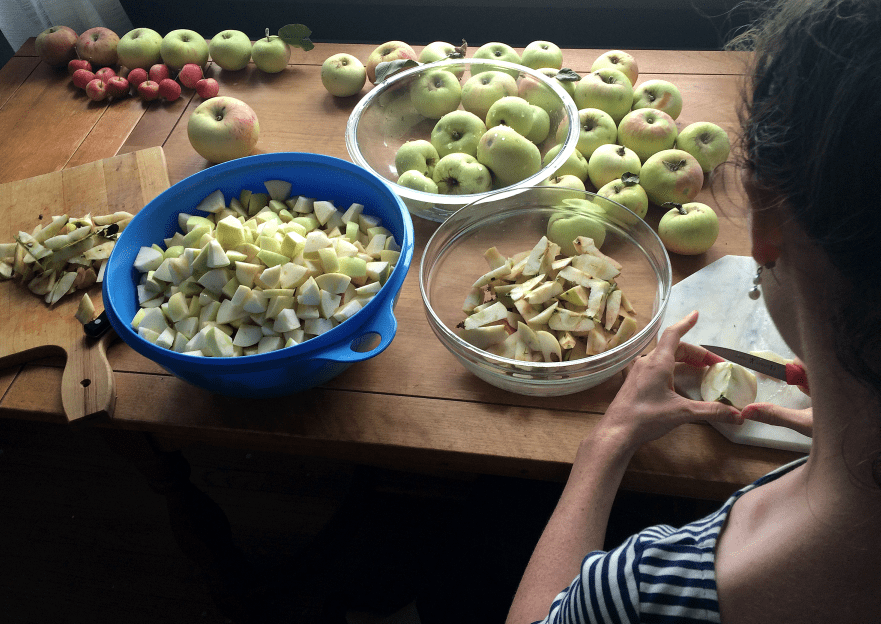 2. APRICOTS
Manchurian Apricots make for delicious fresh eating, jellies, and jams. You'll love the gorgeous shell pink blooms in the spring. Be aware that you'll get a good crop every second year, not every year.
3. ARONIA BERRIES
Aronia is the berry that keeps on giving. It has gorgeous spring blooms, is high in antioxidants, and has spectacular fall colour. Unpicked berries provide a nice visual interest in winter. The Viking variety is one of the most productive.
4. BLACKBERRIES
The Chester blackberry is a versatile blackberry that's good for freezing, wine, jams and jellies, and fresh eating. The vine spreads rapidly, so it's recommended that you grow it along a fence if you're in an urban centre.
5. BLUEBERRIES
Blueberries can be purchased in both low-bush and high-bush varieties. The Northblue and Blue Gold varieties have the longest lifespan in the refrigerator, giving you plenty of time to eat them before they go bad. Or give you a few extra day days to process them.
Blueberries like acidic soil, more acidic than is typically found in the average Saskatchewan-backyard soil. If possible, try to plant blueberries near an evergreen tree, as the soil is likely to be more acidic. You can always buy a home soil testing kit and check your soil's acidity.
New to processing berries? Here are my best tips and tricks to make everything go smoother.
6. CHOKECHERRIES
Chokecherries are hardy to Zone 1 and can be used as a windbreak shrub. These berries are only good for jelly, syrup, or juice and are very astringent. Believe it when the jam recipe says you need more sugar than berries. If you want to make your own chokecherry jelly, check out my video on YouTube.
Chokecherry juice is also one of my favourite natural egg dyes. It makes a lovely purply-blue.
7. CRAB APPLES
Where I'm from, it seems every yard has a crab apple tree. If you're buying new and intend to eat your crab apples, ensure you don't buy an ornamental variety! Crab apples are sourer than regular apples, but I like them better in my pies, jams, and jellies. I also love to juice them!
8. CRANBERRIES
Like Aronia berries, cranberries are another giving fruit. White flowers emerge in June, followed by red fruit in the fall. You'll love how red the leaves turn! Cranberry juice is a well-known remedy to help avoid UTIs.
9. CURRANTS
I personally have many fond memories of picking wild currants with my family. We were lucky enough to have a few bushes in our fields.
All varieties of currents are suitable for jams or jellies. Red Lake is good for wines, and Ben Hope Black Currant is a favourite for juicing.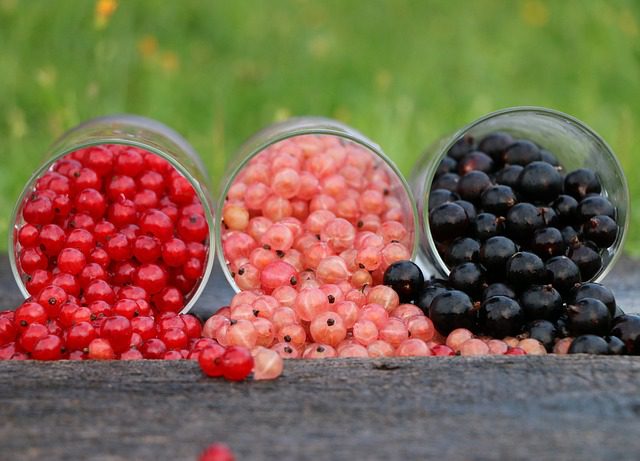 10. ELDERBERRIES
Elderberries are said to have lots of healing properties and have been used as a folk remedy in North America, Europe, North Africa, and Western Asia for centuries. They make delicious jelly, pies, and wine.
11. FIGS
The Chicago Fig is a lovely tree that provides golf-ball-sized fruit and can reach up to 12 feet high. It is hardy to Zone 5, so plant in a large pot and bring it indoors for the winter. It's self-pollinating, so you only need one.
12. GOJI BERRIES (WOLFBERRIES)
A lovely small shrub loaded with delicious red berries. You can also use the young leaves in a stirfry.
13. GOOSEBERRIES
The Black Velvet Variety is similar to a blueberry and is good for baking, jams, or wine. Pixwell is virtually thornless and self-pollinating. Jahn's Prairie tastes similar to an apricot.
Want to try a delicious gooseberry recipe? Try my Gooseberry Jam.
14. GRAPES
Grape plants are lovely to use as a screen along a fence. The Prairie Star, Valiant, Kandiyohi, and Marquette varieties are all good for juice, wine, jams, and jellies.
15. HASKAPS
Haskaps are one of the hardiest fruits you can plant. The blooms can survive up to -8C! Home gardeners will love the Borealis variety.
Cooked haskaps make delicious jams and tarts. Try my tart recipe here.
16. KIWI
I was very surprised to learn that there are not only one but two hardy kiwi varieties that can be grown in Zone 2 or 3. The Chung Bai and Arctic Beauty varieties grow fruit about 5 cm/2 inches in length. Pick Arctic Beauty for its gorgeous green, pink, and white leaves!
17. LINGONBERRIES
If you've ever been to Ikea, you'll be familiar with the Lingonberry. They have a lovely tart taste that is similar to a cranberry.
18. NANKING CHERRIES
I like to think of Nanking cherries as the original prairie cherry. They make excellent pie filling and have beautiful white spring blossoms. One of the few fruits that can grow in shade. Use them as part of your windbreak if you're landscaping an acreage.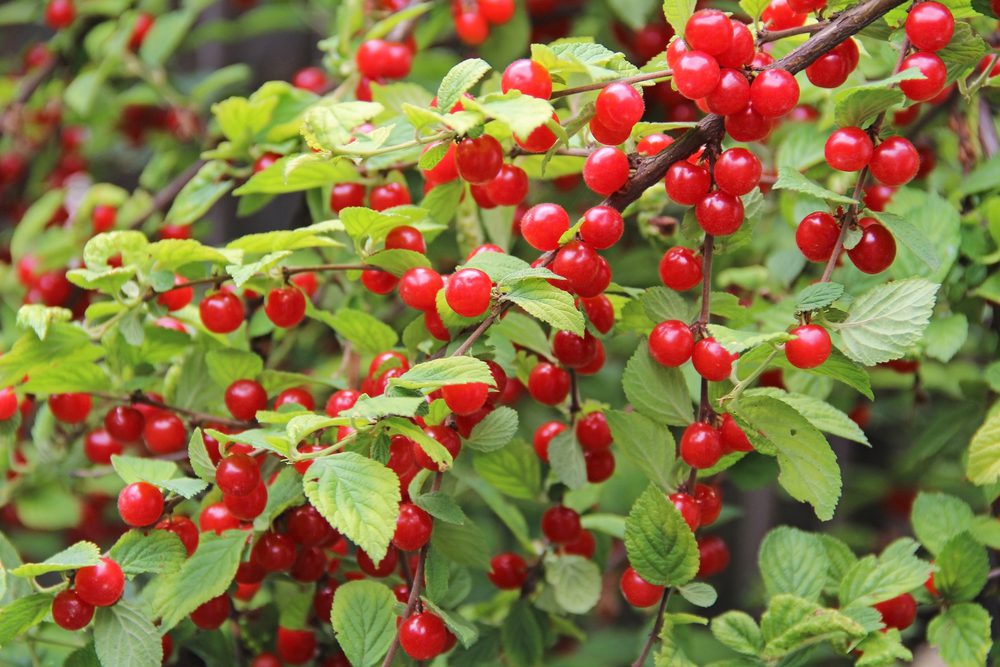 19. PEARS
Pears require two varieties for pollination. You'll want to order the Beedle Pear (hurray for the long storage life!) and the Early Gold Pear (great for fresh eating).
The Southworth variety is one of the few with good yearly production. Most pears are like apricots in that they only produce well every second year.
20. PLUMS
The Pembina plum is a hardy freestone plum that bakes well in desserts. Keep it away from Nanking cherries, sand cherries, and double flowering plums, as they will cross-pollinate and you won't end up with the fruit you thought you would. La Crescent is a lovely yellow freestone plum that tastes like an apricot.
The Canada and America varieties are excellent pollinator trees.
Waneta, Brookgold, and Fofonoff (best name ever!) are also solid and tasty choices hardy to Zone 2.
21. RASPBERRIES
We all think of Raspberries as being red, but did you know you can grow varieties in yellow (Honey Queen), purple (Royal Purple), and almost black (Wyoming Black)? Red River is an easy red variety to grow for beginners.
I love to make jam and freeze extra to make my copycat Tim Horton's Raspberry Bran Muffins.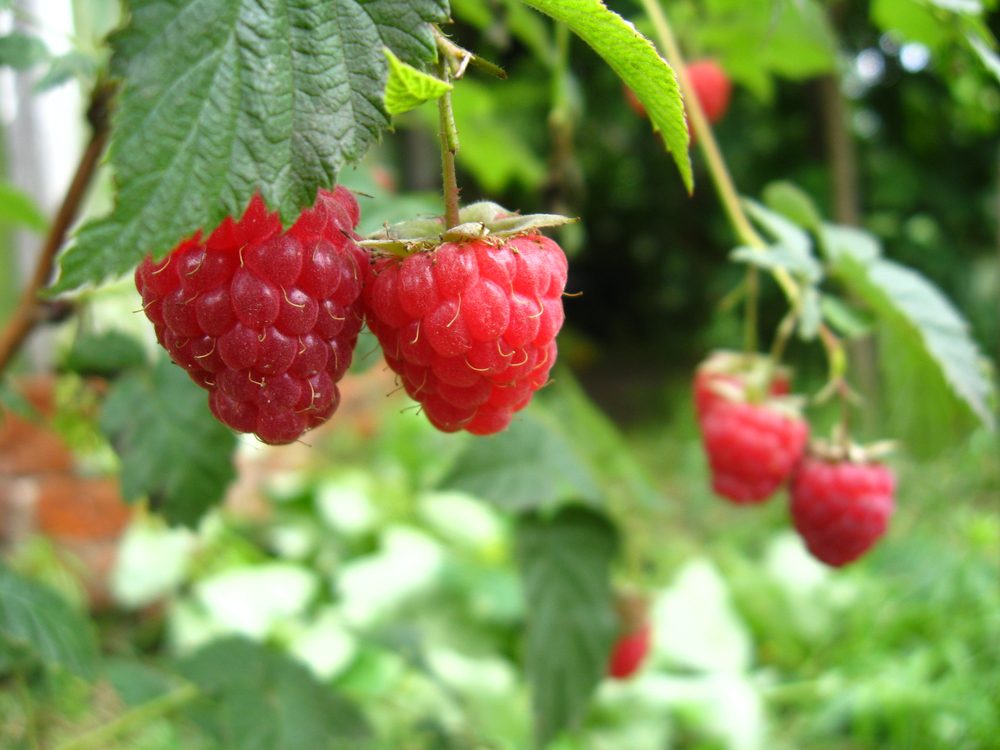 22. RHUBARB
Rhubarb is a beautiful fruit but very hard to get rid of if you change your mind. Use it in crisps, jams, and pies. Pairs best with strawberries and is always welcome in a bumbleberry pie.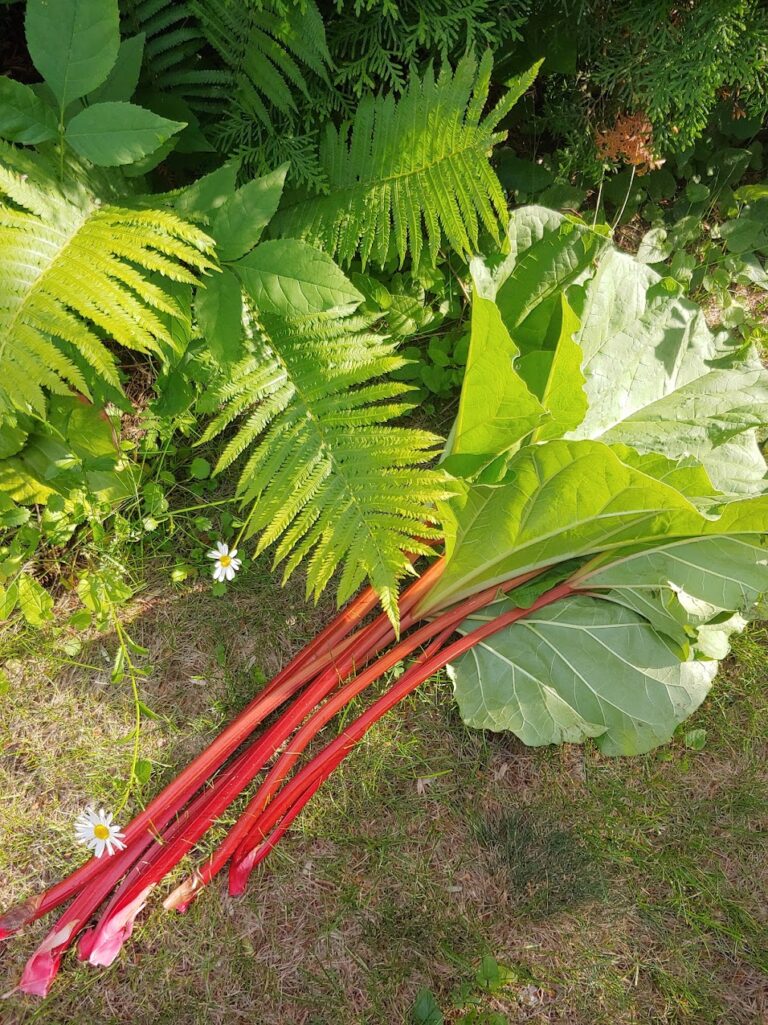 23. SAND CHERRIES
The sand cherry has beautiful grayish leaves and can be used as a windbreak shrub. The fruit is best used in jams or wine.
24. SASKATOON BERRIES
I grew up on a farm with over 1000 Saskatoon berry bushes, so I have a particular affinity for them. We planted the Smoky, Northline, and Theissen varieties. The Smoky variety was my favourite, as it had the largest and sweetest berries.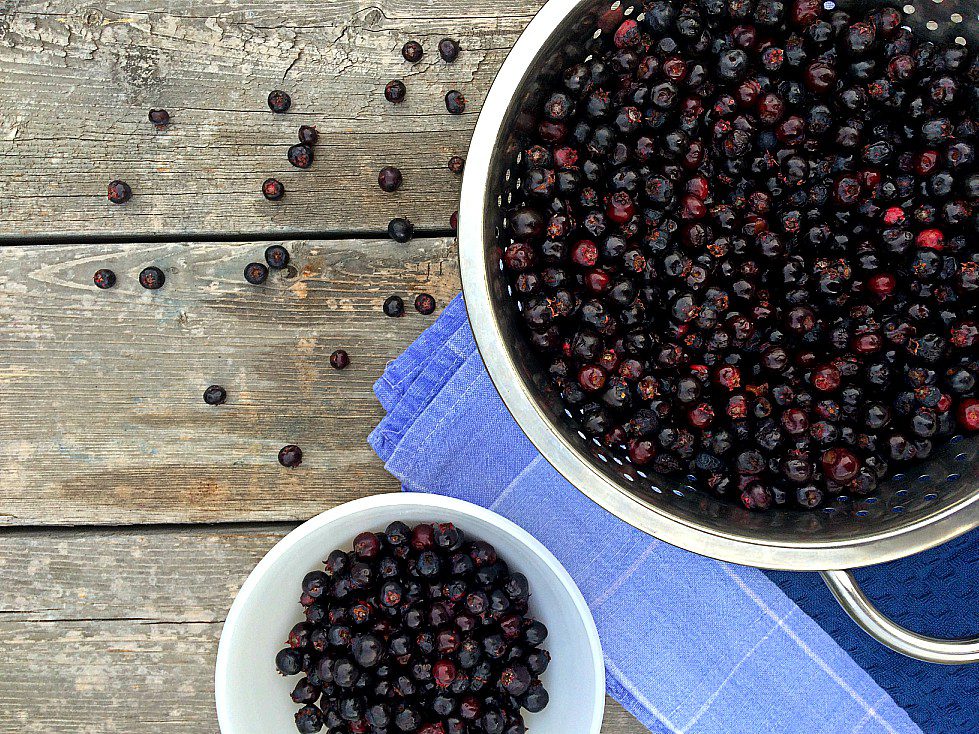 25. SEA BUCKTHORN (SEABERRIES)
Sea Buckthorn makes a beautiful hedge in your yard and provides delicious fruit that contains Omega 3, Omega 6, Omega 9, and Omega 7. It's also an excellent drought-resistant pick for xeriscapes.
26. SOUR CHERRIES (HARDY, SEMI-SWEET CHERRIES)
Sour cherries have become my favourite of all the available prairie-hardy fruits. The U of S varieties are so good you'll want one of each: Carmine Jewel, Romeo, Juliet, Cupid, Crimson Passion, Valentine, and Cupid. If you're obsessed like me, you'll also want to try the Rose Cherry or Evan's Cherry.
2020 was the first year I juiced cherries and they were so good! I also freeze some for pies and to eat with my yogurt for breakfast. You'll want to set aside a few this summer to make No-Churn Cherry Cheesecake Ice Cream, Sour Cherry Tarts, or Sour Cherry Jelly.
27. STRAWBERRIES
Who doesn't love a fresh garden strawberry on a hot summer day? Plant them in their own bed or a container for best results. The Kent variety is a good producer but has a short season. Fort Laramie is a very hardy everbearing variety. Try Seascape if you plan to freeze a lot of your fruit.
28. THIMBLEBERRIES
Thimbleberries are similar to raspberries. They have larger leaves, and their canes are smooth instead of thorny. You'll love them for their fruit and their fall colour!
If you liked this blog post, find me on Facebook, TikTok, and Instagram for more cold-climate vegetable gardening tips, delicious recipes, and cut flower goodness! I also make weekly videos over on my YouTube channel. I hope to see you there!
P.S. If you love the content I create for Shifting Roots, consider joining our community on Patreon. Your support means the world to me and I am grateful for each and every one of you!
---
WANT SOME MORE SIMPLE PRAIRIE FRUIT RECIPES?
Look no further if you want to make delicious recipes with your homegrown hardy fruits. Check out my e-book Hardy Fruits Cookbook for over 25 mouth-watering dishes!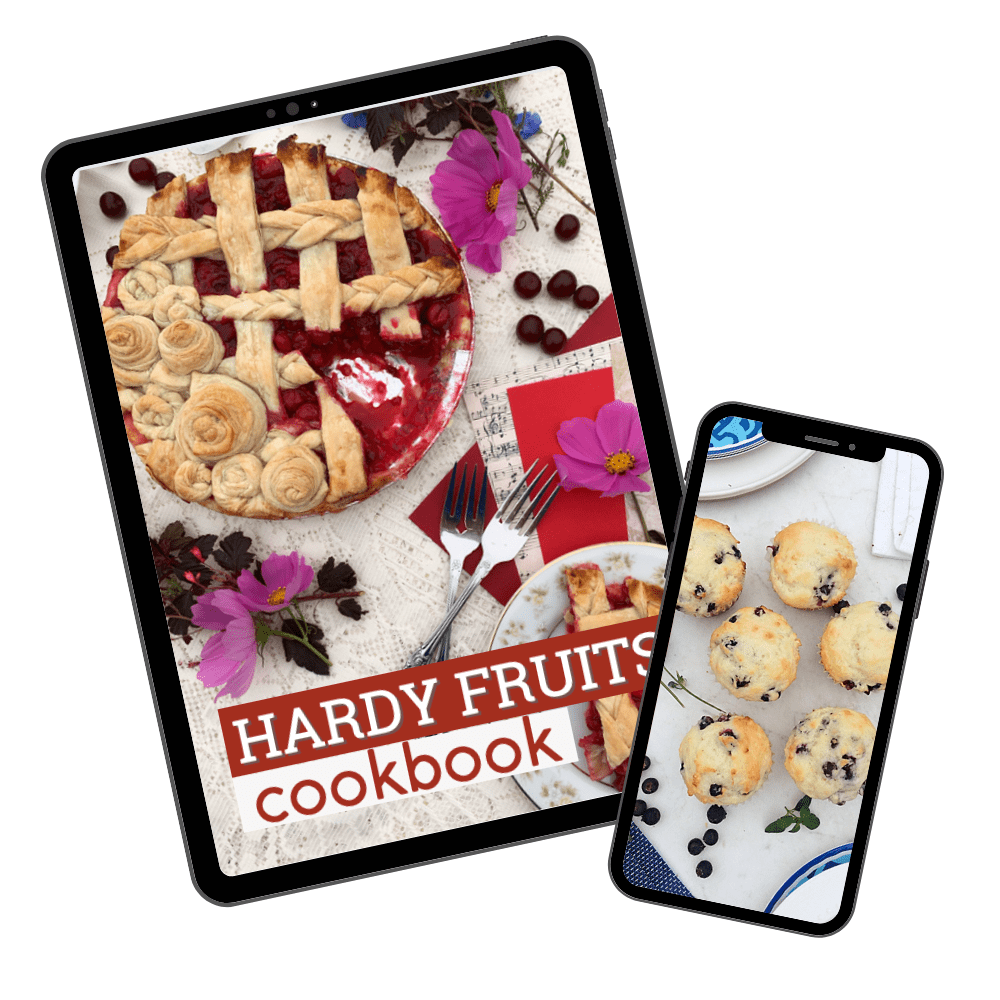 ---
---