As a gardener, all winter long you dream of growing delightful dahlias, stunning snapdragons, and glorious glads. August finally rolls around, your flowers start blooming and all of a sudden you discover these weird little line-shaped creatures. They are everywhere! And, in some cases, they might be literally sucking the life out of your flowers.
You might have briefly seen these nasty bugs in the spring when your ranunculus started to bloom. And now in the hot summer of August, they are out in full force. And it seems like nothing–no nothing–will get rid of them! Water won't do it. Organic sprays won't do it. You may have ventured into some insecticides, and they don't even seem to help.
What is a home gardener to do to get rid of these evil creatures?! How on earth is a person supposed to get rid of thrips?
There are three organic methods you can try, and, if you choose to use chemicals, there is a particular way to do it that is less harmful to beneficial bugs. I won't judge you for what method you choose. Please feel free to do whatever you are most comfortable with. I will warn you, it sometimes depends on how bad the thrip invasion is as to how effective these methods will be. If it is a year when the thrips aren't as terrible, the organic methods will work. But, if it is a very hot and dry year and your business is on the line, it might be a different matter.
Without further ado, here are three natural ways to get rid of thrips, plus one extra way to get thrips off your plants when all else fails!
This post contains affiliate links, which means that I earn a small commission if you purchase something at no extra cost to you. You can read more about it in my privacy policy. Thanks for supporting Shifting Roots!
METHOD ONE: THE FIRST LINE OF DEFENSE
These simple white organza party bags are a game changer for home gardeners learning how to prevent thrips. You're likely to find these at the Dollar Store or Party City, but I have personally found that the white ones are often sold out because of their popularity for weddings and other events. The bags sold in-store are also often too small. The 5×7-inch size is usually perfect. I simply slip these bags on my dahlia buds before the bud has broken open which gives me the best chance of not getting any thrips.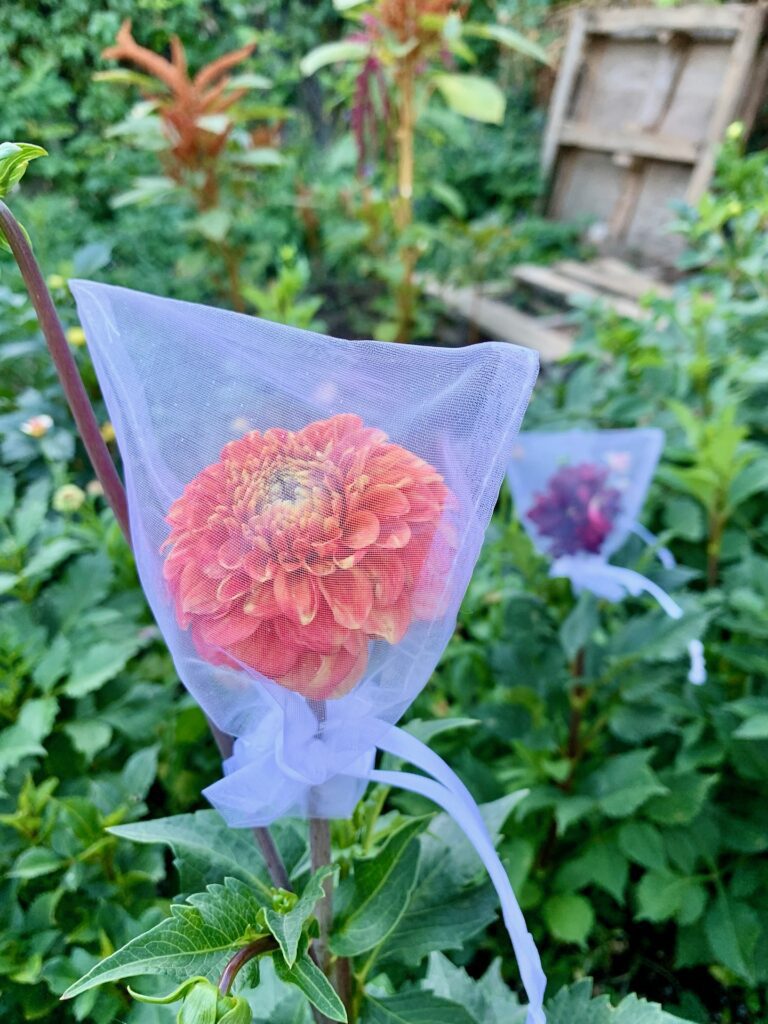 For less aggressive thrip invasions, this method is quite effective and it also protects against grasshoppers and other larger bugs. However, those small spawns of satan can still find their way in and ruin your dahlias…
Case in point:
METHOD TWO: THE SECOND LINE OF DEFENSE
Buying beneficial nematodes if you don't know what you're looking for is a little bit surprising. These bugs essentially come in what-look-like tea bags. You put these bags in intervals around your garden where the thrip problem is and water them well.
In a perfect world, you'd put these out when the rain is about to come, but, if there is no rain in the forecast, you can just water them thoroughly. It won't look like anything is happening, but as long as they are properly watered the beneficial nematodes will escape the bags and kill your thrips.
If you're local to Saskatoon and area, I've always purchased mine from Early's Farm and Garden Centre. You can also find them at West Coast Seeds, on Amazon and at other online stores.
METHOD THREE: THE THIRD LINE OF DEFENSE
I have not personally tried this concoction, but I did have a follower say this was the only organic spray she's tried that actually worked for natural thrips control. I will try this as soon as I buy some red clay powder and show you the results!
For a 1 gallon mixture, combine 150 ML JWA (a special kind of liquid soap created by JADAM Organic Farming), 7.6 g sodium hydroxide, and 7.6 g red clay powder. You can get the full explanation and recipe in this video, or you can get a copy of the JADAM Organic Farming book for even more natural, simple recipes to keep thrips and other pests at bay.
THE LAST LINE OF DEFENSE
No. Not the superhero. This is a pyrethrin-based chemical, and, sadly, it is quite toxic.
The compromise most flower farmers I know make is that they cut the flowers with the thrips on them, take them to a completely different location, and spray them there. It's not ideal and, in a perfect world, we wouldn't use the spray at all, but some years the thrips problem is so awful that all the other methods do not work well enough.
Obviously, this is a very personal decision, and one that I will not judge one way or another. Some farmer florists just take the loss. However, I understand that not everyone growing and cutting flowers for their livelihood is in a position to do that.
Most big box stores will not carry this pest control, and it can even be difficult to find in garden centres. If you are in a dire situation and you need this last-resort thrips treatment, I suggest getting it online.
Which treatment for thrips on plants will you try?
If you enjoyed this blog post, find me on Facebook, TikTok, and Instagram for delicious recipes, cold-climate gardening and flower farming tips, and more! I also make weekly videos over on my YouTube channel where I share lots of tips and tricks for cold-climate gardeners. I hope to see you there!
P.S. If you love the content I create for Shifting Roots, consider joining our community on Patreon. Your support means the world to me and I am grateful for each and every one of you!
---
READY TO GROW YOUR OWN BEAUTIFUL CUT FLOWER GARDEN WITHOUT THE HASSEL?
I've taken all the guesswork out of creating a cut flower garden with my e-book, Cut Flowers Made Simple. It's the perfect way for beginner and intermediate gardeners to start their own cut flower garden with or without seed starting.
---
LOOKING TO START A CUT FLOWER BUSINESS?
Have you been researching all over the internet and in free Facebook groups about starting a cut flower business and are feeling more confused than ever? Don't believe you can make a profit from a cut flower garden on modest terms? Check out this video for how I went from wannabe flower farmer to resilient backyard business owner!
And, if you're still feeling frustrated, if you're worried about spending too much money and not making your money back, or if you just want to learn more about profitable small-scale flower farming, you can enroll in Backyard Business, my program for aspiring flower farmers. Some of my students were already making money (enough to pay the cost of the course!!) in the middle of winter by getting creative and trying new things. I hope to see you there!
---