You want to grow a vegetable garden, but unfortunately, all you have is partial shade, or even worse, full shade. Don't despair. While you can't grow everything you might want to, there are lots of fruits, vegetables, and herbs that do well in shade. In this blog post, I give you just that: a list with pictures of 30 edible plants that grow in the shade!
Interested in growing even more plants in part-shade? Check out the video below to see which cut flowers are best for these conditions:
Realistic Expectations for Growing Edible Plants in Shade
Just because a fruit or vegetable is shade tolerant, doesn't mean that it will grow exactly the same as it would in full sun. Expect your plants to grow slower and produce less of a harvest.
If possible, you can get a bit more sun by trimming trees or removing them altogether. If the area is by a fence, you could always paint it white to help reflect the light, or even set up a mirror if you have a large one.
That said, here are some options for shade-tolerant fruit, vegetables, and herbs!
Fruits that Grow in Shade
There are a surprising amount of fruits that will grow well in the shade. In fact, there are at least 10 that I didn't list, because I garden in Zone 3 in Canada, and I don't like listing plants that I have no hope of growing. Wherever you are, I recommend buying any fruit bushes or trees at a local greenhouse and asking the staff if the variety you want to buy can be grown in partial shade.
Don't try and ask the staff at a big box store. Chances are very high that they will not know.
P.S. There's a surprising amount of fruit you can grow in Zone 3. Check out these 28 hardy fruits you can grow!
1. Lowbush Blueberries
Blueberries fall into two categories: high bush and low bush. Choose the low bush varieties for partial shade and make sure that your soil is on the acidic side.
2. Chokecherries
Chokecherries are very hardy and can even be grown in Zone 1. If you've never tried one before, they are very astringent and don't taste good raw. They are delicious in jams, jellies, and juices when you add a lot of sugar.
3. Currants
4. Elderberries
5. Raspberries
Raspberry canes have a spreading habit once established. Be a kind neighbour and offer to pull out any canes that stray over the fence line. Fruit does not grow on first-year canes, so you will not get any fruit the very first year.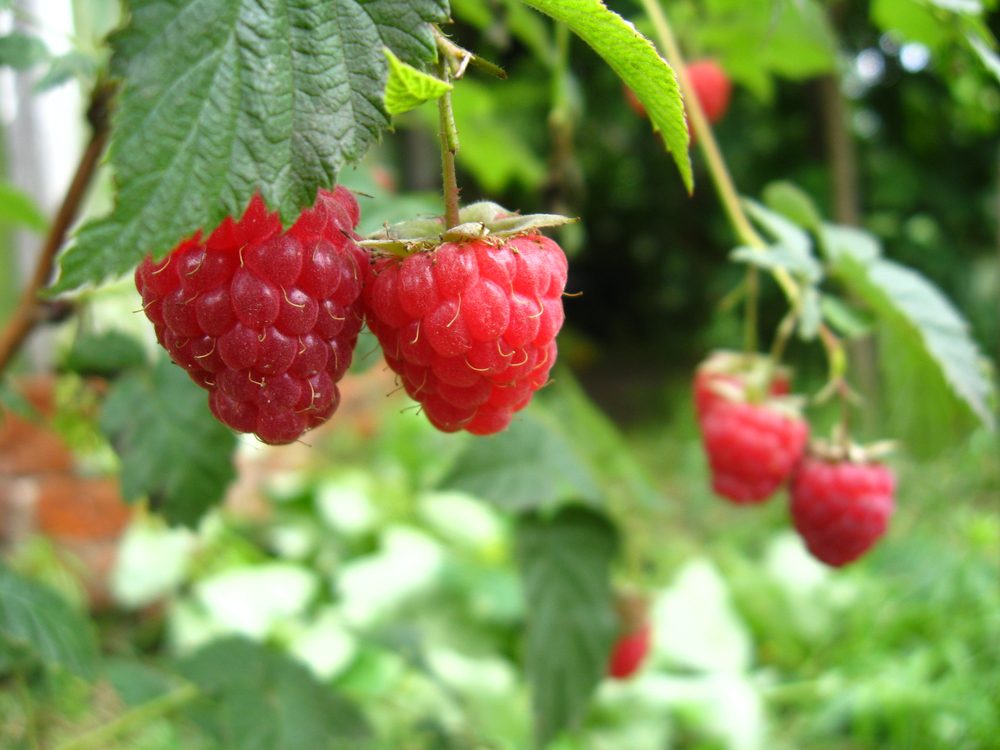 6. Rhubarb
Rhubarb is a very hardy fruit. The stalks are delicious, but the leaves are poisonous.
7. Saskatoon Berries
Canadians know these berries as Saskatoon berries, but Americans will likely know them as Serviceberries or Juneberries. Whatever you call them, they're delicious!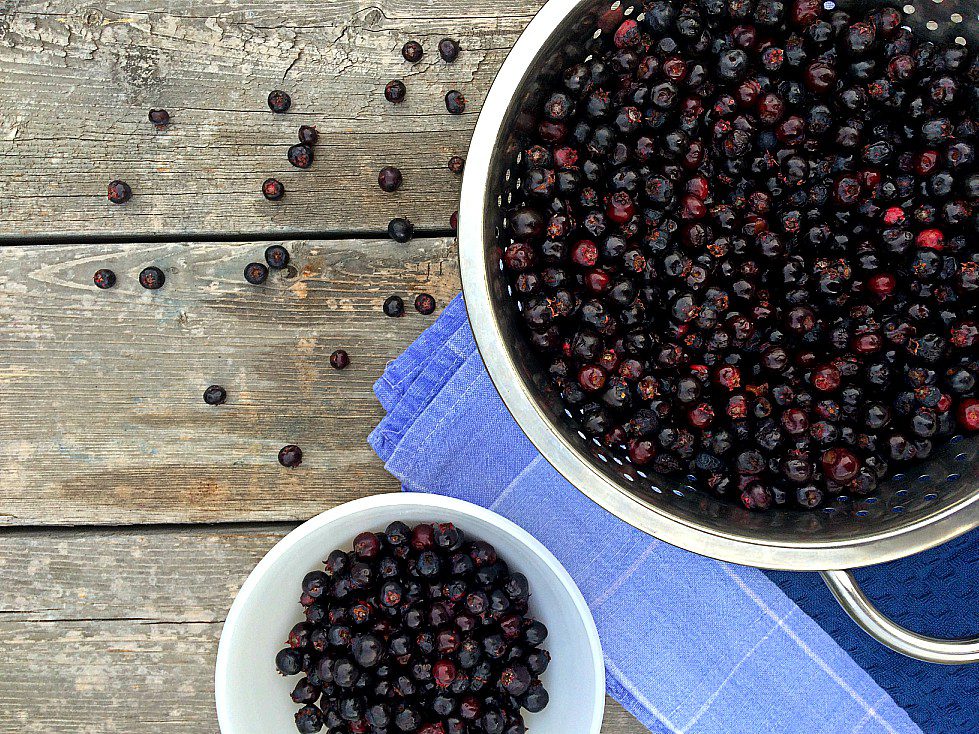 Vegetables that Grow in Partial Shade
What vegetables do well in shade? The ones that like cool weather and tend to be quick growing. In general, most leafy greens and cruciferous vegetables are able to tolerate partial shade. Partial shade, with about 4-5 hours a day of light, or even a full day of dappled shade underneath a deciduous tree is your best bet for growing shade-loving vegetables.
Can You Grow Vegetables in Full Shade?
If you have an area that receives no sunlight whatsoever all day (e.g. the front of a North facing house or a walkway between houses that is constantly shaded) you most likely won't be able to grow any vegetables. Many of the leafy green vegetables can be grown with as little as 2-3 hours of light a day, but the growth will be slow.
1. Arugula
Arugula is one of the quickest growing crops you can grow, with only 20 days to maturity!
2. Asparagus
Asparagus is a perennial vegetable, and you can't harvest anything until the third year. Once the plant is established, it will provide you with fresh produce every spring without any effort.
3. Beans
Beans prefer full sun, but if you're okay with slower growth and a smaller harvest, you can grow delicious bush beans.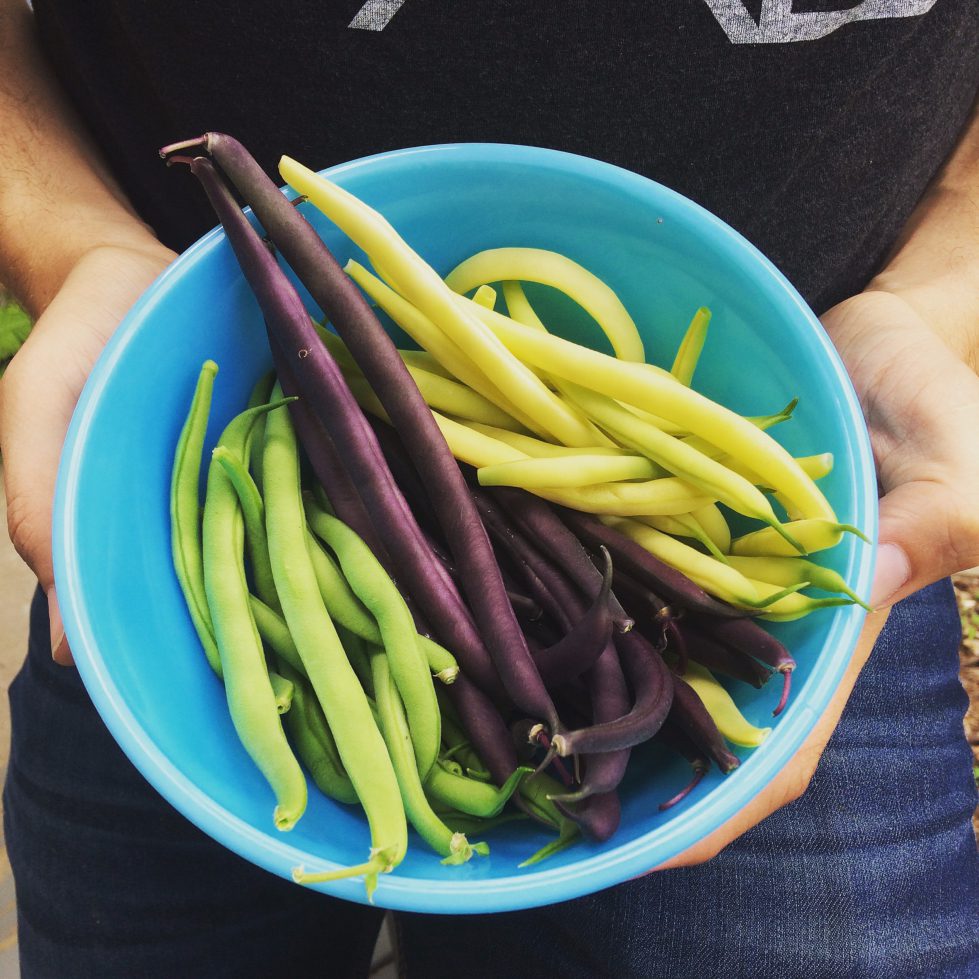 4. Beets
Most root crops are also good candidates for growing in partial shade. Get your seeds in the garden as early as possible, as they will need the whole season to get as large as possible.
5. Bok Choy (and similar leafy greens)
6. Broccoli
In some cases, broccoli actually does better in partial shade, as the cooler temperatures the shade provides mean it's slower to bolt.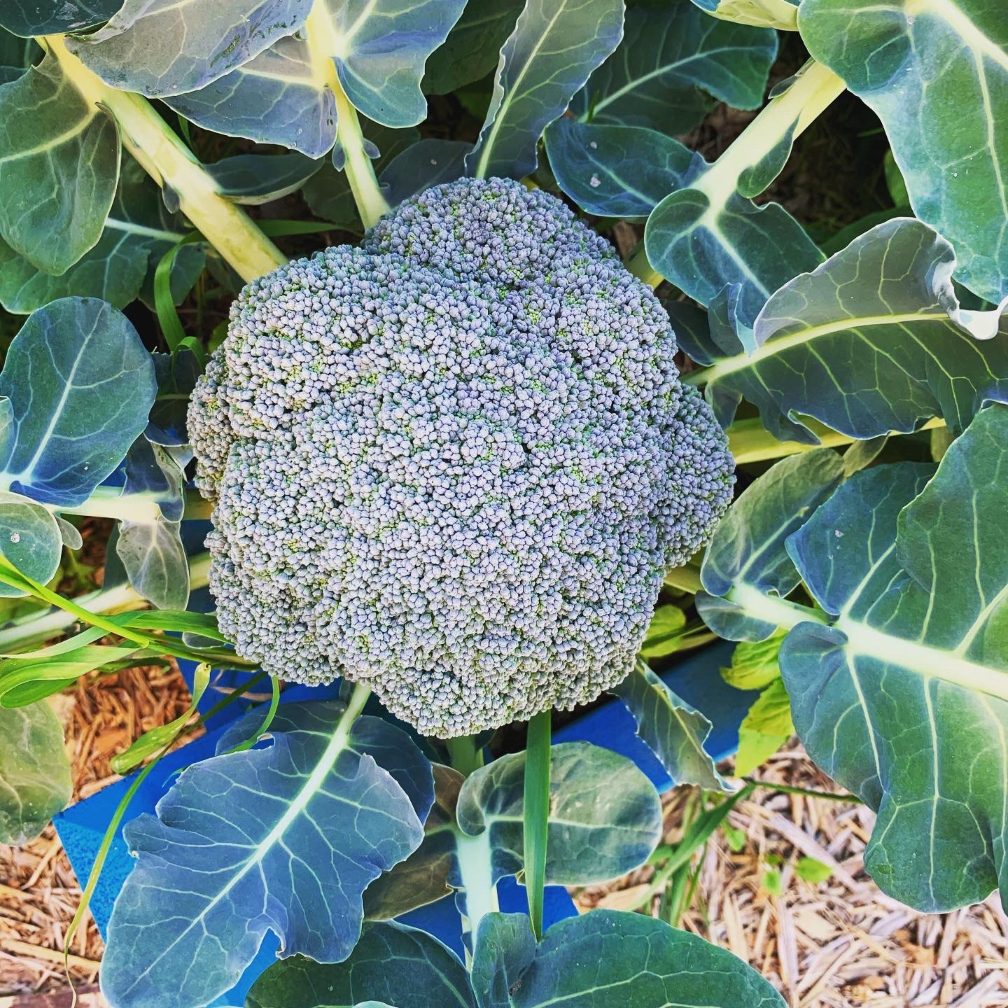 Do you struggle with bugs in your broccoli? Here's how to keep them out! The same trick will also work for cabbage or any other cruciferous vegetable.
7. Cabbage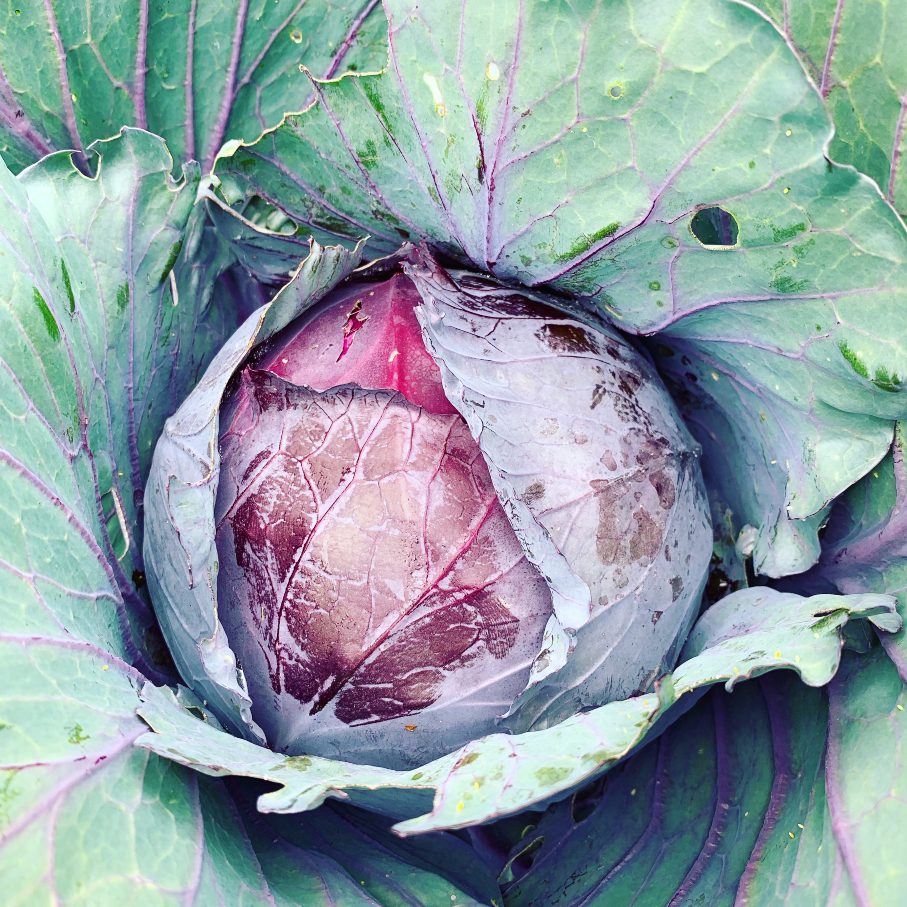 8. Cauliflower
This cauliflower was ready for the compost, so I didn't feel bad about tossing it in the air. Do you have a certain flower or vegetable you struggle to grow? Cruciferous vegetables like broccoli and cauliflower are hit and miss for me, so I often need to throw my expectations out the window. As gardeners, we have to remember to have a little fun every now and then!
9. Celery
Celery is not a quick-growing vegetable. It's best to start celery 8-10 weeks before you intend to plant them outdoors.
Want to know how to grow celery (and other vegetables) indoors without seeds? Check out the video below:
10. Collard GREENS
Collards are very similar in texture to kale and are quick and easy to grow. They're not very popular in Canadian diets, but they should be! Plus, they're frost-tolerant, so they're a great option for fall gardens!
11. Kale
There are so many varieties of kale to choose from, ranging from the darkest green, to blue/green, to tinged with pinks and purples. Sneak some into your flowerbeds for something that is both pretty and practical.
12. Kohlrabi
Kohlrabi is super useful, as it can be ready in as little as 45 days. Both the leaves and roots are edible.
13. Peas
Peas are one of the less-shade-loving-slower-growing options on this list, but they will still work. Just plant more than you usually would to account for the vines being less productive.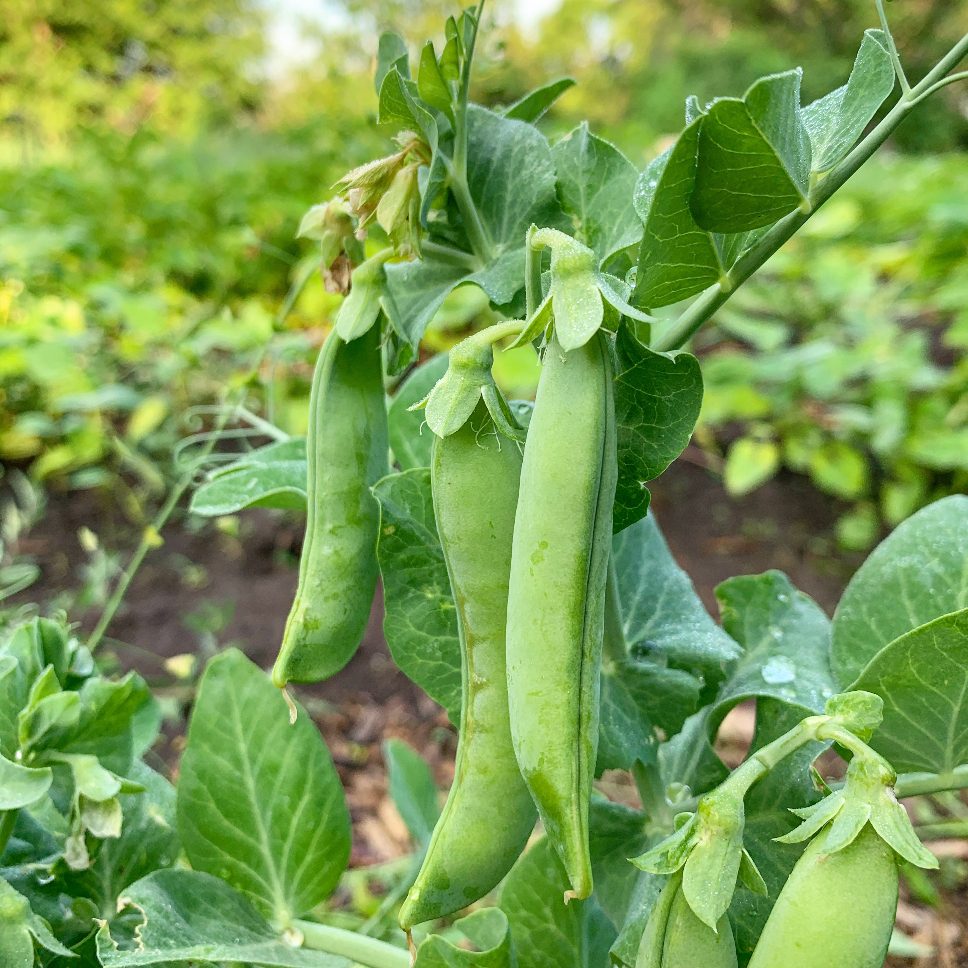 14. Potatoes
This is our sad potato harvest from 2020. If you want to see more about what our growing conditions were like and how we planned to adjust things going forward for a bigger and better harvest the next year, check out this video!
15. Radishes
Radishes add a nice peppery hit to your salads. Don't plant too many though. 16 or so radishes in enough for one week. Plant a new crop every week or two while it's cool for radishes all season.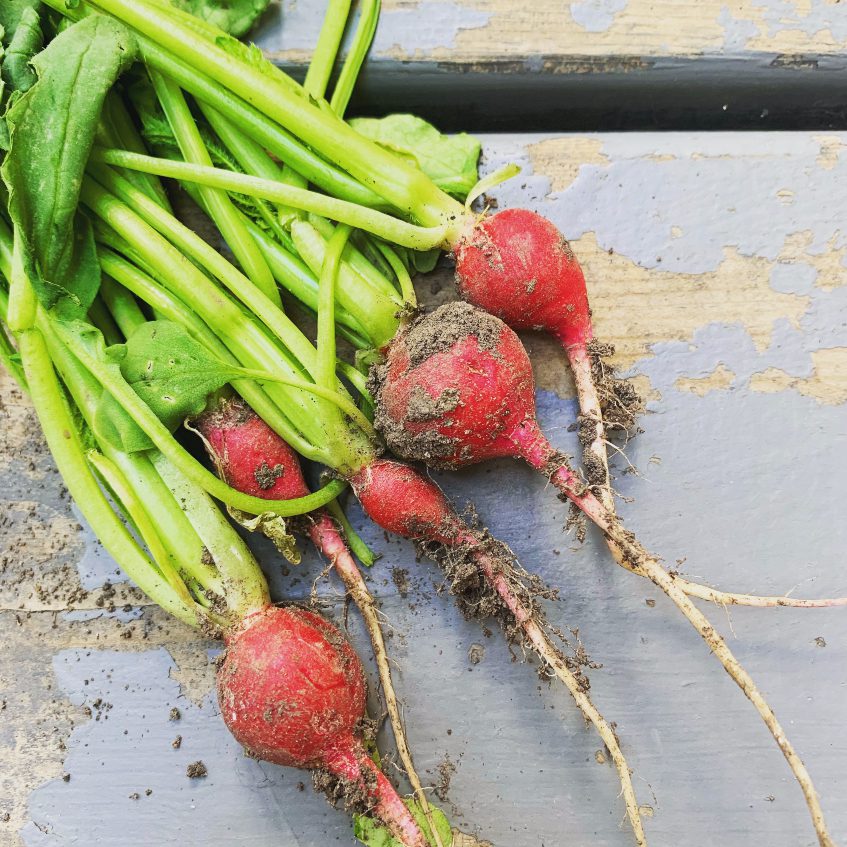 16. Spinach
My favourite variety of spinach, hands down, is Bloomsdale. It's the only one that I actually get to harvest before it bolts.
17. Swiss Chard
Swiss Chard comes in so many pretty colours. My favourites are Bright Lights and Giant Fordhook.
18. Turnips
Turnips are another vegetable in which both the leaves and roots are edible. I like the Purple Globe variety because it's both pretty and tasty.
Shade Tolerant Herbs
All those vegetables would taste better with a couple of fresh herbs! Although most herbs are heat and sun-loving, there are 5 herbs that tolerate the shade.
1. Basil
My favourite kind of basil is Sweet Basil, but I also like to grow a few other purple-tinged varieties to use as greens in flower arrangements too.
2. Cilantro
3. Mint
Keep your mint in a pot instead of growing it in the ground, as it has a spreading habit that you might not appreciate.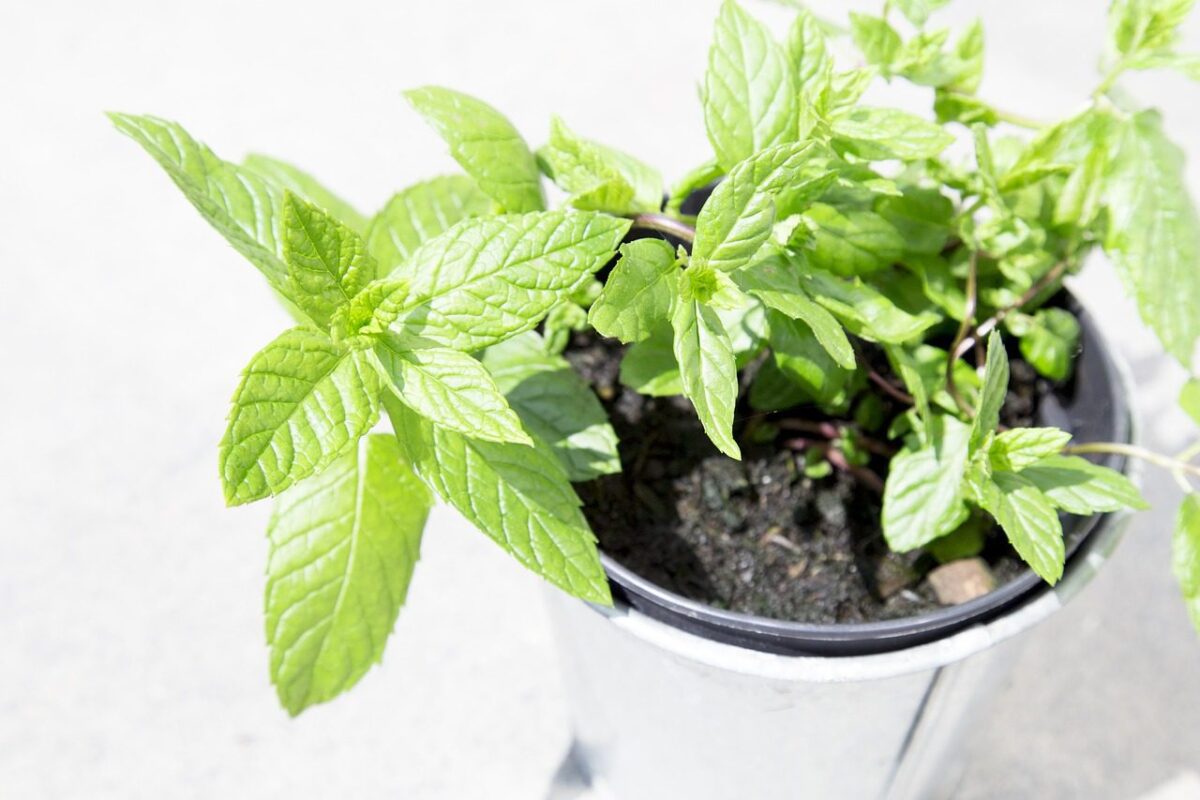 4. Oregano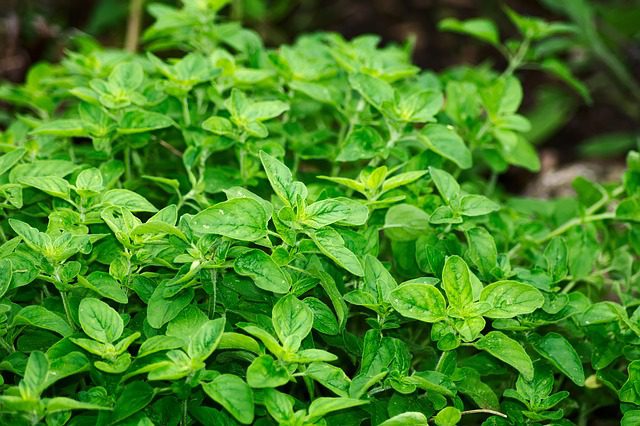 5. Parsley
Which of these shade-tolerant vegetables, fruits, and herbs will you grow?
If you liked this blog post, follow me on Facebook, TikTok, and Instagram for more cold-climate gardening tips, delicious recipes, and cut flower goodness! I also make weekly videos over on my YouTube channel. I hope to see you there!
P.S. If you love the content I create for Shifting Roots, consider joining our community on Patreon. Your support means the world to me and I am grateful for each and every one of you!
---
WISH YOU COULD GROW FRESH VEGETABLES IN A SMALL SPACE?
Now you can, with Small Garden, Big Harvest! It's the fastest way to learn all the intensive gardening techniques that can help you maximize every inch of your available gardening space. With lots of easy-to-do, real-life examples and two done-for-you plans, you can start vegetable gardening, even if only you have an apartment balcony.
---
---