Shade can be the bane of every flower gardener's existence. You'd like something to brighten up that dark corner in your yard… but what can you plant? I've compiled a list of 26 shade-loving annuals to fill up your shady flower bed, along with a few helpful hints for gardening in the shade.
This post contains affiliate links, which means that I earn a small commission if you purchase something at no extra cost to you. You can read more about it in my privacy policy. Thanks for supporting Shifting Roots!
Partial Shade and Full Shade
Not all shade is created equal. Partial shade is defined as an area that receives 3-4 hours of sun a day. Full shade receives less than 3 hours of sun or no sun whatsoever.
When assessing your yard for how much shade an area gets, take into consideration any trees that currently do not have any leaves on them (if you're doing this in winter or early spring). An annual shade plant that you've grown from seed may start off strong with dappled shade, (the kind made from leafy trees) only to stall out on growth once all the leaves fill in.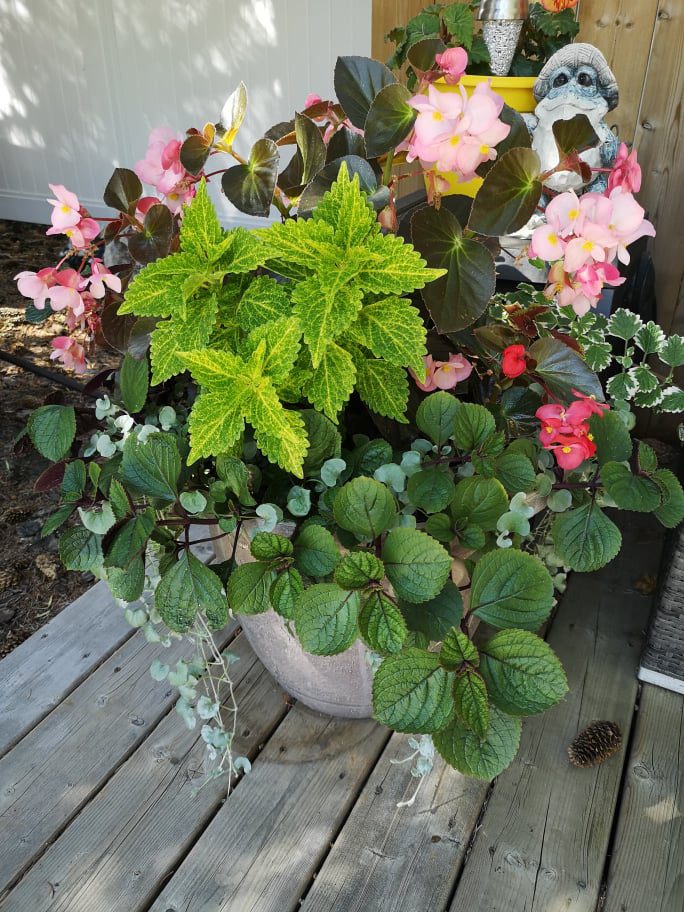 Bigger is Better
If you are a beginner gardener, I recommend buying shade plants started at a garden centre. A lot of annual flowers need to be started indoors in January and February and if this is the first year in your journey, it's a task that's best left to someone else.
When buying starters, buy the biggest plant you can afford, especially if you're planting in full shade. Sure, small plants will do fine in full shade. But they won't fill out the space the way you were hoping. Trust me, I've learned this the hard way!
If you can't purchase larger plants, plan on spacing your smaller ones closer together for a nice block of colour.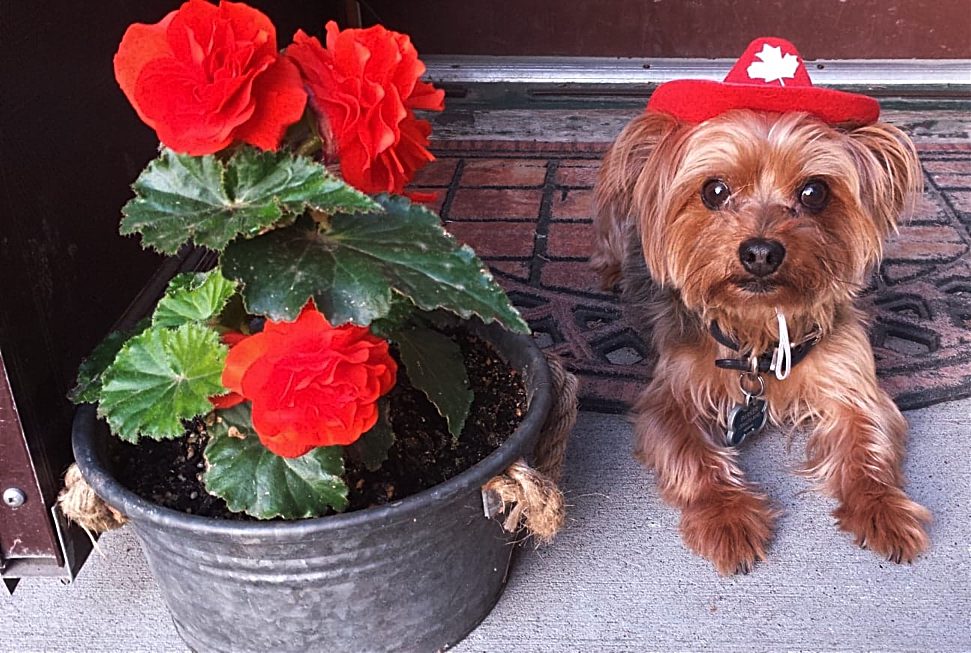 Shade Flowers Don't Have to Be Boring!
If you've been gardening for a while, it's easy to get bored of the same old Begonias, Impatiens, and Coleus. These plants are known as the pillars of annual shade plants that work well without a lot of fuss, but sometimes it's nice to try something new! I hope this list of 26 shade-loving annuals will give you some inspiration for your shade pots and annual flower beds this year!
P.S. If you're a reader located in the United States, White Flower Farm has an excellent selection of shade plants for sale online. I wish I could order there, but alas, they do not ship to Canada!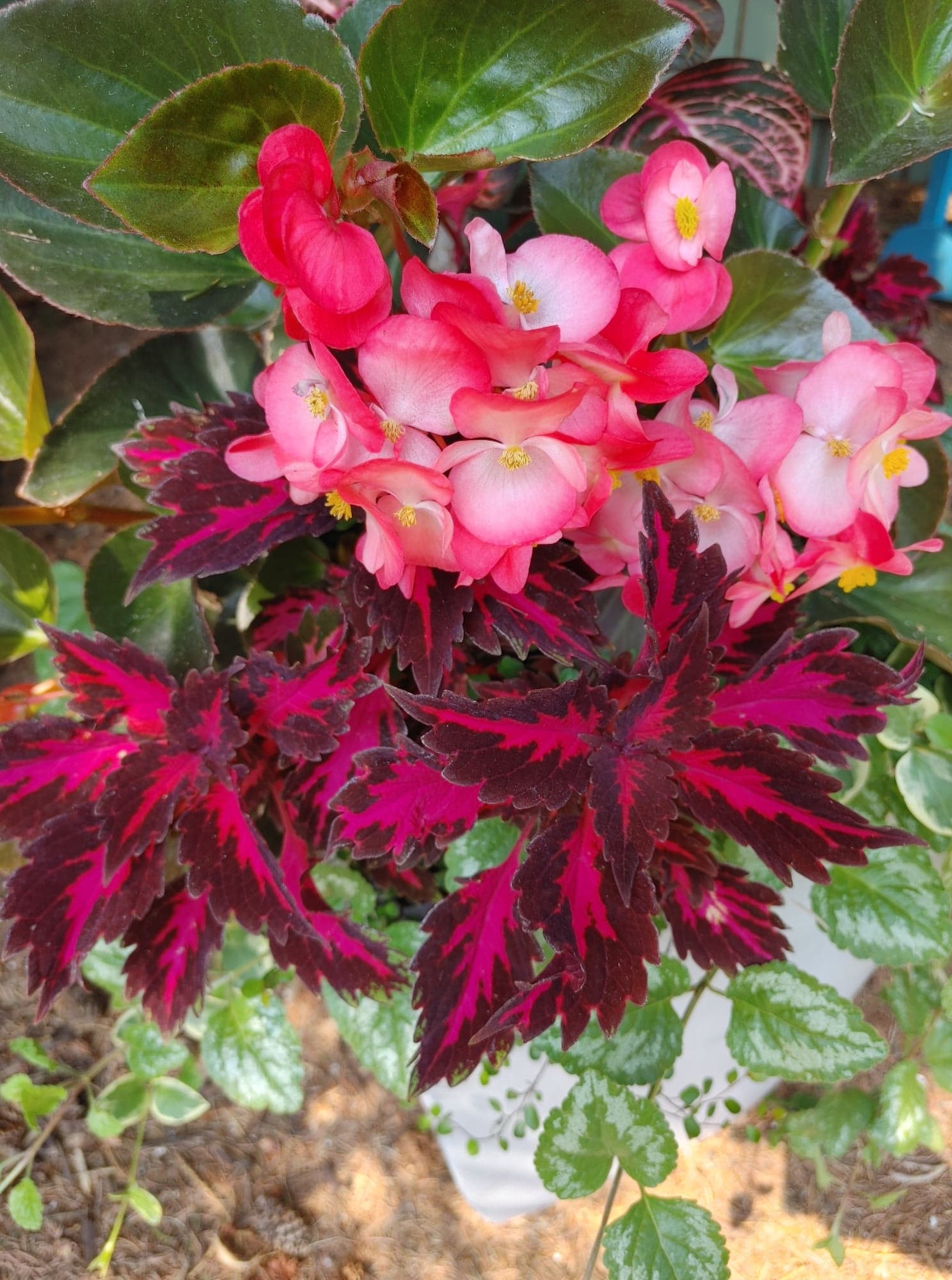 Looking for shade perennials instead? Here are 17 Shade-Loving Perennials to fill up your flower bed!
26 Annual Flowers that Love the Shade
Alyssum is a lovely flower for borders and also works beautifully as a cut flower.
2. Balsam
Before there were Impatiens, there were Balsam flowers. While you likely won't find these in the garden centre, you can start them from seed approximately 8 weeks before their anticipated bloom. The taller varieties are lovely for cut flower gardens, and a big planting of them gives your yard a nice cottage-garden vibe.
New to gardening in the shade? Make sure you get a Begonia or two (or more)! They come in many different sizes and colours. My personal favourite are the large Double varieties.
4. Browallia
Browallia is a lovely blue/purple star-shaped flower that's good for borders and containers. It's also quite low maintenance and does not spread.
Calendula is both beautiful to look at and is very useful in the garden. It makes a good cut flower and is an excellent companion plant in the vegetable garden. Dried Calendula flowers can be used in herbal teas, tinctures, soaps, and more.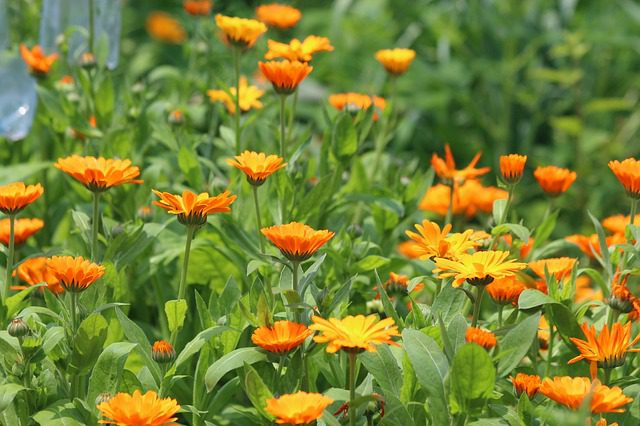 Also known as a Spider Flower, the Cleome can be a prolific self-seeder in some zones.
7. Coleus
Not sure what to add to your containers in the shade? Coleus is always an excellent choice. It's widely available in a rainbow of colours at your local garden centre or big box store. Plus, you can take cuttings indoors before the first frost and enjoy them as a houseplant over the winter.
8. Fuchsia
As a child, I always thought that Fuchsias looked like little ballerinas. I've loved them ever since and enjoy them as a hanging plant on my shady front porch. Be prepared to do a lot of dead-heading, but also be prepared to enjoy their lovely blooms all summer long.
9. German Ivy
German Ivy does well in both sun and shade and has been a staple in my family's containers for 30 years. Every fall before the first frost my mom brings a couple of cuttings indoors for the winter, and they grow enough that she can make new cuttings in the spring. She is still using cuttings every spring from the original plant she bought 30 years ago.
10. Hydrangea
Okay, okay, I know. A Hydrangea is NOT an annual. However, in Zone 3 where I garden, we are inundated with Hydrangea plants that are not hardy to our area, no matter how much we wish it were so. So, if you can't resist that Hydrangea that is never going to survive here, treat it like an annual, put it in a pot, and enjoy it for the summer with realistic expectations.
P.S. There are some Hydrangeas that are hardy to Zone 3, such as Invincibelle.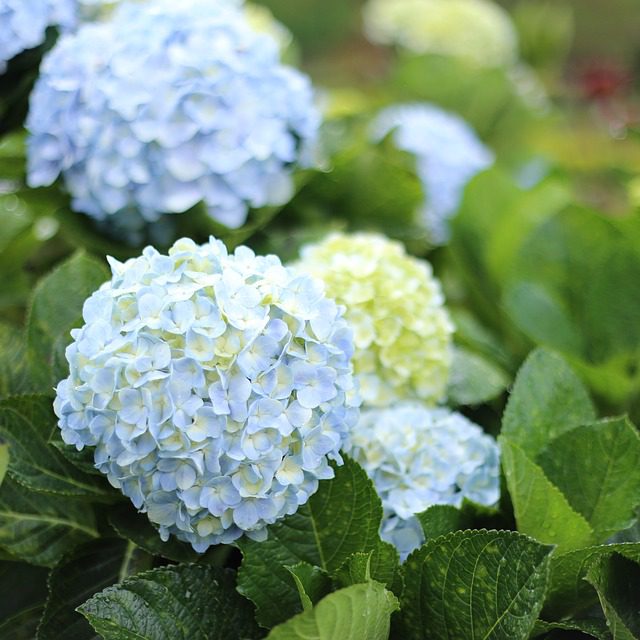 11. Impatiens
Impatiens are another practically no-fail flower for the beginner gardener. They also come in many colours and varieties. I personally love the double Impatiens. The ones pictured here are the most typical ones you'll find at the garden centre.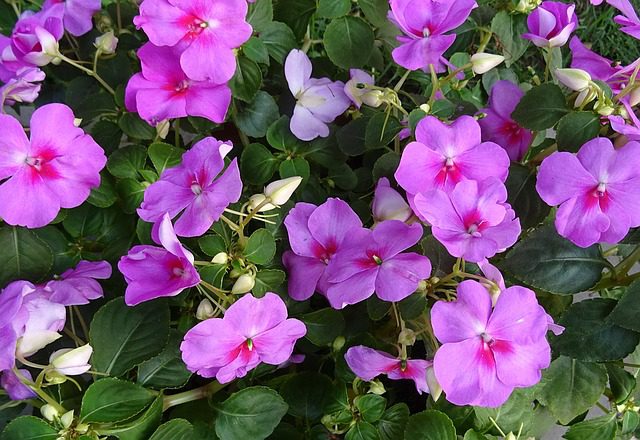 12. Iresine/BLOODLEAF
In cold climates like Zone 3, Iresine works perfectly as a potted annual. Like Coleus, it can be brought indoors over winter and enjoyed as a houseplant.
Searching for Larkspur can be a bit confusing, as you'll wind up being shown a lot of sun-loving Delphiniums. Ask for a Consolida instead, and you'll find the shade-loving annual flower you're looking for.
Get 4 Free Square Foot Gardening Templates
Start your square foot garden the easy way!
You'll get 4 4x4 plans for
Salad Garden
Beginner's Garden
Salsa Garden
Kid's Garden
Plus a mini email course that gives you short, actionable tips for keeping your garden alive.
14. Lamiastrum/yellow archangel
Though Lamiastrum can be considered an invasive perennial, it works beautifully as an annual when planted in a shade container alongside other shade-loving annuals.
Lobelia is another annual that does well in either sun or shade.
16. Lysimachia/Creeping Jenny
Lysimachia is hardy from Zones 2-10 and is a great plant to grow in a shady area where nothing else will grow. However, because of its invasive nature, you need to check if this plant is banned in your area or not before planting it. To do that, google your province or state plus the term "invasive plants." You should get a list of plants that are not recommended in your area. Planting in a container, as shown below, should be fine regardless.
17. Monkey Flower
I love Monkey Flowers, but I know from experience that this is one flower that will not grow much in full shade. Plant in part shade or even part sun if you have it.
Nicotiana comes in many sizes and shades of white, pink, red, and purple. They have a lovely fragrance, especially in the evening.
19. Oxalis
There are several hundred different varieties of Oxalis out there, in differing shapes and colours. Oxalis will survive in the shade but expect fewer blooms than if you were planting them in the sun.
I love Pansies and always have a few in my garden. Pansies come in so many beautiful shades of white, yellow, orange, purple, blue, and pink that you'll find it next to impossible to just choose one colour. Pansies are also edible flowers and brighten up your summer salads.
21. Polka Dot Plant
Polka Dot Plants provide some beautiful colour to any shade garden and can be brought indoors and propagated over the winter.
Also commonly called Wild Sage.
Have a shady spot in your cut flower garden? Consider adding some Snapdragons! If you're planting from seed, carefully check the information on the packet to ensure you have the correct variety: tall varieties for cut flowers or dwarf varieties for containers.
24. Swedish ivy
Swedish Ivy works well in a container with other shade-loving annuals and can also be used as a groundcover.
25. Sweet Potato Vine
Sweet Potato Vine is easy to grow and comes in many beautiful colours.
26. Torenia/Wishbone Flower
Torenia is a lovely trailing flower that works well in containers. It is attractive to hummingbirds and not attractive to deer.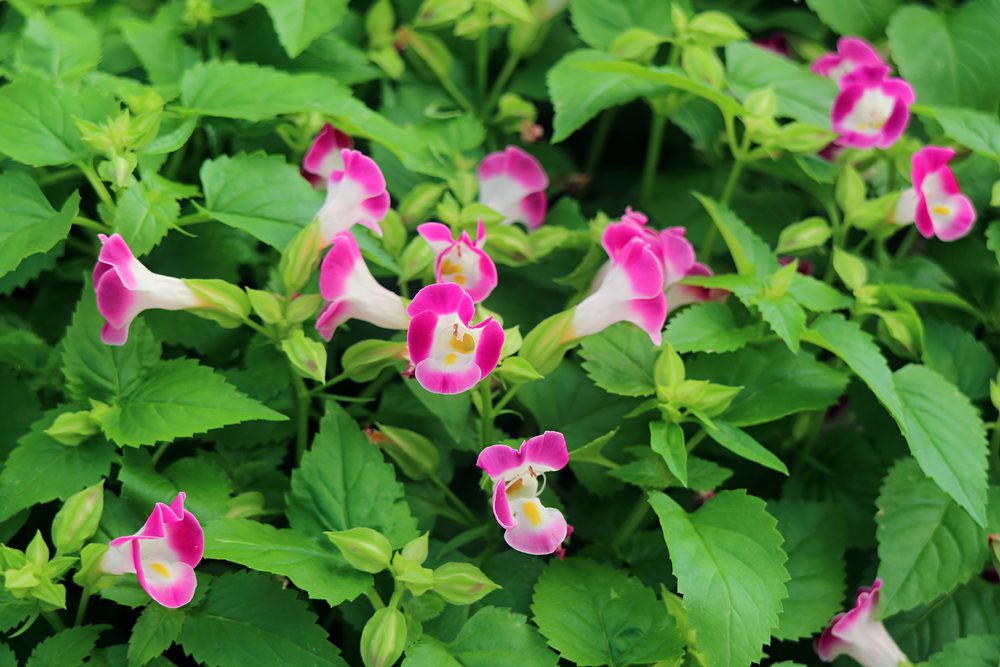 Do you have any annual shade flowers you'd add to this list?
If you liked this blog post, find me on Facebook, TikTok, and Instagram for more cold-climate vegetable gardening tips, delicious recipes, and cut flower goodness! I also make weekly videos over on my YouTube channel. I hope to see you there!
P.S. If you love the content I create for Shifting Roots, consider joining our community on Patreon. Your support means the world to me and I am grateful for each and every one of you!
---
Wish you could grow fresh vegetables in a small space?
Now you can, with Small Garden, Big Harvest. It's the fastest way to learn all the intensive gardening techniques that can help you maximize every inch of your available gardening space. With lots of easy-to-do, real-life examples, and 2 done-for-you plans, you'll be able to start vegetable gardening, even if all you have is an apartment balcony.
---
---