Once the perennials have emerged, you've planted some annuals here and there, and all your flowers are looking great, it time to have some fun by Creating Whimsy In Your Garden.
I truly love every task that gardening involves, but my favorite thing to do is kick my creative side into high gear and add some personality and whimsical touches to my gardens. Okay, let's have some fun and get creative. Come along and let me give you some ideas and tips to bring out your artistic side.
This post contains affiliate links, which means that if you purchase something, I earn a small commission at no extra cost to you. You can read more about it in my privacy policy. Thanks for supporting Shifting Roots!
Low Budget Ways to Add Whimsical Decor To Your Garden
First take a walk around your own yard and see what you can find. Keep an eye out for interesting limbs, old logs, rocks or boulders, old fencing, broken flower pots, etc. If you have littles, get them involved. My five year old grandson now looks for big rocks for his Nana's garden. Be creative!

Rocks and boulders make awesome borders around your gardens. Or even just a small pile of field stones with flowers growing around and through them looks super cute.

Logs look great in the garden with flowers as a backdrop. They also look cool hollowed out and used as planters. Birch logs especially look amazing in gardens. Use them to add height in a flower pot.

Logs can be used to make very whimsical statement pieces. We had several trees cut down and I'm always foraging through the wood pile for an interesting log or limb. In this example, the piece of wood was rotten in the middle, so it worked well to plant marigolds in the hollowed out middle.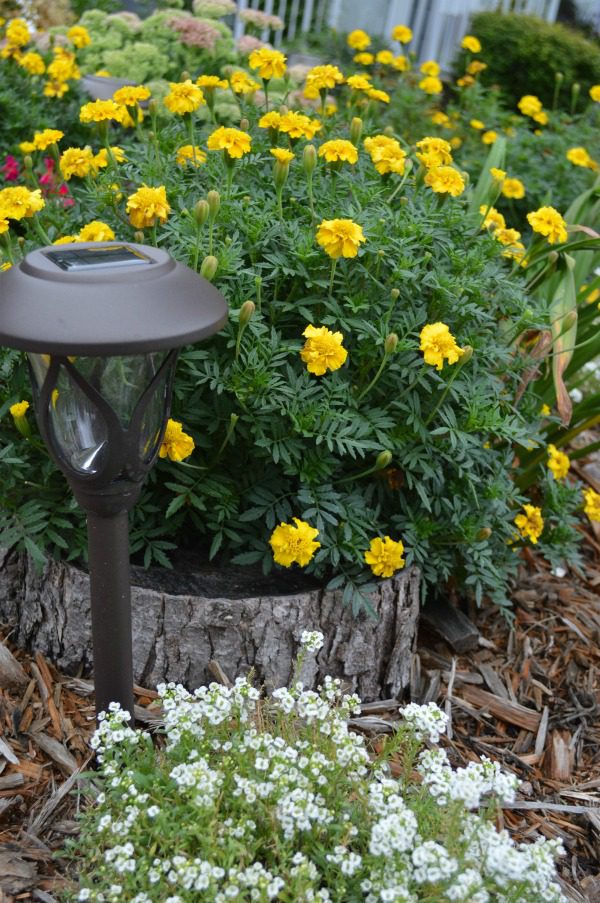 I also use logs like tables or stands to add height to planters. Create little scenes, or vignettes, with garden art pieces you have on hand. If you'd like to see how my husband made the branch ladder in this picture, check out Easy DIY Garden Decor Using Tree Branches when you've finished up here.

Not sure which annual flowers are best for your garden? Here are my picks for sun and shade.
Don't toss out broken pots or containers. You can use a broken clay pot as a tipped or spilled planter feature like this. Because the pot is broken on the side that is buried, it doesn't even matter that it's broken. Really just about any planter looks whimsical tipped on its side with flowers spilling out.

Other Ways to Add Whimsy to Your Garden
Doing something as simple as adding landscape lighting can go a long way to add a whimsical touch to your garden space. These solar lights look super cute both in the daylight and nighttime. And, the twinkling of landscape lights adds tons of whimsy and ambience to your gardens at night.
Dig an old short shepherd's hook out of your stash and hang a galvanized pot of annuals on it. Instant whimsy, right?
A container filled with flowers is a great way to fill up empty spaces and works really well to add personality and charm. Years ago, I had this tipsy tower of clay pots in my garden and it was always a conversation piece for visitors.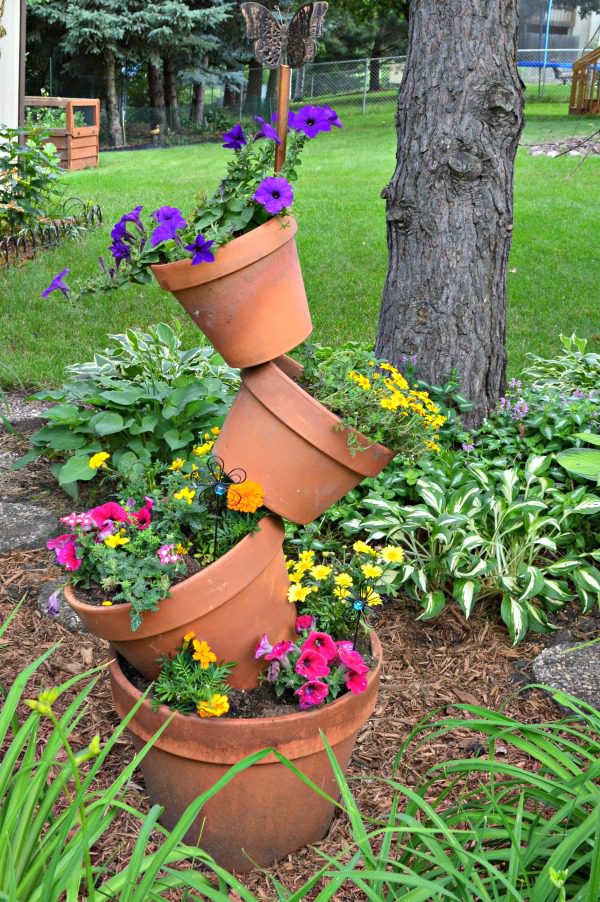 Do you have a fence, add décor or planters to the fence. At our former home we added framed heavy duty lattice panels to hide our neighbor's chain link fence and it was always fun to add some yard art pieces to the fences.
Garden stakes look cute nestled in with the flowers in your gardens. Craft fairs and boutiques are great places to find garden art and that's where I found these adorable birdhouse stakes. Many years ago, I read to create groupings of odd numbered pieces in a garden vignette and it totally looks so much better that even numbers. Give it a try and I think you'll agree.
Upcycling vintage items, like this old chair, is a very creative way to add character to your gardens, and I would like to think this is my speciality. Flea markets, estate sales and garage sales are the best places find pieces like vintage milk cans, ladders, bicycles, old chair, wheelbarrows and whatever else you can see in your garden. Personally, I draw the line at bathroom pieces and car parts, but to each their own. If you're interested in taking a little garden tour to see my Upcycled Vintage Garden Decor, pop over when we've finished up here.
Adding a simple little water feature goes a long way to add whimsy. The sound of trickling water just adds to the atmosphere of peace and serenity in the garden, especially when placed by a seating area.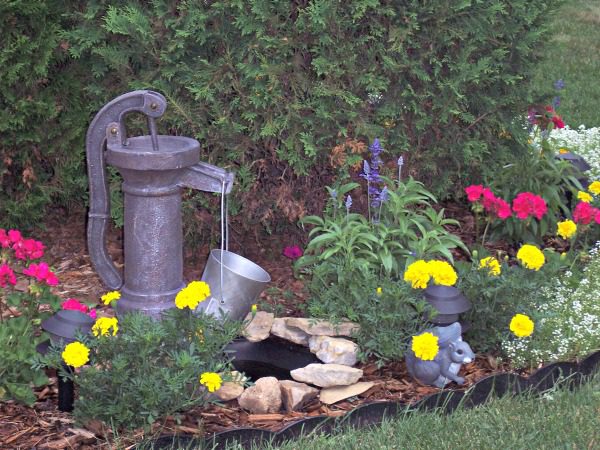 Ideas for DIY Whimsical Garden Decorations
Of course, there are tons and tons of ideas on Pinterest for making DIY Garden Decor, but here are a few (well, okay, several) ideas I have on my DIY to do list:
Dragonflies made with old silverware
Flower stakes made from dishes
Bird cages made into planters
Rocks painted to look like bugs or worms
Painted garden rock markers
Tin Can and flower pot people
Bird feeders made from old cups and saucers
Mosaic from broken dishes
See how fun and easy creating whimsy in your garden can be? Just keep in mind that adding garden decor or yard art is just another means to add to the beauty and personality of your gardens, and is not meant to compete with it.
Again, have fun and be creative! When I'm not sure how something looks in the garden, I take a picture. Sometimes looking at a picture helps to solidify the design or makes it easy to see if something needs to be changed. If you decide later that your little vignette looks more dorky or junky than whimsical, you can always rearrange it.
Do you add whimsical touches to your gardens? Leave a comment and let me know. Or, of course, if you have questions, you can always ask.