Whether you're seed starting for the first time or the hundredth time, proper seed germination is always a concern. We all want excellent germination followed by lush, healthy seedlings, but how do we get there!? What are the conditions necessary for germination?
In this post, I'll let you in on four common germination problems, how to fix them, the conditions needed for seed germination, and some extra tips and tricks to give you the best chance of success with your seeds! Let's get into it.
This post contains affiliate links, which means that if you purchase something, I earn a small commission at no extra cost to you. You can read more about it in my privacy policy. Thanks for supporting Shifting Roots!
COMMON GERMINATION PROBLEMS
1. DRY SOIL
If you don't keep the soil moist enough, you might not have good seed germination. The easiest way to remedy this is to have a clear cover over top to hold in the moisture.
People get really scared about this. When do I take it off? Will it burn?
Don't worry. It won't burn. You can have it almost touching the light without any issues. Just don't get the taller domes, because they will put our seedlings too far from the light source. Get the shorter ones and your seeds will thank you!
As for taking off the cover, there is no perfect time to take it off. The sweet spot I've found is somewhere in between half the tray being germinated and some of the plants starting to touch the top. If I notice it's consistently really moist and it might rot out the rest of my seeds, I take the dome off.
I know this all sounds really vague, but I promise you will develop an intuition about this after you do this multiple times. If you want a hard and fast rule: take off the cover when half the seeds have germinated. The others will germinate in their own time.
If you want an idea of what this looks like, check out this video to see my 2022 seed starting setup (including seedling trays with and without domes):
2. INADEQUATE LIGHT
If your seeds don't have enough light when they need light this can become a huge problem with germination. Here's where it gets complicated.
Some plants don't need light to germinate. Others desperately need it. You'll drive yourself crazy researching which plants need light and which don't. You'll want to throw your seed trays against a wall.
Do yourself a favour and save some time and sanity. Give all of your plants light unless the seed packet specifically says they need darkness.
3. OVERWATERING
If you consistently water your seeds until it is muddy or you can see the water, you'll rot out a lot of your seeds and then you won't get proper seed germination. Plain and simple. Keeping a balanced moisture level and checking on your seeds regularly is a must when it comes to creating the conditions needed for germination.
4. DIFFICULT SEEDS
Some seeds are just notoriously difficult–*cough* Bells of Ireland *cough*. This year, I tried putting these seeds in their little soil blocks as I do with every other seed and have had basically no germination. I've tried refrigerating the seeds for 2 weeks, putting them in the soil blocks, and, so far, no germination either. I have another set I put out for winter sowing, and yet another set that I will be direct sowing.
Long story short, if something is difficult, sometimes you need to try several methods to see which give you the best results. Follow me on Instagram, Facebook, or YouTube to see which of my Bells of Ireland successions yields the best results.
Another notoriously difficult plant is Larkspur. These are one of those flowers that really only like to be direct-sown when it's cold out. Last year, I direct sowed Larkspur seeds in my raised beds but I didn't have fantastic results. I think that might have been more my error than the seed's error, as I tend to forget to water my plants that are outside in early spring.
Consistent outdoor watering is just not in my gardening flow in spring like it is in summer.
That being said, if you're just starting out seed starting, read about other gardener's experiences and try to avoid some of those notoriously difficult seeds your first year or two for your best chance at success.
What if I don't use a cover? will my seeds still germinate?
The short answer? Yes, they will. It might be a little slower because you will have to stay on top of the moisture levels, but they will germinate! This goes for all plant varieties.
Have Patience
Be patient, young grasshopper. Sometimes you'll have seeds that germinate in 2 days, and other times you'll have seeds that will be divas and won't germinate for 21 days. It doesn't necessarily mean you're doing anything wrong. Don't give up on a seedling until the 21-day mark has passed.
The dirty little secret about germination that nobody wants you to know…
For one reason or another, sometimes you just get a bad batch of seeds.
They might not have been harvested at the right time, or maybe they're old and have been on the shelf for too long. Who knows? It's pretty rare, but sometimes it happens.
I buy an aggressive amount of seeds. Of all the seeds I've ever bought in the past 15 years I've had bad seed packets 2 or 4 times. So, if you want to know if it's the case, talk to other people who have bought from the same place of the same varieties.
For example, one year a bunch of cut flower growers were having trouble with Strawflowers from the same supplier. The supplier must have been selling from different batches because some had problems and some did not. Strawflowers are pretty easy flowers to seed start, and these were accomplished flower farmers, so it had to be the seeds.
There you have it! Some common germination issues and my quick tips to fix them!
If you liked this blog post, find me on Facebook, TikTok, and Instagram for more cold-climate vegetable gardening tips, delicious recipes, and cut flower goodness! I also make weekly videos over on my YouTube channel. I hope to see you there!
P.S. If you love the content I create for Shifting Roots, consider joining our community on Patreon. Your support means the world to me and I am grateful for each and every one of you!
---
HAVE YOU TRIED SEED STARTING, ONLY TO BE LEFT WITH STRETCHED-OUT SEEDLINGS AND DEAD PLANTS?
You're not a bad gardener–you just need a little know-how. For the price of a few seed packets, you can stop wasting time and money and start growing seedlings that actually live, and you get to harvest. Don't miss out on another growing season. Get your copy of Seed Starting Success now (videos included)!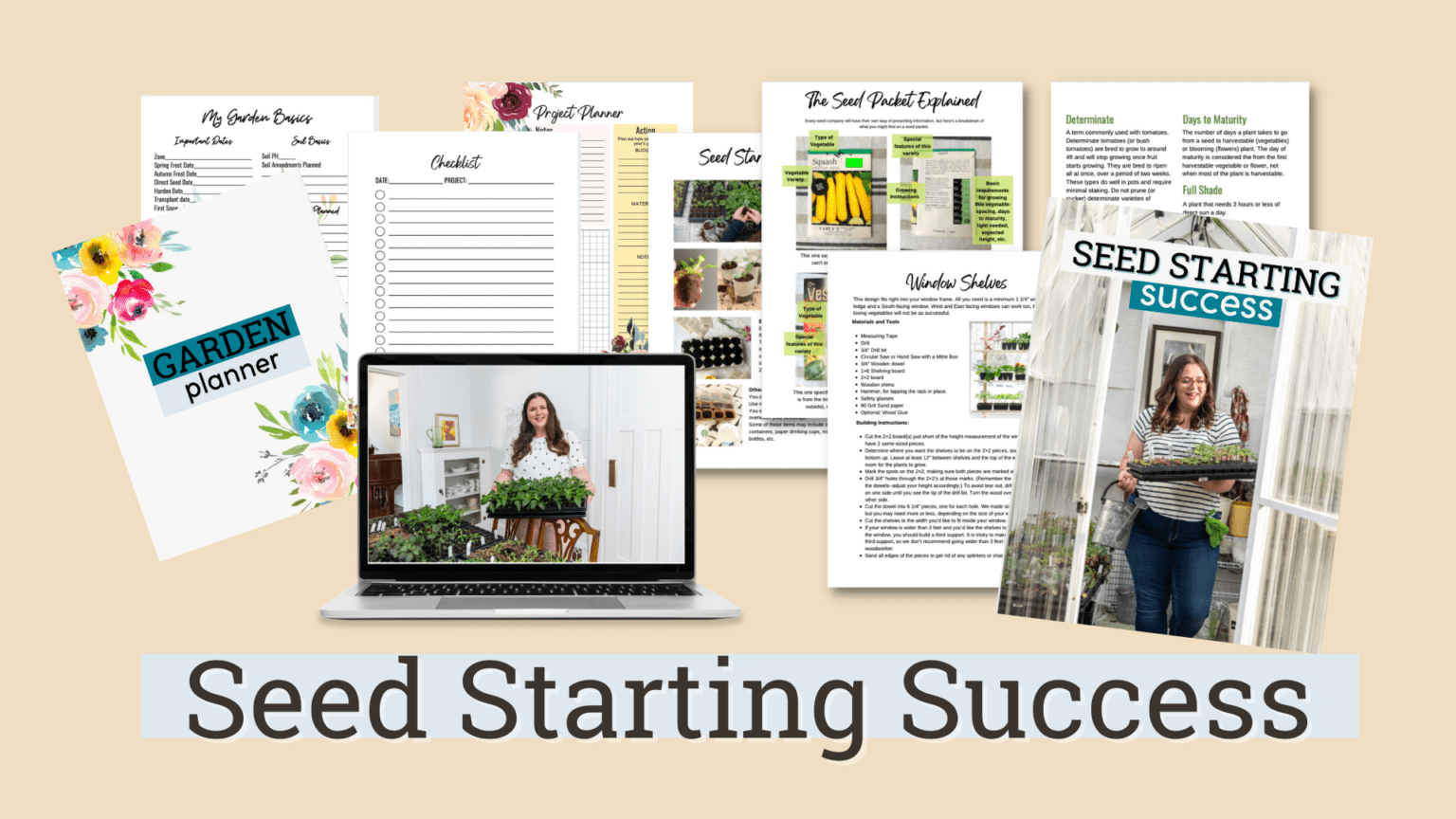 ---
---