Seed starting is a fun way to grow the plants you really want to grow that you can't always find at the greenhouse, but it's frustrating having to use so much flimsy plastic. Sure, you can use recycled plastic containers to cut down on waste, but did you know there's a way to make no-waste recycled pots out of newsprint?
Bonus, you can just pop them in the ground when it's time to plant and you don't have to disturb the roots! So stop using those egg cartons for seed starting (trust me, it's highly overrated!), and I'll show you how easy it is to make biodegradable seed starting pots.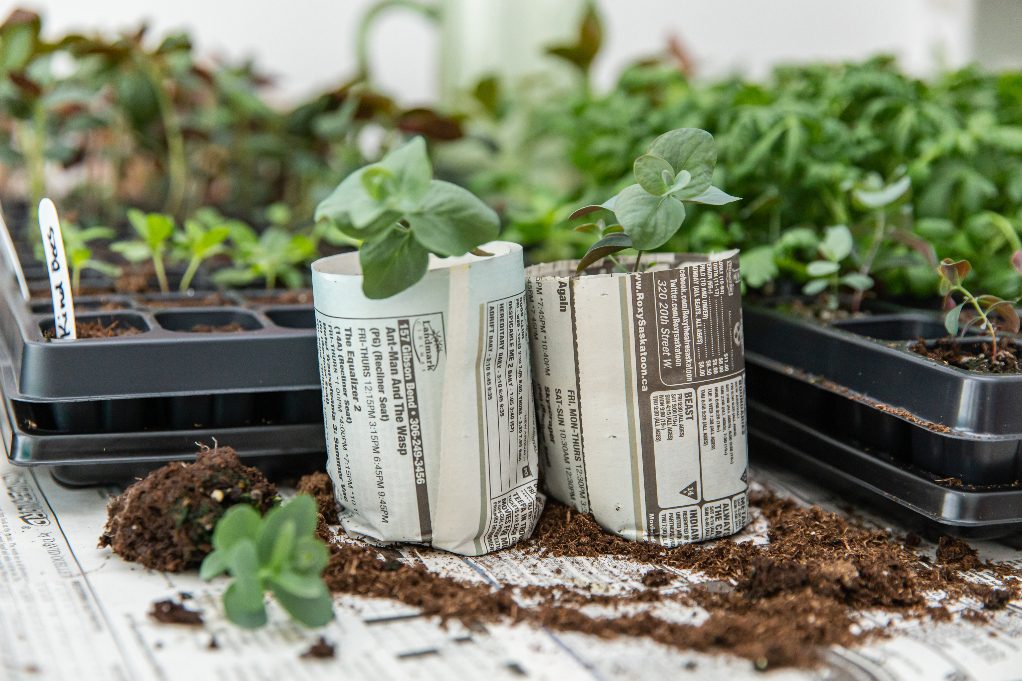 If you'd prefer to watch a video, see exactly how I made mine below. I'll provide written instructions in the rest of this post, as well. And if you'd like more content like this, I upload videos to my Youtube channel regularly!
This post contains affiliate links, which means that if you purchase something from one of my links, I earn a small commission at no extra cost to you. You can read more about it in my privacy policy. Thanks for supporting Shifting Roots!
WHAT SUPPLIES DO I NEED TO MAKE COMPOSTABLE POTS?
To make paper seed starting cups, you'll need the following supplies:
Newsprint
Scissors
Tall circular items to use as molds or one of these fancy seed pot makers
STEP-BY-STEP INSTRUCTIONS
Cut the newspaper into strips that are the height of your container, plus an inch or two more. (You'll need to allow enough space at the end to fold in the newspaper and create the bottom of the pot. Make sure the strips of paper are long enough to roll around your mold at least twice, if not three times.)
Roll the newsprint strip around the mold, leaving space at one end to fold in at the bottom.
Fold in to create the bottom of the pot.
Remove the paper from the mold.
Fill with potting soil and add your seed.
Put your new newspaper seedling pots in a waterproof container, and water from the bottom. (It may take a few hours for the water to soak through, but it's much better for your new seed-babies.)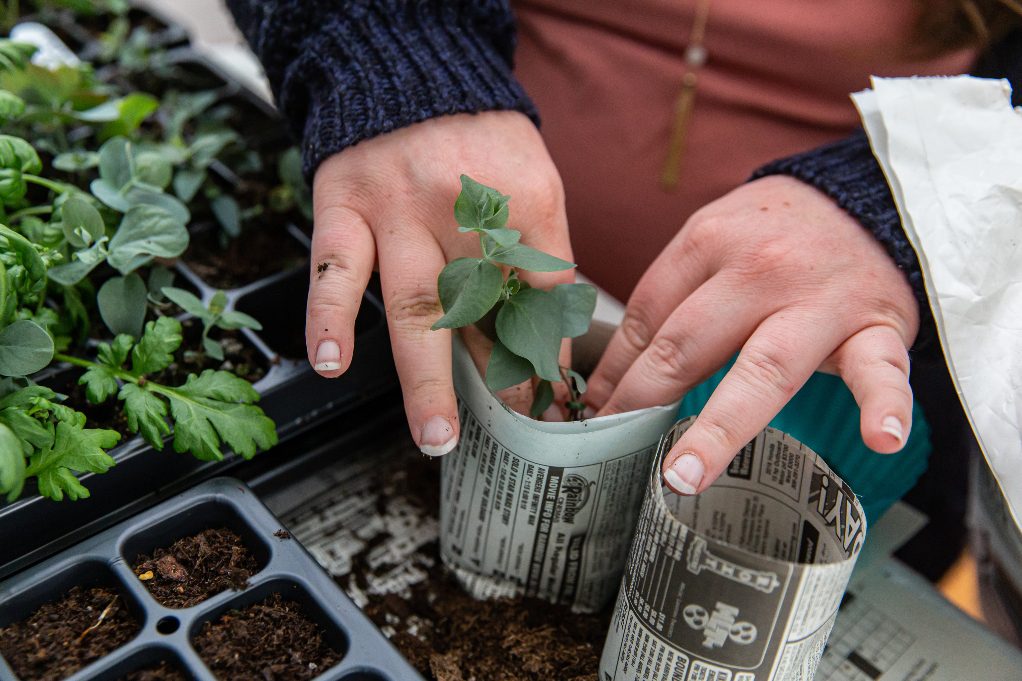 What are good items for a paper pot mold?
I like to use small jars, cups that are straight at the sides, wine bottles, or empty pop cans. Any circular item will do, as long as the sides are straight and it's the diameter you want.
I recommend using a larger diameter the further in advance you need to start the seed. For example, you don't want to use a toilet paper roll size for a tomato plant that you start 8 weeks in advance. Your tomato plant will quickly outgrow the small size and you'll just have to do it again or make a bigger pot for it.
If you don't want to hunt for the perfect-sized container, you can always buy one of these seed pot maker kits.
Can you Plant a newsprint pot into the ground?
Yes! That is the whole point of making these pots. They are 100% biodegradable and make an excellent eco-friendly alternative to harmful plastics. If you're nervous, you can loosen the bottom a bit before you put your plant into its spot in the garden.
Will the COMPOSTABLE seed pots actually last until it's time to plant my garden?
They might not look pretty, but yes they will! Keep watering your plants from the bottom and let the water soak up for the best results.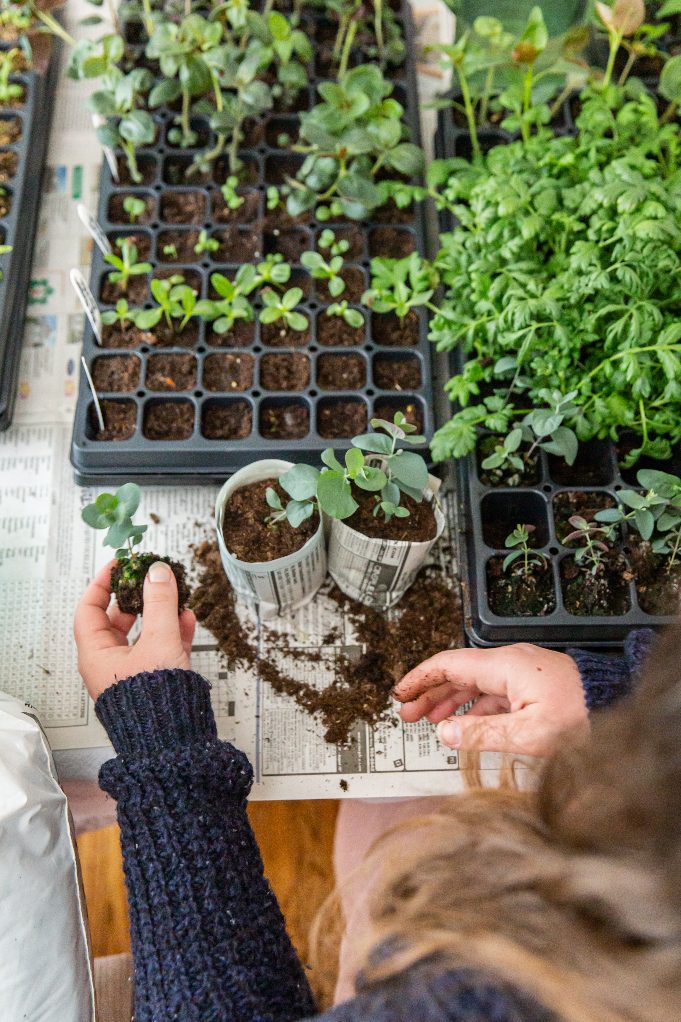 I've planted my seeds… now what?
For more information on seed starting from your window, read my handy guide. If you're short on space in your home, you might like this DIY seed starting shelf or this method of starting seeds outdoors.
Not sure where to buy your seeds? Here are some of my favourite places.
Need a bit more help figuring out how to plan everything out? This post can help!
If you liked this blog post, follow me on Facebook, TikTok, and Instagram for more cold-climate gardening tips, delicious recipes, and cut flower goodness! I also make weekly videos over on my YouTube channel. I hope to see you there!
P.S. If you love the content I create for Shifting Roots, consider joining our community on Patreon. Your support means the world to me and I am grateful for each and every one of you!
---
HAVE YOU TRIED SEED STARTING, ONLY TO BE LEFT WITH STRETCHED-OUT SEEDLINGS AND DEAD PLANTS?
You're not a bad gardener–you just need a little know-how. For the price of a few seed packets, you can stop wasting time and money and start growing seedlings that actually live, and you get to harvest. Don't miss out on another growing season. Get your copy of Seed Starting Success now (videos included)!
---
---