Christmas is on its way! If you're searching for an easy cookie recipe to get in the holiday spirit, you've come to the right place. Classic melt-in-your-mouth shortbread comes together quickly and is guaranteed to be a hit with Santa (or on the family baking tray).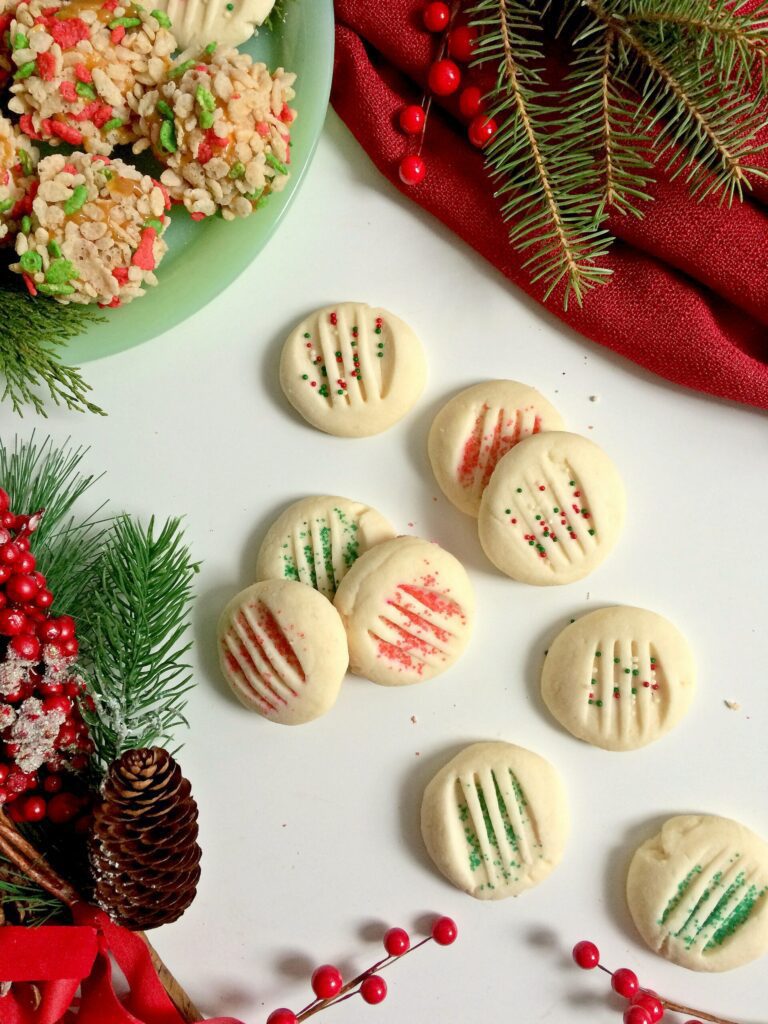 Soft Shortbread Cookies for Christmas
I've tried a lot of shortbread recipes over the years, and this one is my favourite. Once you try a cornstarch-based recipe, you won't go back. The cornstarch ones give a much smoother texture and the dough is easier to work with.
Word to the wise–do not substitute margarine for butter. The recipe will not work. Ask me how I know…
I wanted to share a funny story with you about these shortbread cookies. If you don't like stories, just skip to the end of the post for the recipe. Here it goes:
One year my family spent Christmas in Jamaica meeting our new in-laws. It was a wonderful, relaxing vacation, but I was missing Canadian Christmas just a bit. So we decided that we would make our new Jamaican family some of our favourite Christmas baking.
I wanted to make these shortbread cookies because 1. Everyone loves shortbread and 2. The ingredients are really easy to find.
What I didn't know, is that Jamaican butter is vastly different than what we are used to in Canada. The increased humidity and high temperatures aren't in this recipe's favour either.
Melt in Your Mouth Shortbread Cookies… not Melt in the Cookie Sheet
As you might have guessed, the recipe was a total flop. Instead of the beautiful shortbread cookies you see in these pictures, I ended up with some sort of runny, melty mess that was NOT suitable to give to my new relatives.
I was so sad, so I put them in a bowl of shame and forgot about them. I'd just eat them later myself if I was craving something sweet.
The next day when the family came to visit, someone put them out on the table for everyone to eat. I was mortified!!
I shouldn't have been, because our new family loved them and ate every last one. They had never tasted anything like it and thought it was really good.
So take heart. Even if you somehow totally mess up this recipe in another country, your guests will still like these cookies.
Classic Melt-in-your-Mouth Shortbread
Additional Time:
30 minutes
Ingredients
1 cup corn starch,
1 cup icing sugar,
2 cups flour,
1 1/2 cups butter, softened
Instructions
Mix all ingredients and spoon on to a cookie sheet.
Optional: chill for 30 minutes and roll out for a cut cookie
Apply sprinkles or cherries before baking
Bake at 300 degrees Fahrenheit for 15 to 20 minutes. Cookies should have the barest hint of light brown at the edges. Makes 48 small cookies.
Looking for more Christmas baking to round out your tray? Try these options!
If you liked this blog post, follow me on Facebook, TikTok, and Instagram for more cold-climate gardening tips, delicious recipes, and cut flower goodness! I also make weekly videos over on my YouTube channel. I hope to see you there!
P.S. If you love the content I create for Shifting Roots, consider joining our community on Patreon. Your support means the world to me and I am grateful for each and every one of you!
---
WANT EVEN MORE HOLIDAY RECIPES TO FILL UP YOUR COOKIE TRAY?
Holiday Favourites E-Recipe Book is a collection of my favourite Christmas baking recipes entwined with special memories and helpful tips all designed to help you make a holiday baking tray that everyone is sure to love! Click the photo below to get your copy today.
---
---