Let's imagine for a moment that you went a little bit crazy for an experiment this Easter and somehow managed to dye over 24 hard-boiled eggs…
What do you do with them?
My friends, you make the Raney family favourite, Cheesy Egg on Toast. So simple, yet so delicious. It starts with a creamy, from-scratch cheese sauce and plenty of hard-boiled eggs and is topped on a slice of your favourite toast.
Fair warning: it's so filling that you'll only need one slice but so delicious that you'll definitely want two.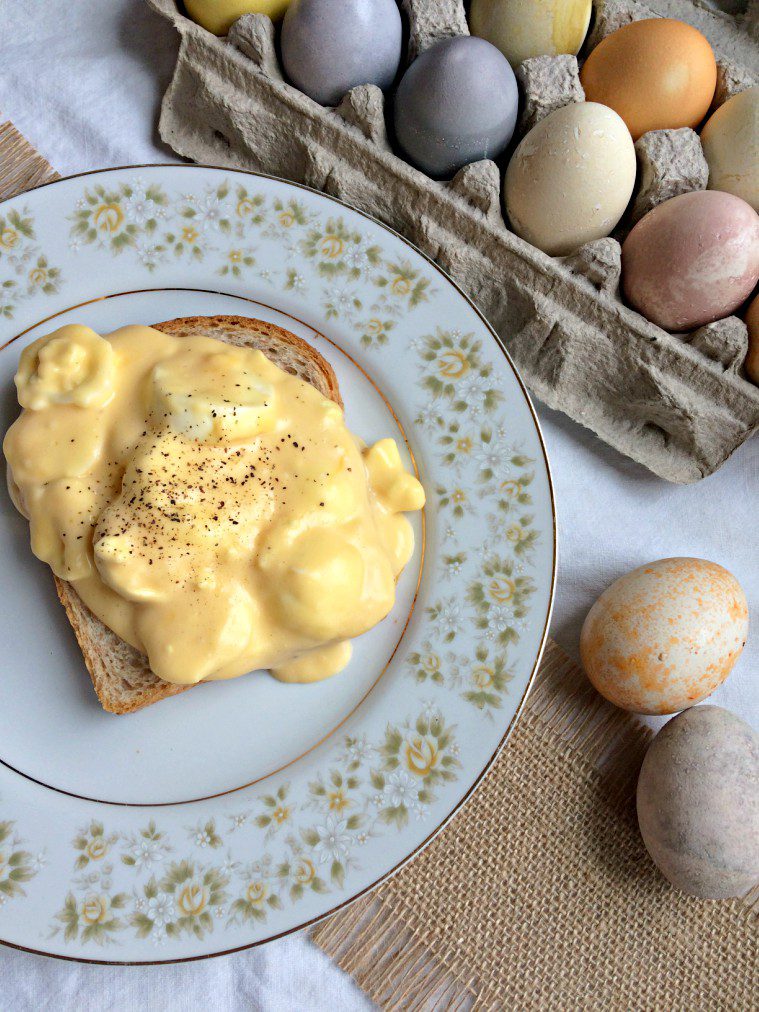 Let's Make Cheesy Eggs!
To figure out how many eggs to use, add up the number of eggs everyone normally eats for breakfast plus another one or two. For example, when the Raney's get together, 3 of us normally eat 2 eggs, 1 of us normally eats 3, and another small-person-who-shall-not-be-named won't touch this recipe with a 10-foot pole. Therefore, I would peel 10 or 11 eggs for this recipe.
The cheese sauce is our family's go-to comfort food. We usually have it on macaroni, but I've also used it with spaghetti sauce with much success. It starts with a roux of flour and butter cooked until golden brown, 4 cups or so of milk, and lots of grated cheddar cheese. You can get fancy and add different cheeses or stick to the basics. I recommend using old cheddar for better flavour.
Cheesy Eggs on Toast
The perfect post-Easter breakfast or brunch to use up all your Easter eggs. Cheesy, easy, and delicious!
Ingredients
10 hardboiled eggs
2 heaping tbsp flour
1/3 cup butter
4 cups milk
2 cups shredded cheddar cheese
8 pieces of toast
salt and pepper to taste
Instructions
1. Peel and slice hardboiled eggs. Set aside.

2. Melt butter in a non-stick frying pan. Add flour and stir with a whisk to make a rue. When the flour is golden brown, slowly add milk while whisking.

3. Stir in cheese once the sauce has thickened. Add hardboiled eggs and serve spooned over toast.
For a more behind-the-scenes look at recipes, DIY goodness, home renovations and gardening, follow me on Facebook or Instagram. Each account is different!