Feeling sick? You'll want to try my four-ingredient, non-alcoholic hot toddy to soothe your cold, cough, or sore throat. It's so much better than cough drops!
In 2018, I was sick. Like hacking-out-a-lung-no-voice-the-doctor-is-my friend-sick. I thought my issues were finally sorted out, but it felt like I cracked a rib from coughing so hard. Apparently, I strained my intercostal muscles. Considering I'm a classical singer and use them more aggressively than most of the population on a regular basis, my cough was extreme.
However, one happy discovery through all of that was this hot-toddy recipe that kept my coughing to a minimum. The Dad of one of my voice students suggested it, and I was so glad he did. This version is non-alcoholic, but you can add your alcohol if you're inclined.
Because it has no alcohol, this hot toddy recipe is a perfectly safe sore throat remedy for kids, adults, and pregnant women. I know firsthand how frustrating it is when you're sick and pregnant, and you can't take anything to make yourself feel better!
The main ingredients are lemon and honey, but the spice that makes this one a bit different from other toddies out there is cinnamon. I'm a huge fan of cinnamon, so this drink made my taste buds quite happy.
Should you get sick of this delightful hot toddy drink, I also have 5 other natural options to soothe a sore throat that I personally use. You may know me as a garden blogger, but as a classical singer, I know how frustrating it is to be sick with no voice, but you have an engagement that you have to power through because there's no one to replace you and you can't cancel.
Here's hoping you'll keep healthy during this cold and flu season! And if you don't, you know where to turn.
4 Ingredient Cinnamon Hot Toddy
Turn to this hot toddy when you need to sooth a sore throat or cough fast. Non-alcoholic and safe for kids, adults, and pregnant women.
Ingredients
1 cup boiling water
Juice of 1/2 a lemon
1 tsp honey
1/2 tsp cinnamon (or to taste)
Instructions
1. Set a kettle of water to boil.
2. Cut a lemon in half. Juice one of those halves, and save the other half for another cup later.
3. Add lemon juice, honey, and cinnamon to 1 cup of boiling water. Drink as needed.
Notes
Nothing except time and rest can really fix a cough, cold, or sore throat. This hot toddy will just make you feel better until your body heals.
Nutrition Information:
Yield:

1
Serving Size:

1
Amount Per Serving:
Calories:

165
Total Fat:

0g
Saturated Fat:

0g
Trans Fat:

0g
Unsaturated Fat:

0g
Cholesterol:

0mg
Sodium:

155mg
Carbohydrates:

42g
Fiber:

2g
Sugar:

36g
Protein:

1g
Do you have any secret recipes for healing when you're sick?
If you liked this blog post, follow me on Facebook, TikTok, and Instagram for more cold-climate gardening tips, delicious recipes, and cut flower goodness! I also make weekly videos over on my YouTube channel. I hope to see you there!
P.S. If you love the content I create for Shifting Roots, consider joining our community on Patreon. Your support means the world to me and I am grateful for each and every one of you!
---
CRAVING SIMPLE, HARDY FRUIT RECIPES?
Look no further if you want to make delicious recipes with your homegrown hardy fruits. Check out my e-book Hardy Fruits Cookbook for over 25 mouth-watering dishes!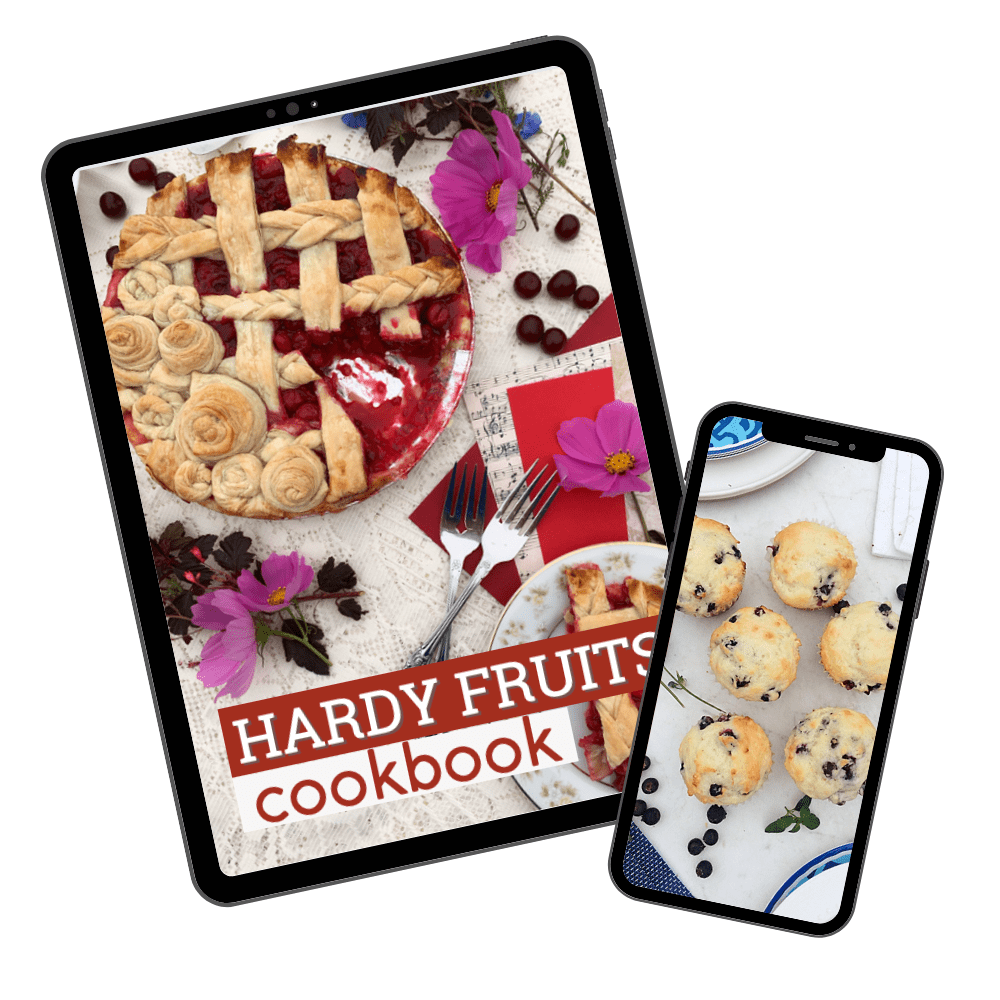 ---
---