If you garden in a short season like I do in Zone 3, early blooming cut flowers can be a huge struggle to grow. While it can be difficult for cold climate flower farmers to have something ready when people are hungriest for flowers, the ten flowers featured in this blog post allow me to have flowers ready for customers when other farmer florists in the area might not!
Keep reading for my favourite early cut flowers, or watch below, if you prefer videos:
This post contains affiliate links, which means that I earn a small commission if you purchase something at no extra cost to you. You can read more about it in my privacy policy. Thanks for supporting Shifting Roots!
10 Best Early Cut Flowers
Anemones are a beautiful addition to early-season arrangements. I specifically love growing the Bianco Centro Nero variety of bright white anemones with a contrasting black centre.
2. Apple Blossoms
Whether you get flowers from your full-grown apple trees, crab apple trees, or ornamental apple trees, apple blossoms add extra colour and dimension to bouquets early in the season when there isn't much else blooming!
3. Cotoneaster
I grew up calling this plant Birdberry and often use cuttings from this shrub in early-season arrangements. Its delicate white flowers and beautiful greenery are helpful when not much else is blooming in Zone 3!
Forget-Me-Nots were new to my cut flower garden in 2022, and I hope they live up to their name and give me many volunteers in this year's garden! Their brilliant blue is a striking addition to any bouquet, and they work brilliantly as filler flowers when not much else is in season.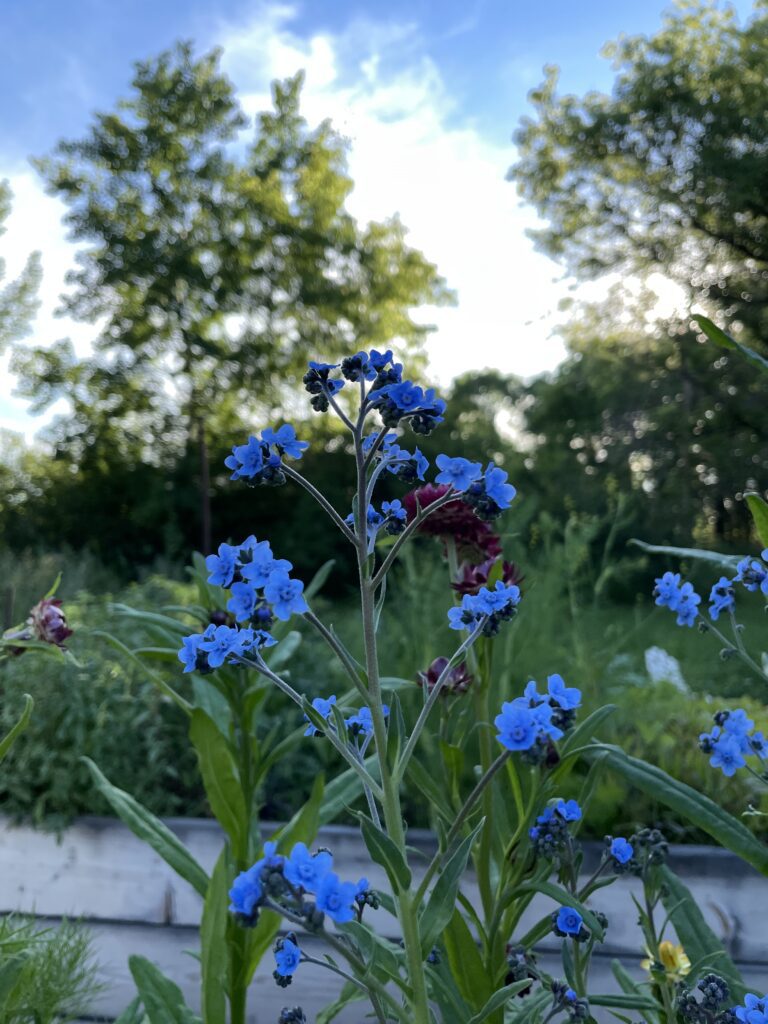 Also known as Love in a Mist, Nigella is a cool-loving flower that adds beautiful movement to any bouquet. This delicate flower is perfect to use immediately after harvesting, and you can also save the pods for interesting textures in arrangements afterwards. Nigella is low-maintenance and easy to direct sow after the snow melts!
If you're in a zone where you can plant a peony bush and you don't have one, you need to plant one! Unfortunately, you won't get blooms for about three years after planting, but these gorgeous flowers are worth waiting for! Peonies have been a staple in my cutting garden for years and are an old favourite. I love all peony varieties and include them in arrangements whenever I can!
I grew Queen Anne's Lace for the first time last year (in 2022) and loved it! It's extremely cold tolerant, and because I started it beforehand, I could use it during those early months when not much else was available in my cutting garden. My Queen Anne's lace was especially handy for early-season weddings to fill out my bouquets.
If you love roses and peonies, you'll love ranunculus! We have a lot of pest pressure on ranunculus in Zone 3, where I live, but I'm hoping this year (2023) will be my year for a bountiful ranunculus crop!
9. Rat Tail Statice
Rat tail statice blooms much earlier than other statice varieties and is a welcome texture for early-season bouquets. This underrated flower is really one of the only spike-type flowers that bloom early in the season, and I always make sure to have some growing in my cut-flower garden!
Saponaria is extremely cold-tolerant and is perfect for early planting. After growing it last year (in 2022), I expect to have a lot more just from volunteers! This is also a great substitute for Baby's Breath in bouquets.
If you liked this blog post, find me on Facebook, TikTok, and Instagram to follow more of my farmer florist journey and join in the cut flower conversation! I also make weekly videos on my YouTube channel. You can also sign up for bouquet-making events and buy my flowers at my sister site Shifting Blooms. I hope to see you there!
P.S. If you love the content I create for Shifting Roots, consider joining our community on Patreon. Your support means the world to me, and I am grateful for each and every one of you!
---
Eager to make bouquets with your homegrown cut flowers?
Bouquet Recipes is a collection of my best bouquets of all sizes, throughout all seasons, including a flower-by-flower list with pictures for every single one! I also share my favourite colour palettes that I return to over and over again. Whether you're a backyard gardener or a farmer florist, this highly visual ebook will help you create better-looking bouquets and give you more confidence that you're growing the right things.
If you're planning for an event and ready to take your flower farming to the next level, this ebook is also available in the DIY Wedding Bundle alongside Cut Flowers Made Simple, Bouquets Made Beautiful, and the Flower Farmer Garden Planner.
---
---