Last weekend was the unofficial gardening weekend in Canada (otherwise known as May Long Weekend) and our household was no exception to the trend.  However, there was one little problem. . . the wilderness we call our backyard and garden space.
I'm going to spare you the agonizing details of roto-tilling twice and removing as much weeds and grass as possible.  Let's just say that it was overwhelming to start, but deeply satisfying to finish.
9 hours of work and a truck full of weeds hauled to the compost depot later. . .
I still can't believe that this is our yard when I look out the window.
Now that we had a garden space, we had another problem. . . not nearly enough garden space.  We have plans to expand, but for this year, we're making do with planting among the flower beds, extra pots, and garden beds.
---
Related: 53 Best Perennials to Grow in Zone 3
Gardeners Worst Nightmares: 28 Perennials You'll Regret Planting
Cold-Climate Gardening When You Literally Have No Clue
---
This is when it's really awesome to have a husband who is a carpenter.  With just a few boards from Home Depot he was able to make quite a few projects.
I'm always happy to do the painting if the Hermit does the making.
I'm in love with this garden trellis he fashioned from 1/2 a board and leftover construction materials.
This year we're adding 3 raised gardening beds.  I don't know why I thought they would be so overwhelming to make, but the Hermit was able to make them in under an hour with two boards and 4 stakes.
I am a little bit nervous about having a garden bed in my alley space, but it gets good sun. I'm willing to risk people stealing the vegetables and flowers in the fall.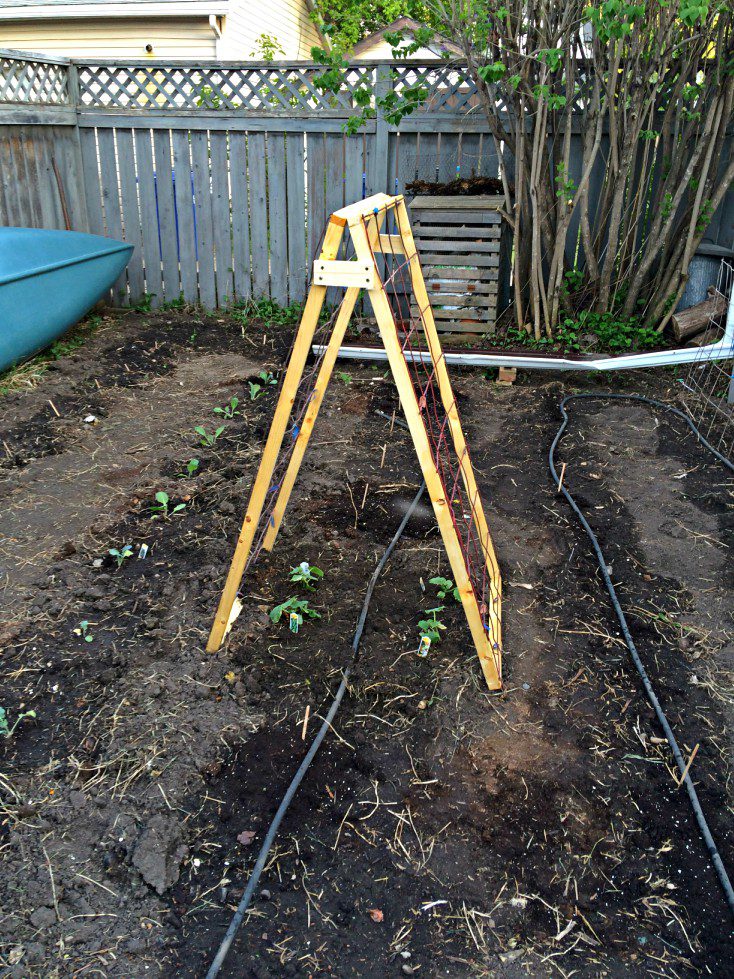 I love this little trellis that the hermit made me.  We're growing pickling cucumbers on one side and slicing cucumbers on the other.  Our garden space is a combination of square foot and regular gardening.  I'm pretty sure it's going to be a jungle in the fall.  I'm also sure that we haven't seen the last of the grass/invasive perennials.
Related: Follow my Outdoor Living and Zone 3a Gardening Boards on Pinterest!
The Hermit also made a fire pit with discarded stuff from a construction site (don't worry, he asked permission to take these) and rocks and gravel we already had in the yard.  Dominic immediately took to it and claimed it as his own.  Hopefully he'll understand that he can't go in there once we have a grate and actually start having fires there.
I can't wait to finally enjoy our backyard!!
How are your backyard and gardening projects going so far?  What do you have planned?  Tell me about it in the comments!
P.S.- I share behind the scenes photos, inspiration, and bits of my life on Facebook and Instagram.  Both accounts are different, I'd love to see you there!