I love shopping at my local Dollarama or Dollartree or really any dollar store for that matter! I love it even more when I can get my favourite gardening supplies there for a good deal.
A couple of springs ago, I took a trip to my local dollar store to see what I could get on the cheap and was really surprised at how much there was! From gardening gloves to gardening tools, and of course, seeds, pots, and more, there was so much to choose from.
So here's my list of items I think are a really good deal, plus a few that seem like a good idea, but I would probably pass on. And, if you're a flower farmer looking for even more dollar store gardening hacks, check out the video below:
Garden Tools
You can get cheap and cheerful hand gardening tools at the dollar store that are perfectly good for any light container or urban gardening that you want to do. If you're using them for a weed-infested, overgrown spot, it's best to skip the dollar store ones and invest in higher quality.
1. Pop Up Mini Greenhouse
For $3, you get a functional mini row cover that's perfect for bringing plants outdoors early. The plastic is a lot longer than I thought it would be, so I could have easily put this in a larger space. The only downside is that it doesn't come with something to attach the plastic to the wires. I personally like using binder clips and find them very convenient.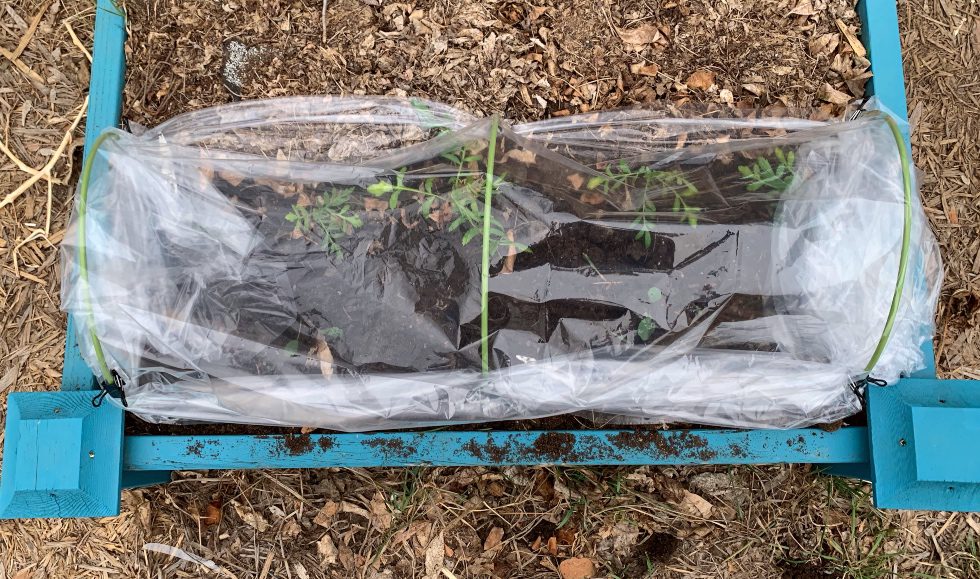 2. Fabric Grow Pots
Fabric grow pots are all the rage, and the ones I found at the dollar store were particularly cute! I'll let you know my full opinion once I've actually used them for a season, but on looks alone, they're an A+.
Update: While they were super cute, the quality was terrible. They barely lasted one season, and they could not handle the Saskatchewan winter sun at all. By the next spring they were garbage.
3. Gardening Gloves
Perfect for light gardening jobs! Invest in the rubber-lined kind if you need to do more heavy-duty weeding and garden chores.
4. Landscape Staples
I love using landscape staples to hold my fabrics in place. At 15 cents a staple, you can't beat the price. I also believe that the dollar store landscape staples are no different than the ones you get from a greenhouse supply store. I've purchased both and can't tell the difference.
5. Plant Supports
Why spend tons of money on a plant support when you can get a perfectly functional one for just a few dollars? Lots of different varieties of supports to choose from.
Garden Decor
There are tons of cute options, and because the prices are so reasonable, you don't need to feel bad if you tire of it in a few years and pass it along to someone else.
1. Small Trellises
Need a cute little trellis for your small-space garden or containers? The dollar store to the rescue! There are so many choices and they're much more beautiful than you think they'd be for under $5.
2. WhirlyGigs
The birds in my yard are too smart to be fooled by whirlygigs. But if your birds are not as smart, whirlygigs are a good first step to keep pesky birds from eating your lettuce and other tender greens.
3. Kids Gardening Toys
If you have a young helper in your life, the dollar store is a great place to get cute-looking kids' tools that don't break the bank. If your young helper is a little older and more serious about helping you in the garden, then you might consider getting a more expensive and better quality set of tools. But for a sweet toddler who just wants to mess around in the soil or help you water a pot or two, dollar store toys are perfect.
Plan the Perfect Garden
Get your free Garden Planner and worksheets and start creating the garden of your dreams.
5 Dollar store gardening items to avoid
While there are plenty of great finds at the dollar store, there are also some items you really should take a pass on, especially if you're a more serious gardener. Here are the 5 items I would not buy.
1. Tomato Growing Kits
Sure, some of these kits might be perfectly fine for the plants that are in them, but there is no way that pot is going to be big enough for that tomato. If you want to buy the kit for the seeds, go ahead. Just know that it might need to be repotted in the future.
2. Seeds
Seeds from the dollar store will grow. They're just not a good idea if you care deeply about what variety you'll be planting that year.
3. Gardening Gloves
Wait… didn't you put that in the must-buy section? Yes. However, if you're doing a lot of weeding and need something that will really last, the dollar store gloves are likely not good enough quality to last you even a season.
4. Pots
Because of the nature of the dollar store, the size of pots you can buy there is going to be very difficult to take care of. They'll dry out quicker, your plants might fry if you don't water them multiple times a day, and you'll be extremely frustrated.
5. Soil
Okay, so usually you can't find soil at the dollar store. But if you do, it's going to be in such a small size that, for most gardeners, it won't be a deal because you'll need so much more soil than the size that is offered. Buy soil elsewhere.
Is there anything you'd add to this list? Let me know in the comments! And follow me on Facebook, Instagram, and Youtube for more cold-climate, short-season gardening tips!
---
NEED MORE HELP IN THE GARDEN?
Green thumbs aren't just given out at birth. They're a combination of learning about gardening and trial and error. If you wish you knew more about gardening and had more confidence in your abilities, you need the Growing Roots Gardening Guide.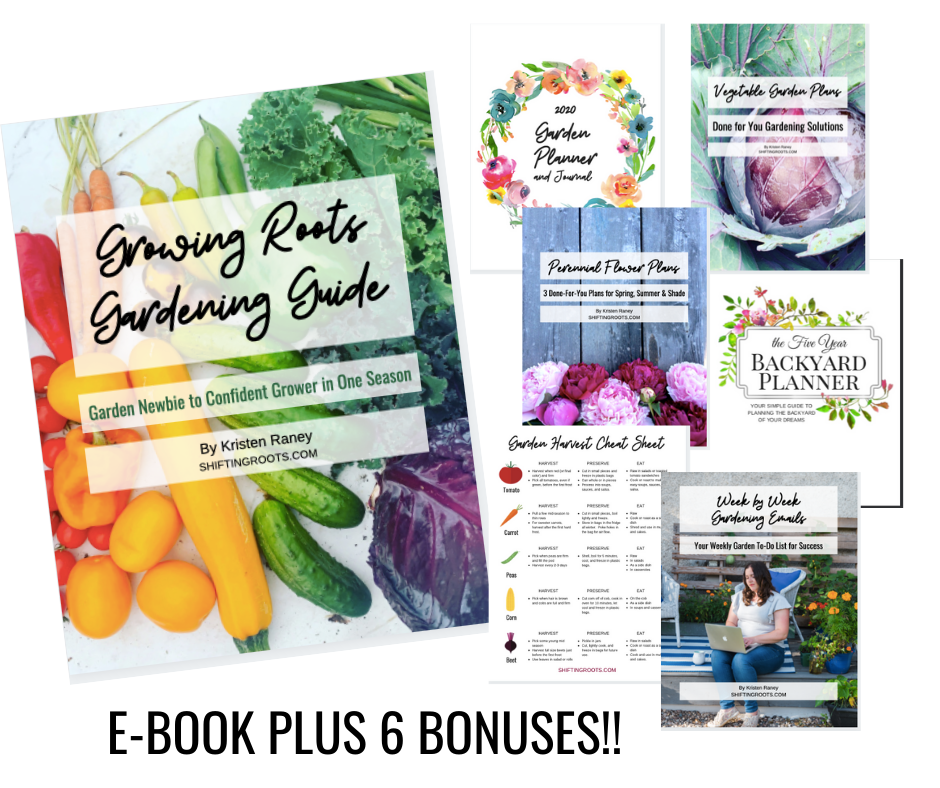 It's an e-book plus 6 bonuses–everything you need to go from complete garden newb to confident in one growing season. Get all the details of what's inside here. Happy gardening!
---
---