As a flower farmer, cut and come again flowers make the most sense for your bottom line. They have a longer growing period than one and done cut flowers and provide you with blooms all season long.
Cut and come again flowers come in all varieties and can be used as fillers, spikes, hero flowers, supporting flowers, greenery, and more. The more you cut them, the more bountiful your cut flower harvest will be!
Below are my top ten must-grow cut and come again flowers every farmer florist needs in their cutting garden this year!
This post contains affiliate links, which means that I earn a small commission if you purchase something at no extra cost to you. You can read more about it in my privacy policy. Thanks for supporting Shifting Roots!
Benefits of Cut and Come Again flowers
There is really nothing bad I can say about cut and come again flowers. If you are an aspiring farmer florist wanting to sell floral arrangements or even just a cut flower enthusiast wanting to grow cut flowers for yourself, the benefits of cut and come again flowers are endless!
In a short growing season you don't have a lot of time to do proper successions, so a cut and come again garden is nice to avoid succession planting. Cut and come again flowers are the kind of flowers that you can grow once when they need to be planted and then you'll get blooms all summer long.
Cut and come again flowers will save you time and money in your cut flower garden. These prolific flowers will produce more blooms per plant than other flowers in a cutting garden and will keep you making beautiful bouquets all summer long. Because you won't have to plant as many flowers, you will spend less on your seeds at the beginning of the growing season and save time and energy when planting your cut flower garden.
The best snips to use for cut flowers
While it's ok to use a pair of scissors to cut your flowers, it's best if you can invest in some proper snips. A pair of garden clippers work well, but if you can find the garden snips with the pointy edges that's what all the flower farmers use. And you'll find it's the best tool for the job!
For more of my favourite gardening tools, check out this long list of gardening essentials.
And if you want even more cut flower varieties to grow in your cutting garden this year, watch the video below:
Without further ado, here's my list of the best cut and come again flowers for any cut flower garden!
10 Best CUT AND COME AGAIN FLOWERS
Amaranth likes poor soil and no fertilizer, so plant this one where other flowers have trouble growing. Amaranth especially benefits from being pinched earlier in the season. If you let it go for too long, the top stem can get very large and become practically unusable in a bouquet.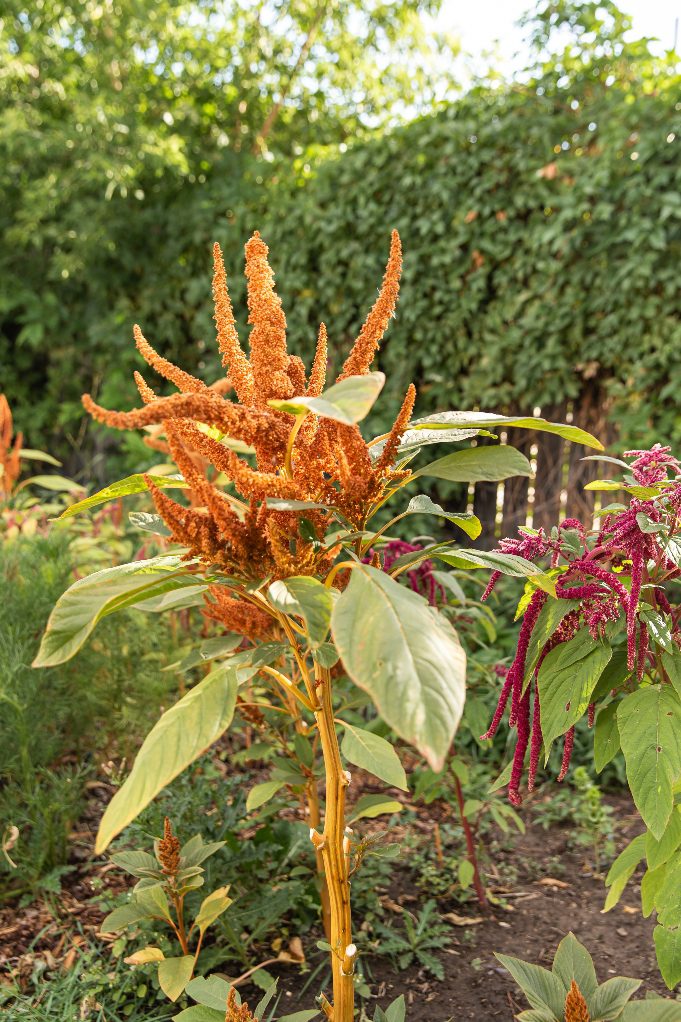 Asters are great to plant for late summer and fall blooms. They're very prolific, so in a backyard garden, you'll probably only need around six plants of each colour you hope to have!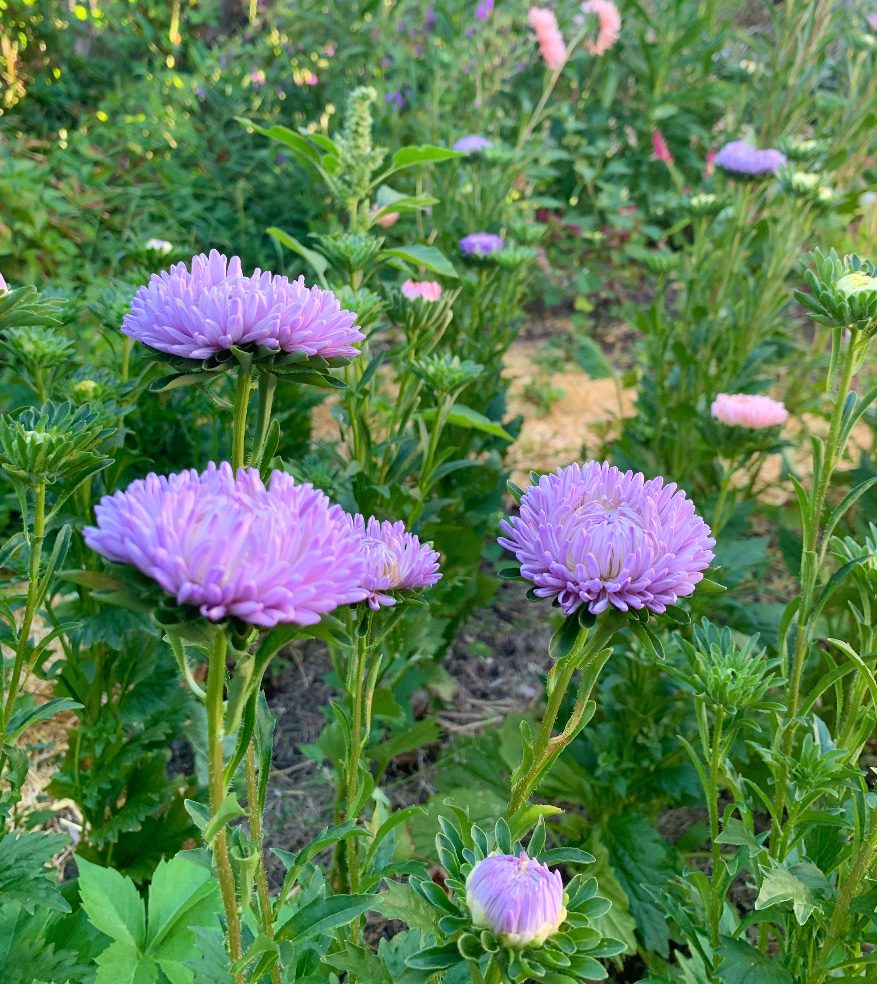 Cosmos are great because they can be used as a green, a supporting flower, or as a filler! My favourite is the Double Click variety pictured below.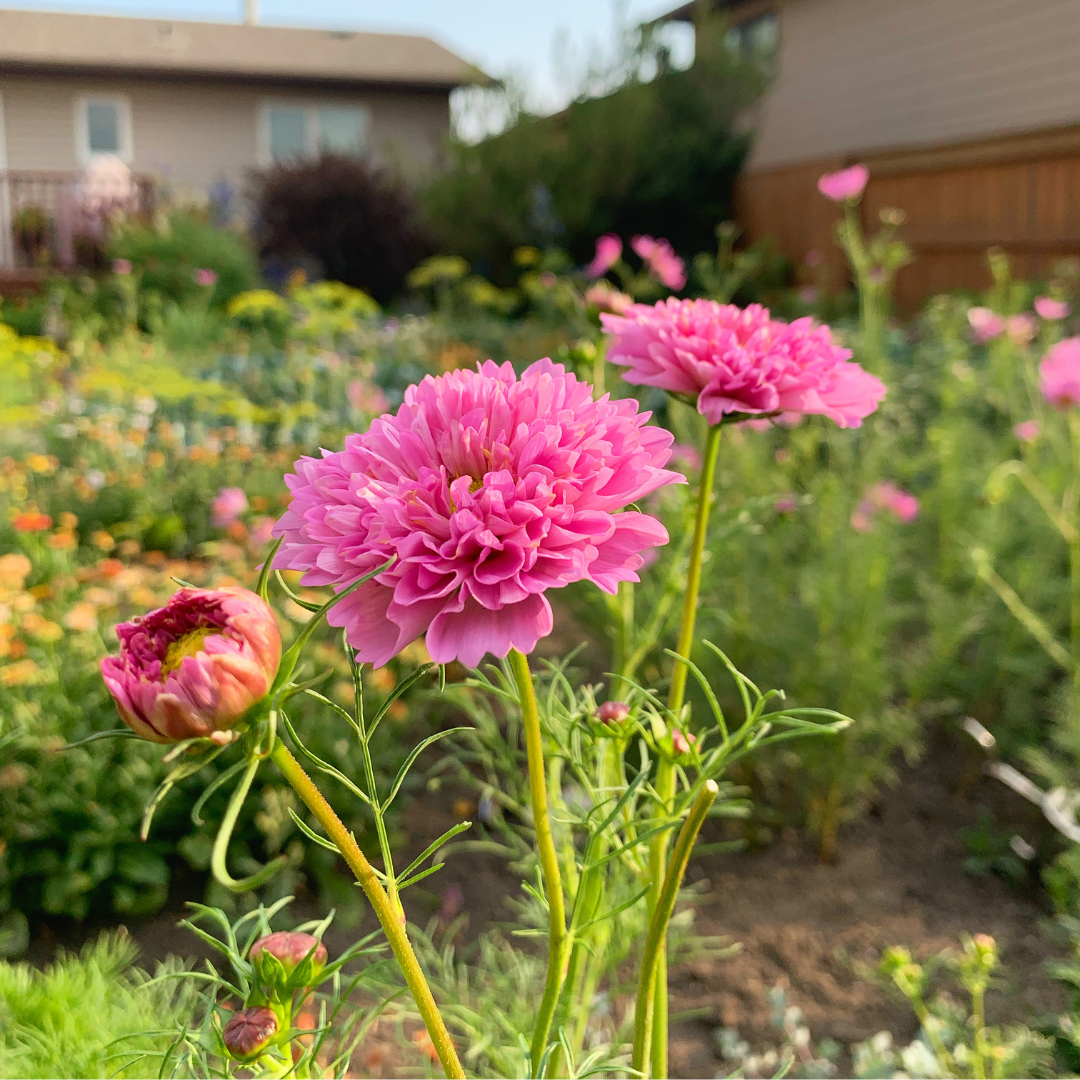 Dahlias are a ton of work and a giant source of stress, but when you see that first bloom, it all becomes worth it. I always try to start mine early, so I can have some blooms as early as mid-July. This year, some of the varieties I'll be growing in my own cutting garden include Lake Tahoe, Strawberry Cream, and Wizard of Oz.
5. marigolds
Marigolds are a wonderful addition to a cut and come again garden, but if you're growing them for cut flowers you'll want to grow the Cracker Jack or Mary Helen varieties. Other varieties are just too short!
My favourite variety of Rudbeckia is the Prairie Sun pictured below. They are more of a fall flower, but they are a great addition to any floral arrangement as soon as they're in bloom!
Snapdragons are the backbone of any cut flower garden. But beware: some varieties that you find at your local gardening centre are meant for containers and not cutting! Always make sure to read your seed packets carefully.
When I first learned about Statice, I thought they were kind of ugly flowers. I didn't want to plant them or recommend them. But then I saw them in someone else's cutting garden and realized how versatile and useful they can be! Statice work well as filler and as dried flowers, and you can even use them in Christmas wreaths.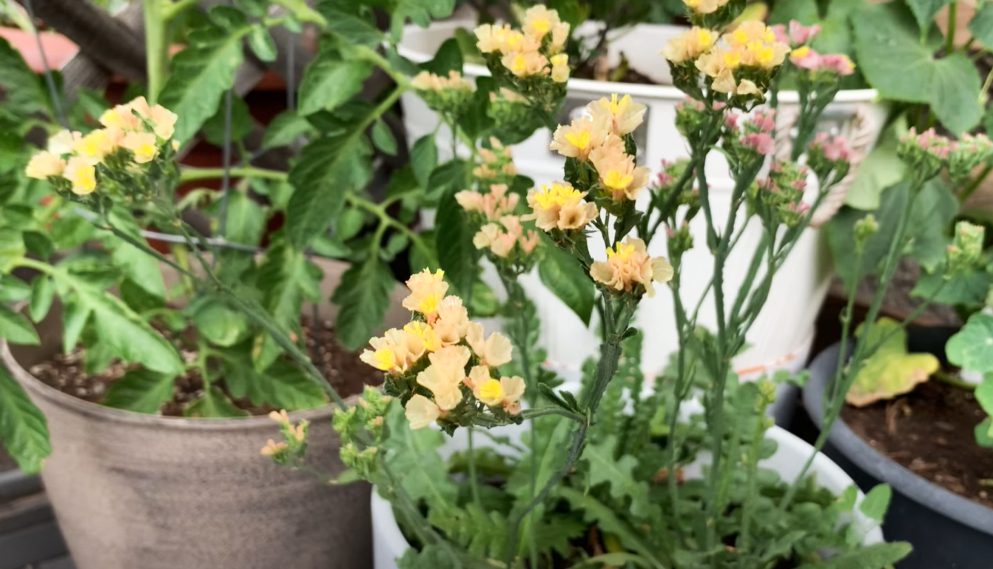 Like Snapdragons, Strawflowers have varieties that are meant for containers and others that are meant for cutting. So make sure you check which kind you're getting ahead of time, so you're not disappointed!
A cut flower garden isn't a cut flower garden without Zinnias. My favourites are the Benary's Giant, as well as all of the ones in the Queen Lime series.
There you have it! The 10 best cut and come again flowers for your cut flower garden! Are there any flowers you'd add to this list? Let me know in the comments and follow me on Facebook, Instagram, or YouTube for more cold-climate, short-season gardening tips!
---
LOOKING TO START A CUT FLOWER BUSINESS?
Have you been researching all over the internet and in free Facebook groups about starting a cut flower business and are feeling more confused than ever? Don't believe you can make a profit from a cut flower garden on modest terms? Check out how this video for how I went from wannabe flower farmer to resilient backyard business owner!
And, if you're still feeling frustrated, if you're worried about spending too much money and not making your money back, or if you just want to learn more about profitable small-scale flower farming, you can enroll in Backyard Business, my program for aspiring flower farmers. Some of my students were already making money (enough to pay the cost of the course!!) in the middle of winter by getting creative and trying new things. I hope to see you there!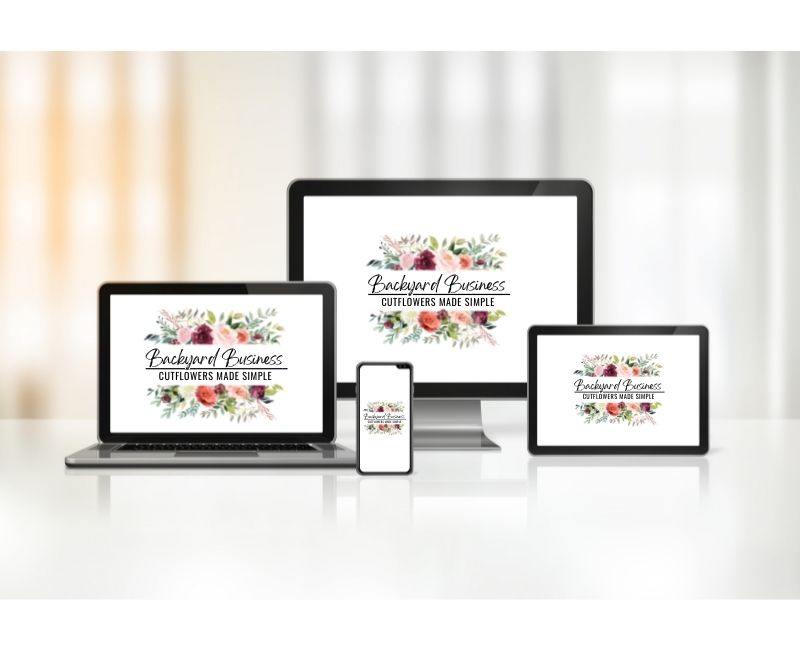 ---