Are you a beginner gardener with no idea where to buy your seeds? I've taken the time to compile a curated list of the places I've personally shopped, explored, and been recommended by trusted readers. Whether you're looking for flowers or vegetables, heirloom seeds, organic seeds, wildflower seeds for your xeriscape, or hardy fruit trees, you're guaranteed to find something in this list.
This list is tailored for the Canadian Prairies, and the advice is from a gardener's perspective in USDA Hardiness Zone 2/3. The tips on selecting a seed company should work for all zones. I've also included links to a list of all the seed companies in Canada and the United States so you can find something local to you.
This post contains affiliate links, which means that if you purchase something, I earn a small commission at no extra cost to you. You can read more about it in my privacy policy. Thanks for supporting Shifting Roots!
If you prefer to watch and see the ones I use all the time, check out this video:
P.S. I only included Canadian companies when I originally wrote this post. Since then, I've added a few American companies that ship seed to Canada. I have put that they are American in brackets immediately after.
WHAT SHOULD I PLANT?
Ultimately, it's up to you! If this is your first garden, I recommend picking 3-8 vegetables or flowers that you love to eat and/or look at. It's important to avoid overwhelm! Make your list before you look at a seed catalogue, and stick to it.
Remember that if your seeds die, you can always buy starter plants at a local greenhouse.
If you don't have a grow light or a large south-facing window, I recommend buying plants like tomatoes, broccoli, cabbage, cauliflower, and peppers as starters.
SUPPORT YOUR LOCAL GREENHOUSE
While it is cheaper to go to a big box store, the staff won't be able to answer detailed questions, the plant quality isn't as good, and it isn't guaranteed that the varieties sold will be successful in your growing zone. (This is especially true in the Canadian Prairies, where you'll often see Zone 4 perennials that won't last the winter.)
Yes, you might pay a bit more for the plants, but the advice you get and the quality of the plants will save you money and frustration in the end.
Side Note: I deeply regret buying a hydrangea from Walmart. It only bloomed one year, then promptly died the next. A replacement one faired no better. If I had just spent the extra money on a decent hydrangea variety meant for my climate, I would enjoy the flowers now instead of feeling bitter and envious of my neighbours' beautiful hydrangeas.
Lesson: buy shrubs from an actual greenhouse.
Side Note #2: The price difference between your greenhouse and the big box store is often less than expected.
WHICH SEED COMPANY SHOULD I CHOOSE?
In short, pick the seed company closest to where you live or in the same growing region as you.
You can still have success ordering from a company farther away, but you'll have to be careful not to order a plant that isn't in your growing zone.
If heirloom and organic seeds are your things, pick a company specializing in them. You'll find lots of options in the categories below.
Finally, order your seeds early if you plan on a cut flower garden. By January 2nd, if possible! You'll need lots of time to start annual flowers, and boutique flower seed companies sell out of popular varieties FAST. Sometimes on the first day, their shop opens for the year. I've compiled this list specifically for cut flower garden shopping.
ONE-STOP SEED SHOPPING
These companies have almost everything the home gardener could want. They sell vegetable, herb, and flower seeds, grasses, crop covers, perennials, and fruit trees. Many of them sell bulbs, corms, and tubers as well. It's almost one-stop shopping.
VEGETABLE SEEDS
ORGANIC & HEIRLOOM
FRENCH LANGUAGE
My French is passable at best, but one of my French-speaking readers recommended these three Quebec-based seed companies.
Looking specifically for tomato seeds? The ones I'd pick are in the video below…
SEEDS FOR THE CUT FLOWER GARDEN
In this section, I've listed four American companies. All of them will ship seed (but not bare rootstock) to Canada. Whistling Prairie and Floret sell out of their stock extremely fast, so check their sites often for the best selection. For even more options, check out this list.
Looking for the all the best places to get cut flower seeds? Check out this comprehensive list or watch the video below:
FRUIT TREES HARDY TO ZONE 3
Many of the companies listed above have a selection of hardy fruit trees. Larger local greenhouses will also have more established plants for you to buy.
Don't expect a fully potted tree if you order online! You will likely get what looks like a stick in a box. You must follow the instructions that come with your tree (stick), so it grows. When you're ordering fruit trees (esp. from Hardy Fruit Tree Nursery), you have to get on the sites early and have your shopping list ready to go. Like cut flowers, shopping for apple trees is a competitive sport.
Here's a list of a couple of companies that specialize in fruit trees.
You don't want to miss the University of Saskatchewan Plant Sale if you're local to Saskatoon or area. It's a one-day sale that usually happens in early June.
Want to grow fruit in Zone 2 or Zone 3? Here are 28 fruit trees & shrubs to grow and 6 fruits to start from seed.
SPECIALty seed shops
SPECIALIZING IN BULBS
Many smaller flower farmers sell specialty cut flower varieties. Most of the seed companies in the "one-stop shop" section also sell a decent selection of bulbs, but these two companies ONLY work with bulbs. The benefit of ordering from these companies is that you can buy packages without a special business license if you have an acreage to fill.
SPECIALIZING IN HERBS
NATIVE WILDFLOWER & GRASS SEEDS
It's possible to get wildflower mixes and naturalized wildflower seeds from other companies, but these companies specialize in wildflowers. So if you're planning a xeriscape or drought-resistant garden, this is where you'll want to start.
BUDGET-CONSCIOUS SEEDS
Low on funds? MI Gardener sells many of their seeds for 99 cents American and will ship to Canada. T & T seeds have the lowest prices I've seen out of the Canadian mail-order catalogues, and Early's Farm and Garden centre in Saskatoon is my local place for getting seeds at reasonable prices.
For organic, heirloom, and non-GMO seeds, Westcoast Seeds and Rainbow Seeds are good low-cost options.
I am always a bit leery of buying seeds from your local dollar store. However, I know people that have done it and have been successful. If you're okay with a limited selection, give it a try.
Finally, if you're willing to shop in the off-season, you can find some sales from July-September. However, not all companies offer them, so get on the email lists of your favourite companies so you can hear when and if they are announced.
GO PLAN THE GARDEN AND LANDSCAPE OF YOUR DREAMS
I hope this list of companies has been helpful to you in your garden and landscape planning journey. I'm sure I've missed many other good companies, and I'd love to hear about your favourites in the comments.
For a complete guide to all the seed companies in Canada, visit the Canadian Seed Catalogue.
American friends, don't think I've forgotten about you! Here's a list of all the Seed Companies in the USA.
If you liked this blog post, find me on Facebook, TikTok, and Instagram for more cold-climate vegetable gardening tips, delicious recipes, and cut flower goodness! I also make weekly videos over on my YouTube channel. I hope to see you there!
P.S. If you love the content I create for Shifting Roots, consider joining our community on Patreon. Your support means the world to me and I am grateful for each and every one of you!
---
Have you tried seed starting, only to be left with stretched-out seedlings and dead plants?
You're not a bad gardener–you just need a little know-how. For the price of a few seed packets, you can stop wasting time and money, and start growing seedlings that actually live and you get to harvest. Don't miss out on another growing season. Get your copy of Seed Starting Success now!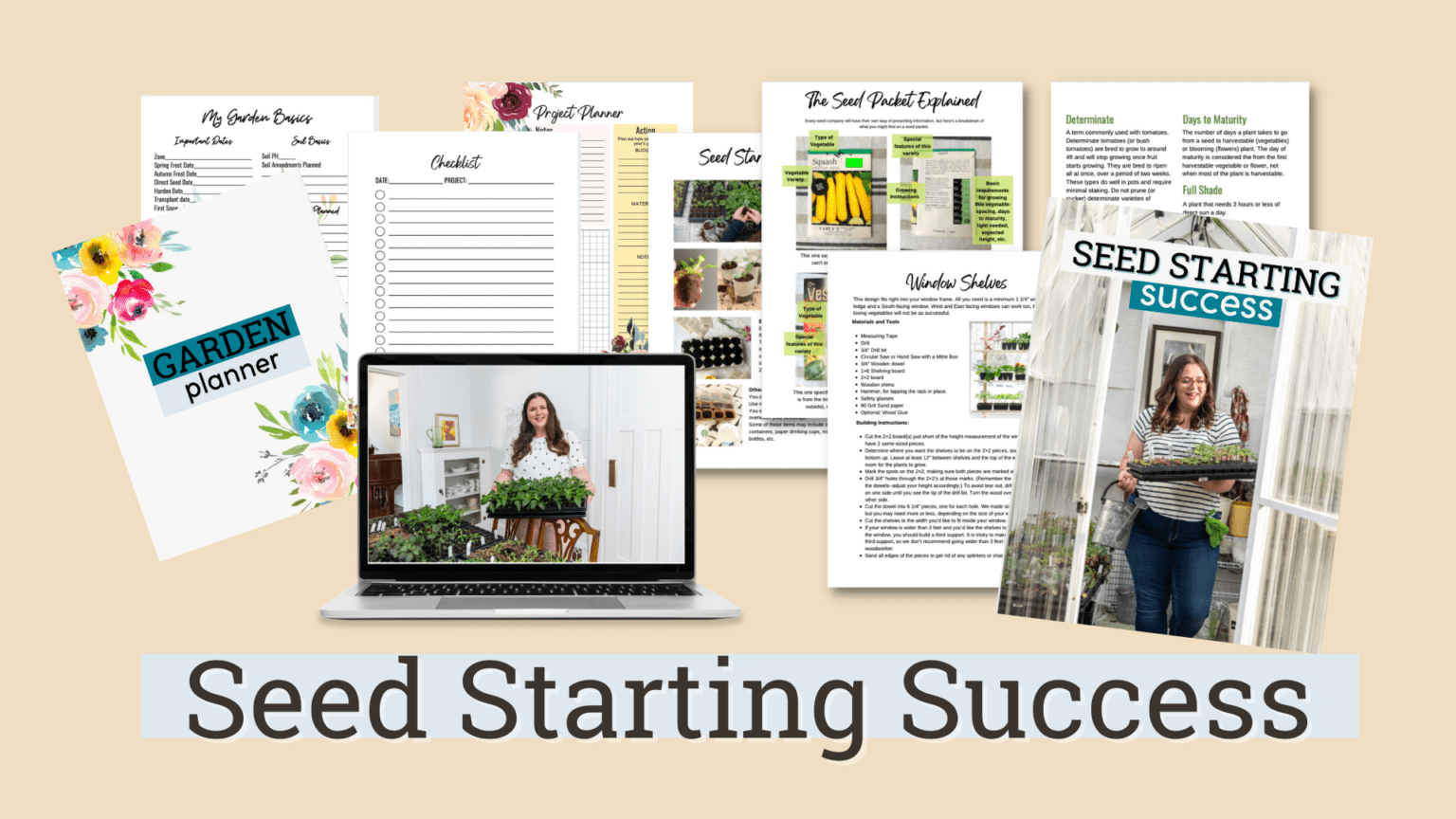 ---
---