Tulip bulbs are expensive and it is not guaranteed that you will make a profit off of them, especially if you're in your first year of flower farming. Farmer florists are also often dismayed to discover that tulips are not perennials when grown as cut flowers. All that being said, tulips are desirable for those wanting early-season sales!
Because tulips are super finicky flowers and you want to get the most bang for your buck, it is essential to know what you're doing. In this blog post, I share my tips for growing tulips as a flower farmer so you have the best chance of success!
PLANTING TULIPS FOR LANDSCAPES VS. PLANTING TULIPS AS A FLOWER FARMER
When you're landscaping with tulips, you'll want to plant them relatively spaced apart in clumps so they grow in a more visually natural way. However, if you're growing tulips for cut flowers, you'll want to plant the bulbs as close as possible in rows without having them touch. Some cut flower growers refer to this as "egg carton" spacing.
For flower farmers, tulips act like annuals, because we harvest the tulips completely–bulbs and all. This is to ensure better stem length for arranging. If you don't cut your tulips, however, they are regarded as perennials. This works well for those landscaping with tulips, as they will come back year after year.
Whether you're planting tulips as a flower farmer or for a landscape, you'll need to plant your bulbs in the fall to ensure spring blooms!
STEPS FOR PLANTING TULIPS FOR CUT FLOWERS
Order bulbs up to a year in advance from a wholesaler
Plant anywhere from mid-September to early November (as long as the ground hasn't frozen yet)
Plant pointy side up with egg carton spacing–as close as possible without touching
Cover with soil
Start watering in the spring once the snow has melted and the ground is dry (unless you live somewhere that is rainy)
OPTIONAL: Line the bottom of the bed with metal mesh or chicken wire to keep rodents out.
FREQUENTLY ASKED QUESTIONS FROM FLOWER FARMERS GROWING TULIPS
1. Can you plant tulips in raised beds?
In warmer climates, yes, and it's actually standard practice. However, it doesn't work well in Zone 3. You will kill all your bulbs, even if you cover them with leaves for insulation!
2. How can you get good stem length?
The reason flower farmers pull out the bulb when we harvest is to ensure good stem length, but there is another factor. I've personally had the most success getting long stems by planting my tulips in an area that gets shade for some of the day. You'll also need to stay on top of watering. The best practice is to water every 2-3 days if it's not raining or there's no moisture in the soil.
If you liked this blog post, find me on Facebook, TikTok, and Instagram to follow more of my farmer florist journey and join in the cut flower conversation! I also make weekly videos over on my YouTube channel. You can also sign up for bouquet-making events and buy my flowers at my sister-site Shifting Blooms. I hope to see you there!
P.S. If you love the content I create for Shifting Roots, consider joining our community on Patreon. Your support means the world to me and I am grateful for each and every one of you!
---
LOOKING TO START A CUT FLOWER BUSINESS?
Have you been researching all over the internet and in free Facebook groups about starting a cut flower business and are feeling more confused than ever? Don't believe you can make a profit from a cut flower garden on modest terms? Check out this video for how I went from wannabe flower farmer to resilient backyard business owner!
And, if you're still feeling frustrated, if you're worried about spending too much money and not making your money back, or if you just want to learn more about profitable small-scale flower farming, you can enroll in Backyard Business, my program for aspiring flower farmers. Some of my students were already making money (enough to pay the cost of the course!!) in the middle of winter by getting creative and trying new things. I hope to see you there!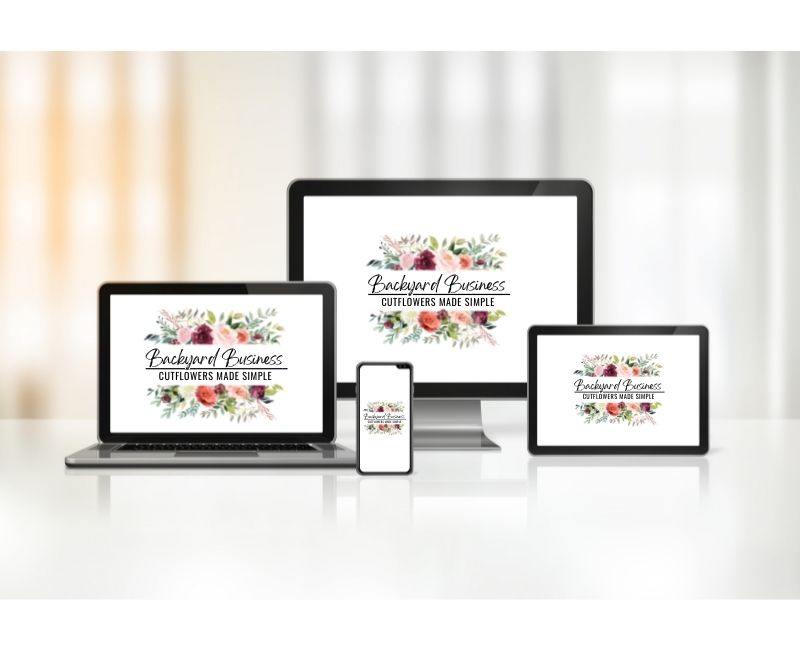 ---
---