My childhood memories of both of my grandmas revolve heavily around apple pie.  Both of them always had tons of pies stored in their freezer, ready to whip out at a moments notice for company, or to send to a friend in need of encouragement.
I've only managed this feat once before, and it was very nice to have something homemade, ready to take to a friend with a new baby or potluck at church.
My grandma and her sister-in-law used to get together every fall and bake over 30 pies in one day.  While I don't think I'll have that kind of time until I'm retired, my friend and I were able to crank out 10 in one day around teaching schedules and kindergarten/daycare pick up and drop off.
I'll show you what you need and how to get fancy if you want.  I've also linked to some blogger friends favourite versions of apple pie.  I personally use the crust recipe from the Better Homes and Gardens Cookbook.
P.S. This post contains affiliate links.  If you purchase something I make some extra coffee money at no extra cost to you.  thanks for supporting my morning caffeine addiction!
The Setting
Set aside 4-6 hours to make 8-10 pies.  Cutting up the apples is the longest part of the whole process.
You'll need 3 large bowls: one for whole apples, one for the cut apples, and one for the cores and stems.  Fill the bowl intended for finished apples a quarter of the way full of water mixed with a generous splash of lemon juice.  Mixing your cut apples in the lemon water mixture will help keep them from browning.
Or you know, you can live on the wild side and let them get a bit brown.  I won't judge.
[clickToTweet tweet="How to organize an apple pie making day so you'l have pie all year long." quote="How to organize an apple pie making day so you'll have pie all year long."]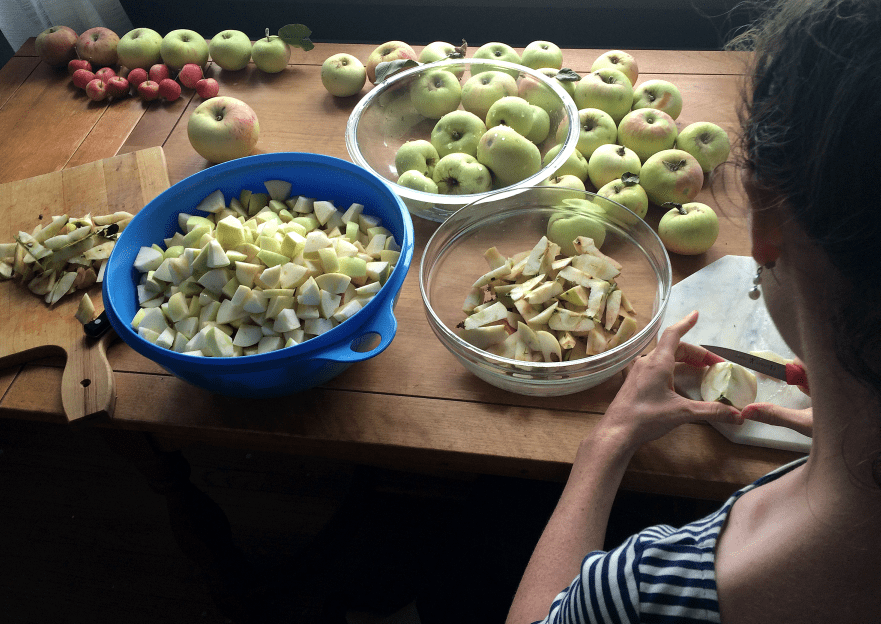 Make sure you have a knife and cutting board for everyone in your apple-pie-making-bee.
Here's a short video of how I cut my apples and mix my pie filling:
Choose Your Apple Pie Crust
So many recipes, so little time!  There's versions with lard, shortening, butter, and eggs. . . how do you know which one is the best?
I actually don't know which one is the best, and I still haven't found my perfect crust recipe.  However, I'm happy to share with you my opinions on what tastes better and is easier to work with 🙂
I've tried recipes with eggs or vinegar in the crust, and haven't noticed a difference in flakiness.  Crusts with lard or butter taste the best, in my opinion.  Shortening tastes a little flat to me.
Lard or butter based crusts are the easiest to work with.  Shortening tends to fall apart a bit more easily.  Please do not come after me if your favourite recipe uses shortening and you find it easy to use.  I think that if you're a seasoned pie maker, you can make any recipe work.  These are my thoughts for the complete beginner.
The Secret to Fancy Pie Crust
Do you want to know the secret to making beautiful pie crusts like you see on Youtube?
The secret is. . . .
They use boughten crust.
Yes, it seems like cheating, but it is so. much. easier. to work with.  Every time I've tried to go fancy with homemade crust, my crust just gets tougher and tougher the more I work with it.  But do I throw away dough?  No, because I've got that Depression-era mentality of not throwing away food burned into me by my grandmas.
[clickToTweet tweet="The secret to fancy pie crust like you see on You Tube videos? Boughten dough." quote="The secret to fancy pie crust like you see on You Tube videos? Boughten dough."]
Anyway.  If you want to make braids or flowers with your pie crust, you'll probably need to buy two packages of dough.  Puff pastry will do if you can't find pie crust.
How to Work with Pie Crust
For best results, keep your hands, work surface, and rolling pin as cold as possible.  Will your pie still be delicious if you can't?  Yes.  Colder surfaces just keep your crust easier to work with.  (And flakier on your fork!)
I personally like to mix my pie crust with my hands, but you can get a pastry cutter.
Flour your surface and flatten a ball of dough.  Roll as thin as you can, fold the dough half over your rolling pin, and transfer to the pie plate.  Cut around the edges with a knife.
Don't freak out if your crust breaks a bit.  Press the bits together and move on.  You will get better the more you make pie, and I promise it won't always be this awkward.
To keep things easy, roll out another pie crust and poke holes in the top.  Seal the crusts with a fork.
If you want to try a lattice crust, I've made this short video.
Apple Pie Recipes
If you've watched the videos, you'll notice that I don't really use a recipe for the filling.  I go by taste and what looks right to me.  However, I've linked to a couple of good apple pie recipes from some of my blogging friends.
Apple Crumble Pie from Joy, Food, and Sunshine
Apple Rhubarb Pie from My Frosted Life
Gluten Free Apple Pie from The Gluten Free Homestead
Gluten Free Crustless Apple Pie from Strength and Sunshine
However, if you're feeling brave, give it a try!  If you have a huge bowl of cut up apples, start by mixing in 2 cups of sugar, a 1/4 cup lemon juice, a 1/2 cup flour, and a generous sprinkling of cinnamon.  Mix and taste.
Not sweet enough?  Add a cup of sugar.  Too sweet?  Add more lemon juice.  The flour is there to act as a thickening agent.
Trust yourself.  You're going to make mistakes and that's okay.  That's how you learn to step away from the recipe book.
Finally, to get a nice brown crust, brush on a bit of milk and sprinkle with sugar.
I like to freeze my pies uncooked, but you can cook them first and then freeze if you like.  Either way, you'll have delicious pie to enjoy any time of year.