Do you have a backyard-sized plot that you dream of transforming into a cut flower garden?
Are you a flower farmer that's looking to grow cut flowers on a budget?
You might be surprised to find out that you can grow a beautiful, blooming, colourful cut flower garden with around a $100 budget. It might sound like wishful thinking, but with seeds from West Coast Seeds, a little careful planning, and a whole lot of care and love, you can start the prosperous, budget-friendly cut flower garden of your dreams!
This post is NOT sponsored but is part of my role as a Brand Ambassador with West Coast Seeds. I've received these seeds for free, but all thoughts, opinions, and especially the strategy of growing on a budget is my own. This post also contains affiliate links, which means that I make a small commission if you purchase anything, at no extra cost to you. You can read more about it in my Privacy Policy. Thank you for supporting Shifting Roots!
If you'd rather watch than read, check out this video on my YouTube channel:
Okay, even after all of that, I know what you're thinking. There is no way I can purchase $100 worth of seeds and end up with a cut flower garden that I could actually start a business with.
Wrong.
I'll admit, it's not easy. If you're shopping at the usual places marketed to flower farmers, seed prices are steep. They are usually $5-$6 a packet, and many of them can be found much cheaper elsewhere. While I don't want to discourage you from supporting these places, because many of them are small businesses and some seeds are just more expensive and/or can't be found elsewhere, I also know what it's like for money to be tight.
So I've teamed up with West Coast Seeds and planned out a cut flower garden that is worth $97.15 (just shy of $100), has something blooming during all parts of the season, and has enough different types of flowers that you could make bouquets to sell. I'll explain some of my thought processes, as well as what I'd also get if you have a little more of a budget to work with.
As of writing this January 12th, 2022, all of the seeds below are currently in stock and prices are current. Without further ado, here are the flowers:
Total: $97.15
I did not include shipping and taxes in the total, as I imagine they would vary depending on which province you're ordering from.
You'll find most of these flowers in the flower section, but I've also taken a few selections from the herbs, grasses, and vegetable sections as well.
DIRECT SOWING FOR NEW FLOWER FARMERS
While some seed starting is involved in this plan, a surprising number of flowers can be direct sown or winter sown in milk jugs. Perfect if you're new to seed starting, don't have a lot of space for grow lights, or have been growing vegetables forever but don't feel confident with cut flowers.
You'll need to seed start the China Aster, Godetia, Eucalyptus, Rudbeckia, Strawflowers, and Statice—a manageable amount of the list. The Yarrow, Rudbeckia, and Swamp Milkweed could be winter sown to save on precious grow light space.
While I would recommend seed starting everything if possible, you could direct sow the rest of the flowers on the list that I did not mention.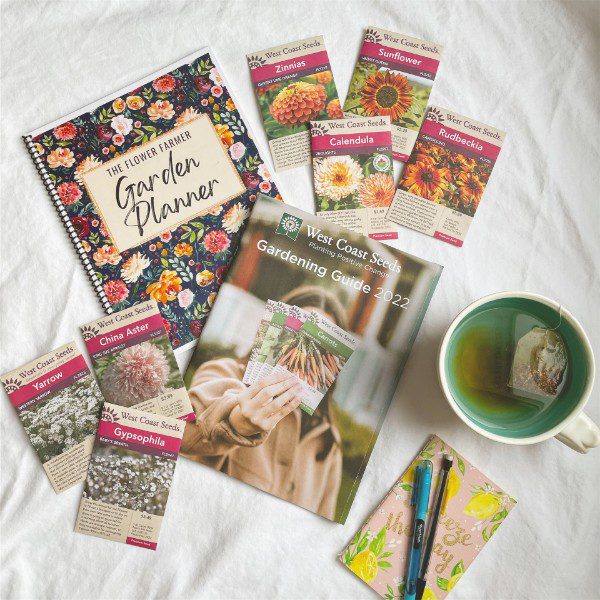 PLANT WITH THE BOUQUET IN MIND
When you're a first-year flower farmer, it's easy to just order whatever looks pretty and hope it all works together. However, you might find that everything blooms all at once, or that your bouquets feel like they fall flat and are just made up of one or two things.
My list contains a mixture of greens, fillers, spikes, supporting (or rounds), and a few hero flowers. With a mix of these in every bouquet, you're certain to have arrangements that get compliments. Check out Bouquets Made Beautiful to get my simple bouquet-making framework that anyone can do.
To see how this all plays out, I'll be growing this actual garden and documenting both the process and the bouquets on my YouTube channel this year.
OTHER WAYS TO SAVE MONEY ON CUT FLOWERS
Most home gardeners don't need every seed, so a simple way to cut costs is to share your seed order with a friend. You can also look out for Seedy Saturday events and libraries in your area to swap, sell, or buy seeds. If you have any flower farmer friends with well-established gardens, ask for perennials. In my experience, gardeners love to share!
There also tend to be quite a few seed sales in the fall, so keep an eye on your favourite sites and haunt your local greenhouses at this time.
Lastly, start seed saving. If you're new to this practice and want some easy tips and tricks, check out my ebook Savvy Seed Saving to learn more about saving seeds from annual flowers.
WHAT IF I HAVE A LITTLE MORE OF A CUT FLOWER BUDGET?
Glad you asked! While West Coast's prices are cheaper than the average specialty cut flower seed shop, I still had to make some tough decisions. If you have a bit more money, I'd also include Honeywort, Lunaria, and Pink or White Pampas Grass. The Lunaria and Pampas Grass seeds are very popular and hard to find elsewhere in Canada, so I'd grab them if you have the budget!
I also would consider swapping out one of the sunflower mixes for the Sunrich series of sunflowers. Each of these seed packets is $5.19 each for 20 seeds, but the Sunrich series is pollen-less and designed for florists.
BULBS, CORMS, AND TUBERS
Finally, if you have another $50-$100 to play with, I'd invest in some perennials. The Narcissus Golden Pearl Daffodil looks amazing–I'd grab at least 3 packs (15 bulbs) at minimum, as well as a few tulips. I personally like the Elsenburg ones and would grab at least 3 packs (18 bulbs).
The spring planting bulbs aren't up on the website at the time of this writing, but I'd also get a few lilies, and at least 5 dahlia tubers if they have them.
I have been so impressed with the selection at West Coast Seeds this year, and I hope you all enjoy your shopping experience as much as I did. The prices really can't be beat, especially if you plan to grow your cut flower garden on a budget of a little more or less than $100.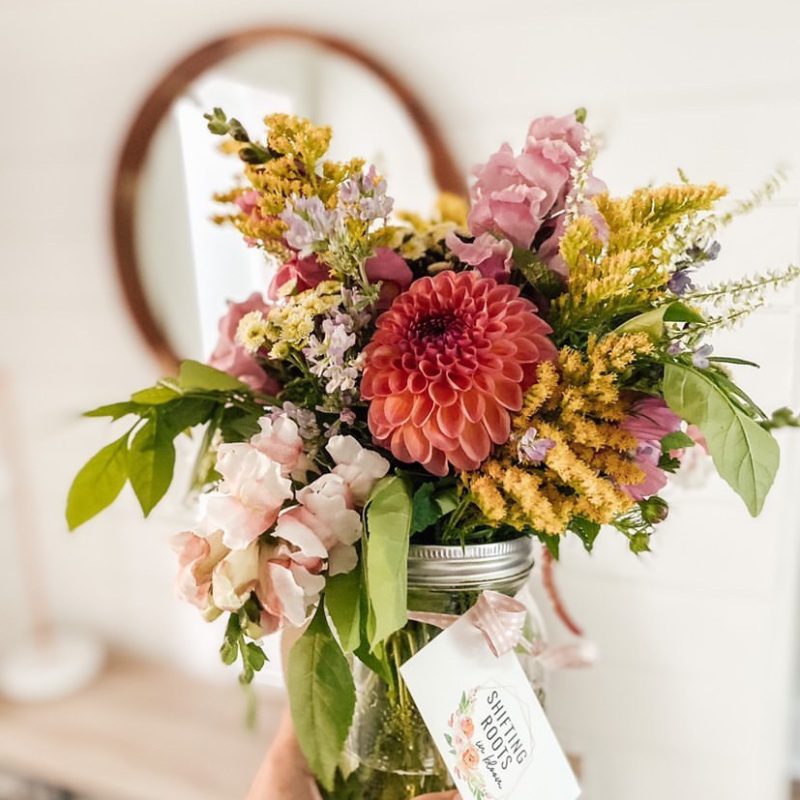 What do you think of my picks? Would you try planting this cut flower garden? Make sure to tag me on IG @shifting_roots if you grow it! And if you're looking for even more cut flower goodness, check out Cut Flowers Made Simple, my easy solution to growing a backyard cut flower garden that gives you gorgeous blooms.
---
LOOKING TO START A CUT FLOWER BUSINESS?
Have you been researching all over the internet and in free Facebook groups about starting a cut flower business and are feeling more confused than ever? Don't believe you can make a profit from a cut flower garden on modest terms? Check out this video for how I went from wannabe flower farmer to resilient backyard business owner!
And, if you're still feeling frustrated, if you're worried about spending too much money and not making your money back, or if you just want to learn more about profitable small-scale flower farming, you can enroll in Backyard Business, my program for aspiring flower farmers. Some of my students were already making money (enough to pay the cost of the course!!) in the middle of winter by getting creative and trying new things. I hope to see you there!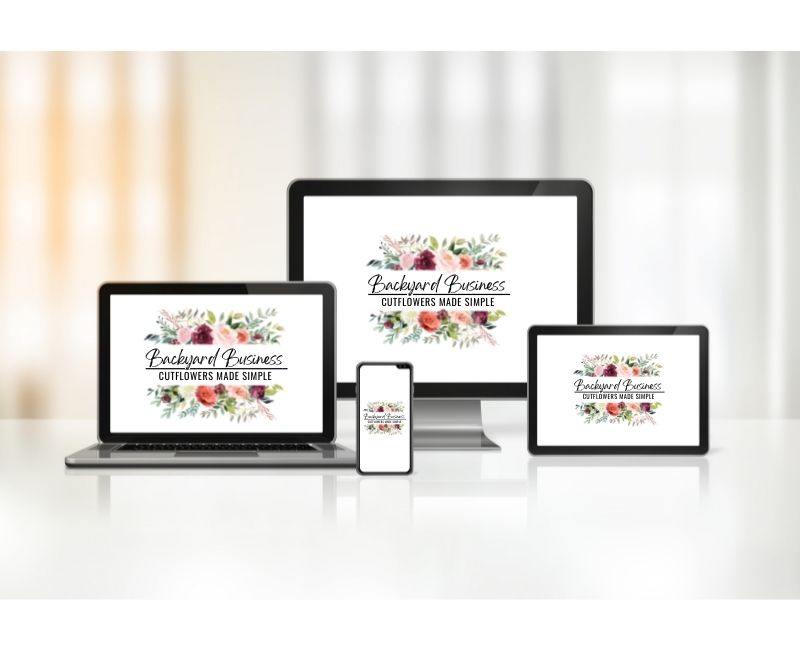 ---
---