I recently received the photo below from a friend. Her backyard was filled with weeds that were starting to take over, and she was worried that she'd be weeding forever. The weeds were beginning to be so overwhelming that she didn't even know where to start!
Sound familiar? Then you're in the right place.
In this blog post, I'll share four solutions for getting rid of weeds as quickly as possible!
As always, choose what works best for you depending on the amount of space you have and the time and energy you're willing to devote to the project. I'm sharing both traditional and currently popular methods of weed control, so you should do what works for you and your situation. No judgment here!
If you want to get straight to the solutions for your own garden full of weeds, feel free to skip this next part. I'm choosing to share my own story so you know where I'm coming from, and to reassure you that a beautiful backyard is possible, no matter what you start with!
HOW WE CLEARED OUR GARDEN FULL OF WEEDS
When we moved into our last home in Saskatoon, our yard was extremely over-grown, but it was obvious that the back area used to be a garden. We chose to rototill multiple times over the first three years. Eventually, this spot would become my cut flower garden.
In our first year, we cleaned up half of one side of the flower beds and rototilled the garden. The ground was root bound with weeds and perennials, so even just a meter section usually took me around an hour to work up. We didn't plant anything. Instead, we spent the entire summer clearing out grass, killing weeds, and throwing kitchen scraps onto the soil.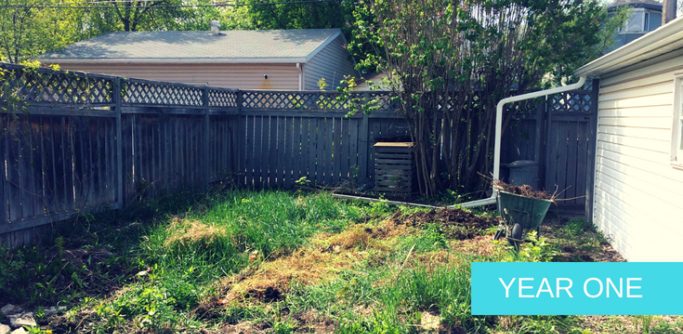 The work started going much quicker in the second year. I trimmed the established trees and even cut some to the ground so they could start over.
In our third year, we continued to get rid of nuisance perennials and rototilled the garden space yet again. We used mulch and grass to keep down the weeds.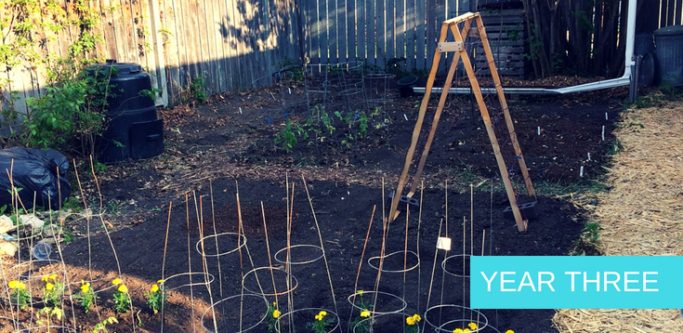 We then chose to expand the garden by laying down cardboard and adding soil. By year five (yes you read that correctly… year five!), the space became more established and looked like this:
I share this story and these pictures to give you hope that your overgrown jungle of weeds can truly become a backyard paradise if you just give it time. Now, onto my tips for clearing your own patch of weeds!
Plan the Perfect Garden
Get your free Garden Planner and worksheets and start creating the garden of your dreams.
FOUR SOLUTIONS FOR OUT-OF-CONTROL WEEDS
1. Pick the Weeds by Hand
Picking weeds by hand is best for smaller spaces and getting out the long roots of grass. Make sure to garbage any weeds that have gone to seed, and compost any that haven't. You can also make a compost tea from the weeds if you so choose. Expect the results to last for around three weeks. The next weeding will be less intense.
2. Lay Down Black Fabric or Tarp
This solution works for any type of space, but it is best if you have at least two months of time to allocate to the project. Once you've laid your black tarp or fabric over your weeds, you just have to wait. The black fabric prevents the sun from reaching the weeds and suppresses their growth. You can also choose to solarize the soil by adding a layer of clear plastic underneath the weed fabric to kill the weed seeds. This heats up the soil and burns out any existing growth.
Though no solution can be 100% permanent, this way of getting rid of weeds comes pretty close. The weed fabric can also be stored for future use, which is good for your wallet.
Last year, we tried covering our weeds with black tarp at the acreage. It was effective, but not foolproof. This was great for our situation where we knew we wouldn't be able to manage a large portion of the garden space but knew that we wanted it in a future year.
If you want to learn more about our journey in preparing the acreage garden last year, check out the videos below:
3. Lay Wet Cardboard & Soil or mulch over the area
This is probably the easiest and fastest way to start over if the weeds are everywhere, but still small. We did this in our front yard and around our raised beds in the city. Use mulch on top if it's for a path or area where you want containers. If you want soil, you'll need at least 12 inches on top. We did this with our raised beds and it was very effective.
Over time the weeds will start to creep back in, but it's much easier to stay on top of them than if you do some of the other methods.
4. Use a Rototiller
There are many arguments against using a rototiller, mainly because it ruins the soil structure and will bring up a new crop of weed seeds buried in the ground. However, if your yard is that overgrown and the situation seems impossible, a rototiller might be your best bet.
If the area is really overgrown, you may need to rototill it once, pick out the grass and weeds, add compost, manure, and other soil amendments, and get it rototilled again 2-3 weeks later.
what if the weeds are too tall to cover or rototill?
Unfortunately, you can't always get rid of tall weeds quickly. In a case such as this, you'll need to get a weed whacker and cut everything down first. Then you can choose to either rototill or cover with black fabric or wet cardboard and mulch.
There you have it! Four simple solutions to clear overgrown weeds from your garden! Do you have any tips to prevent weeds from growing? I'd love to hear them over on Facebook, Instagram, or YouTube where you can follow my own gardening journey in real-time!
---
NEED MORE HELP IN THE GARDEN?
Green thumbs aren't just given out at birth. They're a combination of learning about gardening and trial and error. If you wish you knew more about gardening and had more confidence in your abilities, you need the Growing Roots Gardening Guide.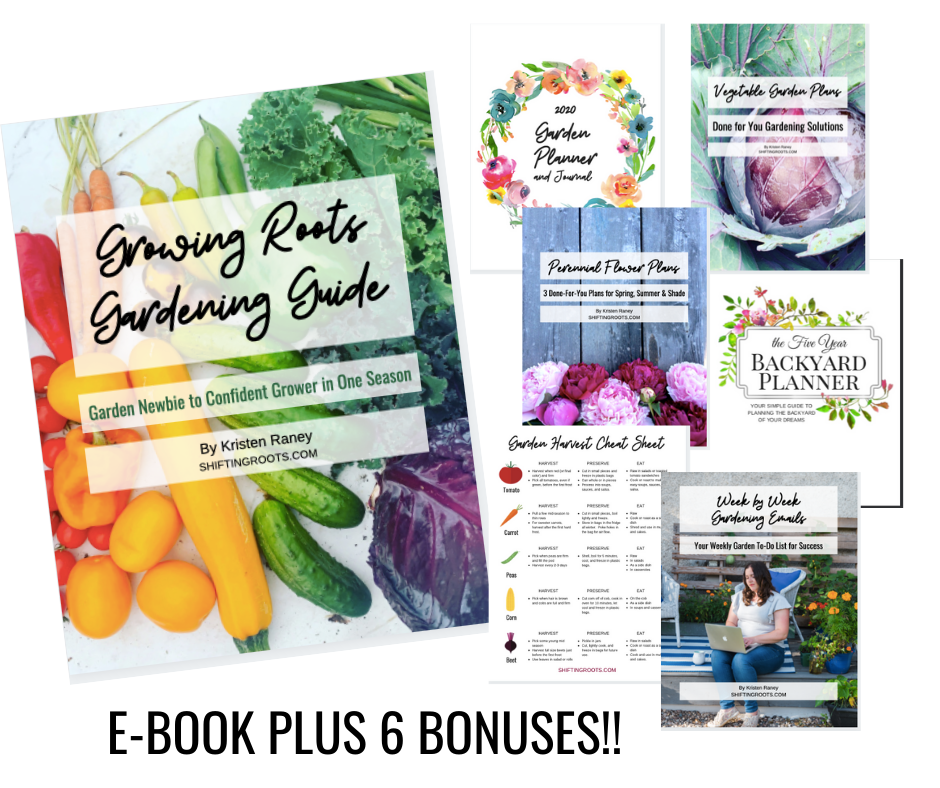 It's an e-book plus 6 bonuses–everything you need to go from complete garden newb to confident in one growing season. Get all the details of what's inside here. Happy gardening!
---
---