Your garden is doing well, and you're even starting to harvest some vegetables when suddenly you see some weird little white spots on your pumpkins, squash, cucumbers, or zucchini. You shrug it off, thinking it's probably no big deal.
A few days later, it has spread to more and more leaves, and those few innocent white dots have overtaken more and more leaves in a white, powdery mess of horror. You, my friend, have an outbreak of powdery mildew.
While you can't reverse it, I'll show you a simple two-step process to keep it from spreading further in this blog post.
What is Powdery Mildew?
Powdery mildew is a fungal disease affecting many plants, including apples, pears, flowers, squash, zucchini, pumpkins, and cucumbers. Powdery mildew diseases are caused by not one but many different species of fungi. It spreads by spores, and once you've got it, it's almost impossible to get rid of for the season.
Thankfully, it will not permanently damage your plant, but it will slow down or cease fruit and vegetable production.
What Causes Powdery Mildew?
Hot moist conditions and poor airflow from spacing plants too close together in the garden are breeding grounds for an outbreak of powdery mildew. Some species of plants are more susceptible to powdery mildew than others.
If you're experiencing the fungus on a perennial year after year, you might consider pulling it out and replacing it with a more disease-resistant variety next year.
Like video better than reading a blog post? Watch this Facebook Live I recorded about a powdery mildew outbreak in my garden:
The Two-Step Process to Controlling a Powdery Mildew Outbreak
In a perfect world, you would cut off and discard any leaves that show powdery mildew as soon as you saw the first signs of an outbreak. If you're like me, you may have had good intentions about doing so but then let it get out of hand, like in the picture below.
The basic damage control is as follows:
Cut off badly infected leaves and dispose of them in the garbage, not the compost.
Spray the remaining leaves with a solution of 1 part milk to 9 parts water. I personally mix 1 cup of powdered milk in my watering can and water the remaining infected leaves.
A Few More Things to Consider
If powdery mildew is infecting a flower or perennial that has finished blooming, the best course of action is to pull it out (if it's annual) or cut off all the leaves (if it's a perennial). If you notice a problem year after year, you may want to choose a different variety next year.
Is the outbreak on your vegetables? In that case, only remove the badly infected leaves, and apply the milk mixture to the remaining infected leaves at least once a week. You still need enough leaves for photosynthesis to occur.
If it's earlier in the growing season and no vegetables or fruit have been set, you might try removing all infected leaves immediately. The plant will be delayed, but you might be able to completely avoid a further outbreak.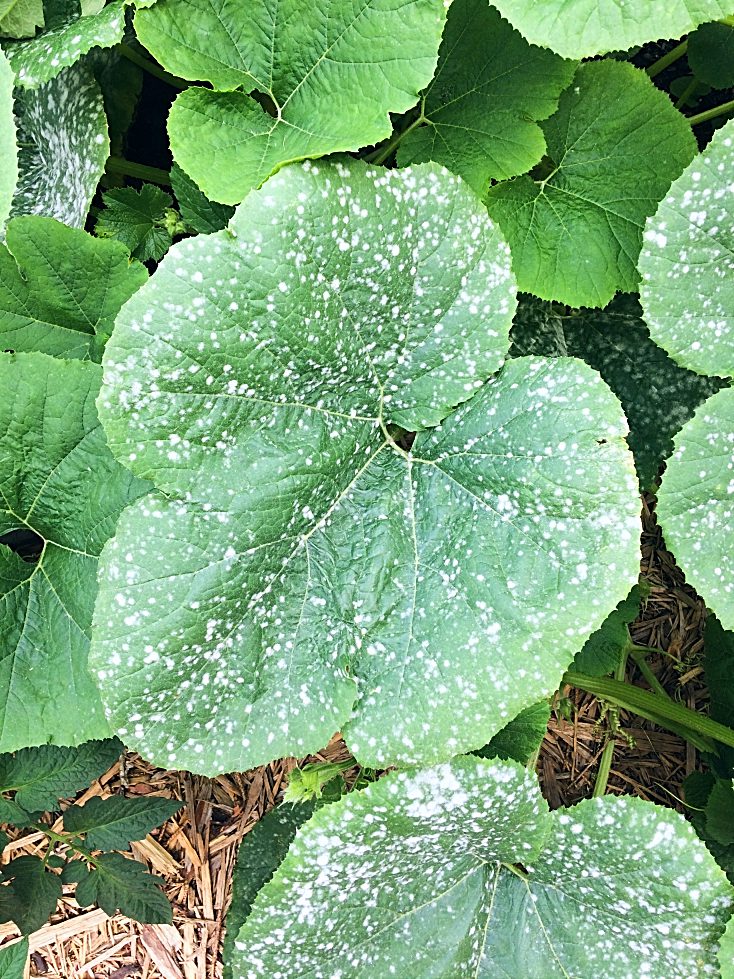 Have you fought and won the battle with powdery mildew?
If you liked this blog post, follow me on Facebook, TikTok, and Instagram for more cold-climate gardening tips, delicious recipes, and cut flower goodness! I also make weekly videos over on my YouTube channel. I hope to see you there!
P.S. If you love the content I create for Shifting Roots, consider joining our community on Patreon. Your support means the world to me and I am grateful for each and every one of you!
---
NEED MORE HELP IN THE GARDEN?
Green thumbs aren't just given out at birth. They're a combination of learning about gardening and trial and error. If you wish you knew more about gardening and had more confidence in your abilities, you need the Growing Roots Gardening Guide. It's an e-book plus six bonuses–everything you need to go from complete garden newb to confident in one growing season!
---
---